How to Mirror Your iPad to Chromecast – A Simple Guide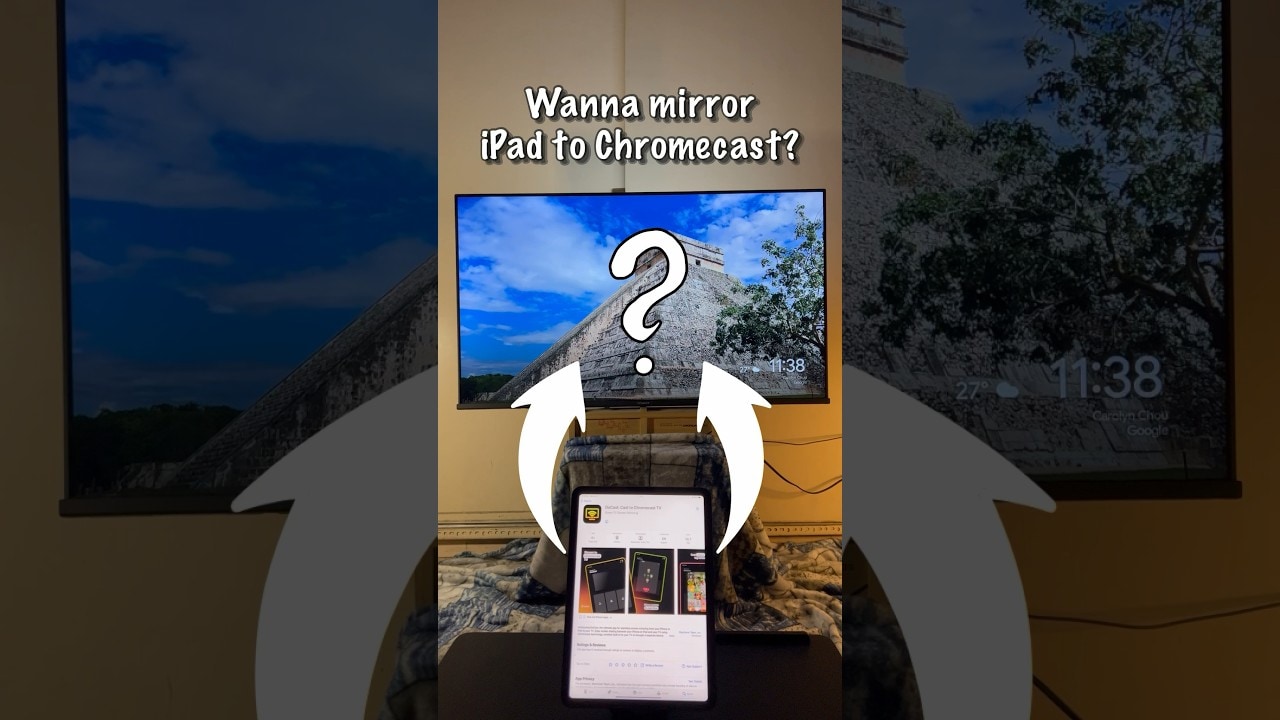 Wish to mirror your iPad to Chromecast? It's indeed possible! Though Apple doesn't natively support Chromecast, there's no need to worry. A third-party mirroring app, like do Cast app, can get the job done for you! 👍 Please note that this requires both your iPad and Chromecast to be connected to the same Wi-Fi network. 👀
1
Download and Install the do Cast App
First up, download and install the do Cast app from the App Store. It's this great app that makes the entire mirroring process possible. 🎁
2
Grant Necessary Permissions
When you open the app, it will ask for certain permissions. Hit the 'grant' button to let the app work its magic! 🔮
Next, you need to select your TV from the device list in the do Cast app. Make sure your TV is connected to the same Wi-Fi network as your iPad. 📺
To start mirroring, tap on 'Screen', then on 'Start Mirroring', and finally on 'Start Broadcast'. 🎬 Voila! The iPad screen is now mirrored on your TV. You can watch a video, play a game, or do anything else you want. 🕹️📹 If you want to stop the broadcast at any point, you can do it either from the red bar at the top or directly inside the app. 🚦
Conclusion: 🏁
Congratulations on successfully mirroring your iPad to your Chromecast! 🥳 It's a simple process, yet opens up a whole new world of viewing possibilities. Enjoy exploring the potential of your mirrored iPad. Happy casting! 🎉
FAQ
Chromecast is a line of digital media players developed by Google. Chromecast devices enable users with a mobile device or personal computer to play Internet-streamed audio-visual content on a high-definition television or home audio system.
Mirroring is a feature that allows you to duplicate the iPad screen on your TV using a Chromecast. It means whatever you do on your iPad will be replicated on the big screen.
Can I mirror my iPad to Chromecast?
Yes, you can mirror your iPad to Chromecast although it's not as straightforward as you may think due to Apple's restrictions. You'll need a third-party app or needs to mirror via a computer.
Why would I want to mirror my iPad to my Chromecast?
Mirroring your iPad to your Chromecast allows you to view your iPad's screen on a larger display. This can be useful for displaying videos, websites, games, and other content.
What applications can I use to mirror my iPad to Chromecast?
You can use third-party applications like the Replica or Streamer for Chromecast apps, available on the App Store, to mirror your iPad to a Chromecast.
How to mirror my iPad to Chromecast using the Replica App?
1. Download the Replica app from the App Store. 2. Connect your Chromecast and iPad to the same Wi-Fi network. 3. Open the app, select your Chromecast and tap on 'Start Mirroring'.
Is there a direct way to screen mirror iPad to Chromecast?
No, due to Apple's restrictions, you'll require a third-party app to mirror your iPad's screen to a Chromecast.
Are there any downsides to mirroring my iPad to Chromecast?
Yes, mirroring your iPad to Chromecast can have a slightly delayed response time and may affect the battery life of your iPad.
Can I control the volume while mirroring?
Yes, you can control the volume of your content directly from your iPad while it is mirrored on the Chromecast.
Can I mirror all types of content?
Yes, everything that appears on your iPad's screen can be mirrored to the Chromecast.
Does the Replica app work with all models of the Chromecast?
Yes, it works with all Chromecast, Chromecast Ultra, and Chromecast built-in devices.
Can I pause/resume screen mirroring?
Yes, while using the Replica app, you can pause/resume screen mirroring at any time.
What if I experience poor casting quality or delay in mirroring?
Check your Wi-Fi connection and try to bring your iPad and Chromecast closer to the router. If the problem continues, restart your router and your devices.
Can I mirror my iPad to multiple Chromecasts at once?
No, you can only mirror your iPad to one Chromecast device at a time.
Do I need Internet connection to mirror my iPad screen?
Yes, your iPad and Chromecast device need to be connected to the same Wi-Fi network to mirror your screen.
Does screen mirroring work with iOS 14?
Yes, screen mirroring using third-party apps is compatible with devices running iOS 14.
Why is there a delay in mirroring?
Delay in mirroring can be due to a weak Wi-Fi signal or because the mirroring app or the Chromecast device is running a heavy duty task.
How can I stop mirroring?
To stop mirroring, just open the mirroring app in your iPad and tap on 'Stop Mirroring'.
Why can't I cast DRM protected content?
Due to copyright issues, certain apps like Netflix or Amazon Prime might not allow screen mirroring. You can check if these apps offer a casting feature instead.
Can I use my iPad while casting?
Yes, but remember that all your actions on your iPad will be mirrored on your TV screen.
Can I cast my iPad's audio only?
Yes, most mirroring apps offer the option to cast audio only.
What should I do if my Chromecast is not listed in the app?
Make sure your iPad and Chromecast are on the same Wi-Fi network. If they are and you still do not see your Chromecast, try restarting your router and your devices.
Is screen mirroring the same as casting?
No, casting is when you send content to a device to play on a larger screen. Mirroring is displaying what's on one screen onto another.
Does casting or mirroring affect picture quality?
The quality of casting or mirroring will depend on the quality of your Wi-Fi connection and your output device. High definition content should normally cast or mirror in high quality.
Which generations of the iPad are compatible with Chromecast?
Screen mirroring is compatible with iPads running iOS 9.1 and above.
How much does the Replica app cost?
The Replica app offers a basic free version, while its pro version with additional features comes with a small fee.
Why the screen mirroring stops sometimes?
There could be several reasons for this like unstable Wi-Fi, device going into standby mode, etc. Check your connection and settings.
Does screen mirroring work on 4K televisions?
Yes, Chromecast supports HDR (High-Dynamic Range) and 4K UHD (Ultra-High Definition) video. Though, remember the quality also depends on your Wi-Fi connection.
Can I use my phone while casting from my iPad?
Yes, you can freely use your other devices while casting from the iPad.
Why does mirroring drain the battery?
Screen mirroring can be battery-intensive as it requires the device to process video and audio, then send this data over Wi-Fi.