Mastering Chromecast: Stream and Mirror iPhone to Your TV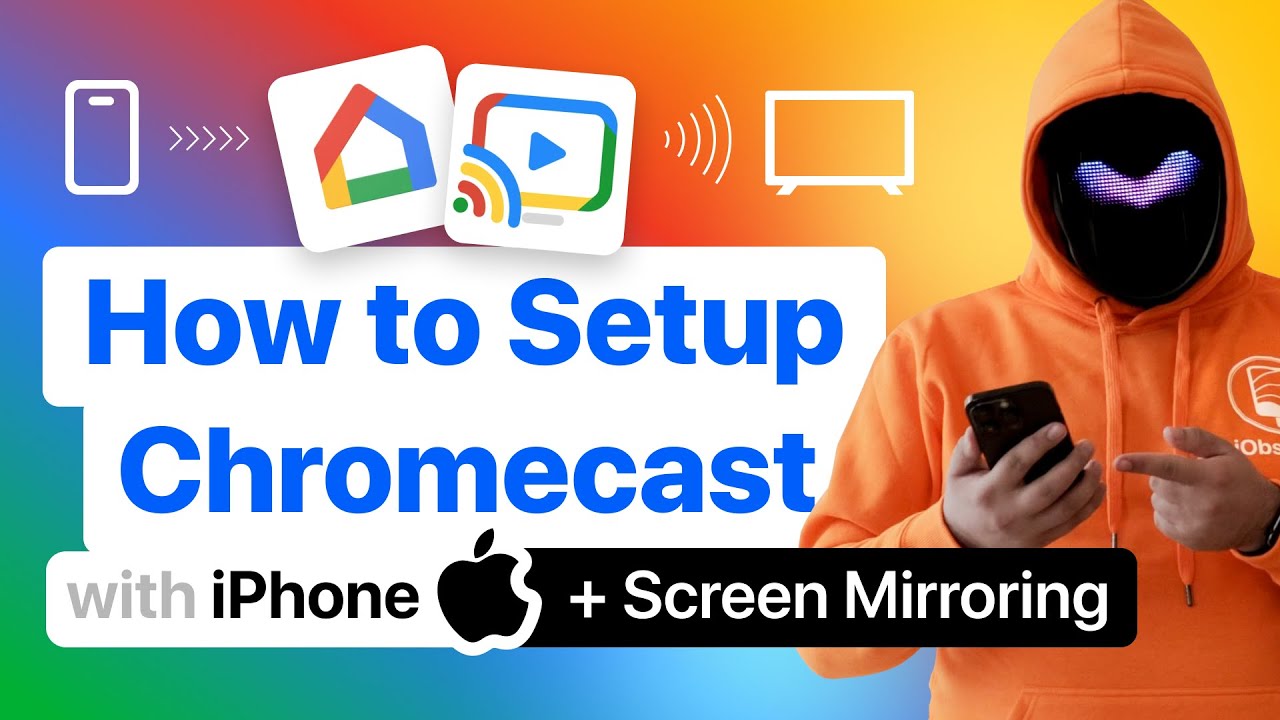 Hello there! If you're a proud iPhone owner and also have a Chromecast device, this guide is just for you! We're going to thoroughly walk you through the process of setting up your Chromecast and how you can use your iPhone to stream and mirror on your TV 📺. So let's venture into this exciting world of connectivity! As always, don't hesitate to hit that like button 👍, leave a comment 💬, and subscribe to our updates if you find this guide helpful.
1
Setting Up Your Chromecast
Before you dive into streaming or mirroring your iPhone, it makes sense to set up your Chromecast device first. Ensure that you have all the necessary gadgets and requirements which include the Chromecast itself, a TV with an HDMI port, an iPhone 📱, the Google Home App or Chromecast remote, and a stable internet connection 🌐. Now let's unveil the setup secrets:
Connect your Chromecast to your TV.
Download and open the Google Home App and tap on 'get started'
Sign into your Google Account.
Select your username from the list provided.
Give the app access to your location by tapping 'next'
Tap 'next' to enable your Chromecast device to be located by Google Home.
Verify the confirmation code displayed on your TV and iPhone. Pick 'yes' if they match.
Select the room where your Chromecast device is situated, and then tap 'next'.
Your Chromecast is now officially connected to your network 🎉. All you have to do now is accept the final permissions in the app and tap 'finish tutorial'.
2
Streaming Content From Your iPhone
Got Netflix? Great!🍿 Here's how you can use your iPhone and Chromecast for an ultimate Netflix-and-chill session:
Open Netflix on your iPhone and select any movie or show episode.
Look for the Cast icon 👀 and click on it.
From the device list that will be displayed, choose 'Chromecast'
Voila! You should now see your selected media on your TV screen.
Unleash the potential of your iPhone and Chromecast by using the power of mirroring! We'll use a third-party iOS app called 'Streamer for Chromecast'. Do the following:
Download and open the Streamer for Chromecast app and accept network and Bluetooth permissions.
Click 'screen mirror' and choose your Chromecast device.
That's it! Your iPhone screen will now be displayed on your TV. With this setup, you can play games, show pictures, and much more!
The Streamer for Chromecast app can also be utilized to stream local photos and videos and even live stream your iPhone's camera – a great way to monitor another room in your house 🏠!
Conclusion: 🏁
This detailed guide should help you make the most out of your iPhone and Chromecast. Streaming and mirroring your iPhone should now be a piece of cake 🍰! If you tried it out and found it helpful, don't forget to give us a thumbs up 👍, write your review 💬, or simply subscribe for more such informative content. Also, feel free to share your feedback or suggestions. Enjoy your streaming and mirroring extravaganza!
FAQ
Chromecast is a device that you plug into your TV's HDMI port, powered by a USB cable. Using your smartphone or computer as a remote control, you can use Chromecast to access video content from Netflix, YouTube, Hulu, the Google Play Store and other services.
How can I use Chromecast with my iPhone?
You can use Chromecast with your iPhone by downloading and installing the Google Home app from the App Store. Once installed, connect your iPhone to the same Wi-Fi network as your Chromecast device and start casting content.
What is the range of the Chromecast device?
The Chromecast device should ideally be within 15 feet of the device used to control it, such as your iPhone or iPad. However, it depends on the strength and stability of your Wi-Fi network as well.
Can I stream anything from my iPhone to the TV using Chromecast?
Yes, but not all apps support Chromecast. Most major streaming services do, including Netflix, YouTube, and Hulu.
Can I mirror my iPhone screen to the TV using Chromecast?
While Chromecast doesn't directly support screen mirroring from an iPhone, there are third-party apps available on the App Store that enable this feature.
Is it possible to use Chromecast to stream local files from my iPhone?
Yes, there are a number of apps available that allow you to play local files on your iPhone through the Chromecast. These include video files, audio files, and even photos.
How to setup Chromecast on my TV?
You simply need to plug the Chromecast into your TV's HDMI port, then follow the instructions provided by the device to connect it to your Wi-Fi network.
What if my Wi-Fi is not working?
If your Wi-Fi is not working, you won't be able to use your Chromecast as it relies on Wi-Fi to stream content.
Does Chromecast work with Bluetooth?
No, Chromecast does not support Bluetooth. It uses Wi-Fi to connect to your devices and stream content.
Can I use Chromecast without internet?
No, you need an active and stable internet connection to use Chromecast effectively.
Why can't my iPhone find the Chromecast?
If your iPhone can't find your Chromecast, it may be because they're not on the same Wi-Fi network. Make sure both devices are connected to the same network and try again.
What can I do if the Chromecast is not showing on my TV?
If your Chromecast is not showing up on your TV, try rebooting both the Chromecast and your TV. If that doesn't work, ensure the Chromecast is properly plugged into the HDMI port and that the correct HDMI input is selected on your TV.
Can I still use my iPhone while streaming to Chromecast?
Yes, you can continue using your iPhone for other tasks while streaming content to your Chromecast. The stream won't be affected.
How much does Chromecast cost?
The cost of Chromecast varies depending on the model and where you buy it, but it generally ranges from $30 to $70.
Can I control the volume of the Chromecast from my iPhone?
Yes, you can control the volume of your Chromecast from your iPhone using the Google Home app.
Can I play games from my iPhone on my TV using Chromecast?
Yes, some games support casting to Chromecast. Check if the game you want to play supports this feature.
Can I create a slideshow on my TV using images on my iPhone?
Yes, you can use apps that support Chromecast to cast your photos in a slideshow format.
Is there a limit to the number of devices I can connect to a single Chromecast?
No, there is no limit to the number of devices you can connect to your Chromecast. However, only one device can be casting at any given time.
What's the video quality like when streaming with Chromecast?
Chromecast supports streaming in high definition up to 1080p, so the video quality on your TV will be very good. Some newer Chromecast models even support 4K streaming.
Do I need a certain version of iOS to use Chromecast?
You need to have iOS 12.0 or later to download and use the Google Home app for Chromecast.
Can I cast a Zoom meeting from my iPhone to my TV via Chromecast?
Yes, Zoom supports Chromecast and you can cast your meetings to your TV for a bigger display.
Can Chromecast stream audio to my TV?
Yes, Chromecast can also stream audio content to your TV, like music and podcasts.
How to disconnect my iPhone from Chromecast?
Open the app you're casting from, tap on the 'Cast' button, and then tap 'Disconnect'.
Can I use multiple Chromecasts in different rooms?
Yes, you can have multiple Chromecasts set up on the same Wi-Fi network in different rooms. Each Chromecast can be controlled independently from your iPhone.
Do all TVs work with Chromecast?
As long as your TV has an HDMI input (which most modern TVs do), you should be able to use Chromecast with it.
How do I reset my Chromecast device?
To factory reset your Chromecast, hold down the button on the side of the device for about 25 seconds. You'll see the LED light start blinking, and your Chromecast will restart and reset.
Can I use Chromecast when my iPhone is in sleep mode?
Yes, once you've started a stream, it will continue to play even if your iPhone goes into sleep mode.
Why is there a delay in the audio when casting?
A slight delay in audio can occur if your Wi-Fi connection is weak or unstable. Try moving your router closer to the Chromecast or vice versa.
Can I pair a Bluetooth speaker with my Chromecast?
No, Chromecast doesn't support Bluetooth. It uses Wi-Fi instead.
Can I use a VPN with Chromecast?
Yes, but because Chromecast doesn't have built-in VPN or proxy support during setup, you'll need to ensure your entire network is under the VPN using the same Wi-Fi connection, which might require additional setup on your router.