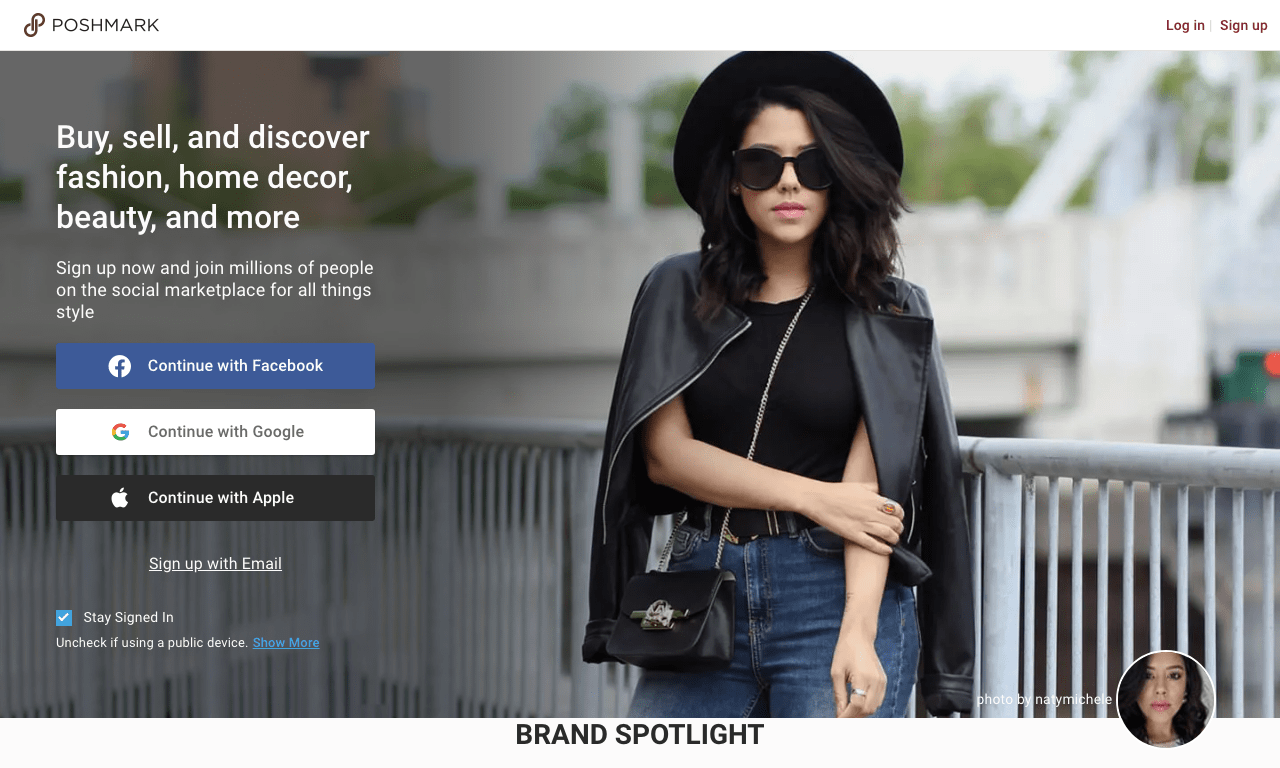 Top 5 Poshmark Alternatives: Discover the Best Resale Apps to Use in 2023
Looking to broaden your horizons in the world of online fashion resale? Explore the top 10 Poshmark alternatives you need to know about in 2023! With the increasing demand for sustainable and affordable fashion, numerous apps and platforms have emerged, offering unique features and user experiences to suit your specific needs. Whether you're seeking the perfect platform to buy, sell, or swap your clothing and accessories, our Ultimate Guide to the Best Resale Apps in 2023 has you covered. Get ready to revamp your wardrobe while saving both time and money, all while going green with these exceptional Poshmark alternatives!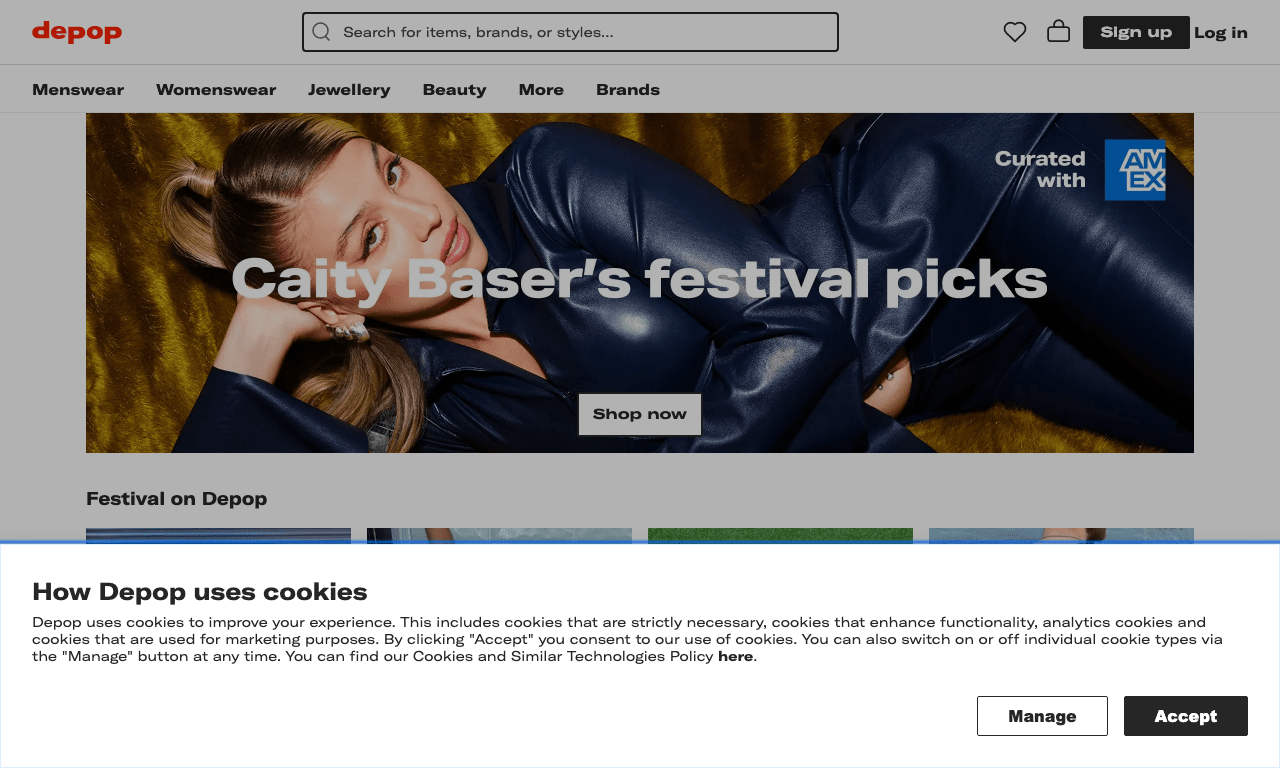 4.7

Depop is a revolutionary mobile app that redefines the shopping experience by providing an interactive and user-friendly platform for buying and selling unique fashion items. Designed for today's creative and eco-conscious generation, Depop empowers individuals to showcase their personal style through a seamless, social media-inspired interface. With a focus on sustainability and community, the app encourages users to thrift, upcycle, and connect with like-minded individuals across the globe. Discover the world of Depop, where fashion, environmental impact, and self-expression intersect, all at the touch of your fingertips.
Pros
Depop offers a unique shopping experience where users can find one-of-a-kind vintage and secondhand items that they may not be able to find in traditional retail stores.
The app has a strong community aspect, where users can connect with each other and follow their favorite sellers to see their latest uploads and deals.
Cons
Some users have reported issues with scammers and fraudsters on the platform, which can make it difficult to trust sellers or make purchases.
The app takes a 10% commission fee on each sale, which can add up over time and make it less appealing for sellers who want to maximize their earnings.
Conclusion: Depop can be a great choice for people who are looking for unique and affordable clothing and accessories, but users should be cautious and aware of the potential for fraud or scams on the platform. Additionally, sellers should be prepared to pay a commission fee for each sale they make.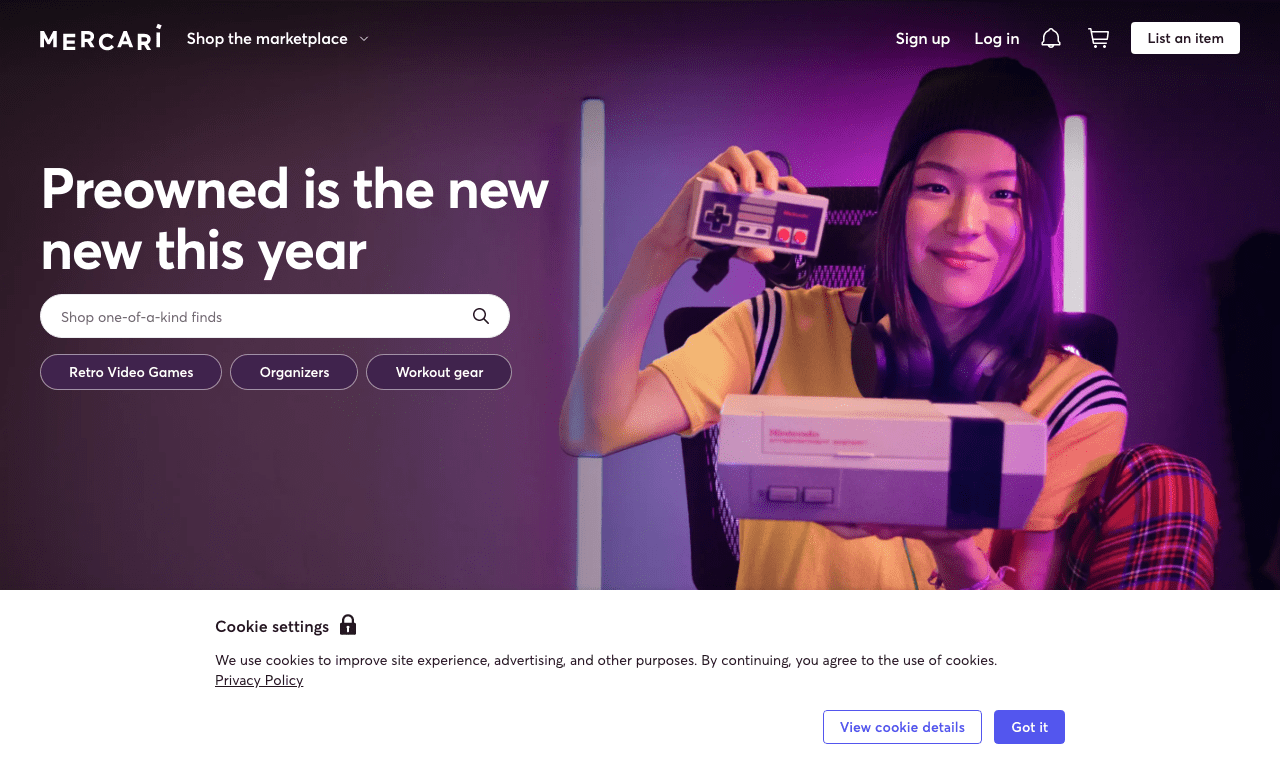 4.5

Mercari is a popular e-commerce platform dedicated to providing a user-friendly experience for buying and selling a wide variety of items. With a vast selection, including clothes, electronics, toys, and more, this marketplace offers exceptional convenience to shoppers and sellers alike. Focused on simplicity and security, Mercari ensures a seamless transaction process, while its effortless listing and search features make discovering treasures a breeze. Embrace the world of easy and enjoyable online shopping with the innovative Mercari app today.
Pros
Mercari provides a wide range of products from various categories such as fashion, beauty, home goods, and electronics at reasonable prices, making it a great platform for budget-conscious shoppers.
The app offers a user-friendly interface with easy-to-use filters for sorting items that match personal preferences and interests. Additionally, Mercari provides secure payment options for buyers and safeguards seller earnings in the form of deposited funds.
Cons
The availability of products on Mercari depends on the location and proximity of other users; certain items may not be available in all regions. This could potentially limit the scope of product choices for some individuals.
Mercari's commission fee may be relatively high for some sellers, potentially discouraging some users from selling products on the platform.
Conclusion: Overall, Mercari is a great application for people who are looking to buy and sell products online. Its user-friendly interface, secure payment options, and diverse selection make it an ideal platform for budget-conscious shoppers. However, limitations on the availability of products and potentially high commission fees may impact the overall user experience for some individuals.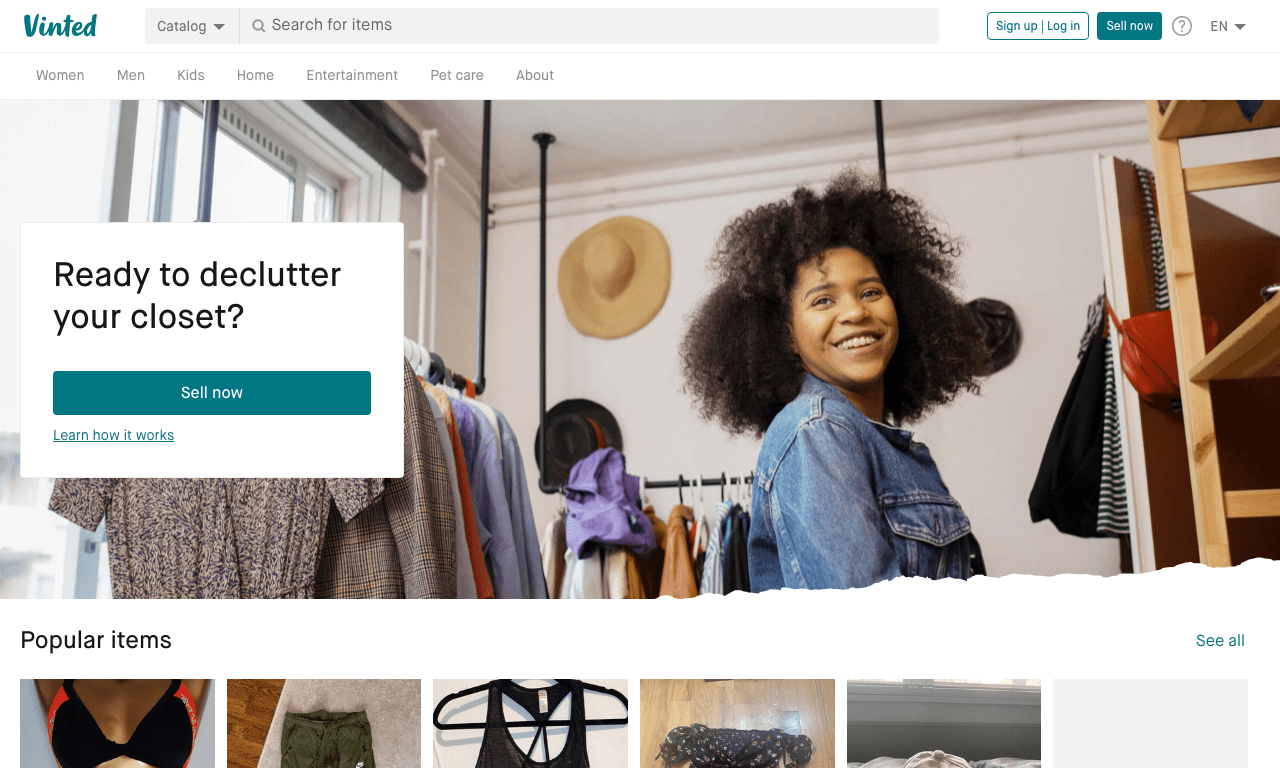 4.4

Discover the endless possibilities with Vinted, a multi-faceted app designed to make selling, buying, and swapping pre-loved clothing easy and enjoyable. With an eco-conscious mindset, Vinted promotes sustainable fashion by extending the life of clothes and reducing waste. Join a thriving community, find exclusive deals, and elevate your wardrobe while saving both money and the environment. Experience the convenience, style, and versatility Vinted has to offer, while making effortless transactions with secure payment options. Say goodbye to clutter and hello to your next fashion favorites with the constantly evolving inventory on Vinted, where style, value, and sustainability come together seamlessly.
Pros
Vinted allows users to buy and sell used clothing and accessories for relatively low prices, making it an affordable way to update your wardrobe or make some extra cash.
The app has a user-friendly interface and features like communication tools, payment protection, and ratings and reviews to help ensure safe and successful transactions.
Cons
While Vinted has a large community of users, the selection of items can be hit or miss depending on your size, style preferences, and location.
Because Vinted charges fees to sellers for certain features, such as promoting listings or offering shipping discounts, some users may find the costs to be prohibitive or not worth the potential benefits.
Conclusion: Overall, Vinted can be a convenient and cost-effective way to buy and sell clothing online, but like any platform, it has its limitations and drawbacks that should be considered before using it. As with any online transaction, it's always a good idea to take precautions and do your research to ensure a positive experience.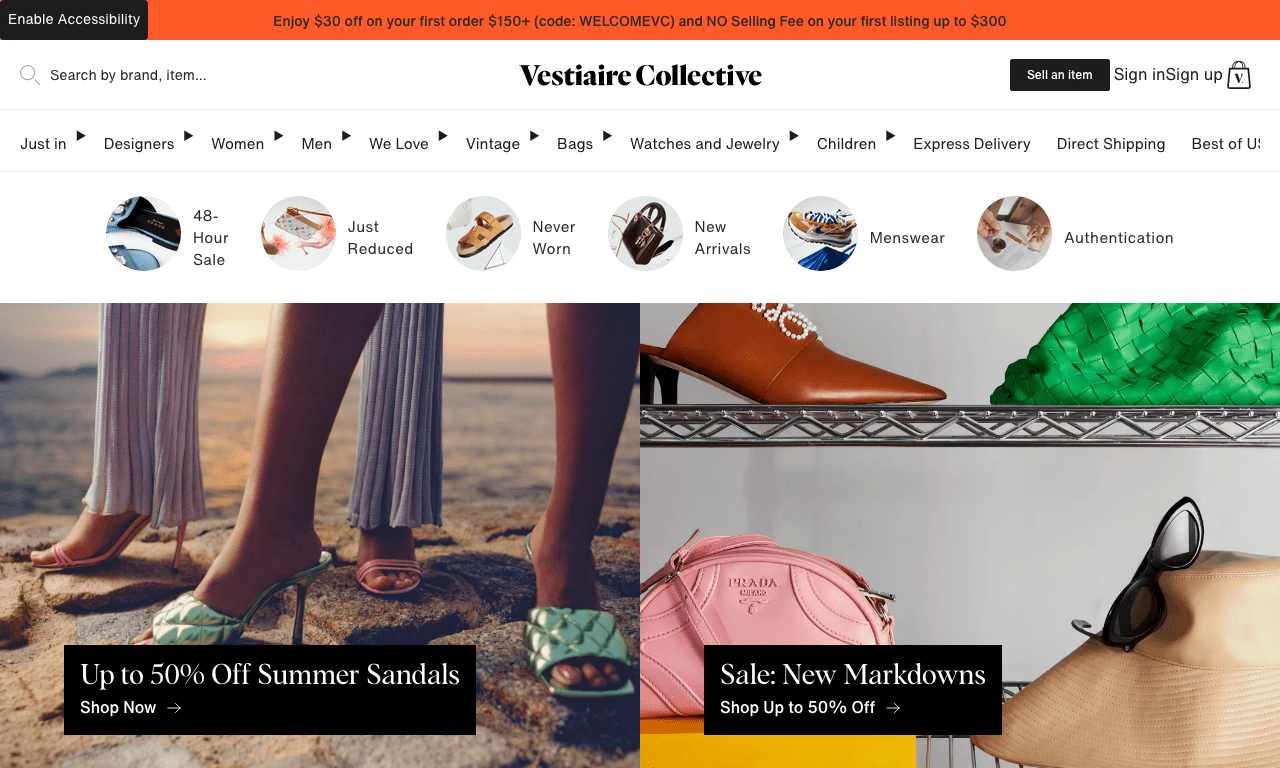 4.1

Tradesy is a cutting-edge app revolutionizing the way users buy and sell pre-loved clothing, accessories, and luxury items. With a seamless user interface, in-app authenticity guarantee, and secure payment system, Tradesy offers an unparalleled shopping experience for fashion enthusiasts in search of high-quality, up-to-date, and sustainable wardrobe options. Don't miss out on the opportunity to discover premier brands and curated collections while saving money and promoting eco-friendly consumer habits through Tradesy. Experience the future of resale shopping with Tradesy today.
Pros
Tradesy provides a platform for users to sell and buy gently-used or pre-owned luxury fashion items at a lower cost, making designer items more accessible.
The app offers secure payment and shipping options, making the transaction process hassle-free and safe for both buyers and sellers.
Cons
Tradesy charges a relatively high commission fee on each transaction, which can decrease the profit margin for sellers.
Some users have reported difficulty with customer service and dispute resolution, which may deter people from using the app.
Conclusion: Overall, Tradesy can be a useful tool for those looking to buy or sell luxury fashion items, but potential users should be aware of the commission fees and potential customer service issues.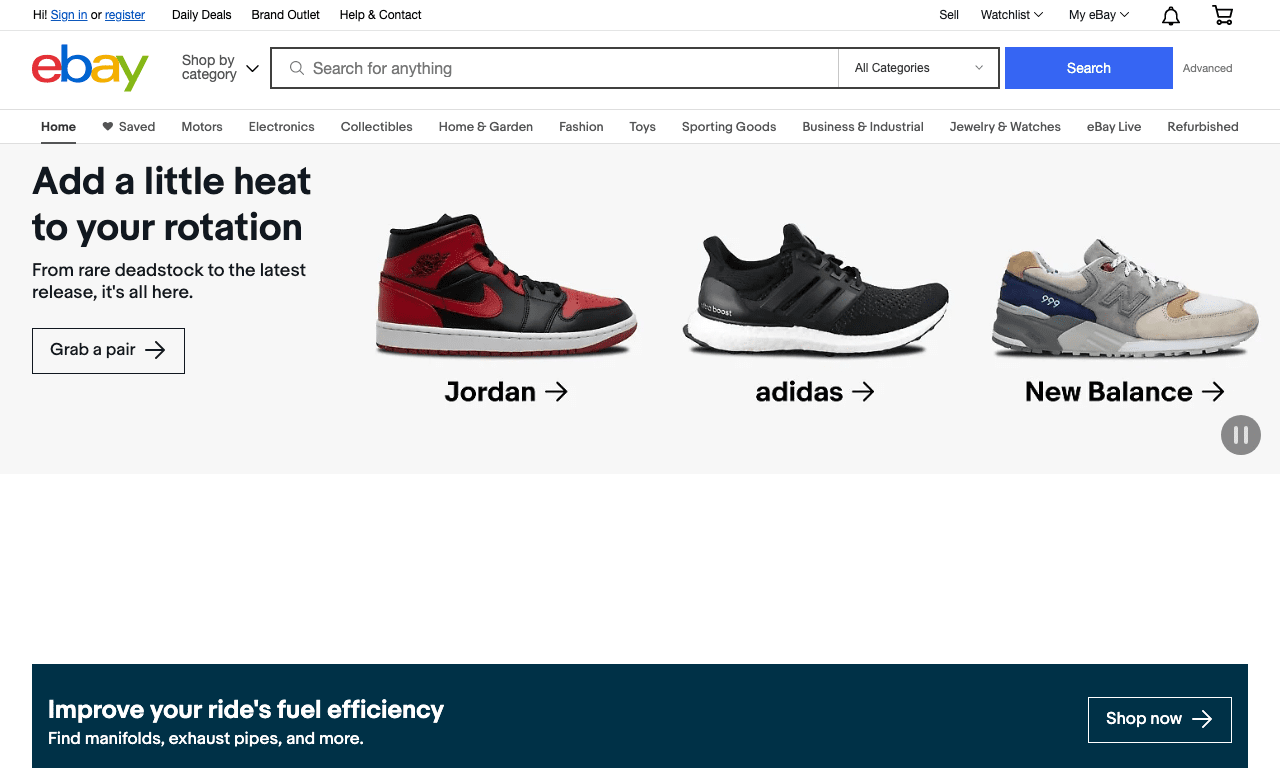 3.9

Explore the world of online shopping with eBay, a renowned app that offers a dynamic marketplace for buyers and sellers. Discover a wide range of exclusive deals, unique products, and pre-owned items from various categories. Experience seamless transactions, secure payments, and personalized recommendations, all while enjoying the convenience of shopping from the comfort of your own home. Choose eBay for a user-friendly platform designed to cater to all your shopping needs.
Pros
Wide variety of products available for purchase, often at lower cost than traditional retail stores.
Opportunity for individuals to sell their own items and make money.
Cons
Potential for scams or misrepresentations from sellers.
Shipping and handling costs can add up, making the overall price less appealing.
Conclusion: While eBay offers a convenient and expansive platform for buying and selling a vast array of items, users should exercise caution and be aware of the potential risks involved.
Frequently Asked Questions
Q: What are the top 10 Poshmark alternatives for online fashion resale in 2023?
A: The top 10 Poshmark alternatives include Depop, ThredUp, Mercari, Vinted, OfferUp, Letgo, Tradesy, Carousell, eBay, and Poshmark itself.
Q: Are all of these alternatives to Poshmark eco-friendly and budget-friendly?
A: Most of these platforms promote sustainable and affordable fashion by offering pre-loved items at discounted prices. However, each platform may have its specific focus and features that cater to different user needs.
Q: Can I use these Poshmark alternatives for buying, selling, or swapping clothing and accessories?
A: Most of these platforms allow users to buy and sell clothing, accessories, and other items. Some apps, such as Vinted, also offer swapping options for users.
Q: Are these online fashion resale platforms safe to use?
A: While these platforms implement secure payment systems and customer protection features, it's still essential for users to exercise caution, be aware of potential scams, and follow each platform's safety guidelines.
Q: Which Poshmark alternative is the best for finding unique and vintage items?
A: Depop is recognized for its unique and vintage offerings, making it an ideal platform for users seeking one-of-a-kind fashion items.
Q: What are some downsides to using these Poshmark alternatives for selling items?
A: Cons include high commission fees, difficulty in promoting listings, potential shipping costs, and limited seller protection in some cases.
Q: Are these Poshmark alternatives suitable for selling and buying luxury items?
A: Tradesy focuses on luxury fashion items, providing an authenticity guarantee, secure payment, and shipping options to cater to this niche market.
Q: How do these platforms help promote eco-conscious and sustainable fashion?
A: By offering pre-owned clothing, accessories, and other items at discounted prices, these platforms encourage recycling of products, reduce waste, and promote a more sustainable approach to fashion.
Q: Is it easy to sign up and start using a Poshmark alternative?
A: Most of these platforms offer an easy sign-up process and user-friendly interfaces, making it convenient for new users to start buying and selling items online.
Q: Are there regional limitations for using these Poshmark alternatives to buy and sell items?
A: Product availability may vary depending on regions and user proximity for some of these platforms. It's essential to check each platform's coverage and shipping options before committing to using them.