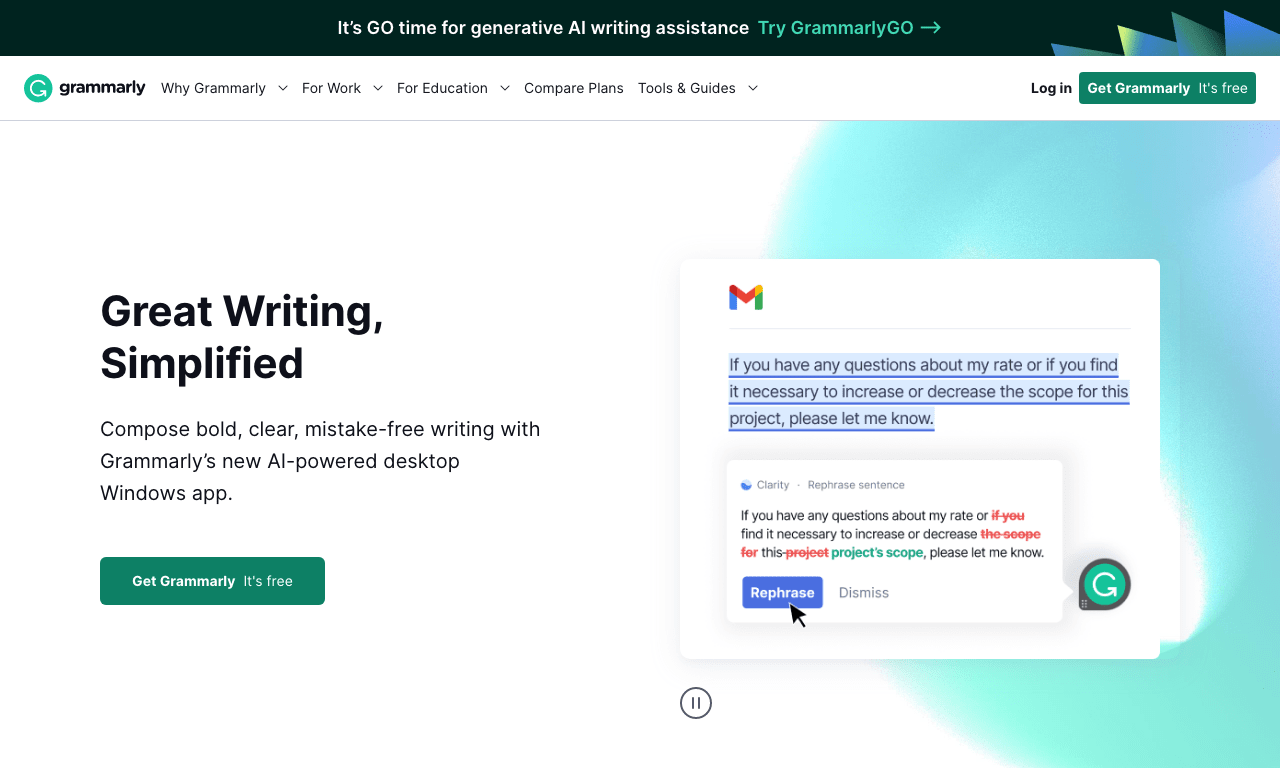 Top 10 Grammarly Alternatives to Boost Your Writing Game in 2023
Are you looking to up your writing game in 2023? Tired of making grammar gaffes and typos that leave a less-than-stellar impression on your readers? Fret not, as there are some outstanding alternatives to Grammarly that can help you achieve writing perfection without breaking a sweat! In this article, we will explore the top 10 apps like Grammarly that can help you save time, refine your writing skills, and create flawless content for your readers. Say goodbye to embarrassing errors and hello to crystal-clear communication, with these amazing Grammarly alternatives that are worth trying in 2023. Let's dive in!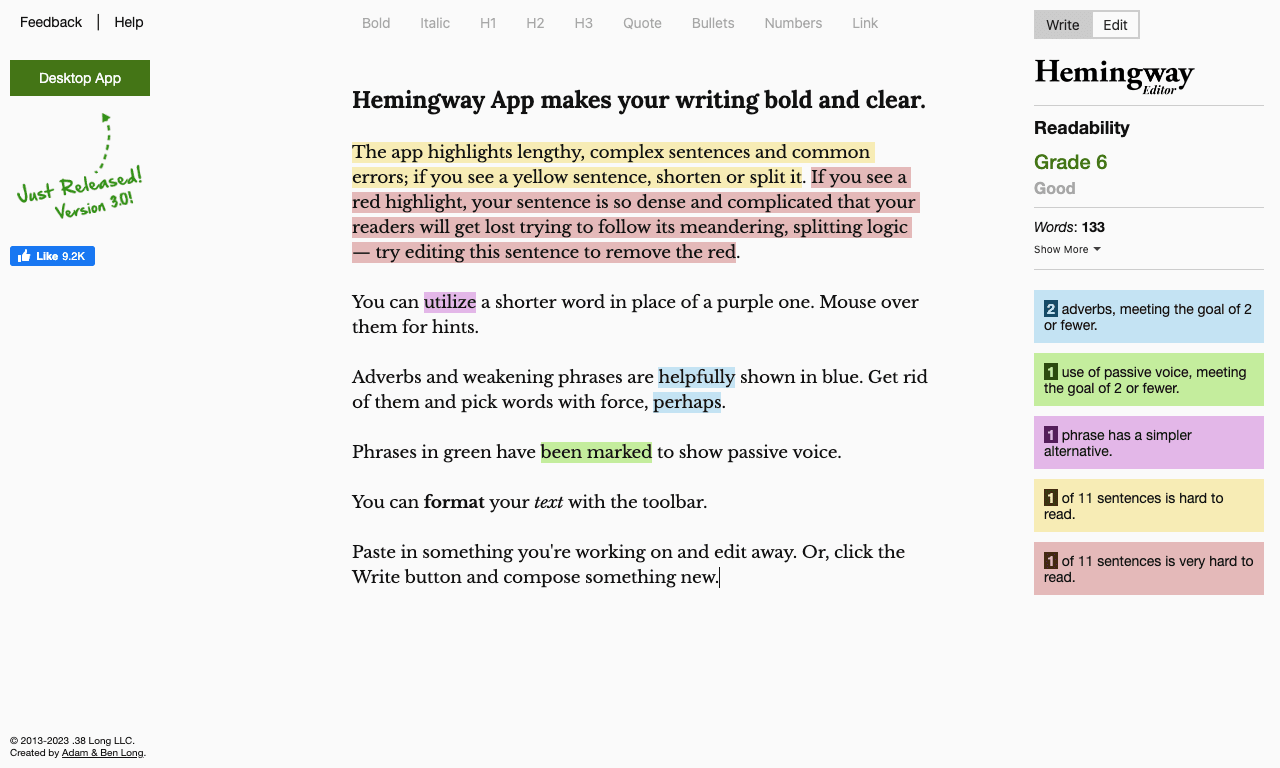 4.8

Hemingway is a powerful writing enhancement app designed to improve your writing quality by analyzing your text and offering suggestions for a clearer, more concise, and easily readable style. The app highlights the use of long, complex sentences and common errors, while also providing guidance on essential elements like passive voice, adverbs, and correct punctuation. Whether you're working on a blog, email, or academic paper, Hemingway helps you create polished content that impresses readers and boosts your credibility. Experience a streamlined writing process without compromising your unique voice with the Hemingway app.
Pros
Hemingway provides a user-friendly interface that makes it easy for users to identify and correct errors in their writing.
The application offers helpful suggestions for simplifying complex sentences and avoiding passive voice, which can improve the overall readability of a piece of writing.
Cons
Hemingway may not be applicable for all types of writing, such as technical or academic writing, where a certain level of complexity is necessary.
The application's suggestions for simplifying language may lead to the over-simplification of important concepts, potentially undermining the quality of the writing.
Conclusion: Overall, Hemingway is a useful tool for writers seeking to improve the clarity and readability of their writing. However, it is important for writers to use their own judgment when making revisions based on the application's suggestions, as the application is not a substitute for a writer's own critical thinking and editing skills.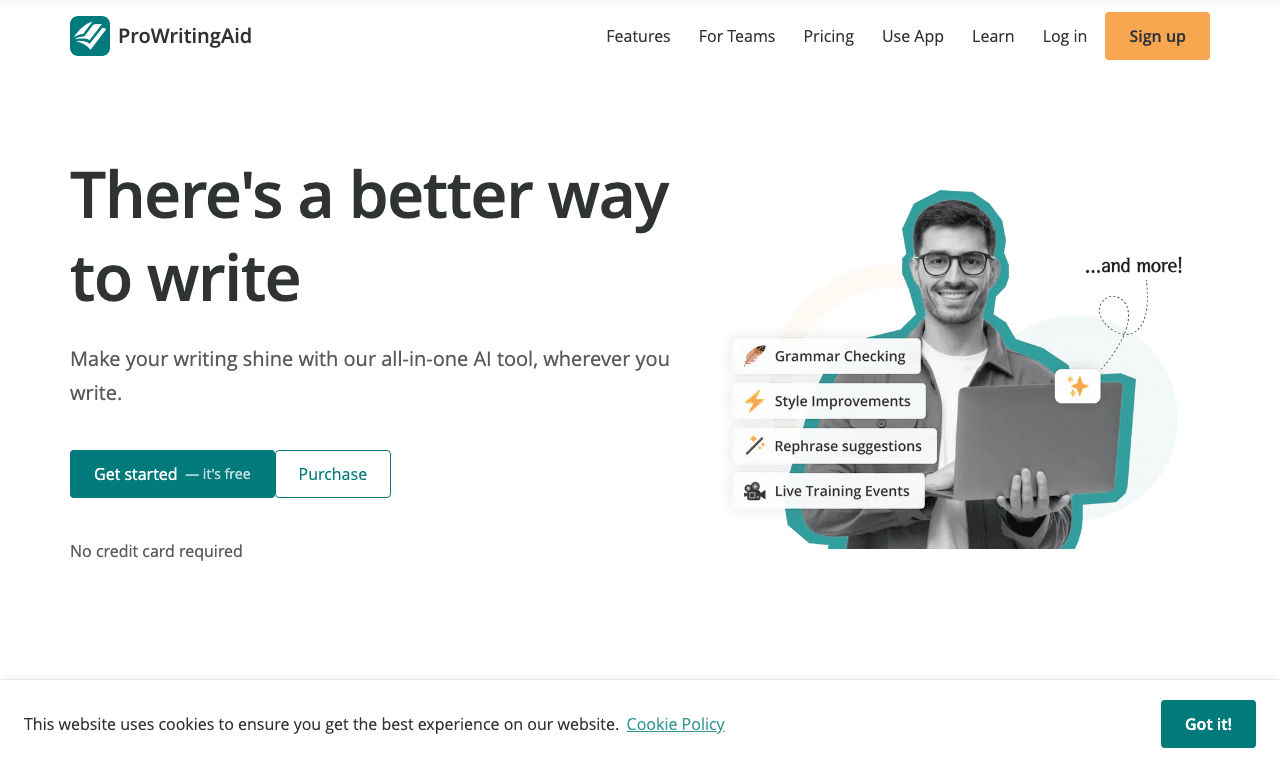 4.7

ProWritingAid is a comprehensive editing and writing enhancement tool, designed to help both aspiring and professional writers improve their skills. The app offers in-depth grammar checks, style analysis, and writing suggestions, making it an essential tool for producing high-quality content. Elevate your writing experience with ProWritingAid's innovative features and advanced technology. Experience the benefits of robust editing assistance, enabling you to communicate your ideas effectively and with confidence. Discover ProWritingAid, and unlock your writing potential.
Pros
ProWritingAid offers a variety of features that help writers improve their writing, such as grammar and spelling checks, style suggestions, and readability analysis.
The software allows users to customize their preferences and choose which suggestions to implement, giving writers more control over their work.
Cons
The software may not be suitable for writers who prefer a more hands-on approach to editing. Some users may find the automated suggestions to be too rigid or unnecessary.
The pricing structure may be prohibitive for some users, with some of the more comprehensive plans costing several hundred dollars per year.
Conclusion: ProWritingAid can be a useful tool for writers looking to improve their writing skills. However, it may not be the best fit for everyone. Those who prefer a more personalized editing experience may be better off working with a professional editor. Additionally, the cost of the software may not be feasible for all users, particularly those on a tight budget. Nonetheless, ProWritingAid remains a popular choice among writers who value its convenience and range of features.

4.6

Ginger is a cutting-edge language enhancement app designed to elevate your communication skills by providing advanced grammar and spell-check features. Experience a seamless writing process with its intuitive interface and benefit from personalized language learning tools that adapt to your needs. Harness the power of Ginger to transform your writing style and create polished, error-free content.
Pros
Provides corrections and suggestions for grammar and spelling errors in real-time as you write.
Supports more than 40 languages and can be used in a variety of applications such as email, messaging, and social media.
Cons
The free version has limited functionality and access to advanced features such as plagiarism detection and text reader requires a premium subscription.
The accuracy of the suggestions can be hit or miss at times and may not always reflect the intended meaning.
Conclusion: Overall, Ginger can be a useful tool for improving writing skills and catching errors in real-time. However, the limitations of the free version and occasional inaccuracies may make it less appealing to some users.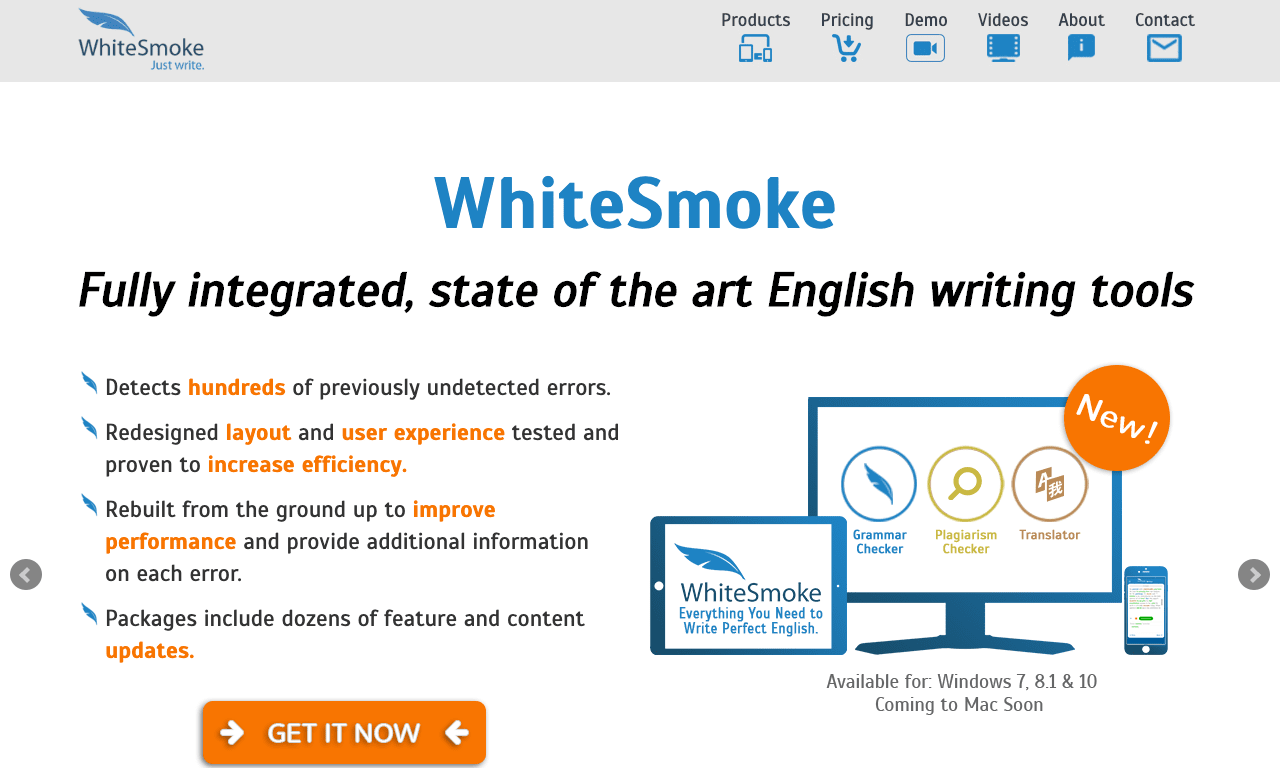 4.5

WhiteSmoke is a cutting-edge app designed to enhance your writing experience by providing advanced grammar, punctuation, and spelling checks. Leveraging powerful artificial intelligence technology, WhiteSmoke offers real-time text analysis, comprehensive corrections, and tailored suggestions, ensuring clear, error-free, and polished writing. With its customizability options and multilingual support, WhiteSmoke is a must-have tool for both professional and casual writers striving to elevate their communication skills and improve their overall written content.
Pros
WhiteSmoke is a comprehensive writing tool that not only checks grammar and spelling, but also offers suggestions for style, tone and vocabulary improvement.
It integrates with various platforms, including Microsoft Word, web browsers and email clients, making it convenient to use across different devices and applications.
Cons
The pricing plans can be quite expensive for individual users, especially compared to other grammar checker tools in the market.
The suggestions provided by WhiteSmoke are not always accurate or relevant, and may require manual review and editing by the user.
Conclusion: Overall, WhiteSmoke is a useful writing assistant that can enhance the accuracy and clarity of your written communication. However, its pricing and reliability may not be suitable for everyone, and users should evaluate their specific needs before committing to a subscription.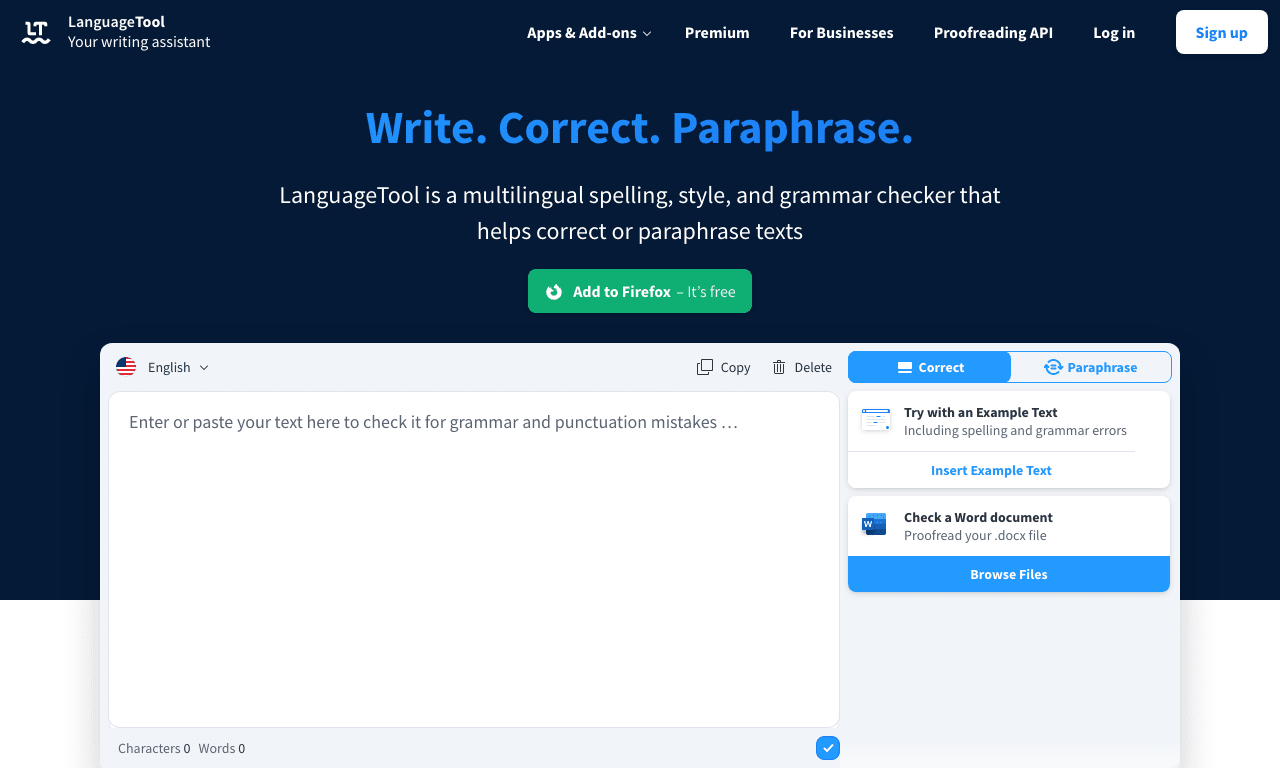 4.4

LanguageTool is an advanced grammar and spell-checking app designed to enhance your writing skills by identifying and correcting language errors. This comprehensive solution supports multiple languages and integrates seamlessly with various platforms, providing users with real-time feedback for improved language proficiency. Explore the robust features of LanguageTool to elevate your writing experience and ensure error-free content, regardless of your linguistic background. Experience the innovative power of LanguageTool today and transform your writing into a masterpiece.
Pros
LanguageTool can detect and correct grammar and spelling mistakes in multiple languages, which can be helpful for people who need to write in languages they are not fluent in.
It is available as a browser extension, a desktop application, and an add-on for several popular word processors, making it accessible to a wide range of users.
Cons
While LanguageTool can detect some more advanced grammar mistakes, it is not always 100% accurate and may not catch every error.
Some of the more advanced features, such as suggestions for rephrasing a sentence or making it more concise, require a paid subscription or upgraded version of the software.
Conclusion: Overall, LanguageTool can be a useful tool for those who need help with grammar and spelling in their writing, although users should keep in mind that it may not catch every mistake and some of the more advanced features require payment.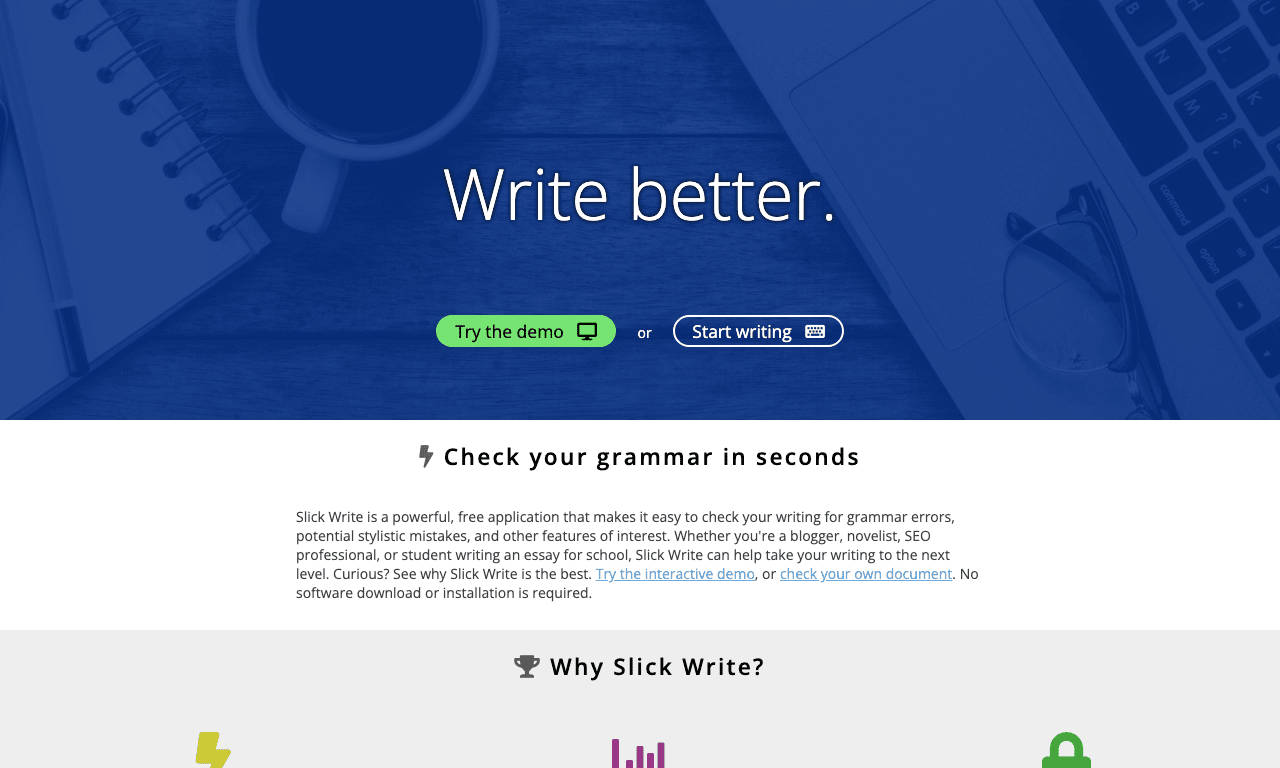 4.3

Slick App: Revolutionizing Task Management and Productivity
Discover enhanced efficiency and seamless organization with the Slick app, a cutting-edge task management solution designed to support success. This innovative application boasts an intuitive interface, streamlined workflows, and robust features to help you optimize productivity and stay on top of your goals. Experience the difference Slick app brings to time management, collaboration, and project execution, as it effectively transforms how individuals and teams accomplish their objectives. Make the smart choice and elevate your performance with the Slick app.
Pros
Slick has a user-friendly interface that is easy to navigate, making it accessible for people who may not be tech-savvy.
The application allows for seamless communication and collaboration between team members, helping to streamline workflows and improve productivity.
Cons
Slick lacks support for certain important features, such as video conferencing, which can be a drawback for teams that heavily rely on such tools.
The pricing structure for Slick can be confusing and may not be cost-effective for certain sizes of teams or businesses.
Conclusion: Overall, Slick can be a valuable tool for teams looking to improve their communication and collaboration. However, it is important to carefully consider the limitations of the application before making a decision.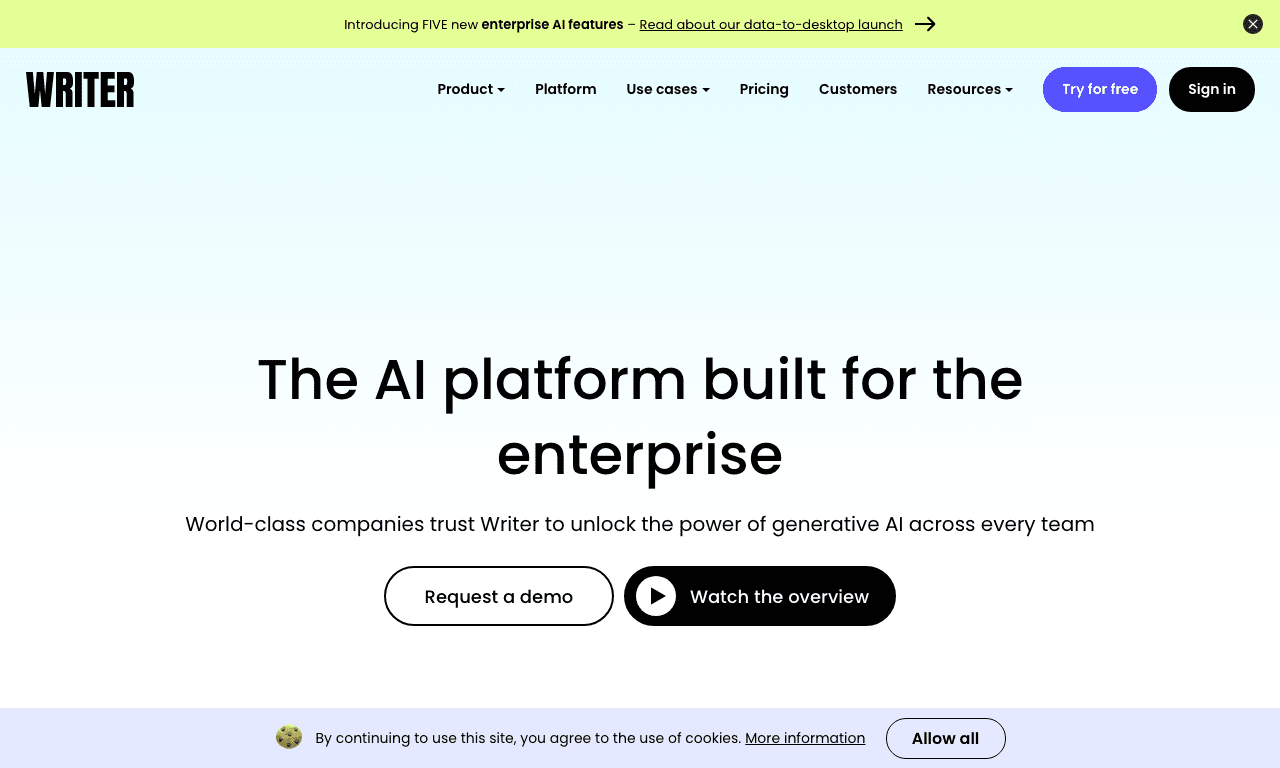 4.2

Discover the power of the Writer app, specifically designed to enhance your creative writing experience while simplifying your workflow. With its intuitive interface and distraction-free environment, Writer caters to aspiring and professional authors, fostering creativity and offering seamless writing tools to bring your ideas to life. Explore the compelling features like streamlined text editing, customizable themes, and robust organization capabilities fused into a user-friendly platform to elevate your writing journey. Writer revolutionizes and redefines the writing process in today's fast-paced digital age.
Pros
Writer is a free and open-source application that can be downloaded and used on multiple platforms, including Windows, Mac, and Linux.
Writer has a simple and user-friendly interface that makes it easy for users to create and edit written content, with support for basic formatting, spell-check, and the ability to export to various file formats.
Cons
Writer does not have the advanced features or collaboration capabilities of some of the more popular word processing applications, such as Microsoft Word or Google Docs.
While Writer is compatible with many file formats, there may still be some compatibility issues if users need to share their documents with others who are using different software.
Conclusion: Overall, Writer is a solid option for basic writing and editing needs, especially for those who prefer an open-source software solution. However, users who require more advanced features or collaboration may need to consider other options.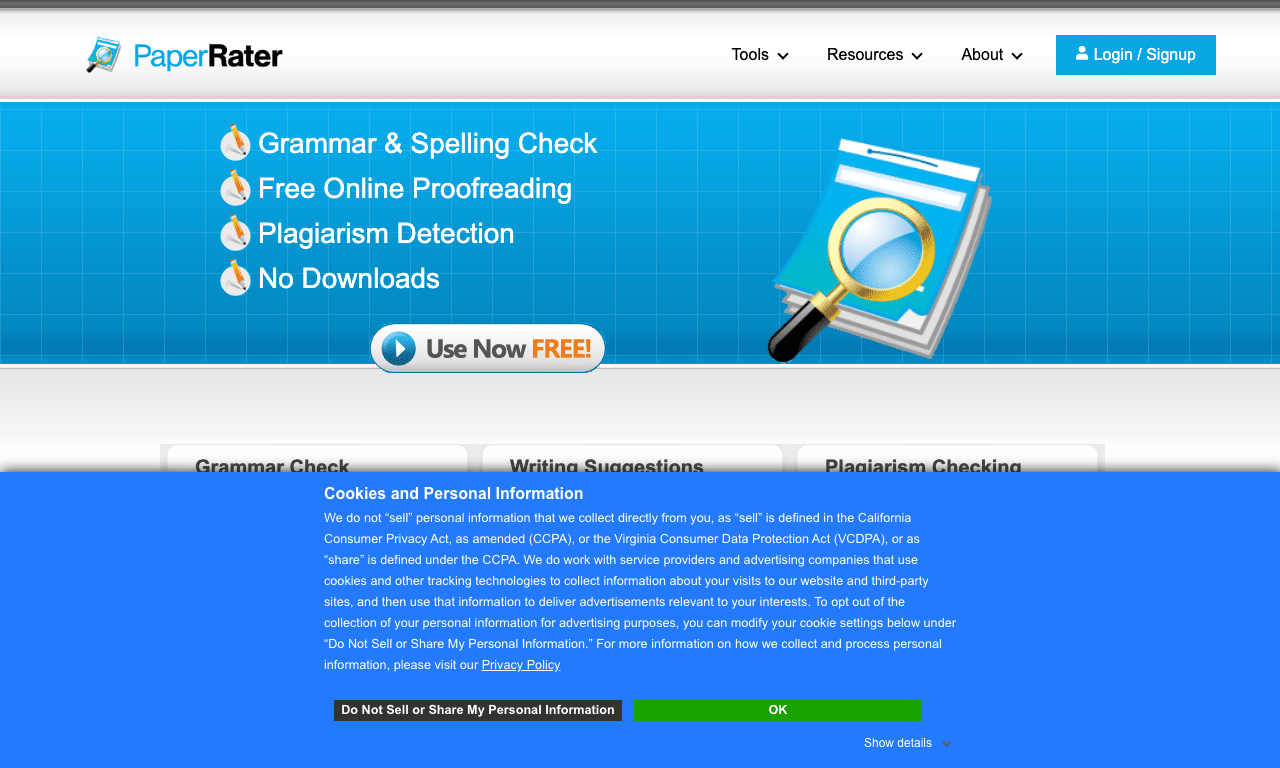 4.1

PaperRater is an innovative digital platform that offers top-notch proofreading and grammar-checking services, making it a must-have app for professional writers and students. With its advanced artificial intelligence and data science technologies, PaperRater provides effective tools for enhancing your writing, including plagiarism detection and readability analysis. Enhance your writing with PaperRater's seamless editing experience and elevate the quality of your work to new heights.
Pros
PaperRater provides a comprehensive analysis of the written content, including grammar, spelling, and plagiarism checks, which aids in producing high-quality written material.
The application is easy to use and available for free.
Cons
Although it provides various features and checks, it is sometimes inaccurate in identifying errors.
The plagiarism check is limited only to texts, which means that it might not pick up on possible plagiarism from other sources, such as pictures or videos.
Conclusion: PaperRater is a helpful tool to enhance the quality of written work, but it should not replace human proofreading and editing. Users should take the results of the app with a grain of salt and make further adjustments based on their personal judgment.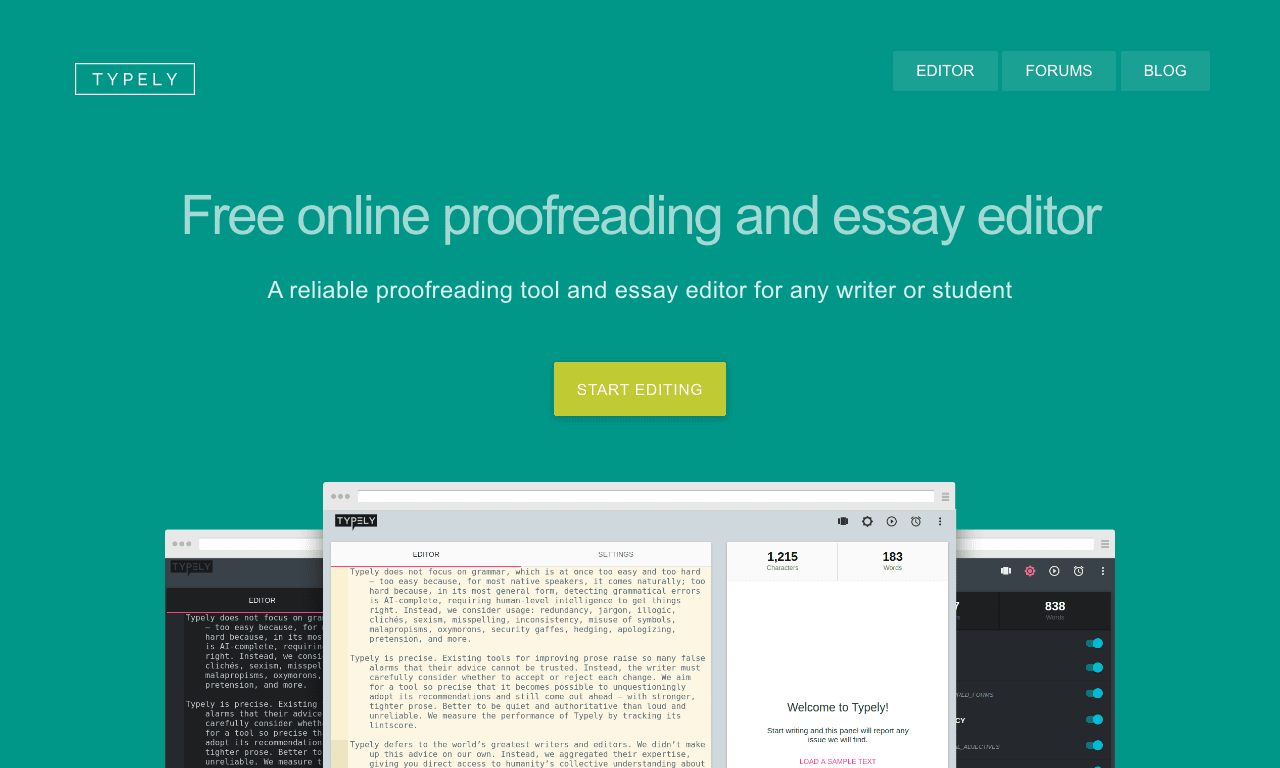 4.0

Typely is a cutting-edge app designed for writers, editors, and content creators who seek to improve their writing skills. With its advanced features and user-friendly interface, Typely helps users polish their content by providing instant feedback on grammar, spelling, punctuation, and style. Eliminate common writing errors, enhance readability and convey a clear message with the advanced assistance of Typely's powerful linguistic algorithms, making it the perfect tool to step up your written communication game. Experience the benefits of seamless writing and editing with Typely today.
Pros
Offers a variety of editing tools including spell-checking, grammar checking, and style recommendations
Allows users to customize their settings, including language preferences and reading level
Cons
The free version has limited functionality, and the paid version may not be worth the cost for some users
Some users have reported technical glitches and errors, particularly with the spell-check feature
Conclusion: Overall, Typely can be a useful tool for writers and editors looking to improve their work. However, users should weigh the pros and cons carefully to determine if it meets their needs and preferences. Additionally, it may be useful to test out the free version before committing to the paid version.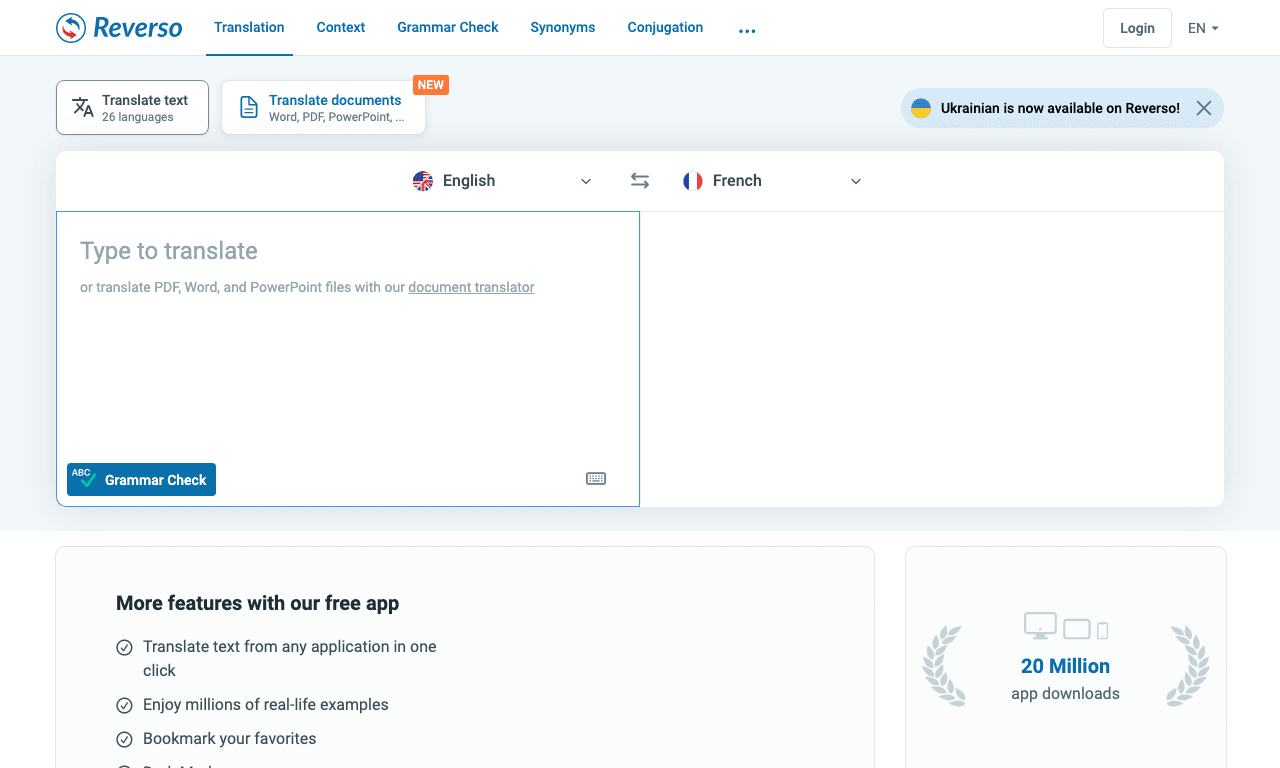 3.9

Reverso is a cutting-edge language app designed for individuals seeking to enhance their multilingual skills. With features such as accurate translation, synonyms, pronunciation assistance, and context-based examples, Reverso stands out as a comprehensive language learning solution. Catering to various proficiency levels, this app offers invaluable functionalities that simplify and elevate language acquisition in an engaging and seamless manner. Experience the Reverso advantage and boost your linguistic capabilities like never before.
Pros
Reverso offers translation in multiple languages, making it a useful tool for communication between people of different cultures.
The app has a feature where users can listen to a native speaker pronounce words or phrases, helping to improve their pronunciation and accent.
Cons
Reverso's free version has limited features, and users need to pay for a premium subscription to access all the app's functions.
While Reverso is generally accurate with translations, it is not perfect and may not always provide an exact translation.
Conclusion: Reverso is a helpful language translator app, particularly for those who require translations for business or travel purposes. Its accessibility in multiple languages and pronunciation feature make it a standout app, despite its limitations in the free version. However, users may need to exercise caution and not rely entirely on the accuracy of the translations provided by the app.
Frequently Asked Questions
Q: What are the top 10 Grammarly alternatives to boost my writing game in 2023?
A: The top 10 alternatives to Grammarly include Hemingway, ProWritingAid, Ginger, WhiteSmoke, LanguageTool, Slick, Writer, PaperRater, Typely, and Reverso.
Q: Are there any free Grammarly alternatives on this list?
A: Yes, Hemingway, LanguageTool, Writer, PaperRater, and Typely offer free versions with basic functionalities. However, most of these applications also offer premium versions with more advanced features.
Q: Can these Grammarly alternatives help improve my writing style and tone?
A: Applications like ProWritingAid, WhiteSmoke, and Typely provide suggestions and analysis to help improve your writing style and tone, in addition to basic grammar and spelling checks.
Q: Do the Grammarly alternatives mentioned support multiple languages?
A: LanguageTool and Reverso support multiple languages for grammar and spell-checking, as well as translation services. Ginger also supports more than 40 languages for its features.
Q: Can I use these Grammarly alternatives on various platforms and devices?
A: Most of these applications have browser extensions, desktop applications, or integrations with popular word processors, making them accessible across different platforms and devices.
Q: How accurate are these Grammarly alternatives in terms of grammar and spelling checks?
A: While these applications use advanced algorithms for grammar and spelling checks, they may not be 100% accurate in identifying all errors. Human proofreading and editing are still essential to ensure high-quality writing.
Q: Do any of these Grammarly alternatives offer plagiarism detection?
A: ProWritingAid and PaperRater offer plagiarism detection as part of their premium features.
Q: Are the user interfaces of these Grammarly alternatives beginner-friendly?
A: Most of these applications, such as Hemingway, Writer, and Typely, have user-friendly interfaces that are easy to navigate even for beginners and non-tech-savvy users.
Q: Will these Grammarly alternatives help improve the readability of my writing?
A: Applications like Hemingway, ProWritingAid, and WhiteSmoke provide suggestions to improve the readability of your writing by simplifying complex sentences, avoiding passive voice, and providing style and tone recommendations.
Q: How much do the premium versions of these Grammarly alternatives cost?
A: The cost of premium subscriptions varies by application, with some offering monthly or annual plans. It's essential to review each application's pricing structure to determine the best option for your specific needs and budget.