🔥Unlock the Power of YouTube Shorts! 🚀Your Ultimate Guide to Crushing it on YouTube's Latest Feature! 👀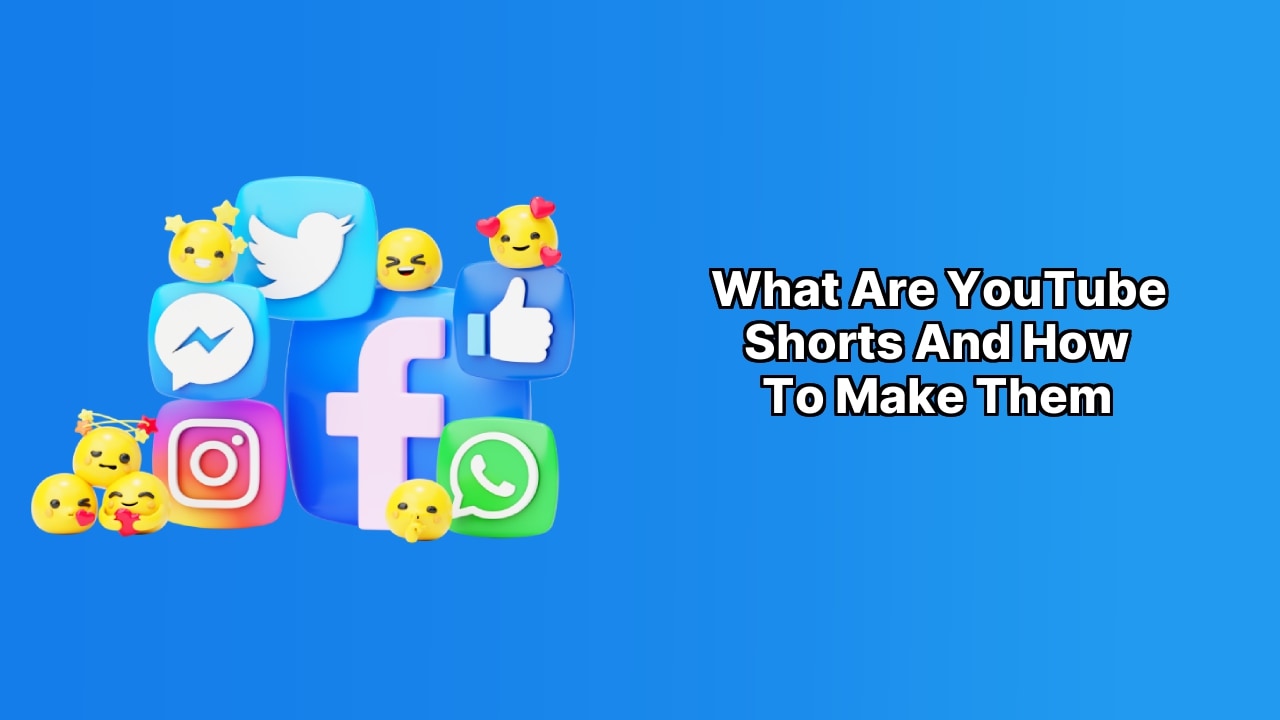 👋Hey there, world-changers! Ready to dominate the online universe and take your YouTube game to the next level? You need to get up close and personal with YouTube Shorts – the coolest, newest, and trendiest way to engage your followers and multiply your subscribers. YouTube Shorts are hot right now, and if you're not in the game, you're falling behind. Don't worry though! This guide will show you the ropes and propel you to YouTube Shorts superstar status in no time! 💥
1
🚀 Embrace the New Wave of Social Media with YouTube Shorts! 🚀
Alright guys, if there's one thing we know about the wild 🌏 of social media, it's that there's always something new popping up. 😀 The latest addition to the digital jungle is none other than YouTube Shorts. 😲 Bang on trend, these short-form videos are perfect for adding an extra layer of spice 🌶️ to your social media game. 👊
2
🤔 What's up with YouTube Shorts? 🤔
YouTube, the granddaddy of video-sharing platforms, is famous for its long-form, horizontal videos. 📺 But now, there's a tiny new player in the game – YouTube Shorts. 😎 These 60-seconds-or-less videos are all about quick, punchy content that packs a punch. 🔥
3
📱 How to Craft Your Own YouTube Shorts 📱
Ready to hop on the Shorts train? 🚂 All you need is the YouTube app on your mobile device and you're set! 📲 Here's a quick step-by-step:
Tap the plus sign ✚ at the bottom of the screen.
Select Create a Short.
Start filming by tapping (not holding) the red record button. 🎥
Edit and add finishing touches. 🖌️
Create a snappy caption, set your video's visibility, and upload. 💪
4
💎 Unleash the Power of YouTube Shorts 💎
So, what makes YouTube Shorts so darn special, you ask? 🧐 Apart from the obvious fun of creating bite-sized content, YouTube Shorts are proven crowd-pleasers. 🎉 Over half of YouTube's watch time comes from mobile devices, making these mobile-first videos a sure hit. 😁 Add them to your YouTube strategy and watch your audience engagement spike! 📈
5
🏋️ YouTube Shorts Best Practices 🏋️
Want to give your YouTube Shorts the best shot at success? Here are some tips to help you out:
Consistency is key. 🔑 Make it a point to upload Shorts regularly to boost your reach. 📊
Make sure your Shorts are relevant to your audience. 👥 Keep it engaging, educational, and valuable. 🎁
Master the art of catchy intros. 🎣 If your first few seconds aren't gripping, viewers are likely to keep scrolling. 📜
Maximize your caption. With a 100-character limit, every word counts. 🖊️
So, what are you waiting for? 🎉 It's time to up your social media game and take YouTube Shorts for a spin. 🌪️ Let's go!
6
🚀 Everything You Need to Know About Rocking YouTube Shorts Like a Pro
👀 Are you dead set on claiming some of that YouTube real estate and making YouTube Shorts that are insanely entertaining and get tons of views? 🚀 You're in the right place! Let's reveal all the secrets behind creating YouTube Shorts that are 💯 on point.
7
😂 Creating Hilarious and Engaging Captions
Think about this – your video is your main act, 🎬 but your caption is what lures people in. Like that witty one-liner 🔥 that makes you crack a smile right before you choose to stop scrolling and watch a clip. When your Shorts pop up on the YouTube home feed, an eye-catching caption can be the deciding factor between a watch 👀 and a scroll.
Let's be real, no one wants to hassle with turning their phone to watch a video 🙅‍♂️. When shooting Shorts, keep it simple and use vertical format. Horizontal videos on Shorts end up with pesky blank spaces above and below them 🙄. Not a great look, right? Vertical all the way! 🙌
To boost views and reel people in, why not use trending tunes 🎶, clips, events, and hashtags? It's guaranteed to shine a spotlight on your content due to its viral nature. Just be sure it aligns with your brand and message. Remember, you want to jump on trends, not derail your brand train. 🚂
10
🔊 Keeping it Real and Authentic
You've got a unique voice, and it's crucial to showcase it in your Shorts. Aligning your content with your brand's mission, using your brand voice, ensures your content isn't out of place for your brand, which could damage your image. Keep it real and authentic, folks! 👌
11
🎥 Show Them What's Behind the Scenes
Everyone loves some juicy behind-the-scenes content, and your YouTube Shorts are a perfect platform for that. 📹 Show your audience how the magic happens – be it product creation, office tours or even bloopers! It humanizes your brand, and audiences just eat that up! 🤗
12
💰 Making Money from YouTube Shorts
Did you know you can actually earn money 💵 from your YouTube Shorts with the YouTube Shorts Fund? It's a $100 million fund for creators who generate a large audience for their Shorts. As long as you're 13 or above (with parental consent for those between 13-18), creating completely original content, and located in one of the participating countries, you're eligible. Cha-ching! 💰
13
🎬 Making Your Own YouTube Shorts
Ready to start creating your own YouTube Shorts? These bite-sized videos are an amazing way to boost your YouTube channel overall. Start creating, publishing, and promoting your YouTube video content now! 🎉
Have more questions about YouTube Shorts? We've compiled a short FAQ for you:
How long can YouTube Shorts be?
YouTube Shorts can be as long as 60-seconds. Choose if you want to record a 60-second clip or upload a 60-second pre-produced video! 🎬
How much do YouTube Shorts get paid?
The payout for YouTube Shorts depends on the number of views—but it usually ranges between $100—$10,000. For more, check out this guide on making money with YouTube. 💸
How long can YouTube Shorts captions be?
YouTube Shorts captions can go up to 100 characters long.📝
How many hashtags can you add to YouTube Shorts?
Even though YouTube technically allows up to 15 hashtags, we recommend that you use less than that, especially with a 100 character limitation on captions. 🏷️
Can you watch YouTube Shorts on a smart TV?
Nope, YouTube hasn't made Shorts available on smart TVs yet. They're meant for mobile viewing. 📲
Conclusion:
🏆There you have it, folks! Your ultimate cheat sheet to crushing it with YouTube Shorts! The video-sharing cosmos is ever-expanding, and staying at the forefront means adapting to new trends and features. YouTube Shorts is definitely one of them. Remember, this isn't just about posting videos – it's about creating engaging and original content that pulls in viewers and converts casual browsers into loyal subscribers. You've got all the tools and the knowledge – now go forth and conquer! 🚀
What exactly are YouTube Shorts?
YouTube Shorts is a relatively new feature from YouTube that allows users to create and share videos that are 60 seconds or shorter. These are vertical, mobile-friendly videos that offer a quick, engaging way for creators and brands to reach their audience.
How can I make a YouTube Shorts video?
YouTube Shorts can be created from scratch in the YouTube mobile app. You can record a video, add music and etc. Alternatively, you can upload an existing or edited video that is 60 seconds or less.
What's the potential benefit of using YouTube Shorts?
YouTube Shorts can potentially increase brand awareness and engagement. The fact that these short video clips are mobile-friendly and engaging can help you reach an expanded audience beyond traditional long-form video content.
What are some best practices for YouTube Shorts?
When creating YouTube Shorts, it's important to post consistently, create content relevant to your audience, use catchy captions, record in vertical format, and use trending songs and hashtags. You should also remember to use your authentic brand voice and to remember that Shorts loop, so tying the beginning and end of your video together can create a seamless loop that keeps viewers engaged.
Can you monetize YouTube Shorts?
Yes, you can monetize YouTube Shorts through the YouTube Shorts Fund, a $100 million fund set up to reward creators who attract large audiences for their Shorts. You can increase revenue just by the content you populate on social media.
How do I get started with creating YouTube Shorts?
You can start creating YouTube Shorts video by following a step-by-step process. It involves opening your YouTube app, tapping the plus sign to create a Short, allowing access to your camera, and recording and editing your video before uploading it.
What's the maximum length for YouTube Shorts?
The maximum length allowed for a YouTube Shorts video is 60 seconds or less.
How much can I potentially earn from YouTube Shorts?
The income generated from YouTube Shorts varies and depends on the number of views garnered. The earning range can be anywhere from $100 to $10,000.
How lengthy can YouTube Shorts captions be?
You can create captions for your YouTube Shorts that are up to 100 characters long.
What's the maximum number of hashtags I can add to my YouTube Shorts?
You can add up to 15 hashtags to your YouTube Shorts. However, since captions are limited to 100 characters, you'll likely need to use fewer hashtags.
Can I view YouTube Shorts on my smart TV?
No, currently YouTube Shorts are primarily designed for mobile viewing and are not available on smart TV apps.
How often should I post YouTube Shorts?
For maximum reach and visibility, it's recommended to post YouTube Shorts consistently. Some creators have noticed increased views after committing to posting a short video every day.
Will using YouTube Shorts increase my channel subscriptions?
Yes, using YouTube Shorts can potentially increase your YouTube channel subscriptions. If a new viewer discovers your brand through Shorts and subscribes, they automatically become subscribed to your longer-form content as well.
Can I repurpose existing long-form videos into YouTube Shorts?
Yes, you can repurpose existing long-form videos into YouTube Shorts by cropping them to fit the vertical format and ensuring they are 60 seconds or less.
What are some content ideas for YouTube Shorts?
There are many content ideas for YouTube Shorts ranging from how-to videos, quick reviews, stories related to your industry, fun facts, and experiments to product creation, packaging, office tours, and bloopers.
Can I use YouTube Shorts to show behind-the-scenes content?
Yes, sharing behind-the-scenes moments is one of the most effective uses of YouTube Shorts. Offering a glimpse behind the logo can humanize your brand and keep viewers engaged.
How can I optimize the loop feature of YouTube Shorts?
Since YouTube Shorts automatically loop back to the beginning once the video clip ends, you can optimize this feature by making sure your video begins and ends in a way that forms a logical and seamless loop.
What's the eligibility criteria for monetizing YouTube Shorts?
Eligibility criteria for the YouTube Shorts Fund include having published an eligible Short within the last 180 days, adherence to YouTube's community guidelines, creation of entirely original content, being aged 13 or older (with parental consent for those between 13-18), and being located in one of the participating countries.
Is there an application process for the YouTube Shorts Fund?
No, there is no formal application process for the YouTube Shorts Fund. Instead, YouTube notifies qualified creators via email and in their YouTube account that they are eligible for a bonus from the Fund.
Can I use a trending sound byte in my YouTube Short?
Yes, using trending sound bytes can be a great way to attract viewers and enhance your YouTube Short's entertainment factor. Just ensure that it's relevant to your content and your brand.