The Ultimate Guide to Engaging Livestreams on YouTube 🎥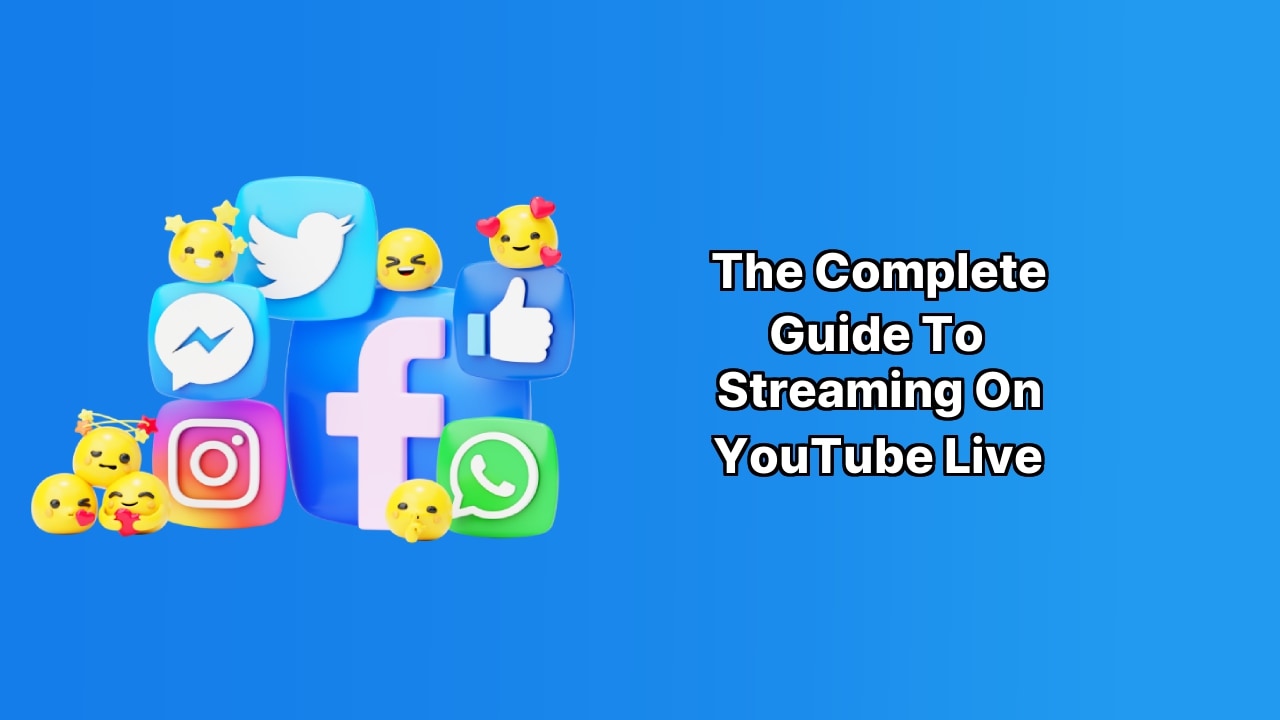 Hey, amazing internet audience! Ever wondered why live streaming is so popular? It's a completely unscripted, raw, and real examination of an individual or a brand. If you're eager for a piece of the YouTube livestream pie, you've come to the right place! We will unravel the advantages of live streaming, walk you through setting up your first live broadcast, and serve you with killer strategies for creating engaging live content. 🚀💥
1
🔥 What is YouTube Live? 😎
YouTube Live is the 👑 king of livestream platforms that enables all budding content creators to go wild and interact with their homies in real time via video and chat. You can easily go from Rookie to 🚀 Rocketman in seconds by going live. You can also check out what's hot and happening in your country by clicking on "Live" from the left sidebar on YouTube via desktop 💻. So, you bet, this is the place to be my friend🔥!Check out YouTube Live here.
2
🚀 YouTube Live: Benefits Galore!
If you're not yet convinced that YouTube Live can take you to another universe 🌌 of reach and brand awareness, then, check this out:
🌏 Hosting Virtual Events: Forget about the hassle of organizing events IRL, YouTube Live is your genie for hosting workshops, webinars and product launches virtually and we promise, it won't drain your 💰 resources. Plus, your events will teleport globally. 💥 Boom!
💬 Real Time Chit-Chat: Livestreaming on YouTube allows you to engage in a real and authentic conversation with your audience! Compliments, memes, LOLs, Respond to everything in real time and see your connections strengthen 💪🏼.
🔎 On-the-spot Trouble Fixes: Just as with any live event, going Live on YouTube enables you to respond to questions and problems instantaneously. Voila! Instant satisfaction!
🎯 Break Away From the Herd: YouTube, with its 2.5 billion monthly active users, is a whole new ocean 🌊 of opportunity! Now, you might think, with the truckload of data uploaded every day, it might be hard for you to stand out. Nope! Enter livestream, your golden ticket 🎟️ to uniqueness and attention!
3
🎬 How to Livestream on YouTube
Here's your step-by-step guide to becoming the next livestream sensation on YouTube:
Enable livestreaming: Let's start off real basic. You, my friend, need to switch on your livestreaming prowess. Just click on the Create symbol at the top ➕ and then hit 'Go Live'. It's as simple as that! Remember to verify your channel if you haven't. Hang tight, livestreaming might take up to 24 hours to get enabled.
Choose a Stream Type, Make it Epic: Do you want to vlog your heart out while on the move 🏃? Or, hosting a Q&A session from your cozy corner 🛋️ or are you planning to take your audience to a virtual concert 🎸? Well, YouTube offers three different livestream options for every type of occasion. Choose what suits your style and audience best.
Title, Description, Thumbnail: Do not underestimate the power of these three! An alluring title that screams "Click me!", a description with relevant deets and a thumbnail that is oozing with charisma can reel in your audience 🧲 like a magnet. Don't forget to sprinkle in some robust ke🔑words to boost your SEO!
Start Livestreaming: Okay, so you're all set and ready to blast off 🚀! All you gotta do now is to start the livestream and let your audience in your fascinating world! 🌐
4
🔥 Livin' Large on the Live🚀: Ultimate YouTube Livestreaming Guide😎
Gals and guys, wanna go LIVE in beast style and captivate millions? Buckle up! Here's how to set up, manage and, most importantly, monetize your own livestream on YouTube! 😋💰💰
5
🕹️ Setting Up Your Livestream Like a Pro 🎬
Google Support lays out a dead-simple way to set your livestream. 📹 All you need is to:
Select More options → Advanced Settings for pumping-up your settings ⚙️💪.
Don't forget to keep the right webcam and mic selected, DUH❗
💥 TAP Go Live to start the madness.
Squeeze Edit for settings adjustment – privacy, monetization, live chat, add tags and more 🛠️🛡️.
Tap End Stream when you're done mic-dropping 🎤💥.
6
🎨 Amp Your Streams! iOS ReplayKit & Procreate 🎨
For the art buffs out there, you HAVE to try streaming via iOS ReplayKit – it's SICK! 😱 Simply:
🔓Open your chosen app.
Eye the livestreaming menu → Select YouTube 🤳.
Follow the prompted steps).
Smack that Go Live button! 🍰
7
🔌 Basic Instruction for Encoder Livestreams 🔌
YouTube using an encoder has some vibes too! You just:
Login to YouTube ✅.
Click Create → Go Live 🖱️.
Tap Stream on your left and click on Create Stream 🖥️.
Install an approved encoder 📥.
Connect additional hardware, cameras, and mics 🎙️.
Start streaming! 🤘
8
😈 Playing Fair! YouTube's Community Guidelines and Terms of Service 😈
Your livestream gotta stick to some rules, folks 🧐! YouTube Live's Community Guidelines and Terms of Service ain't there for nothing. A 14-day timeout is something you don't want on your YouTube channel. So, no rule breakin' 😇
9
🛠️ Tools & Features to Transform Your Livestream 🛠️
YouTube is equipped with sick features to up your livestream game. Here's what you got:
Cross-channel live redirects! Opportunity to work with other YouTube creators🤝.
Go Live Together Invite guests to join your livestream – One possible feature in 2022👀!
Create clips! Snippets from your livestreams as standalone videos 🎞️.
Track your livestream's metrics! Real-time performance tracking of your livestream 🔍.
Premiere a new video! Watch the video with your audience in real time 🎉.
Turn on livestream DVR! Allows viewers to pause, rewind and continue watching your livestream 🔄.
Show a trailer! Promote your YouTube Live event and create hype with trailers 🎥.
10
💸 Show the Money! Monetizing Your Livestream 💸
Livestreaming is not only fun but, with the right moves, can be a killer cash cow🐄💵! YouTube Live offers several avenues for makin' that sweet dough:
Ads: Run pre-roll, mid-roll, display and overlay ads on your livestreams 🎯.
Super Chat: Helps your viewers show off their messages ⚡.
Super Stickers: Let your viewers express themselves with fancy stickers 💬.
Channel Memberships: Roll out the VIP treatment with membership plans📑.
So there you have it, folks! Get out there and start living large on the live. YouTube awaits your awesomeness 😎! And remember, always be as unpredictable as a beast 🦁! Peace ✌️!
11
🚀 Up Your Game With Member-Exclusive Perks ✨
Wanna crank things up a notch on YouTube? Well, providing exclusive perks to your members can be a killer way to do it! Offer your crew one-of-a-kind bonuses like custom emojis 😜, a members-only live chat 💬 and unique loyalty badges 🎖️. This way, you reward their loyalty and give them even more reasons to stick around.
Just a heads up – to enable monetization 💰 on YouTube, be sure to meet the minimum requirements of the YouTube Partner Program (YPP). Get accepted and unlock some real cool features, including the awesome power of monetization. 😎
12
💡 Nail Your Live Chat & Captions Management 📝
YouTube's packed with incredible options to help you manage your Live chat 💬 to ensure a chill hangout for all your viewers. Here's a taste of what you can do with Live chat features:
Switch on 🟢 or off 🔴 Live chat
Make your chat subscriber-only or members-only ⭐
Put the kibosh on chat messages with certain words ❌
Assign mods to handle or obliterate messages 🛠️
Enable "Slow Mode" to restrict chat timing ⏳
A killer feature— you can show (or not) live chat replay next to your streams, so people can check out what they missed 🕗.
Don't forget adding captions— it's a sweet way to display what's being said in your streams 💬. Auto-captioning's cool, but you can also embed captions or send them to YouTube via supported software. This makes your streams a lot more accessible and inclusive! 👌
13
💭 Land on Super Cool YouTube Live Ideas 🎬
Now that you've mastered setting up a YouTube livestream, let's gear up for the exciting part: figuring out what to stream about.
Here are a few epic ideas:
Q&A with your squad 🦸‍♂️🦸‍♀️
Spill the beans with an external guest 👤
Live interviews 🎤
Studio tours 🎥
Live gaming sessions 🎮
Product demos 🛠️
Explore what other creators are streaming on YouTube. Leverage your most-watched videos to brainstorm live topics that your audience will love. Dig into your data with tools like Sprout's YouTube Video Performance report to help figure out what works best. Also, a powerful way to generate ideas is to use a social listening tool, like the one from Sprout. 👀
14
🔝 YouTube Live Best Practices and Streaming Tips 📢
You're all set to go live, here're some proven streaming tips to make sure your livestream is 🔥:
Review your network connection — A stable internet connection is a must to avoid glitches, so speed test away before every stream! 📡
Put your equipment to the test — Cross-check your webcam, microphone and any other gear before you go live to avoid any oops 😅 moments.
Spread the word about your event — Amplify your upcoming livestream. Upload a trailer, schedule a premiere, or share on social media to attract a larger crowd. 🎯
Have a plan — Script or bullet points can save you from awkward moments live. Keep them handy! 📝
Stay safe — Be smart about what personal info you disclose. Use YouTube's safety and moderation tools to maintain a comfy atmosphere for your peeps. 😇
There you have it! An exciting way to engage with your audience, no matter where they're tuning in from 🌎. From live events, Q&A sessions to product launches, you can totally rock YouTube Live and boost your business!
Ready to take things up a notch? Try Sprout's YouTube management tools, free for 30 days. Let's do this! 🚀
Conclusion:
From hosting wild virtual events to buzzing product launches, the possibilities with YouTube Live are nearly limitless! If you manage it right, it's your golden ticket to truly connect with your audience and shake up the internet realm! And remember, even if things don't go perfectly on your first livestream, don't stress about it. Part of the charm of live content is it's real, raw, and uncut – sort of like life itself. So, hit GO LIVE and unleash your awesomeness on YouTube Live! 💪🎉 For more tips and tricks on dominating the internet world, click
here
and get started with your epic journey of becoming a YouTube Livestream rockstar! 👉🌟
What is YouTube Live?
YouTube Live is a unique feature offered by YouTube that lets content creators interact directly with their audience through video and chat in real time. It brings your audience closer to you by providing immediate engagement and fostering a stronger connection.
What are the benefits of hosting virtual events via YouTube Live?
Virtually hosting events on YouTube Live is hassle-free, cost-effective, and it allows you to reach a global audience. It's much less time-consuming and costly compared to organizing an in-person event. In addition, it allows real-time interactions with your audience, enhancing audience engagement.
How can livestreaming on YouTube expand your brand's reach?
With overflow of content on YouTube, livestreams can help you stand out from the crowd. Moreover, livestreaming facilitates real-time interaction with your audience, responding to questions and comments instantly, thus creating a stronger connection and increasing brand visibility.
Can you explain the YouTube Live verification process?
To start livestreaming on YouTube, your channel needs to be verified. This is a simple and fast process. However, do remember that it may take up to 24 hours for YouTube to enable livestreaming on your device once you've requested access and completed the verification process.
What are the requirements to livestream on YouTube?
There are a few prerequisites to livestreaming on YouTube. You need to verify your YouTube channel, have at least 50 subscribers to go live from mobile devices (this requirement isn't applicable to streaming from a computer), and stay clear of any YouTube livestreaming restrictions in the past 90 days.
How does one livestream from a mobile device on YouTube?
To livestream from a mobile device, you need to open the YouTube app, tap the 'Create' symbol at the bottom, then tap 'Go Live'. There's a short waiting period for livestreaming to be enabled, which could take up to 24 hours.
What should the title and description of a YouTube Live stream contain?
A well-written, catchy title paired with an optimized description can attract users. Using relevant and strong keywords will also help the content rank higher in search results. This, coupled with CTAs and any relevant links in the description, contributes to making the livestream more engaging and explanatory for your audience.
Can YouTube Live streams be monetized?
Yes, livestreams can be monetized on YouTube in several ways, such as running ads on videos, receiving Super Chats and Super Stickers from viewers, and through channel memberships. These methods can effectively generate additional revenue from your livestreams.
Are there Analytics available for livestreams?
Yes, YouTube Live provides real-time analytics for livestreams from mobile, desktop, and tablet. It offers insights into stream health, real-time metrics, and post-stream performance. These analytics can help tackle issues quickly and gauge audience engagement effectively.
What is a YouTube Premiere?
A YouTube Premiere lets creators watch a video in real time with their audience, creating a live, interactive experience. Although the video itself is not live, it has live chat and other interactive features. Once the premiere ends, the video remains on the channel as a regular upload.
What does a YouTube Live stream's title and thumbnail image contribute to?
Your livestream's title and thumbnail image are crucial contributors to its success. A standout title and vibrant, inviting thumbnail will determine whether a user clicks on your content or scrolls past it. Hence, always ensure your title is engaging and your thumbnail accurately represents your video content.
What are YouTube Live 'super chats'?
Super Chats on YouTube are a feature that allows viewers to pay for their chat messages during a livestream. When someone sends a Super Chat, their message is highlighted or pinned at the top of the chat, heightening their visibility and engagement during the livestream.
What is YouTube's Community Guideline strike policy?
A Community Guideline strike can be issued against a YouTube channel in the event of content violations. This could potentially hinder the channel's ability to livestream for up to 14 days. So, it's essential that all content adheres to YouTube's Community Guidelines and Terms of Service.
Are trailers a good way to promote YouTube Live events?
Yes, a trailer can be an effective way to generate excitement for your YouTube Live event. Trailers play on your watch page before the live event and can be up to 3 minutes long.
What are the benefits of turning on Livestream DVR on YouTube?
YouTube's live Digital Video Recorder (DVR) function allows viewers to fully control their viewing experience. With DVR, viewers can pause, rewind or fast-forward the livestream just like a pre-recorded video, allowing them to engage with your content at their own pace.
What are the different ways to monetize YouTube Live?
Monetizing on YouTube Live can be accomplished in a few ways. You can run ads on your live videos, enable Super Chats and Super Stickers for paid viewer interactions, and utilize Channel Memberships which allow subscribers to access exclusive content for a monthly fee.
What features does YouTube offer to manage Live chats?
YouTube extends a range of options for managing your Live chats, such as making the chat subscriber-only or members-only, assigning moderators, applying a time restriction between chats using Slow Mode, and the ability to review or block certain words in the chat.
What are some streaming tips for YouTube Live?
A checklist for a successful livestream on YouTube Live would includes ensuring a reliable network connection, testing your equipment well in advance, promoting your livestream effectively, protecting your privacy online, and preparing a script to confidently deliver your content.
What are some creative livestream ideas for YouTube Live?
You can conduct Q&A sessions, interview interesting personalities, host a virtual tour, conduct courses or tutorials, engage in live gaming sessions, offer behind-the-scenes views, host music sessions or even conduct product demos. Always be attentive to your audience's interests and be innovative in your content ideas.