🤩 The Ultimate Guide to Understanding TikTok 📱 World's Trendiest Social App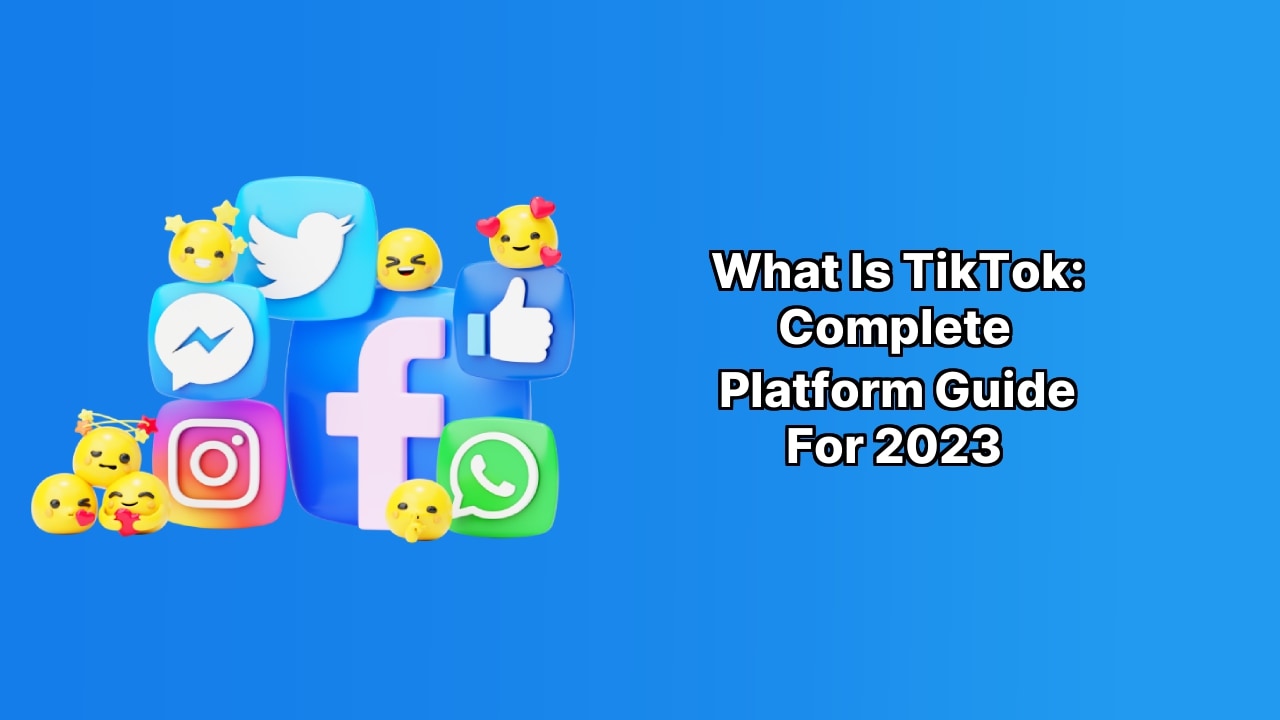 Welcome to our crammed guide on TikTok! 🎉 Ever found yourself totally mesmerized by a TikTok video on another platform, perhaps one with some epic lip-syncing or a viral trend? Well, guess what? Today, we're diving deep into the world of TikTok—the app that's changing the social media game forever. From the origins of the app, the creators, how it operates, its popularity, down to using it for your own gain, we'll cover it all. By the end of our guide, you'll possess the know-how of TikTok to understand its potential for your brand.👍 So, grab some popcorn and let's get started!💥
1
Enter the World of TikTok: A Viral Paradise
Who hasn't yet stumbled upon a catchy TikTok video, whether it's a lip-syncing trend or a meme-worthy post 🤳? Tell you what: TikTok has some darn serious power in the world of social media. As trends take on viral proportions, this popular platform can make your content reach millions, even giving your brand that buzzin' viral edge!
TikTok, in a nutshell, is a platform where you can create, edit, share, discover, and watch short, sizzling videos that are only a few seconds to 10 minutes long. It's like your very own video hub, filled with quirky content! Plus, it's continuously evolving. Starting off as a lip-syncing app, it's now so much more🎤🎧🎼.
Ever wondered, "Who created this fun potion of virality?" Its journey began as an app called Musical.ly in 2014, brought to life by Alex Zhu and Luyu Yang. Later, in 2017, ByteDance, a Beijing-based tech company, purchased Musical.ly only to merge it with its own already popular app named TikTok 🌐. So, TikTok today is a thrilling merger of these two energetic apps!
4
Setting Up: How TikTok Works?
This app gives you some awesome tools to jazz up your videos. You can beautify them with filters, stickers, and background music, then share them with the entire TikTok community. Whether you want to record directly in the app or upload videos from outside, they can be anywhere up to a glorious 10 minutes long🎥.
Create Videos 📷: You can make your TikTok videos by either shooting them directly through the app or uploading from outside. The tool lets you decide your video length, with a maximum limit of 10 minutes.
Add Music🎶: TikTok is a paradise for music lovers. You can explore new content by clicking a song link and searching for clips that use the melody. Fortify your creation with a famous song and watch it go viral in the community!
Collaborate🤝: Want to create a video with another creator? Its duet feature lets you share the screen and create corresponding videos, like short comedy skits or synchronized dances.
Filters and effects🎨: You can edit videos with different filters and effects. Enhance your work with enticing stuff like stickers, emojis, text, transitions, GIFs and time effects!
Live stream📡: For those select users with at least 1,000 followers, TikTok allows shameless live stream video broadcasts!
Truth to be told, TikTok isn't just a youngster's paradise. Although it's wildly popular among the younger users, a sizeable portion of its users age between 30-49 and even 40-49. So, it's a place teeming with a vast audience of different age groups🌏.
6
Why TikTok is a Sensational Hit
Not too long ago (just a couple of years, actually), TikTok was a new entrant. Today, it's a household name and has given rise to new celebrities and viral content thanks to its strong suite of features. Plus, TikTok was the most downloaded app worldwide as of Q1 2022, even outranking the mighty Google as the most popular web domain🌏📲
But what fuels the TikTok craze? Well, it's a viral trend machine. No surprise there! What gives it the edge, though, are unique elements like TikTok Sounds that perform 2.2 times better than content without sounds. Leveraging popular songs or sounds can supercharge your videos and make them part of the larger conversation, thus increasing your reach and chances of going viral💥.
7
🌽Let's Rock the Corn Song, but… Don't Forget the Copyrights!🙅‍♀️
Hey, you crazy trend-followers, guess what?💡Trends often kick-start right here on TikTok!🎉 So, if you've got a video that's nailing it on the app, why not spice it up and toss it elsewhere? You might find yourself swimming in success on those platforms too! 🏊‍♀️🏊‍♂️
You might remember that @sproutsocial posted that awesome corn video on TikTok, right? 😂🌽 Well, they were simply jumping on the viral "It's Corn" trend. But you know what's cooler? They also published the video on Instagram to keep hammering on that trend wave. 🌊🔨
But here comes the serious part – take it as a word of warning ⚠️ If your video uses a song, don't run into copyright issues – double-check that you're legally allowed to use that song on other platforms too. 😅🎶
Now, wouldn't it be great if you could make repurposing content easier by cutting out the runaround to each social platform? 🤔 Well, with the help of Sprout's TikTok integration, you can publish a TikTok video solely on TikTok, or publish that same gold across multiple platforms with just a single clip of a button! 🖲️🗺️
8
🔍 #Hashtags are Your New Best Friends! 🤝
You've got it right! 👏 Hashtags are an ultra-key part of viral trends and challenges! Use surefire ones, and you could potentially skyrocket your visibility! 🚀💫
Hashtags also work wonders when you're trying to find your crew on TikTok. 🕵️‍♀️🕵️‍♂️ I mean, have you seen the #BookTok community? 📚💖 It connects you to videos about book recommendations, bookstores, and more!❤️ I've got to tell you, tags like this can foster niche communities and become incredibly popular among them. Are you ready for the big numbers? Drum roll, please! 🥁… The BookTok hashtag has over 80.9 billion views! 🤯
9
🔗 Collaboration: Make Friends and Create Fun Stuff Together! 😍
TikTok is all about creating connections with your community and your friends. Community feed at your disposal? Check! ❤️ Their recent move to replace the Discover feed with a Friends Only feed supports that.
And hey, they've built collaboration right into their video creation tools. 👥 TikTok stitching, for instance, lets you add your commentary or reaction to existing clips – yep, including viral clips! Prime example? TikToker who often uses this feature to answer questions or explain the science behind popular videos. 🧑‍🔬
So, if you're itching to learn how to stitch on TikTok, it's a good idea! Why so? Because, alongside riding that trend wave, it gives you a chance to piggyback off of existing content before creating your own! 🎠😃
10
🥇 Challenges Await You: Bring it On! 🏆
Aha, we've got some more for you! 🔥 Users and brands alike come up with challenges that eventually go wildly viral and entice user participation. Besides, these challenges also do an excellent job at luring non-users to join the platform. 👥📲
I bet you remember that viral video of a TikToker skateboarding while drinking cranberry juice? 🛹🍹 Well, the brand saw this as an opportunity and crafted a challenge encouraging everyone to recreate the video. The result? #DreamsChallenge now has a whopping 21.1 million views! 🤩
And the list just goes on! TikTok moves at a breakneck speed, so by the time you're reading this, there could be entirely brand new ones waiting for you! ❤️
11
📹 Video Format: Stick to the Short and Sweet! 🍬
Put simply, TikTok offers the kind of content that consumers crave: bite-sized videos. 🍿 And guess what? A whopping 66% of consumers say short-form video is the most captivating content type! 🥳
So, credit where credit's due. TikTok popularized this format to such an extent that other platforms also added their short video feeds like Instagram Reels and YouTube Shorts. So, we'll leave this section short and sweet. 💌
12
🔄 Keep Sharing: Let the Cycle Continue! 😄
One extra reason why TikTok has gained such wild popularity so fast is because users on the platform can freely download videos from other users and share them on other social platforms to reach an even wider audience! 🔄🗣️
Oh, and don't worry about plagiarism. Since each video carries a TikTok watermark with the username of the original creator, it helps give due credit. So when people watch those downloaded videos on other platforms, they'll know exactly who to follow for more such incredible content! 🕵️‍♀️🙌
13
🛍️ Using TikTok for Business: Big Business Opportunities Ahead! 🚀
Alright, all you business heads out there, listen closely! 👂 With trends like #TikTokMadeMeBuyIt, and nearly 49% of users saying TikTok helped them make purchase decisions, the app offers a fantastic space to reach fresh consumers! 💼🎯
Surprisingly though, marketers often overlook the massive potential of TikTok. Sprout Social Index™ found out that only 39% of marketers were taking the plunge and surfing the TikTok wave. 🏄‍♀️🏄‍♂️
Even as we speak, many marketers are still trying to understand the TikTok world and figuring out how it fits into their overall social media content strategy and broader marketing campaigns.💡
So without any ado, let's dive in and explore a few popular ways brands are using TikTok to help you jump-start: 🚀
14
🔮 Launch a Branded Hashtag Challenge! 🌟
We're chiming in about the magic of using viral trending hashtags again because, hey, they can dramatically extend your reach! 📡 But hey, guess what? You can go creative and kick-start your very own trends on the platform too! 😎
TikTok challenges are campaigns or trends that inspire people to take part by performing tasks like demonstrating a talent, using a product, applying a filter, lip-syncing, and more! 🎤
Take this for an instance – the #MakeItVogue challenge. Vogue paired up with TikTok to roll out a campaign that was all about fashion history. They urged people to revisit history by posting videos recreating fashion of the 19th-century using everyday objects! And, boy oh boy, it worked wonders! The hashtag now boasts an astounding 3.6 billion views! 😮
But wait, there's more. They also initiated a less formal challenge with the hashtag #ifeelstrong. It encourages people to post videos of things that make them feel powerful, attracting an impressive 565.3K views. 💪🌟
So the bottom line? Whether you're officially pairing up with TikTok on a branded challenge or tying up with platform creators or creating a heated competition, you're in for a surprise. But remember to stick to copyright laws!⚖️
15
🤝 Work with Influential Content creators!
Needless to say, influential content creators on TikTok have millions of followers and drive a truckload of engagement that brands can lasso to boost their efforts. They can also help in rolling out campaigns featuring their products or services, jumpstarting a branded hashtag challenge, and so much more! 🚀
Take this for instance – Universal Pictures brilliantly executed a digital marketing strategy for their movie promotion. They collaborated with ten influential creators who produced 'magical' stories using the hashtag #FindYourMagic. These videos launched 1.3 million likes in total, resulting in 19k+ more videos from other users. Plus, the brand also gained a whopping 11k+ new followers in just six days. And by now, the hashtag has garnered over 80 million views on the platform! 🎉
16
🎈 Don't fear to Experiment!
Here's the best part about TikTok's zestful pace – if one video fails, it doesn't matter! The thing is, you've got unlimited opportunities to try again, up your game, and nail it! 🎯🔨
What's the secret to success here, you ask? Well, you've got to reuse your old content with new sounds and see how that works. While you're going about this, make sure to use TikTok analytics to keep a tab on your progress and figure out which posts are hitting the jackpot! 📊💰
And while you're at it, remember to engage, engage, and engage some more! Responding to comments and questions on TikTok is super important. Even a simple response can be the game-changer, helping you win fan hearts and build lasting connections! 💕
17
👀 Looking for Creative Ways to Engage with Fans? Try the Power of TikTok!
What's up everyone? 🙌 Let's talk about something that's just as interesting as exploring abandoned buildings or buying every ad we see – using TikTok for an ultra-interactive approach to community engagement! 💬 And guess what? This will help you build out your content calendar, without breaking a sweat! 💪
18
✨ Smooth Out the Rush of TikTok Comments
Sometimes, tracking comments across all your social media channels can feel like you're on a rollercoaster 🎢 and trying to drink lemonade at the same time. 🍋 That's why it's crucial to utilize a social media management tool. It's the magic pass that streamlines comments from all your platforms into one hub, making it easier for you to interact with your fans. 🌟 To know more about the magic pass, you can check out one of the good management tools just a click away here.
19
💭 What to Think About TikTok Marketing?
Let's debunk a myth, folks! 🕹 TikTok isn't just about dance challenges and lip-sync videos. Much like a beastly treasure chest, the app is packed with diverse users and brands. It's a goldmine from B2C to B2B to nonprofits. Doesn't that sound awesome? 😎
20
💡 Planning to Embark on the TikTok Journey?
Do your research. Like a lengthy YouTube challenge, it's important to start off with a bit of homework. 📚 You wouldn't try to survive in a desert without prepping, would you? Likewise, understanding whether your core audience, or the new audiences you want to reach, hang out on TikTok is vital.
Make a short-term plan. Like every beastly endeavor needs strategy, starting TikTok also needs a plan. 💼 Prepare a brief plan on what content you'll test out on the new platform.
21
🎯 Ready to Bring TikTok into Your Marketing Mix?
If you are fired up to add TikTok to your marketing strategy, all you need to kick-start your journey is right here! 🚀
Remember! Just like every video we push the boundaries of, every new engagement tool, platform, and strategy is a leap into the unknown. Embrace the adrenaline rush just like a 24 hours challenge! 🥇 Will TikTok be a fit for you? There's only one way to find out – dive in! 🏊‍♀️
Conclusion:
✨ And that's the wrap, folks! TikTok is truly an undeniable force in today's digital world. Providing a multicultural, diverse, vibrant platform where creativity has no limits, TikTok isn't just another fad – it's here to stay! For those willing to adapt and evolve, TikTok represents an incredible opportunity to tap into an extremely active and engaging audience. 🎯 But, remember to start by researching and validating your core audience. Whether you're a business owner, a marketer, or just someone who aspires to go viral, TikTok is the playground to explore, experiment, and entertain. Who knows, your brand could be the next big thing on TikTok! 💪 Ready to #DoItForTheTok? Let's go! 🚀
What exactly is TikTok?
TikTok is a video-sharing social media platform that allows users to create, share, and discover short videos. The content can range from clips lasting just a few seconds up to 10-minute-long videos. It originally gained popularity as a platform for lip-syncing videos, but has since expanded to encompass a wide variety of content, from comedy skits to educational tips.
Can you explain how TikTok works?
Users on TikTok can film or upload videos, customize them with effects, filters, stickers, and background music, then share with the TikTok community. Once uploaded, these videos can be liked, commented on, downloaded or shared by other users. The platform provides several features like duets and live streaming to enhance content creation and community engagement.
When was TikTok created and who created it?
TikTok's existence can be traced back to an app known as Musical.ly in 2014. Musical.ly, established by Chinese entrepreneurs Alex Zhu and Luyu Yang, was eventually acquired by Beijing-based tech company ByteDance in 2017. ByteDance then merged this app with their existing platform, TikTok, in 2018.
Who currently owns TikTok?
TikTok is currently owned by Chinese tech company, ByteDance. It is worth noting that ByteDance already owned a version of TikTok, known as Douyin in China, prior to acquiring Musical.ly in 2017. The two platforms were merged afterward to form the TikTok we know today.
What demographic tends to use TikTok the most?
While TikTok initially gained popularity among younger users, it now appeals to a broader age range. As of January 2022, about 47% of US users were aged between 10 and 29, but the platform is increasingly attracting older demographics, with 42% of all users ranging from 30 to 49 years old.
Why is TikTok so popular?
TikTok's immense popularity can be attributed to several factors. The platform is known for its ability to create viral trends and offer users differing forms of creative expression. Its short-format video content, collaborative tools, and video downloading capabilities make it easy for users to create, share, and interact with content, contributing to its swift growth as a social media platform.
Can TikTok be used to boost a business?
Absolutely, TikTok can be a powerful tool for businesses, especially given its popularity and potential for viral content. Brands can utilize challenges, collaborate with influential content creators, and experiment with different forms of content to connect with their target audience on the app.
What are some of the tools that TikTok provides for content creation?
TikTok offers a variety of tools for content creation, including filters, stickers, and background music to customize videos. Users can also leverage features such as Duets, which allows them to create videos with other users, and live streaming, which enables real-time broadcasts to their followers.
Are there any prerequisites to live streaming on TikTok?
Yes, only certain users can live stream on TikTok. To be eligible for this feature, a user must have at least 1,000 followers on the platform.
What are TikTok 'sounds' and how do they contribute to viral content?
TikTok 'sounds' are songs or audio clips that can be added to videos from the TikTok library. They are integral in driving viral trends on the platform as users often select trending sounds to increase the potential visibility of their content. The success of a sound can often inspire meme creation, contribute to a song's popularity, and induce cross-platform virality.
Are there collaborative tools available on TikTok?
Indeed, TikTok encourages community interaction and collaborations through features like 'Duets' and 'Stitches'. Duets enable users to create videos alongside another user by splitting the screen in half, while Stitches allow users to add their own commentary or reactions to an existing video.
Can you elaborate more on challenges on TikTok?
Challenges involve users and brands creating trends that encourage others to perform specific tasks. These challenges can involve demonstration of a talent, use of a product, or lip-syncs, among others. They are an effective way to drive user engagement and potentially lure non-users to the platform.
Does the video format have a role in TikTok's popularity?
Yes, the short-form video format that TikTok popularized is highly attractive to users, with 66% of consumers stating they find this type of content most engaging. This format has been copied by other platforms, such as Instagram Reels and YouTube Shorts, due to its success.
Can TikTok videos be shared on other social media platforms?
Yes, users on TikTok have the option to download and share videos on other social media platforms, expanding their reach. Each video carries the TikTok watermark and the username of the original creator, giving credit to the creator and directing potential followers towards them on TikTok.
What are some of the ways brands can utilize TikTok for marketing?
Brands can employ strategies such as launching branded hashtag challenges, collaborating with influential content creators, testing out different content formats, and actively engaging with users to maximize their presence on TikTok. Analyzing content performance and iterating based on insights are also key tactics to successful TikTok marketing.
What does user engagement on TikTok look like?
User engagement on TikTok can take many forms. It includes liking, commenting, sharing videos, and even creating response videos to comments. Active and timely response to user comments and questions enhances user interaction and potentially leads to gaining more followers.
Do marketers often utilize TikTok in their strategies?
While TikTok's potential for reaching consumers is significant, many marketers are still in the process of learning how to incorporate it into their strategies. According to the Sprout Social Index, just 39% of marketers were actively using TikTok as of 2022.
How can brands determine whether TikTok is a suitable platform for their marketing efforts?
Brands considering TikTok should begin by conducting research to verify whether their core audience, or new audiences they intend to reach, are active on the platform. Subsequently, they should develop a content testing and iteration plan. Observing and analyzing overall user engagement and content performance can also provide valuable insights into the platform's effectiveness for their specific goals.
Are there any notable examples of successful brand campaigns on TikTok?
Many brands have managed to successfully launch campaigns on TikTok. For instance, Vogue achieved a significant following through their #MakeItVogue challenge, which involved users recreating 19th-century fashion using everyday objects. Universal Pictures also utilized TikTok content creators to promote their movie, "The House with a Clock in its Walls", resulting in an increase in followers and user engagement.