Up Your Social Media Game with Hashtags! 🚀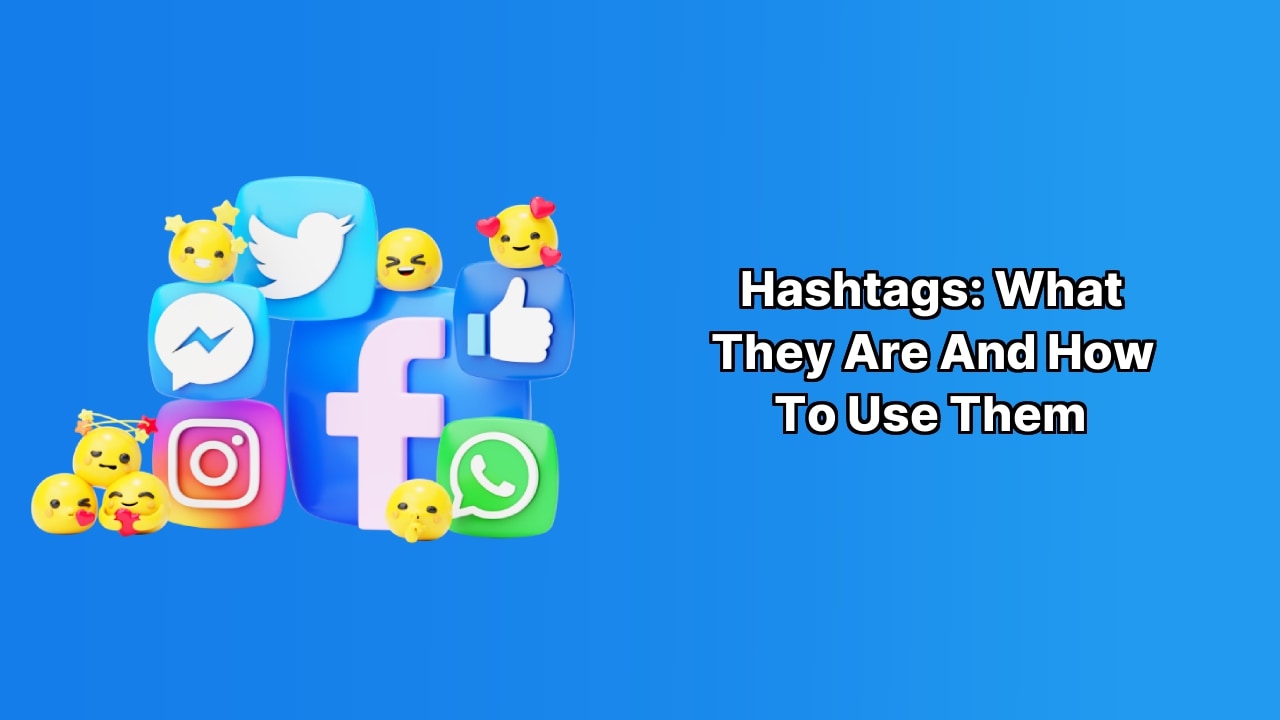 Hey everybody! Want to become a social media sensation like a pro? ⭐ Well, being a rockstar in the digital world is more than just pretty pictures and funny captions. It's all about using the right tools to amplify your reach, like hashtags! 📈 That's right—using hashtags smartly can be just the gamechanger you need for your digital marketing strategy. But how exactly do you do that? Let's deep dive into it! 🏊‍♂️
1
🧐 To Hashtag or Not to Hashtag?? That's the Ultimate Question! 💡
Hey folks! In today's day and age, chucking a universal question your way- to hashtag or not to hashtag? 🤔 Well, it's bothering digital marketers across the globe. Nonetheless, I'm gonna keep it **short and sweet**: YES, you must definitely leverage hashtags! 💯
Hashtags are a freakin monumental asset in your digital toolbox. Seriously, they *substantially* impact the performance metrics of social media content.🚀 Brands that are future-focused use them pragmatically, eyeing specific goals and sketching out strategic tactics.🎯 So, if you're planning to make products go viral or diving deep into hashtag analytics, you *NEED* to master the art of effective hashtagging! 🤑
2
👀 Let's Dissect the Hashtag: What, When, Why and How! 🔍
Are you psyched about enhancing your hashtag game but seem to get lost in the bizarre labyrinth of expert suggestions and technical lingo? 💭 Don't you worry! Here, I'm gonna decode the entire saga of hashtags. So let's dive in! 🏊‍♂️
Hashtags are essentially combinations of words and numbers following the infamous '**#**' symbol, primarily used to categorize and track content across social media platforms like Instagram, Facebook, TikTok, Twitter, LinkedIn, YouTube and Pinterest.🌐
Ever wondered the origin story of the all-too-familiar 'Hashtag'? Well, it debuted in 2007 on Twitter by this guy called Chris Messina, who had a grand idea of not letting any particular social network monopolize and take control!💥
**The Hashtag symbol** is universally recognized as the '#' symbol.📌 However, this symbol can play multiple roles depending on its use, and is known by foxy names like octothorpe, pound sign, number sign, and hash. Cool, eh? 😏
3
🔖 The Purpose of a Hashtag: More Than a Simple Tag!
At the outset, hashtags were invented to organize the vast social media landscape. They group together similar discussions, making it a cakewalk for folks to find meaningful content. Now that's handy-dandy, right? 📌 On clicking a hashtag, you get to see all the associated content. So if you're searching for #MotivationMonday posts, voila! They're all there for you.🎉
Today, hashtags have evolved from being mere organizers to powerful catalysts for **message amplification**. Significant social movements like #MeToo, #BlackLivesMatter were sparked off by potent hashtags.🔥 They aren't just about being serious, though – some trends like #ThrowbackThursday or #FoodieFriday are all about having some good old fun! 🏖️
4
📈 Why Should You Use Hashtags? Check Out These Banging Benefits!
📌 **Increases Engagement**: Got loads of savvy, high-quality content but lack visibility? Hashtags can be your savior! They can amplify your reach, stimulate conversations and garner attention. 💬
📍 **Optimizes Searchability**: You can easily categorize your content with relevant hashtags, making it easily discoverable for interested people. It's like tagging your content with those all-important magic keywords! 🗝️
📚 **Adds Context**: Hashtags can connect your content to specific topics or themes, making them relatable and engaging for your audience. Think of them as adding the right amount of spice to your recipe! 😉
5
🔎 How Can You Find the Right Hashtags?
Just because a hashtag is trending, doesn't mean you should jump on the bandwagon. It's super important to align your hashtags strategically with your branding and marketing goals.✅
For detailed hashtag research, there are cool hashtag tracking tools and hashtag analytics tools.
So folks, that's all for the day! Don't forget, hashtagging your way strategically can be a game-changer for your brand. So get creative, be relevant and start hashtagging! 🚀🌟
6
If MrBeast Talked Tools: Hashtagging for Power Users
Okay, fam! Ready to become beast-mode hashtaggers? Let's unpack how we can boost our online presence by tracking brand keywords, reviewing our competition, and making the most out of hashtags on different social networks.✌️
7
First things first, let's dig into the toolkit
❗ Don't overlook tools like RiteTag and Sprout Social's Listening. These tools help us track brand keywords – they're like our eyes and ears on the Internet. 🚀👀 You can see what hashtags our tribe is using, follow the hot topics, and become part of that conversation. Give a shout out to your hashtags' performance, see which ones are 🔥, and which ones need to peace out.✌️ 📊
Ready to bag some trending hashtags? Let's shop for hashtags now. 🛒 Hashtag tracking tools are your new BFFs. 👥 Browse what's trending on each social platform and get on board if it fits with your brand. Check out some hashtag types for inspo:
Product or service (like #Pretzels! 🥨)
Industry or community-specific (think about #BookTok! 📚 )
Timely or seasonal (let's party with #NYE 🎉)
Location (let's travel with #Dublin 🏰)
Acronyms (super cool and short #SMMs 📲)
9
Sneak Peek at Your Competition
Guys, spying on your competition is legit! 👀 Get some inspo from hashtags used by other brands – especially those ones who are schooling it – and see if any of those hashtags could work for you. 🕵️‍♂️ But remember, every brand has its flavor, so find your brand voice and use hashtags that resonate with your squad.🔊
10
Hashtag Tips and Tricks:
Hashtagging is an art, and we're here to paint a masterpiece! 🎨 Here're some tips to brush up your skills:
11
Craft Your Own Branded Hashtags
Get creative and invent your own hashtag! It's a killer way to spread your message and engage with your peeps! Just like how Rare Beauty started using #rareroutine to inspire their followers to share their beauty hacks. 🎉 Remember to use branded hashtags across all your social platforms and motivate your fans to use it too! 💃
12
Sprinkle Hashtags in Your Social Aces
Pick out your hashtags and let's get them into your killer socials. Remember, only use the hashtags that are ⚡relevant⚡ to your posts. Don't even think about treating your posts like a hashtag dumpster – you'll only turn off your followers and, you know, the social sites might flag you as spam. 🚫 An ideal place to plant your hashtags is at the bottom so your followers are less likely to click away.
13
Keep Tabs on Your Hashtags' Growth
Tracking your hashtags is critical! Use a tool like Sprout Social to keep an eye on your popularity, reach, and interactions – that's how you gauge the power of your hashtags. 💪 Keep experimenting, try out new ones, and keep your big hitters on rotation.
14
Hashtag Best Practices for Different Social Networks
You know we work smart, not hard, right? 🙌 Hashtags aren't a one-size-fits-all game across all platforms! So, here's a deep dive on how to ace the hashtagging system on Instagram, Facebook, TikTok, and Twitter.
Use 3-5 Instagram-perfect hashtags relevant to your brand and community! 📸 Remember to add them to your stories as well!
Facebook is not hashtag-craving! So let's stick to 1-2 hashtags per post, and make use of timely hashtags (holidays and events) as many users keep tabs on the latest happenings here. 📆
For TikTok, use up to 5 hashtags tastefully! Stay connected with the buzz and use trending hashtags wisely. But avoid overusing #ForYou, #FYP, and #ForYouPage. Add them with caution! 🎬🎤
Twitter loves hashtags, but let's be choosy! Use precisely relevant hashtags to your posts and select only the ripe ones from trending topics! And avoid spam cries by not making every word a hashtag! 🐦
There you have it, dudes! Let's conquer the creative chaos of hashtags together and push the growth bar higher! 🚀
19
🎯 Master the 💥Power of Hashtags💥 Across All ✨Social Media Platforms✨
20
Extending Your Brand's Influence with Twitter Hashtags🐦
Did you know that Twitter hashtags are built into the core of Twitter's functionality? 🧐 That's right! By using 1-2 relevant hashtags in your tweets, retweets, and replies, you can better integrate with the community-focused discussions and hot topics of the day! 💡 No wonder 🧩trending hashtags and keywords are normally displayed on Twitter's homepage! 🏠
21
Establishing a Professional Presence with LinkedIn Hashtags💼
Networking on LinkedIn? Amazing! 💼 But did you know that strategically placing 2-3 key hashtags in your posts and on your company page could make you more visible to other professionals in your field? Yup! 🎯
😮LinkedIn users follow and engage with hashtags pertinent to their job roles or industries. So don't shy away from using branded hashtags and encourage your team members to do the same. But remember, hashtags in comments or articles don't show up in people's feed so focus on your post and company page!🔝👌
22
Boost Your 🎞YouTube Channel's Visibility with Hashtags 🚀
Level up your 💥video content by using 3-5 hashtags per video! YouTube uses hashtags to categorize and sort videos, which makes your channel more searchable and organized, encouraging viewers to stick around. 🎥💼
Pro tip: Use 1-2 hashtags in your video title and the rest in your description for maximum impact. 🎯💡
23
📌Perfect Your Pinterest Strategy with Hashtags 💥
Being one of the most visually appealing platforms, Pinterest sorts all Pins into categories to offer as personalized an experience as possible. 📌
Doesn't matter whether you're into holiday decor 🎁🎄 or muscle cars 🚗💨, adding niche hashtags to your Pins makes it easier for the right audience to find your content! 💪 Although there's no official data on the optimal number of hashtags to use, remember: less is more. 🌈
24
Spark Your 💡Next Content Idea with these Hashtag Examples 🔥
🔥Trendy Hashtags: Participate in the latest internet trends by using relevant hashtags, just like Casper did with their #GoblinMode. Remember, fitting into a trend that aligns with your brand is a win-win. 💥🔝
🗣️Q&A Hashtags: Hosting a live Q&A event? Make sure to create a unique hashtag for it like #OrganicSummer that Orgain used. It'll help your audience to follow along and engage better. 🎯🙌
📈Branded and General Hashtags: Use a mix of specific, branded hashtags (example: #GoalDiggerPodcast) and general ones that your audience might use (example: #Entrepreneurship) – just like Jenna Kutcher!
📍Location-based Hashtags: At a location that's significant to your audience? Add it to your post or story as a hashtag, much like Myles Apparel did with #Donner. 🌍🚀
💪The hashtag isn't just alive—it's thriving, and crucial for your content! By using the right hashtags, you can foster deeper connections with your community, create more brand awareness, and accomplish your social media goals. 🔥
Are hashtags worth using?
✨Absolutely! Hashtags are more than just pretty symbols—they're a powerful tool for extending your reach on social media. 🚀To see quantifiable proof of how hashtags impact your social posting strategy, check out our comprehensive guide on how to use hashtag analytics.
How can I use hashtags on Instagram?
💫 Showcase your brand on Instagram by using hashtags in your posts and comments! 🎯 Want to learn more about using Instagram hashtags effectively? Check out our complete guide on Instagram hashtags for brands.
How can I use hashtags on Facebook?
Here's a quick tip – use hashtags in your posts to extend your reach on Facebook! You can find more tips in our definitive guide to Facebook hashtags for brands.
How can I use hashtags on TikTok?
🌟 On TikTok, hashtags are critical! To understand how best to use this tool, check out our article on how to use hashtags on TikTok.
26
😱 Unlock the Secret of Trending Hashtags 🚀
You know, my friends, hashtags are like hidden treasures. Find the right ones, and BOOM💥! Your post is trending and you're on the path to social media stardom! But how exactly do you find trending hashtags? Don't worry, I've got all the deets for you right here.👇🏼
27
🔍 Approach 1: The Social Network Explore Page 🔍
First up, there's the good ol' fashioned way of finding hashtags on a social network's explore page. You wander through platforms like Instagram, Twitter, or LinkedIn, and take a peek at what the world is talking about.🌍
The catch? It's FREE! 🎉 But let's be real, though you don't have to spend a dime, you have to spend a lot of ⌛. Plus, there's a big ol' sea of hashtags out there, so finding the ones that align with your brand can be a bit of a scavenger hunt.🔎
28
🛠️ Approach 2: Hashtag Tracking Tools 🛠️
Next up, we've got hashtag tracking tools. These bad boys compile the most popular hashtags across multiple networks. It's like having a really good bird dog, tugging you toward the most trending topics.🐕
But wait, there's more! Pair these with hashtag analytics tools, and you've got yourself a powerhouse duo. Why? 'Cause not only do you see which hashtags are popular, but you also get to see the ones most relevant to you and your brand. 💡
29
💫 So, what's the final verdict? 💫
Both methods have their pros and cons, dudes. The explore page method is totally free but also a bit of a time-sucker. 😓
On the other hand, hashtag tracking tools can really simplify and streamline the process. But, they might come with a price tag.💸
So, pick your potion and get hashtag hunting! One thing's guaranteed – with the right tags, you'll be on the fast-track to get your posts trending.📈 So, grab your keyboard, start hashtag hunting, and make sure to tell 'em who sent ya!😉
Conclusion:
And that's it, folks! Using hashtags might seem intimidating at first, but they can be incredibly powerful tools when applied correctly. Don't underestimate their potential just because it seems complicated! Take some time to play around with them, experiment with different trends and strategies, and see what works best for you! With the right approach and a little patience, you'll be crushing the hashtag game in no time, taking your brand to the next level and beyond! Be sure to hit that share button if this guide was helpful, and drop any additional questions or comments below! Catch ya in the next article, folks! 🚀👋
Are hashtags still relevant for social media marketing?
Yes, hashtags are still considerably relevant and vital to a successful social media marketing strategy. They can significantly increase the visibility and reach of your content, making them indispensable tools for building brand awareness and community engagement.
How do hashtags impact the overall performance of a social media post?
Hashtags play a crucial role in the overall performance of a social media post. They can broaden the reach of content by making it discoverable to people interested in specific topics, which could increase engagement rates. They can make a product go viral and benchmark the performance of a marketing campaign through hashtag analytics.
What are hashtags and how are they used?
Hashtags are comprised of words and numbers following the # symbol used on major social media platforms like Instagram, Facebook, Twitter, among others. They categorize and track content, helping users locate posts related to specific topics. They can be integrated into social media posts, bios, and comments.
What is the origin of the hashtag?
The first hashtag was introduced on Twitter in 2007 by a product designer named Chris Messina to prevent any one social network from becoming the dominant gatekeeper. Subsequently, the hashtag has become a ubiquitous tool across all major social media platforms, enabling people with similar interests to connect.
What's the significance of a hashtag?
The main purpose of hashtags is to organize and categorize social media content, making it easier for users to find content they are interested in. When a hashtag is published, it becomes a clickable, searchable link that groups together similar conversations, facilitating navigation for social media users.
How do brands use hashtags for their benefit?
Brands use hashtags to facilitate their reach to targeted audiences, build a community, and create viral marketing campaigns. Hashtags can increase brand visibility, helping businesses achieve their performance goals.
Why is it beneficial to use hashtags in social media marketing?
Hashtags are beneficial for increasing engagement, making your brand easier to find, and adding extra context to your posts. They help participate in larger conversations or trending topics, thus expanding the reach of your posts, attracting attention and sparking conversations.
What is the best strategy to identify the right hashtags for a brand?
The best strategy to find the correct hashtags begins with defining your goals, such as increased engagement. You can then use a social media listening tool, research trending hashtags, and review the competition to identify the hashtags relevant to your brand.
What are some tips for using hashtags effectively?
Effective use of hashtags involves creating branded hashtags, incorporating relevant hashtags in your social content, and analyzing and reporting on your hashtags' progress. To get the best out of hashtags, you should conduct research, use them thoughtfully, and assess your results.
How do the best practices for using hashtags vary across social networks?
The best practices for using hashtags vary based on the platform. Each social network has its unique strategy for hashtag usage that is aligned with the nature and user behavior on that platform. Therefore, adapting your hashtag strategy to each platform is crucial for maximum impact.
How should I use hashtags on Instagram?
On Instagram, you should use about 3-5 relevant hashtags in your posts, comments, and Stories. They should be pertinent to your community and brand.
What are some recommendations for using hashtags on Facebook?
On Facebook, it's recommended to use just 1-2 hashtags in posts, comments, and Stories. Timely hashtags are beneficial since many Facebook users turn to the platform for news and events.
How can hashtags be utilized effectively on TikTok?
On TikTok, only 3-5 hashtags should be used for each video or Story. Trending hashtags should be used carefully, and hashtags like #ForYou, #FYP, and #ForYouPage should be used cautiously.
How can I best use hashtags on Twitter?
On Twitter, using just 1-2 hashtags in your Tweets, Retweets, and replies is recommended. Use community-focused hashtags, join current conversations, and tap into popular hashtags if they align well with your brand.
What is the best approach to using hashtags on LinkedIn?
On LinkedIn, using 2-3 hashtags per post or on your company page is advised. It's important to remember that hashtags in comments or articles don't show up in people's feed. Using a mix of well-known and niche, branded hashtags is a good practice.
How should hashtags be used on YouTube?
On YouTube, using about 3-5 hashtags per video is the standard practice, with 1-2 hashtags in your title and the rest in your description.
What are good practices for using hashtags on Pinterest?
On Pinterest, the number of hashtags used is based on user discretion. However, using timely and relevant hashtags with your Pins is recommended.
Can you provide examples of successful hashtag usage by brands?
Yes, brands like Casper leveraging internet trends (#GoblinMode), Orgain using hashtags for their live Q&A (#OrganicSummer), Jenna Kutcher combining branded and general hashtags (#GoalDiggerPodcast), and Myles Apparel tagging locations (#Donner), are excellent examples of successful hashtag usage.
How can I incorporate hashtags into my content strategy?
Incorporating hashtags into your content strategy involves selecting the appropriate hashtags that will help your brand stand out, building relationships with your community, increasing brand awareness, and achieving your goals on social media. Using a worksheet can help identify which hashtags will have the maximum impact on your content.
How can I track the usage and engagement of my hashtags?
You can track the usage and engagement of your hashtags by monitoring their popularity, reach, interactions, and users. Tools like Sprout Social allow you to track the performance of your hashtags, revealing how frequently people are discussing your topic, the sentiment around the topic, and related terms being used.