Supercharge Your Brand with Employee Advocacy! 🚀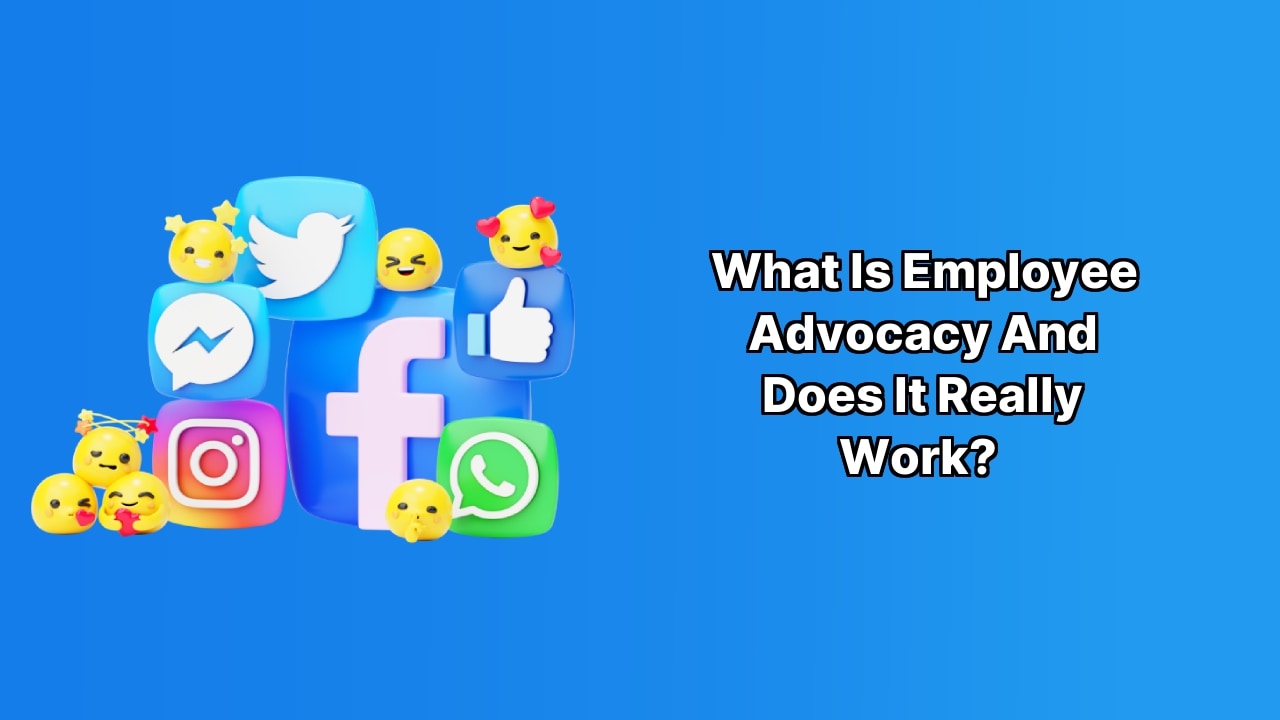 Let's face it, folks, employee advocacy is the best hack to boost your brand game. 💯 Why look outside when your superheroes are right inside your company corridors? They understand company culture better than anyone and can put in that relatable human touch, skyrocketing your brand's reputation towards success. Let's jump into the ins and outs of this epic strategy! 🌐
1
A Crash Course on Employee Advocacy to Skyrocket 🚀 Your Brand
Yo! Ever thought about who are the best cheerleaders for your brand? Social media influencers? Nah, it's your very own employees!😲 They're the ones who know your company like the back of their hand and can rave about it with a personal touch. So, it's a pretty dope idea to get them rolling out the drum for your brand, right? Let's dive into the exciting world of employee advocacy.
Sprout Social puts it this way: Employee advocacy is the promo produced by your very own workforce. They can ramp up your social strategy, spread the word about your brand, and give everyone a win-win deal! 💪😎
2
The Different Pieces of the Employee Advocacy Puzzle
Man, there are so many ways to turn your employees into advocates! Here are some big hits.🎈
Company swag & merch: Who doesn't love a cozy hoodie or a slick sticker with a fav brand logo on it? These snazzy items can turn your workforce into walking billboards for your brand.
Internal incentives & recognition: Giving a shout out to your stellar employees can go a long way in fostering a positive culture and boosting employee advocacy.
Social media advocacy: As per a study by Edelman, about 63% of 18-34 year olds trust what influencers say about brands more than the brands themselves. So why miss out on this powerful channel! 📢
3
The Perks of Employee Advocacy 😁
With the right program, both the company & employees can bank on some sweet gains.
For the brand:
Beef up brand visibility: Imagine the ripple effect! An eye-opening study brings out that company messages hit a 561% reach when shared by employees.
Boost employee performance: Turns out, high employee engagement shoots up performance by a whopping 202%! 💥
Protect your brand message: All while letting your employees put their own spin on it for a dynamic touch.
Draw in high-quality leads: More people will be clued in about your brand and keen on joining or collaborating.
For the employees:
Ready content: Just pick it up and get rolling or mix in your own flair to it! 🎨
Comfort for social media novices: Even those who are not always online would find it easier to post about the company.
Builds personal brand: You can become a go-to expert in your industry. Now how amazing is that? 🤓
Encourages networking: Get out there and make some valuable connections while advocating for your brand.
4
Top Tips to Rocket-launch 🚀 an Employee Advocacy Program
Starting from square one might feel like a herculean task. But fear not, here is a handy-dandy checklist.
Incentives: Offering perks can be a great way to get employees on board. A study by Social Media Today found that company recognition (39%) and monetary incentives (19%) work wonders.
Authenticity: An Employee Advocacy Benchmark report states that personalized social media posts from employees scored 64% more engagement than the generic ones. So encourage your employees to let their personality shine through when posting! 🌞
Training: Give your squad the right tools! Tailored training on using social media can go a long way in building their confidence in advocating for your brand.
So there you have it, folks- the ultimate guide to tying employee advocacy into your brand strategy. Don't wait to unleash the potential of your team and take your brand to the next level! 🚀🎇
5
Alright Guys, It's Time To Unleash The Power Of Employee Advocacy! 💪
If you thought social media influencers were everything, buckle up 'cause we're taking you to the next level 🚀. Grab a cup of coffee ☕ and settle down, we've got some serious knowledge to share. Did you know that your own employees can be your brand's greatest influencers? I'm talking about Employee Advocacy 😎.
Your employees can boost your brand in incredible ways 🎇. But hold up, don't rush into it immediately. Managing employee advocacy is a process, but the results are worth it. Let's get into it!
6
Three Magic Words – Training, Training, Training! 👏
For a successful employee advocacy program, training is crucial. It might take a little time for everyone to get comfy with it but trust me, it's going to be awesome! Plus, the great news is that all the components for a winning program are in one place, making it a whole lot easier. Remember, training isn't a one-time thing. Keep evaluating, keep communicating, and keep training as needed, especially when platform features show up with their own plot twists and turns! 🌀.
7
Let's Get Down To Business – Setting Goals & KPIs! 💼
Just like everything we do in life, you need to have a roadmap for your employee advocacy program. It can't be all fun and games, can it? 📈 Set those goals and KPIs like you mean it! On an average, industries show a 53% adoption rate. But don't sweat it, every industry's different so your results might vary, and that's okay 👍!
Also, remember, the size of your company and how you use the program can also affect the adoption rate. Let's not stop at that though. There are many more metrics that help you track how your program is faring 😏.
8
How To Measure Success? 🕵‍♂️
So, how do you keep track of all this awesomeness? Look no further than – Sprout Social's Employee Advocacy! With this tool, your employee advocacy program lives, breathes, and rocks it out. You can curate content, distribute branded material, and keep an eye on analytics 👀.
Adoption rate – An important metric to understand how successful your program is. Track invites sent out, accounts created, and how many are active 🔢
Active participation – Having a social media account is one thing, but are you using it actively? 🏃‍♂️
Top contributors – Reveal and thank your top performers 🌟
Organic reach – Track how much your employee advocacy is improving your organic reach 📊
Organic engagement – Are engaging conversations being sparked by your employees' posts? 🎇
Referrals – Track where your leads and job referrals are coming from, and check if your social media referrals to your website have shot up 🚀
9
Time To Launch Your Employee Advocacy Program 🚀
Now that you're loaded with intel, it's time to kickstart your own Employee Advocacy Program! Don't be part of the 70% of companies that don't have it. Trust me, you'll thank yourself later. Your brand gets increased awareness and controlled messaging while your employees earn rewards and establish themselves as thought leaders in their field. It's a win-win! 💯
Conclusion:
So, there you have it, guys! 🏁 Embrace employee advocacy today itself to expand your brand awareness, control your brand messaging and attract more qualified leads. As for the employees—that means you guys—this strategy offers easy content, helps establish thought leadership, and proves a goldmine for networking opportunities. All the winning tools are in your hands now! So why wait for tomorrow, when you can slay today? Join in this trend now, it's like a cheat code to unlimited brand growth! And don't forget, it's a high scoring game, and you guys, are the players! So, click right
here
and unlock the superpower of employee advocacy with Sprout Social, today. 🚀 🎯
What is the concept of employee advocacy?
Employee advocacy refers to the promotion of a company or brand by the people who work for it. This can involve employees sharing their positive experiences at the company, recommending products and services to others, and amplifying company messages, resulting in increased brand awareness.
What benefits does employee advocacy offer to the company?
An effective employee advocacy program can increase brand awareness and reach, improve employee performance, give the company more control over its messaging, and drive more qualified leads. It can weave well with an employer branding program for dual benefits.
What are the advantages of employee advocacy for the employees?
Employees can benefit from ready-made content for social media, enhanced familiarity and comfort with social media platforms, opportunities to establish themselves as thought leaders in their field, and potential networking opportunities.
What kinds of employee advocacy exist?
Employee advocacy primarily involves company merchandise, internal recognitions and incentives, and social media advocacy. Each of these methods allows employees to actively promote the company/brand in their workplace and personal circles.
How can social media be employed for employee advocacy?
Social media advocacy involves employees posting about the company in a positive way on their personal accounts. A strategically implemented social media advocacy strategy can effectively increase brand awareness and engagement.
How can companies incentivize employees to participate in advocacy programs?
Companies can incentivize participation by offering perks and rewards. Examples of successful recognition methods include company recognition and monetary incentives, which significantly boost participation rates.
Why is training necessary for an effective employee advocacy program?
Training is essential to familiarize employees with the practices and tools of a successful advocacy program. It can also help them feel more confident about using social media and adding their personal touch to branded content.
Why is it important for employees to add authenticity to their posts?
Authenticity in social media posts encourages higher user engagement. When employees edit branded content and add their personal touch, it can lead to better connections and conversations with their audience.
How can companies measure the success of an employee advocacy program?
Companies can use various Key Performance Indicators (KPIs) such as adoption rate, active participation, top contributors, organic reach, organic engagement, and referrals to evaluate the success of an employee advocacy program.
What is the role of goal setting in employee advocacy programs?
Goal setting defines the why and how of the program. It provides a clear vision of what the program seeks to accomplish and determines the metrics to measure its success.
Why is organic reach a significant KPI for employee advocacy?
Organic reach reflects how effortlessly your content is reaching users on social media. An increase in organic reach through employee advocacy implies that the strategy is effectively enhancing brand awareness.
Why is active participation an important metric for assessing the success of an employee advocacy program?
Active participation signifies how actively employees are embracing and engaging with the advocacy program. It indicates how well the program objectives are resonating with the employees.
What is the impact of referrals in an employee advocacy program?
Referrals from employee advocacy programs can lead to new potential hires or customer leads, contributing significantly to the growth of the company.
How can an employee advocacy program maintain control over brand messaging?
With a structured program in place, companies can provide content for employees to share. This can ensure that core aspects of brand messaging are retained, while employees add their personal touches.
What is the advantage of employees establishing themselves as thought leaders through advocacy programs?
When employees share branded and industry-relevant content along with their commentary, it enhances their reputation as informed individuals in the field. This not only boosts their personal brand but also expands the company's credibility.
Why are networking opportunities a benefit of employee advocacy programs?
When employees regularly post about their company on social media, it naturally fosters connections and conversations with others. This enhances networking opportunities, which can lead to potential collaborations or business prospects.
How can companies recognize and reward top contributors in an advocacy program?
Companies can acknowledge top performers in various ways, such as by highlighting their accomplishments within the team or offering rewards and incentives. This not only boosts morale but also encourages continued participation.
How does employee advocacy enhance the recruitment process?
When potential candidates see employees positively representing their workplace and company culture on social media, it creates a welcoming and positive impression about the company. This makes the recruitment process easier and more effective.
What is the role of employee advocacy in sales?
An effective advocacy program can lead to an expanded personal network for sales. Positive endorsements from employees can create more leads and, in turn, drive more sales.
Why should every company consider having an employee advocacy program?
An employee advocacy program is beneficial for both the brand and its employees. It significantly initiates organic growth for the company, maintains messaging control, boosts employee morale, rewards and recognition, and helps the employees establish themselves in their field.