🚀 Skyrocket Your Brand with Social Media Video Marketing Strategy 📹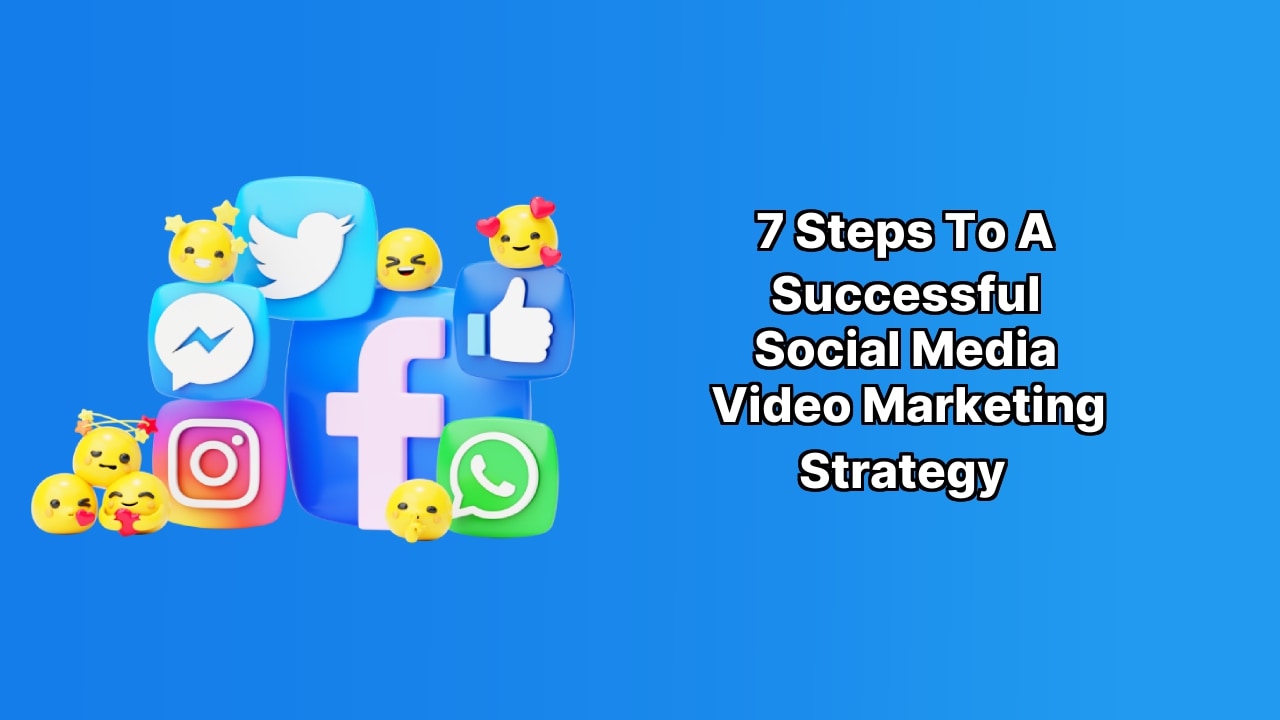 👋 Hey, it's time to step up your social media game! Videos are the future 🔮, and we're here to help you harness their power. With adults projected to spend a whopping 80 minutes a day watching digital video by 2023, 📈 it's time to catch that wave! 🌊 From setting goals to analyzing metrics, our 7-step guide will help you take your brand to the stratosphere. Get ready for takeoff! 🚀
1
🚀Ready to Take Your Social Media Video Marketing Strategy to The Next Level? Here's How!
💡 Hey there, fellow marketers 👋🏼! Did you know that by 2023, adults are expected to spend a whopping 80 minutes a day 🕰️📺 watching digital video? Sounds insane, but also super promising, right? It's time to pay attention to this if you're planning on cranking your video marketing strategy on social media into overdrive. So, buckle up 🚘, because we're about to dive into an ultimate 7-step guide on how to create a killer social media video marketing strategy. 🎯
2
1️⃣First Things First: Set Goals for Video Marketing
At the first stage of any new marketing strategy, it is crucial that you set some goals. What exactly do you want your videos to accomplish? Try to start with just a few goals so you don't get overwhelmed. One video marketing goal 💭 could be as simple as creating brand awareness. 🌈 Keep in mind, with the right script and a sprinkle of creativity, your video marketing strategy can support prospects' awareness of your brand. It can also guide them through the various stages of their buyer's journey, educate customers, and fuel your brand advocacy plans 🗺️. Here are five example goals that can be achieved within each funnel stage:
Awareness: Reach new customers and provoke curiosity 👀🌍
Consideration: Generate demand and get them hooked 🎣📈
Decision: Push for conversion and reel 'em in 🛍️🎉
3
2️⃣Choose Your Platform(s)
Your choice of platform will depend heavily on where your audience spends most of its time. Focus on platforms like Facebook , Instagram , or YouTube which get a lot of traction and are popular among diverse groups of people. 🚀
4
3️⃣Select Your Video Types 🎥
Creativity is king here – from live streaming videos to snackable social clips, the world 🌎 is your oyster! The more diverse, vibrant, and engaging your content, the better your chances of connecting with a wide variety of viewers. 💫
5
4️⃣Plan Content Production 🎞️
This involves figuring out what your video's story is going to be, who's going to be in it, where it's going to be shot- basically all the nitty-gritty details. ☑️
6
5️⃣Understand what Post-Production Entails 🖥️
Video editing is a crucial step in the production process. This is where all your footage gets transformed into a polished final product with the help of editing software and a trained professional. 🎬
7
6️⃣Schedule and Promote the Videos 📆📣
Plan when to post your videos to maximize views. Hint: study the peak times when your audience is most active online! Add a spicy dash of promotion strategy, like teaser posts or collaborating with influencers, to make sure your video reaches as many people as possible. 📊
8
7️⃣Understand and Analyze Metrics 📈📊
Last but not least, study your metrics ❤️‍🔥. This data will give you an insight into how well (or not so well) your video content is going down with viewers. This step will help guide future video creation and strategy. And that's it folks! Your 7-step guide to creating a successful social media video marketing strategy is complete. Now get out there, start filming, and watch your engagement soar! 🚀🎉
9
Level up your social media game with immersive videos! 🎥🎬
Pssst, aspiring YouTubers and social media enthusiasts! Gear up for some exciting tips to turn your social media content from blah to brilliant with videos. 🙌 Now you may ask, well, why videos? Here's the answer! 👇 Video content is a powerful tool that not only fuels engagement👏 but also fosters trust and authenticity🤝 with audiences. Plus, it's also fun! 🥳Yes, that's right! Creating video content can be exciting and creative.🎨 Follow the guide below to upgrade your social media strategy! 🚀
10
Education & Adoption: Make your content insightful and fun 💡🎓
Education is the key to understanding anything new, right? The same applies to your products or services. 👍Make your videos educational yet entertaining and engaging so that your audience can learn with a smile.😊 Some ways to do this include:
Educational videos: These are particularly helpful when your products or services have many features that need to be explained or if there's a learning curve to using them. Make complexities simple with hacks, tips, and tricks. Transform "difficult" into "no sweat"! 💪
Webinars: Webinars allow for real-time interaction, giving customers a chance to engage, ask questions, and get prompt answers. It feels personalized and trust-building! 👥
Live streams: Live streams can engage larger audiences and followers, providing real-time insights 💡 in an exciting way. Especially on platforms like Instagram, where live streams appear at the top, they can grab attention quickly. 🎯
11
Advocacy: Transform customers into brand evangelists 🗣️🥇
Got happy customers? Great! Let's make them your brand advocates who'd champion your brand out of genuine love. ❤️ It feels organic, sincere, and absolutely free of promotional vibes. It's about celebrating the mutual passion between you and the customer! 🎉 Consider showcasing user-generated content or exciting moments that engaged profiles have to share 🍿 – this not only steps up your content game but also celebrates the spirit of your brand community.🎈
12
Platform Selection: The stage for your brand 🧭🚩
Convinced about using videos, but not sure where to start? Don't worry! The idea is to start where you already have engagement. 👥 Decide on the right platform keeping in mind the type of video content you want to create and where your audience is. For instance, platforms like TikTok and YouTube are currently favorites for video content. 🎥 TikTok with its short-form videos has become a big hit among users (they're 2.5 times more engaging, FYI! 😮), while YouTube, being the search engine giant, can boost visibility significantly.💡 Don't forget to explore other platforms like Facebook, Instagram, Snapchat, etc. based on your brand personality and audience preferences. After all, diversity is the spice of social media life! 🌈
13
The right video type: What works best for you?
Deciding on the right video type that aligns with your brand vision and goals is crucial.🎥 Authenticity is something that audiences crave these days, and you should aim to deliver that through your videos. 🎯 Here're some interesting video types to consider: Product highlight videos: Highlight your product or service offerings in an interesting and engaging way. Make your audience see the real benefits of choosing your product or service.🎁 Customer testimonials: Nothing works better than word-of-mouth marketing! Share customer testimonials or demos to give potential customers an idea of the quality and effectiveness of your products or services. After all, seeing is believing, right? 👀 Videos showcasing brand personality: Show off your brand personality with less-produced, more natural and candid video content that resonates with the audience. After all, brands are like people – they have personalities too! 🎭 Remember, the world of social media is vast and ever-changing. 🌊 Stay strong, keep exploring, and you'll nail your video strategy in no time! 🚀 After all, the sky is the limit! 💫
14
🚀 Unveiling The 7-Step Guide to Your Ultimate Video Marketing Strategy! 🎥
Guys, we all know authenticity is the key 🔑 in today's content universe 🌐. Your viewers and followers are on the hunt 🧐 for genuine, original, and engaging content.
So, let's crack the code on how to create video content that does just the trick! Here's a rundown of some 🌟 star-struck 🌟 video ideas and their benefits:
Educational Videos: Informative and helpful in creating brand awareness. Your viewers can learn a thing or two from these, and it positions you as an expert. 👨‍🏫
Explainer Content: Great for viewers who are curious about your brand. It helps to explain what you do and how you can solve your audience's problem.💡
Behind-the-scenes Videos: Great way to showcase your operations and the people behind the brand. 🏭 🙋‍♀️
Interviews: Introduce your audience to influential figures. 🎤
Entertaining Content: A chance to present your brand's fun side with jokes, cute animals, and pranks. 🐶 🃏
Testimonials: Providing customer testimonials creates social proof for your brand. 💼
Product Videos: Highlight the best features of your product. 🏆
Narrative Videos: Build an engaging storytelling video to leave a lasting impression on your viewers. 🎭
15
📝Plan your Content Production 🎬
A well-structured content production plan can help you save time and effort 💰. Let's break down the production process:
Identify your equipment and props📷
Write a script🖊️
Edit the script📝
Storyboard the video🎨
Plan the shoot🗓️
Gather and nurture your talent🎭
Identify the filming location📍
Approvals and edits✔️
Ensure your music is licensed🎵
16
💡What does Post-production entail?💻
Never underestimate the power of a great post-production plan. Whether it's a simple cut & paste 📏 or adding extra touches like text overlays or captions 🎞️, post-production can truly make your video shine!
17
🗓️Schedule & Promote the Videos📣
Sprout, a social media management platform, offers excellent publishing options for your video content. Remember, one top-notch video can have multiple release dates across different social networks, stretching across weeks or even months! 🗓️
18
📊Understand and Analyze Metrics📈
Don't forget the super important final step: Analysis. Let's measure success 🥇 by checking out view counts, watch times, and engagement rates. Sprout's Reporting and Analytics tools offer deep insights for your video's performance, allowing you to plan the next big hit! 🎯
Alright, challenge accepted! 🏁 Your 7-step guide to video marketing strategy is ready, and it's time to start flexing your creative muscles! 💪 For a detailed understanding and better strategy driven by analytics, sign up for a 30-day trial of Sprout. Good luck with your video marketing journey! 🎉🎥
Conclusion:
👏 Job well done! You're now equipped with a 7-step guide to conquer the world of social media video marketing. With our help, you can plan, create, schedule, promote, and analyze your video content like a total pro! 🥇 Remember, your brand is unique – so let it shine through your videos. 🌟 It's time to start your video marketing journey – are you ready? Set, action! 🎬
Why is video marketing important on social media?
Video marketing is a powerful tool on social media because it engages users with sound, images, and music. It has become a key strategy for marketers as it is predicted that adults will spend about 80 minutes per day watching digital video content by 2023. Hence, creating effective video content can significantly enhance a brand's reach and influence on social media channels.
What goals should marketers set for video marketing?
The goals for video marketing may vary depending on a company's overall marketing strategy. However, commonly set goals may include increasing brand awareness, guiding prospects through the decision-making process, educating customers about new products or services, and enhancing brand advocacy. Understanding the goal can help to create a more targeted and successful video marketing strategy.
How should marketers decide which social media platforms to utilize for video marketing?
Marketers should choose the social networks where they already have a strong audience and understand the audience's preferred type of content. Each social media platform has its unique aspects, strengths, and user demographics. Hence, understanding the characteristics and audience behavior of each platform, such as Facebook, YouTube, or TikTok, allows a more effective video marketing strategy.
What types of videos can brands create for social media marketing?
Brands can create a variety of videos, including educational videos that show how to use a product, behind-the-scenes looks at company operations, interviews with influencers or thought leaders, entertaining content that aligns with the brand voice, customer testimonials, product demonstrations, and narrative-based videos that tell a brand or customer story.
What kind of planning is required for successful video content production?
A successful video content production process requires planning the necessary resources, writing a compelling script, developing a storyboard, scheduling the shoot considering the optimal lighting conditions, coordinating the talent, selecting the filming location, and determining who will handle footage editing and approvals. Adequate planning ensures a smoother content production process and a better quality video.
What role does post-production play in video marketing?
Post-production plays a crucial role in making the video polished and professional. It involves cutting and rearranging scenes, adding music or sound effects, creating text overlays, adding closed captions, and inserting call-to-action screens. Thus, spending sufficient time on post-production can significantly enhance the overall quality of the video.
How can video content be effectively promoted on social media?
To effectively promote video content on social media, it should be incorporated into the brand's content calendar and shared across various platforms where the brand has a strong presence. Furthermore, teasers or snippets can be shared prior to the video's release to build anticipation. After the video's release, it can be repeatedly promoted to ensure it reaches a broad audience.
What metrics are crucial to evaluating the success of a video marketing strategy?
Metrics such as view counts, watch times, shares, likes, and comments are crucial to understand the video content's performance. These metrics help measure engagement and the video's overall success. The choice of metrics should align with the video marketing goals, such as brand awareness or lead conversion. Using analytics tools like Sprout Social can offer deeper insights into video performance.
What are the top platforms for video marketing?
Why should a brand consider using TikTok for video marketing?
TikTok is a popular app that has popularized short-form video content which is highly engaging. Its unique features such as Duets and a culture fueled by trends and sounds offer brands new creative ways for their video marketing. Moreover, TikTok proves to be a powerful driver for brand awareness, and its trends show that short-form video can convert consumers into customers.
What is the benefit of using YouTube for video marketing?
With over 2.5 billion monthly active users, YouTube is a popular video platform amongst consumers and marketers. Beyond its user base, YouTube is a key search engine, meaning it can improve a brand's online visibility. It is effective for all stages of the marketing funnel and can be a great tool for achieving diverse marketing goals.
Why should brands diversify their video content across platforms?
Diversifying video content across platforms helps to reach different audience segments and to leverage each platform's unique strengths and features. This strategy also prevents audience fatigue and keeps the content fresh and engaging. A platform-specific content approach enriches the overall brand experience and maximizes the potential reach and impact of video marketing.
What factors should be considered when choosing video types for social media marketing?
When choosing video types, a marketer must consider the brand's goals, audience preferences, the nature of the product or service, and the platform's characteristics. The chosen video types should align with the brand's personality and voice, cater to the audience's needs and preferences and deliver meaningful and engaging content.
How can behind-the-scenes videos contribute to a brand's social media strategy?
Behind-the-scenes videos can significantly contribute to the brand's authenticity and transparency, increasing the trust and loyalty of their audience. These videos provide a peek into the brand's operations, employees, and culture, fostering a more personal and intimate connection with the audience and enhancing the brand's relatability.
Why are customer testimonial videos important in video marketing?
Customer testimonial videos create social proof for a brand and can significantly influence potential customers' purchasing decisions. When viewers see satisfied customers speaking about their positive experiences with a product or service, they can visualize themselves having a similar experience, thereby increasing the likelihood of purchase.
What is the purpose of narrative-based videos in social media marketing?
Narrative-based videos serve to tell an engaging brand or customer story, leaving a lasting impression on viewers. It can include stories about how the brand was founded or how a customer problem was resolved. Such storytelling videos can generate emotional resonance, making the brand more memorable and captivating for the audience.
What is the importance of analyzing metrics in a video marketing strategy?
Analyzing metrics in video marketing strategy is critical for understanding video performance and measuring its success. Metrics like view counts, watch times, likes, shares, and comments offer insights into viewer engagement and content effectiveness. Furthermore, they help identify areas of improvement and inform future content strategies.
How can analytics tools like Sprout Social enhance video marketing?
Sprout Social offers a suite of analytics tools that provide deeper insights into video performance. It allows brands to review how their videos perform over time and even compare their performance against other content types on different platforms. Moreover, with Sprout Social, there's no expiration date on post-performance data providing a longer-term view of video performance.
What is the role of educational videos in social media marketing?
Educational videos in social media marketing can generate brand awareness and educate audiences about a brand's products or services in an engaging and easily digestible format. They can provide useful information, tips, and demonstrations, helping audiences make informed purchasing decisions and get the most out of a product or service.