😎 15 Unique TikTok Video Ideas To Skyrocket Your Engagement! 🚀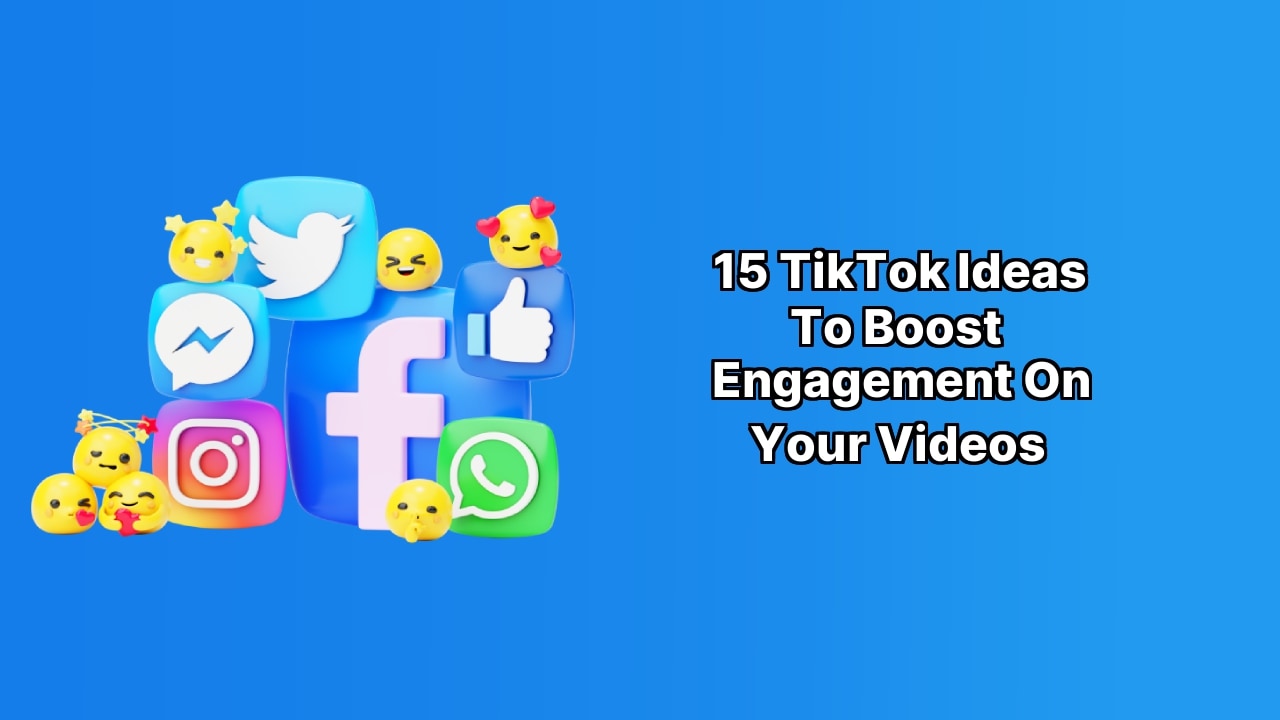 Hey, fam! 😜 Are you struggling to keep up with all the cool and crazy content on TikTok? 🤯 No worries! Today, we're going to unleash 15 proven, mind-blowing TikTok video ideas that will make your audience go crazy over that heart button! ❤️ We've handpicked fantastic examples for each video idea so you can dive straight into action. Let's make your TikTok feed the hottest destination online! 🚀
1
🚀Boost Your TikTok Performance with these Cool Video Ideas🎥
💡When it comes to TikTok, originality and creativity rule. Get inspired with these 15 TikTok video ideas that can seriously level up your game in terms of engagement. Ready, set, TikTok!
TikTok is THE place for bite-sized content. Tap into this trend with short tutorials. Think quick hacks in your tooling, clever ways to use your products, or smart tips⚡. The key here is to keep it visual. No need for lengthy voiceovers — let the video do all the talking with a catchy sound bite. Check out this quick Excel tutorial on TikTok for inspo!👌
It's no secret that food content reigns supreme on TikTok. The simple idea of trying viral recipes or food hacks can garner huge amounts of engagement. Check out this fun cauliflower gnocchi tutorial as proof of its popularity.
Why not take it a step further and test if those viral TikTok hacks actually work? Try out the hack using your products, or even react to other TikTok users trying the hack. Show your authentic results, which can create addictive content for your audience. Trust us, people can't get enough of this!👏
5
Collaborate with Influencers💫
TikTok influencers come with large audiences that you could tap into. Consider incorporating TikTok influencer marketing into your strategy. Chipotle nailed influencer marketing on TikTok in this video👀.
6
Show your Product in Action🔥
Incorporate your actual product into TikTok videos. Depict your product in an irresistible manner – play it up, show it off, make it fun! For some inspo, check out how Spikeball does it. ✨
Lip-syncing to sound clips is HUGE on TikTok. Have a glance at how Vessi shoes does it. With trending sound clips, the possibilities are endless!😃
8
Participate in TikTok Challenges🏆
Challenges are a big part of TikTok culture. Find a challenge that resonates with your audience. The "Pen and Cup Challenge" or "Tell Me Without Telling Me" can bring serious engagement to your TikTok brand, just like Reebok did.🥇
Live streaming is another amazing way to connect with your audience in real time. Consider incorporating live streaming into your TikTok marketing strategy to increase engagement and build authentic relationships.🤝
10
Duet or Stitch Popular Videos🪡
Duets and stitches allow you to interact with other TikToks in your own unique way. Check out this funny interaction from the The Washington Post for some ideas. It's a sure hit!🎉
11
🚀 Going Viral on TikTok: 15 Creative Ideas to Skyrocket Your Brand 🚀
TikTok is the new wave for brands and creators to share their voice. But how does one truly succeed? Fortunately, we've got you covered with 15 cool TikTok video ideas that are certain to leave your audience scrolling for more.🎥 Note that these are geared to be playful, educational, and full of positive vibes – just like our buddy, MrBeast!👌
12
Go Viral with Viral Content 📈
💡 A simple but effective trick is integrating viral video content into your own strategy. For example, there's a WaPo video of a baby on the phone that went viral. Identifying and engaging with viral content helps make your own brand relatable and interesting.
13
Make Your Audience LOL 😂
Funny, playful, and satirical videos are the way to go. This is a surefire way to attract an audience and boost brand image, making you more accessible and relatable to your audience. Look how Gymshark pokes fun at workout names in one of their videos, tying in humor with their brand content.
Why not use your TikTok channel to educate your audience? Mixing education with entertainment strikes the perfect balance to keep your audience hooked. For example, the San Diego Zoo shares fun facts about animals while featuring adorable and entertaining video clips.
Short, bite-sized educational content or quick tips are ideal for TikTok's speedy platform. By adding captions, you can easily share and teach essential pointers. But remember, find a balance between entertaining and purely educational videos.
16
Dance to Trending Sound Clips 🎵
Sound bites are a unique way to make a mark on TikTok. Popular soundbite trends can create a distinctive video that sets you apart from other brands. Consider Duolingo's innovative use of a song clip from Encanto!
Advocating for a cause through your TikTok videos is a great way to make a difference. Gushers for example, created a campaign to amplify Black creators on TikTok and raise awareness for the NAACP Youth and College Division.
Your brand can also benefit from sponsored hashtags. Brands like HP have leveraged this tactic to promote sustainability via the hashtag #HPRadicalReuse.
There's no limit to expressing your creativity on TikTok! From virality to educational content, to advocacy work, there's room for your brand to shine and engage with a broad audience. So go ahead – unleash your creativity and watch your brand soar!🚀
Conclusion:
Well, there you have it, guys! 🎉 That's how you absolutely smash TikTok engagement with our 15 rad TikTok video ideas! 🎬 Remember, this is all about creativity, fun, and connecting with your community. So don't be afraid to experiment, go wild, and create content that's genuinely you. Get ready to make your TikTok feed the most happenin' place around! 🔥 To learn more about leveraging TikTok for your brand,
click here
.
What are some TikTok video ideas for boosting engagement?
TikTok is rich with opportunities for creating engaging content. Some popular strategies include giving short tutorials, trying viral recipes, debunking or proving viral TikTok hacks, or working with TikTok influencers. You can also showcase your product in action, participate in trending challenges, host livestreams, duet or stitch popular TikTok videos, tickle your audience's funny bone with humorous content, or deliver educational pieces. The possibilities are endless.
How do I create engaging short tutorial videos on TikTok?
Your tutorial video can be as simple as demonstrating a product's use or revealing some helpful tips. Remember, TikToks are typically short, so keep your tutorial concise and to the point. Avoid voiceovers – let the video speak for itself and then layer it with a catchy sound bite to draw your viewers in.
Should my brand try viral recipes on TikTok?
Sure, as long as you find a way to stay relevant to your brand identity. Participating in trending activities like trying viral recipes can help increase your brand's visibility and reach. Just pick viral trends that tie back to your product or service.
Can TikTok influencer partnerships boost my brand?
Collaborating with TikTok influencers can indeed help to boost your brand's reach and engagement. Influencers typically have large follower bases who trust and value their opinions, making them a great avenue to promote your products or services.
What's an effective way to showcase my product on TikTok?
Showcase your product by creating engaging content. TikTok favors creative, bite-sized videos, so provide a visual demonstration of your product being used in a fun or exciting manner. The goal is to make your product seem irresistible to viewers.
What are TikTok challenges, and should my brand participate in them?
TikTok challenges are viral trends where users recreate specific content or perform a series of tasks. They can be a fun and engaging way for your brand to connect with your target audience. So yes, participating in relevant TikTok challenges can indeed enhance your brand's engagement.
Why should I consider livestreaming on TikTok?
Hosting a livestream on TikTok allows you to interact directly and instantly with your audience. It can help build authentic relationships, making your brand more relatable and personable to your viewers.
What are TikTok duets or stitches, and how can they benefit my brand?
A TikTok duet or stitch involves creating a kind of "response video" to another creator's content. They allow you to directly interact with trending content and help increase your brand's visibility on the platform.
Should my TikTok videos be funny?
Humor can go a long way on a platform like TikTok, which thrives on entertaining content. If it suits your brand's identity, creating humorous videos can make your content more relatable and engaging.
What are "quick tips" and how can they be used on TikTok?
Quick tips are concise pieces of advice related to a specific topic. On TikTok, they're typically short, bite-sized videos used to break down complex subjects into small, easy-to-digest portions. They are a great way to offer value to your audience and make your brand a reliable source of information.
What is a sponsored hashtag on TikTok and how do I create one?
A sponsored hashtag is a marketing strategy that puts your brand front and center on TikTok's Discover page. You simply choose a hashtag related to your brand and encourage users to create content using this hashtag. The more your hashtag gets used, the higher your brand's reach on the platform.
How can I produce educational content successfully on TikTok?
To effectively create educational content on TikTok, pair useful information with engaging video clips. Striking a balance between education and entertainment is key to making your educational TikToks successful.
Is it a good idea to use trending sound clips in my TikTok videos?
Yes, using trending sound clips in your TikTok videos can significantly increase your content's visibility. Plus, it demonstrates your brand's awareness of current trends, making you seem more relatable and engaging to the TikTok community.
Can TikTok be used to support a cause?
Definitely. TikTok is a powerful platform for spreading awareness and calling for change. If there's a cause your brand deeply cares about, you can create a TikTok campaign around it. This can even be as simple as regularly posting TikToks discussing the cause and explaining its importance to your brand.
Is it important to consume TikTok content for successful marketing?
Yes, staying active on TikTok and consuming content regularly helps you stay on top of trends, understand the platform's workings, and interact more efficiently with your audience. It provides you valuable insights for crafting your own engaging TikToks.
What's the benefit of trying viral TikTok hacks for my brand?
Trying viral TikTok hacks can be a great way for your brand to participate in trending conversations, engage with the TikTok community, and increase your brand's visibility. Plus, it can provide your brand with a human touch, making it more relatable to your audience.
How to make the most of TikTok for business?
To make the most out of TikTok for your business, stay active, understand your audience, engage with followers, collaborate with influencers, and create a variety of content – from giveaways to tutorials, challenges, duets, and more. Regularly measure and analyze performance data to fine-tune your strategy.
How do I create effective response videos on TikTok?
Response videos or duets/stitches involve reacting to another creator's content. They should be authentic and engaging. Watch the original video carefully, come up with an entertaining idea or commentary, and create your response video. Keeping the response fun and lighthearted will likely draw more viewers.
How to generate video ideas for TikTok?
Keep an eye on trending content, learn from other creators, and stay updated with popular sound bites, hashtags, and challenges. Consider your brand's identity and audience preferences while brainstorming ideas. You can also repurpose content from other platforms in unique and engaging ways for TikTok.
How can I use lip-sync video format for my brand on TikTok?
Lip-sync videos are a popular TikTok format where you lip-sync to a popular sound clip. You can make your video creative by adding captions and changing the context to fit your brand's messaging. It's a fun and engaging way to connect with your audience and increase visibility on the platform.