🔥Unleashing the Power of TikTok for Triumph in 2023!💫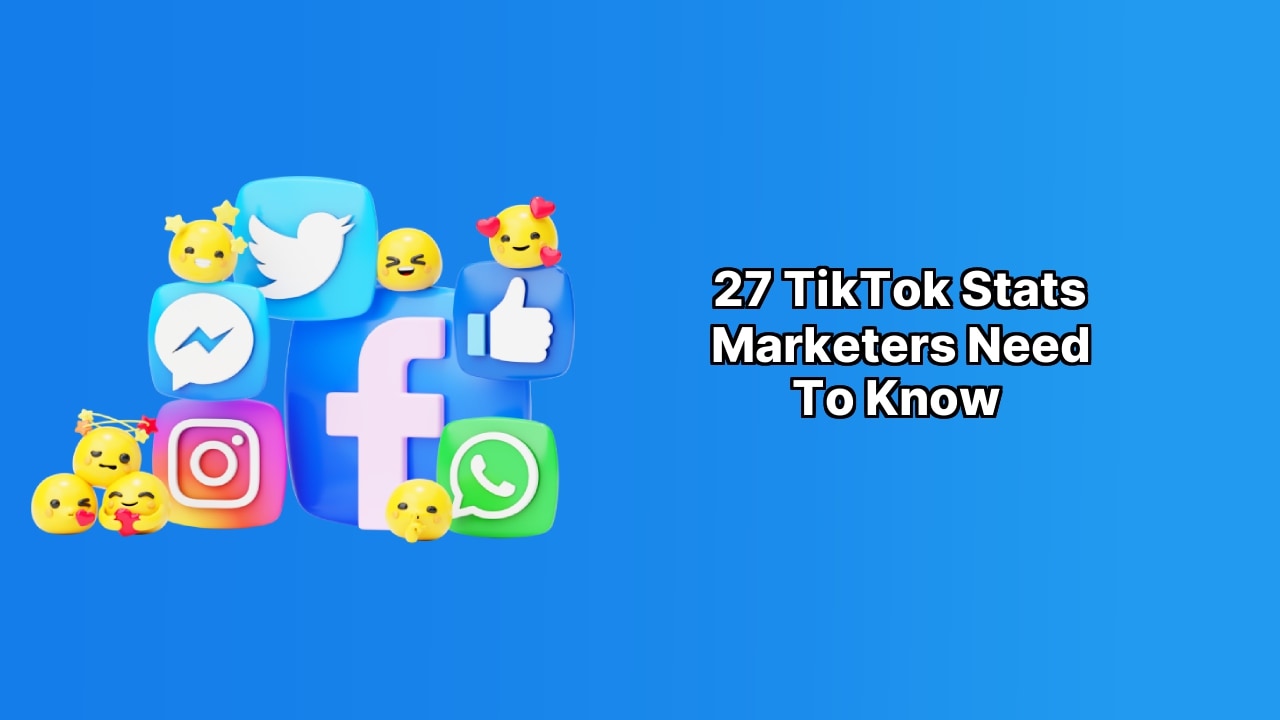 Hey folks! 👋 Get ready to slide into the thrilling world of TikTok, the turbo-charged social media rocket ship that's blazing trails across the digital cosmos. 🚀 If your brand seeks to soar above the competition and captivate younger audiences (we're lookin' at you, Gen Z and Alpha) 🚀, TikTok's stunning speed and astounding user growth simply can't be ignored. 🙌 Let's dive into vital statistics you need to fortify your brand's TikTok strategy, understand your ideal customers better, and ultimately, get your brand into hyperdrive for 2023! 🎯
1
💥Buckle Up For the TikTok Explosion!💥
Aren't social media platforms simply mind-boggling? 😲 Just when you thought you'd seen it all, along comes TikTok, like a supernova, blowing up the social media universe and leaving a trail of cosmic dust in its wake. If you've been ignoring it, thinking it's merely a fad, think again! It's chock-full of wild and quirky content produced by crazy-talented creators who have harnessed the power of this app to connect with millions around the globe! 🌎 And guess what? Brands are now sitting up and taking notice. Let's dig deeper, shall we?🔍
2
📊TikTok Stats: A Social Media Powerhouse!
Hold on to your seats as you peruse through these supercharged stats! Here's the lowdown on how TikTok has been stirring the social media cauldron:
In Q1 of 2022, TikTok raced past all apps (including Instagram) and claimed the number 1 spot in downloads! Talk about shooting for the stars! 🚀
With a zooming revenue of $821 million from both the Apple Store and Google Play store, TikTok became the highest grossing non-game app in Q1 2022! 💸💸
Even amidst controversies, 37% of adults held a favorable opinion of the platform, highlighting its resilience. 😎
TikTok rules the roost as the 4th top free app on the Apple Store. It's not stopping there folks! Even ByteDance's CapCut is currently at number two. 🥈
3
👥The TikTok Userbase: Young, Hip and Full of Zest!
Ever wondered who's behind the one billion monthly active users on TikTok? Wait for it…
The largest cluster of TikTokers hail from the land of the free and the home of the brave, the United States, with 113 million unique users monthly! 🇺🇸
The Gen Z spirit strongly resonates with TikTok, with the platform even outpacing Instagram in popularity among these digital natives. Holding on tight, 'cause Snapchat, you might be next! 😬
The king of TikTok with the most followers is @khaby.lame at a whopping 154.7 million! Talk about #InfluencerGoals! 🏆
To stir things up, 40% of TikTok users do not have a Facebook profile, marking a major shift from traditional social platforms 🔄
4
📈TikTok Usage Trends: An App in Action!
How has TikTok relentlessly held its user's rapt attention? Let's check it out! 🔬
Realize it or not, TikTok was the most downloaded mobile app in 2022, amassing an extraordinary 672 million downloads! 📲
Interestingly, kids favor TikTok over YouTube, spending 62% more time immersed in its hypnotic short videos! 📺
Nearly 30% of TikTok's userbase taps into the app daily, proving the app's pervasive reach. 🌐
Here's a mind-boggling fact for you – the average user spends approximately 95 minutes per day on the app. That's a lot of scrolling! 🖱️
5
🎯TikTok Audience: A Marketer's Dream Come True!
Step into the shoes of a marketer and let's explore the prime TikTok advertising and marketing stats:
A considerable yet eye-opening statistic reveals that only 18% of marketers have adopted TikTok for their marketing strategies. Quite the untapped opportunity, don't you think? 🧐
Bytedance, the parent company of TikTok, pulled in a staggering $38.6 billion in ad revenue in 2021 alone! 💰
The year 2022 projected to bring an additional flourish to TikTok's ad revenue with an expected increase of 26%! 📈
6
🚀TikTok Engagement: Sky High and Soaring!
Then there's the mighty TikTok engagement rate, a prima donna in the realm of social media engagement. 😍
With a remarkable average engagement rate of 4.25%, TikTok has emerged as the undisputed champion of user engagement! 🥊
It's time folks, to explore the exciting and slightly eccentric world of TikTok. Dive in, dream big, and start creating! 🚀🌟 After all, who knows which TikTok trend is going to hit the fan next! 🌀
7
🔥TikTok Trends! Is Instagram Winning Over TikTok? 😲
TikTok, the platform we all know and love, is still rocking the social media scene with its booming popularity and high engagement rates. However, surprisingly, Instagram crawls up with a decent average engagement rate of around a 0.60%! 🔥. Makes you think, doesn't it? But don't get too comfortable, Instagram! 🧐.
8
😱 TikTok's Decreasing Engagement Rate! 📉
If we take a closer look at TikTok's engagement stats, we will see something rather shocking! The engagement rate on TikTok is decreasing by almost 28% per year. 😲. Yes, you read that right, 28% less each year. So, the question rises: Will TikTok remain the king of engagement or will another social media giant steal the throne? 😏.
9
💥 Influencers! The Secret Weapon of Engagement!🔥
Despite the dropping engagement rate, TikTok influencers manage to maintain a surprisingly high engagement rate, averaging around 15.86%. Now, that's what you call engagement on steroids! 💥. And if we talk about the U.S. influencers, they boast an even higher number, nearly 17.99% engagement rate. Talk about influence! 😎.
10
TikTok For Business! 💼 What's In It For Your Brand? 🌐
Thinking of leveraging TikTok for your business? 🌐 It's crucial to understand how your target audience uses the platform. Interestingly, 55% of TikTok users claimed they had purchased something after seeing the brand on the app! So TikTok isn't just about dances and pranks, it means serious business too. 💼.
11
💻TikTok Live Drives Purchases! 🛍️
Here's another fact worth noting, about 50% of TikTok users have made a purchase after watching a TikTok Live. Seems like TikTok Live is not just for fun and games but for some real shopping spree. 🛍️.
12
💰Macro-Influencers Making Big Bucks!💲
Ever wondered how much Macro-influencers charge per post? They have between 100,000 and 1 million followers and make between $151 – $793 per brand post! No small change there! 💲. When it comes to Mega influencers, their rates start from a whopping $1,034 per post. Money raining, anyone? 💰.
13
🏆Top TikTok Brands – Who's Winning?🥇
TikTok is indeed its own biggest fan! With an astounding 62 million followers, TikTok tops the chart of brands on its own platform. Following the lead is Netflix with 23 million followers, and the NBA scores the third spot with 15 million followers. Champions indeed! 🏆.
To learn more cool facts and stats check out theSprout Social's TikTok statistics.
Ready to rock TikTok with your brand? Keep these stats in mind for a killer TikTok strategy. 👊.
Feel like exploring more? Have a look at Sprout Social's TikTok management tools to help with your TikTok marketing efforts.
Conclusion:
Boom! 💥 That's a wrap on the top TikTok stats your brand needs to skyrocket in 2023! More than just a flash in the pan, 🍳 TikTok has the dynamite stats and user engagement that can propel your brand to stellar success 🌠. Keep those wheels in your brain turning by checking out these latest social media marketing stats for 2023. Remember, going viral isn't the only way to land up in TikTok stardom, consistent marketing efforts can do the trick as well! 🎩 Use this in-depth understanding of TikTok, from its top-rated engagement rates to lucrative influencer partnerships, to craft an explosive TikTok strategy! 🧨 So what are you waiting for? Strap yourself in, your cosmic adventure with TikTok's boundless opportunities awaits you… 🚀🌌. For managing your TikTok marketing campaign like a pro, don't forget to take advantage of
Sprout Social's TikTok management tools
. Happy TikToking! 🎉
What is the significance of TikTok for marketers?
TikTok has emerged as one of the fastest-growing social media platforms, marking its relevance for brands. Considering its vast presence of younger demographics, it's becoming crucial for brands to understand and utilize this marketing channel significantly. Moreover, the platform's analytics should also garner attention to refine the brand's TikTok strategy for better targeting of the ideal customer.
What statistic makes TikTok an important social media platform?
TikTok swiftly reached 1 billion users, making it the fastest-reaching social media platform. Such a statistic demonstrates its immense user base and potential reach, making it vital that brands understand and leverage this platform.
Which app surpassed TikTok in the most downloads for Q1 2022?
In Q1 2022, TikTok achieved the most downloads, surpassing another popular app, Instagram.
What was TikTok's gross revenue in Q1 2022?
The app generated $821 million in consumer spending according to the Q1 2022 revenue report, based on the revenue generated directly through the App Store and Google Play Store.
What is the ratio of adults with unfavorable opinions towards TikTok?
Approximately 34% of adults have an unfavorable opinion of TikTok, demonstrating that the platform has some controversy associated with it.
What is the position of TikTok on Apple Store's top free apps?
TikTok currently ranks fourth on the Apple Store's list of top free apps, with its parent company ByteDance's newest app, CapCut, ranking at number two.
What is the volume of TikTok's active monthly users?
As of September 2021, TikTok's newsroom announced that the platform had achieved 1 billion monthly active users.
Which country has the largest audience on TikTok?
The United States holds the largest collection of TikTok users globally, with 113 million unique monthly users.
Which generation uses TikTok more than Instagram?
The Generation Z demographic is currently using TikTok more often than Instagram.
Who is the most-followed user on TikTok?
The most-followed TikTok user is @khaby.lame with 154.7 million followers.
What percentage of TikTok users don't have a Facebook profile?
About 40% of TikTok users do not have a Facebook profile, signifying the unique user base of the platform.
Which app was the most downloaded globally in 2022?
With 672 million downloads, TikTok was the most downloaded mobile app globally in 2022.
How significant is TikTok's usage amongst kids compared to YouTube?
Kids spend 62% more time watching videos on TikTok than on YouTube, suggesting its popularity among younger generations.
What portion of TikTok's users access the app daily?
Out of TikTok's approximately 1 billion monthly active users, nearly 29% of those users access the app to watch video content each day.
What is the gender distribution amongst TikTok users?
Approximately 54% of TikTok users are women while 46% are men.
How many marketers use TikTok for marketing purposes?
Surprisingly, only 18% of marketers are utilizing TikTok for marketing, indicating a significant untapped potential on the platform.
What was the projected increase in TikTok's ad revenue in 2022?
The projections showed that TikTok's ad revenue was expected to increase by 26% in 2022, demonstrating its attractiveness for advertisers.
What is the engagement rate of TikTok influencers?
The average engagement rate of TikTok influencers stands at 15.86%, with U.S influencers experiencing an even higher engagement rate of 17.99%.
What percentage of TikTok users have made a purchase after seeing a brand on the app?
Approximately 55% of users have made a purchase after noticing a brand on TikTok.
Which are the top three brands on TikTok?
The top three brands on TikTok are TikTok itself, with 62 million followers, followed by Netflix with 23 million followers and NBA with 15 million followers.