🔥 Unleashing the Potential of TikTok 📱 in Your Marketing Strategy 📈: A Killer Guide for the Bold and Daring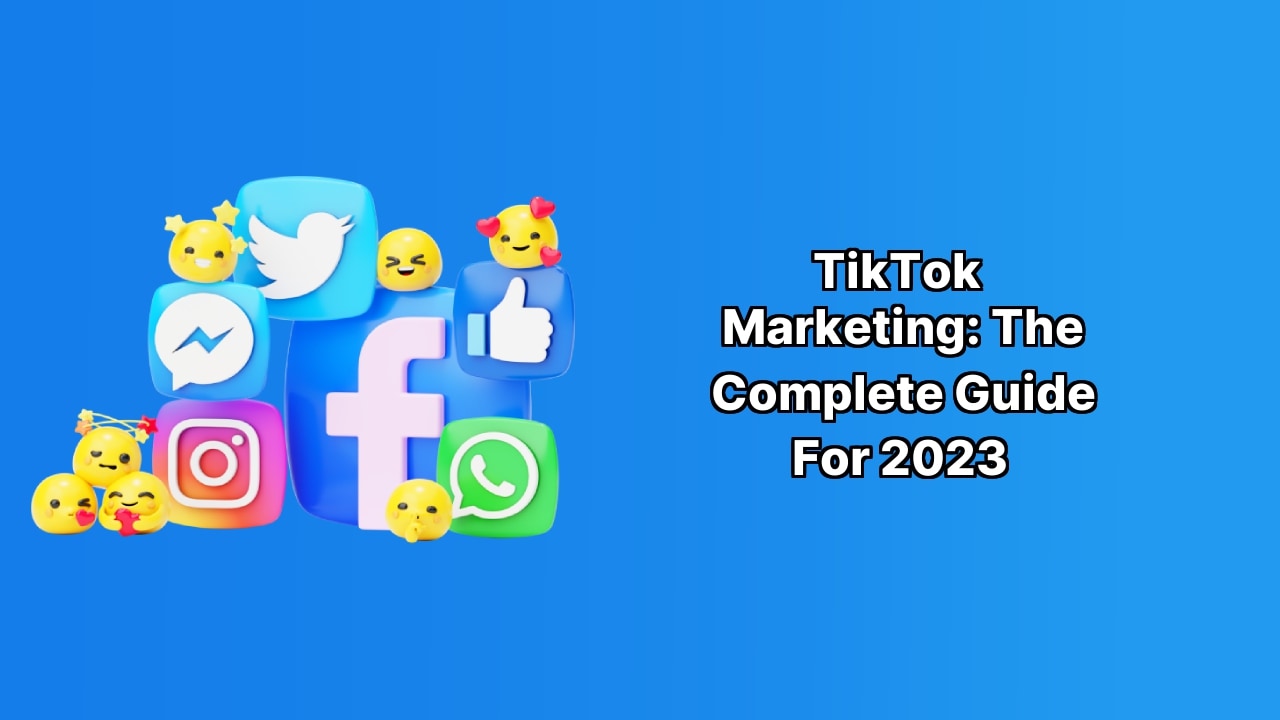 👋 Hey there! Are you ready to take the plunge into the world 🌎 of TikTok marketing? Well, you absolutely should! 👍🏼 Why you ask? TikTok is the fastest-growing social media platform, hitting a cool billion users in just four years. Now that's impressive! 💥 In this killer guide, we dig down into the hype and show you the ropes of TikTok marketing, from creating a TikTok business account to ramping up your brand through effective strategies. So, buckle up and brace yourself for an epic journey into the realm of TikTok domination! 🚀
1
Hey, are you on TikTok yet? Read on to learn how you can make your brand a sensation on this ever-growing social platform!
Remember when Facebook and Instagram were the hot new social media platform on the block? TikTok is growing at a pace faster than them, hitting 1 billion users in September 2021 😮, just four years after its worldwide launch. Now, that's seriously amazing❗ Need more convincing? Well, TikTok was the most downloaded app in the first quarter of 2022, and the highest-grossing non-game app 🎉. Impressed? Let's get you started on your TikTok marketing journey right away!
2
TikTok Marketing: A No-brainer for Brands!
TikTok marketing really is making a wave in the world of social media right now! It's all about using TikTok and its fun, short-form video content to promote your brand and sell your products or services 🎁. Unlike other platforms where you can simply post a photo or text, TikTok is all about creativity, fun and engagement. And hey, while TikTok is unique, you need to make sure your messaging here aligns with your brand language on other platforms. But remember, content on TikTok is quite different (read: way more fun and unconventional!) than what you would usually post elsewhere.
3
Making the Switch: How to Create a TikTok Business Account
If you're wondering what's different about a TikTok business account, here are the perks:
Access to business tools like ads and analytics 📊.
The ability to create an ecommerce storefront 🏪.
The liberty to use third-party tools to schedule and manage TikTok content 📆.
You can add a website link to their profile 🔗.
So, if you're ready to switch to a TikTok business profile, here's the drill:
Download the TikTok app and create a new account 💡.
Go to your TikTok profile and tap the settings icon on the top right corner 📱.
Select 'Settings and Privacy' followed by 'Manage account' 💼.
Just tap on 'Switch to Business Account', fill out the details, and you're done!🎉
Pro tip: Don't forget to select the category that best suits your business type!
4
Jumpstart Your TikTok Success with our Top 10 Tips
Now that you've got the basics down, let's take you a step further with our top 10 strategies that can help you grow your following on the platform 🚀.
Brand your TikTok account: Make sure to carry a consistent brand image throughout your social media platforms, including TikTok!
Define your TikTok audience: Like all marketing strategies, you need to know who you are speaking to. Work out your target audience and tailor your content to appeal to them!
Create amazing TikTok videos: Invest time in viewing popular videos on the platform and draw inspiration from them to create your own viral-worthy content.
Use TikTok Ads: TikTok Ads, similarly to Instagram & Facebook ads, are bid-based. Just select your target audience, make a compelling video, and allocate your budget for the ad!
Partner with influencers: Influencer marketing is big on TikTok too. Work together with influencers to spread the word about your brand.
Hey, your business deserves to be seen and heard on TikTok! Get started right away and watch as your brand grows by leaps and bounds on the platform. And remember, sky's the limit on TikTok – so get as creative as you can be and make some buzz-worthy content 🥳.
5
💡 Unlock the Power of TikTok Marketing! 🚀
Alright gang! Step up your marketing game with me today as we unveil the secrets of TikTok marketing! Feel the pulse of Gen Z and Millennials by taking your brand on this super fun social platform that's all about trends, creativity, and above all, authenticity! 🕺💃
6
Let's Start with some Epic Influencer Marketing Tactics! 🎯
Send your product to influencers. A little generosity goes a long way, fellas. You can send your products to influencers and spark a relationship. They might feature or review it, giving your brand a sweet spotlight in their content. And remember consistency is crucial here!
Collaborate on videos. Partner up with influencers, create a series of videos exclusively promoting your brand. It may be a tad expensive, but it's worth it.
Co-create a new product line. Now, this is a mega deal! Collaborate with a huge-ticket influencer or celebrity to create a product line together. It's a win-win, folks! BUT note that the influencer should be relevant to your brand's industry. Like if you're in the beauty game, team up with a makeup artist. Check out the makeup world's who's who on Instyle.
7
Make the Most of TikTok Analytics! 📊
Never ignore your TikTok analytics, folks! It's the key to unlock your most popular content and the best time to post. Here's a list of the top metrics to track:
Video views
Growth rate
Trending videos
Average watch time
Did you know you can connect your TikTok business account to your Sprout Social dashboard to magnify your marketing impact? You can thank me later! 😎
8
Trending on TikTok – Go Viral or Go Home! 🎥
Stay on top of trending audios, challenges, and video types. If you can creatively adapt a trend to your brand, do it! 💪 Get inspired by the funniest, most thrilling trends on the platform's Discover page. Keep scrolling, keep discovering!
9
Unleash Your Creativity with TikTok's Editing Features! 🎬
The best videos are shot and edited right within TikTok. These are some features the app provides to make you feel like Spielberg in no time:
Filters
Trimming video clips
Text overlays
Captions
Stickers
Visual and special effects
Voiceovers
Audio editing
Slow motion
Transitions
10
Keep 'em Short and Sweet! 🍬
According to TikTok, the optimal length for videos is 21-34 seconds. So remember, keep your videos bite-sized and irresistible, because more is sometimes just… more. 😅
11
Going Live is Always a Good Idea! 🎙️
Be bold, be live! TikTok's live-streaming feature gives your brand mega visibility. Plus, you can make some dough through viewers' stickers and accolades in live videos. See the 💰, guys?
12
The Magic of Marketing on TikTok! 🌟
Here's why TikTok should be on your marketing radar:
Product Discovery: Almost half of TikTok users buy a product or service they saw on the platform. 💥
Viral Vortex: Thanks to TikTok's algorithm, your content can reach epic audience sizes! The platform is like a mega-launchpad for going viral!🍾
Influencer Wonderland: TikTok is swarming with influencers of every stripe, giving your brand a ton of marketing options. Explore and exploit the platform's influencer market! 😍
13
Inspirational Brands Rocking TikTok Marketing! 🥇
Here are two brands that have become TikTok maestros! Check them out:
Chipotle: The renowned fast-food chain has garnered massive attention on TikTok. The brand smartly responded to customer buzz and turned it into a viral menu item. 🌮💃
Washington Post: This newspaper turned its content into a TikTok hit by condensing complex news topics into fun, engaging videos. 📰💥
Ready to blow up your marketing game on TikTok? Let's get it! 🚀✌️
14
Get Crazy with TikTok Marketing!
Believe it when we say TikTok marketing is the big thing. Did you ever think a wise-cracking, lesson nudging owl could wield its quirky charm on language learners? You'll be hard-pressed not to give that daily French or Spanish lesson a twirl! Let's not forget, it's a hoot (Pardon the pun! 😂). That's the offbeat magic of Duolingo's celebrated owl mascot! 🦉
15
Bring your Mascot to Life on TikTok
So we've established one thing, marketing on TikTok is all about having fun with your brand. Embrace all the peculiar quirks that make your brand unique and watch your audience engagement skyrocket! Just as Duolingo's owl mascot captivates language enthusiasts with its playful antics, your brand mascot could do the same on TikTok. 👌
Gearing up on how to leverage the power of TikTok? Here's what you need to do:
Create a TikTok Business Account: Step one is to join the platform, start by creating your TikTok business account.
Create Content: Once you have an account, the real fun begins. Create videos that people would love to share and don't forget to make use of trendy sound clips and popular video types. 🎥
Learn: Decode the mystery of successful TikTok marketing campaigns and use those strategies to grow your own audience. 📊
17
Your TikTok Marketing Questions Answered!
Here are some common questions we get about TikTok marketing:
What is TikTok? Think of TikTok as Twitter but with videos, but it's so much more than that. It's a one-stop shop for 10 to 60 seconds videos that entertain, inform and inspire! 🎯
How to market on TikTok? TikTok has changed the game. Show what your product can do, join challenges, show you're in the know about the latest trends, and always, always, make your audience laugh. 🚀
What tools does TikTok offer? Tiktok's got some fab tools wrapped into it. Get your hands on video editing, analytics and ads. You can also link your Sprout Social dashboard for extra sleekness. 🧰
Has TikTok changed marketing? Emphatically, yes! Say goodbye to exorbitant productions costs. Just a smartphone is all you need to churn out viral videos. 📲
How influential are TikTok stars? TikTok influencers have got the engagement game on lock. Sporting a mammoth 15.86% engagement rate, TikTok provides an incredible platform for influencer marketing 🌟
18
TikTok Marketing: Where Fun Meets Business!
In essence, TikTok marketing is all about two things: having fun and connecting with your audience on a human level. Create your own business mascot and let it flit around in your videos, or let your product be the hero and save the day. Sky's the limit here, so rev up your creativity and let the world see your brand's wild side on TikTok! 🚁
Conclusion:
To wrap it up, if you're not on TikTok yet, what in the world are you waiting for? 🤷‍♂️ Dive in headfirst and watch your brand skyrocket with this one-of-a-kind platform. With its potential to reach, engage, and convert massive audiences, TikTok continues to redefine the marketing landscape as we know it. So, say goodbye to old school marketing and welcome the age of TikTok marketing with open arms. Ready to be the next big thing on TikTok? Then it's time to start creating your own killer marketing strategy! Remember, the only limit is your imagination, so aim high, be bold, and let your creativity run wild! Let the TikTok domination begin! 🏆💪🔥
What is TikTok marketing?
TikTok marketing refers to the method of using TikTok and its content to promote a brand along with its products or services. The central focus is compiling short-form video content to captivate the audience and showcase the offerings of the business. While social media marketing involves a strategic approach encompassing all social media platforms, TikTok marketing solely focuses on TikTok.
How can one create a TikTok business account?
To create a TikTok business account, the following steps must be followed: Download the TikTok app and create a new account. Navigate to your TikTok profile and tap the hamburger menu. Tap on 'Settings and Privacy', followed by 'Manage Account'. Next, tap on '+Switch to Business Account' and select the category that correlates with your business type. Now, your TikTok business account is ready.
Is it necessary to optimize a TikTok business Account?
Yes, optimising your TikTok account adds to its recognition alongside your other social media profiles. It's essential that your TikTok business account reflects your business name, pronouns (if required), a bio about your business, company's contact email, its association with a non-profit, if any, and the category that best describes your industry.
How to define a TikTok audience?
Defining the right target audience is crucial to generate engagement that translates into sales for your business. Given the young user base of TikTok, it's essential to understand the demographics you want to target. It's recommended to conduct your own social media market research to better understand your target audience.
What is the importance of creating quality TikTok videos?
Producing high-quality TikTok videos helps garner audience engagement. It's recommended to understand the types of videos that generate interest by spending some time observing the platform, looking at the trending ones, and understanding what makes them popular.
Is it beneficial to use ads in a TikTok marketing strategy?
Yes, allocating a portion of your social media advertising budget towards TikTok ads can help reach a wider audience. The cost for these ads is based on bids, just like for Facebook and Instagram ads.
How effective is TikTok influencer marketing?
TikTok influencer marketing is a popular and effective tactic for brand promotion. Influencers and content creators on TikTok partner with brands to create engaging video content that promotes the brands and provides them with user-generated content for their social media channels.
How important is it to monitor TikTok analytics for understanding the performance?
Paying attention to TikTok analytics is vital to understand the popularity of your videos and the best time to post. The key metrics to track include video views, growth rate, trending videos, and average watch time.
How to leverage popular TikTok trends?
Incorporating popular trends, challenges, and video types in your content can optimize the chances of going viral. Using these trends to create videos that are relevant to your business can help increase your reach.
How can TikTok's editing capabilities be used?
TikTok provides a host of editing features which include filters, trimming video clips, text overlays, captions, stickers, special effects, and more. Filming and editing your TikTok videos within the app is recommended as such videos are favored by the TikTok algorithm.
What should be the ideal duration for TikTok videos?
As per recent data, the optimal duration for TikTok videos is 21-34 seconds. Videos longer than 60 seconds can make the viewers uncomfortable. Hence it's suggested to keep the videos short and engaging with an average duration of around 30 seconds.
What are the benefits of using live videos on TikTok?
TikTok's live-streaming feature allows the live videos to appear on viewers' For You pages enabling interested users to join in. In addition, TikTok offers viewers the functionality to send stickers and other accolades in live videos, providing brands with an added advantage of an additional revenue stream.
What are the advantages of marketing on TikTok?
Marketing on TikTok can increase product discovery as a lot of users have admitted to purchasing a product after seeing it on TikTok. With its unique algorithm, TikTok provides an opportunity for brands to reach a wider audience. The platform also provides ample influencer marketing opportunities.
How can a business leverage viral moments on TikTok?
Brands should utilize viral moments on TikTok by responding promptly. For example, if a lot of users are talking about your business, products or services, you should respond accordingly.
Can TikTok be used to explain complex topics?
Yes, TikTok can be utilized to explain complex topics in a fun and engaging way. Brands can create bite-sized videos to explain these topics, making it easier for the viewers to understand.
Can brands use fun reputations in their TikTok content?
Certainly, if your brand has a fun reputation, you can use it in your TikTok content. The central idea is to have fun and not take things too seriously while creating engaging TikTok content.
How does TikTok prove beneficial to businesses of all sizes?
TikTok makes marketing and creating marketing videos much more accessible for businesses of all sizes. Moreover, it does not require fancy camera equipment to create viral videos, thereby proving advantageous, particularly for small businesses.
How do influencers on TikTok contribute to brand promotion?
Influencers on TikTok are highly effective in promoting brands as they achieve a 15.86% engagement rate on the platform. By working with these influencers, brands can easily reach more potential customers.
How has TikTok changed the norms of traditional marketing?
TikTok has redefined the way marketing is done. It focuses more on content discovery rather than showing content from your network. This unique attribute of TikTok provides brands with an opportunity to reach a larger audience than other platforms.
What is the cost of placing ads on TikTok?
The cost of placing ads on TikTok is estimated based on bids, which is similar to Facebook and Instagram ads. You can select your target audience, create an engaging video ad and promote it based on your daily or lifetime budget.