🚀Ready, Set, Go! Delving into TikTok Advertising Brilliance!🔥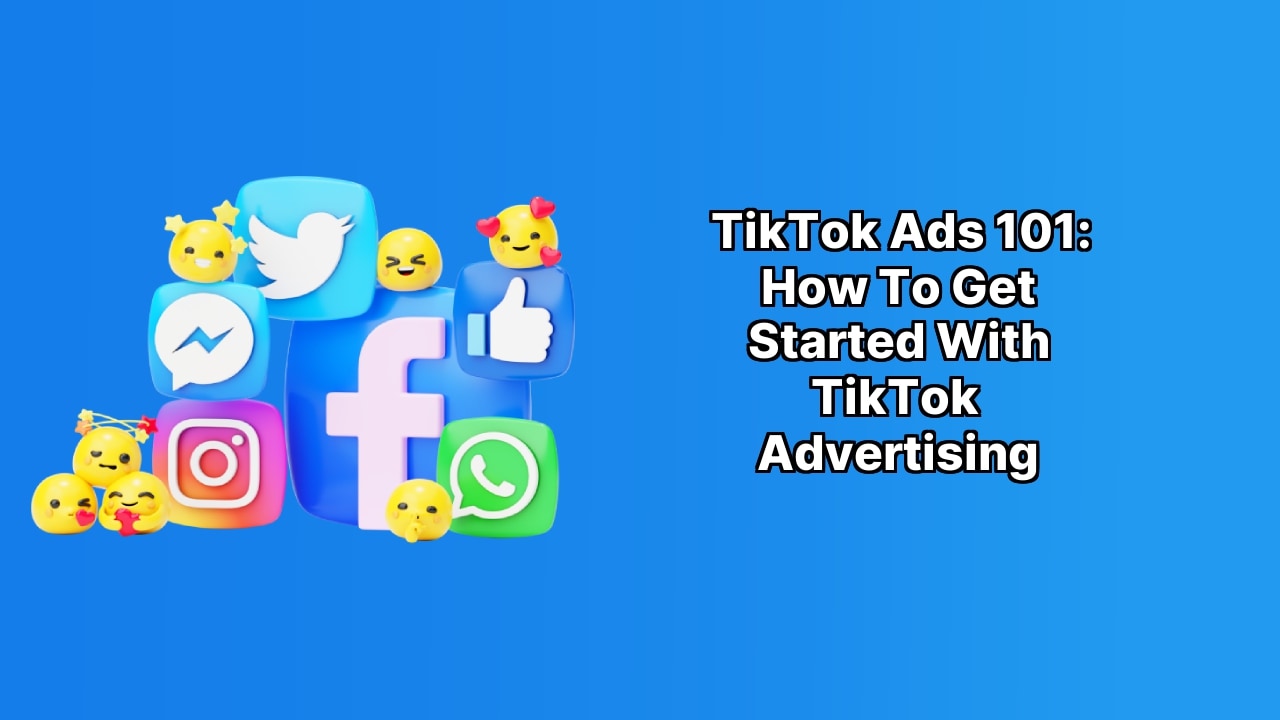 🎬Welcome to the wild ride of TikTok advertising! 🌐 With a staggering number of active users and endless options for ad customization, TikTok has exploded in popularity! 🥳 Right now, we are going to dig deep into the exciting world of TikTok ads. So, buckle up because you're about to embark on a journey that will throw an insane amount of essential TikTok marketing insights your way. 🚀
1
🔥🔥🔥Unleash Your Brand Power with TikTok Advertising🚀🚀🚀
This Chinese sensation 🇨🇳, TikTok, has grown 📈 immensely popular over the past few years. By April of 2022, it achieved a milestone of 1 billion active users worldwide🌍. Crazy, right?! 😱
Look, this isn't just for GenZ anymore. We're seeing everyone, from your next-door neighbors 🏡 to mega-brands like Guess and Fenty Beauty, raving about this app. And let me tell you why!👇🏽TikTok's video format lets brands show their products in action, packing lots of information into short video clips—ideal for brands that want to move away from static ads 🛑 and share engaging content 🎬.
2
📺Different Ways to Advertise on TikTok
TikTok offers you a buffet of advertising options. Here's what you can pick from to reach your target audience and amplify your message 📣:
In-feed video: These sneak into the native news feed of TikTok users' "For You" page. Pretty neat, huh? 😎
Brand takeover: Wanna rule the conversation? With a few seconds of full screen time, this type takes your message to every corner of the screen before turning into an in-feed video ad. 🤴
Sponsored influencer content: Works just like native advertising! You pass your message through popular TikTok users' content. 🤳
3
🔧How to Set-Up Ads on TikTok
Okay, it's time. Let's figure out how to actually set these ads up. Roll up your sleeves, and let's dive in! 💪
Step One: Create your TikTok ad account. Fill in the basic info, agree to the terms and conditions, and click on "Sign Up." After approval, log in and complete your setup. Easy peasy! 🍋
Step Two: Create and install the TikTok Pixel🔮. This lets you gather user info about how, where, and with what they landed on your website.
Step Three: Create a new campaign. Give it a name, set a budget, and choose your campaign objective. Do you want to get more traffic, conversions or app installs? You got it, boss! 🔥
Step Four: Create an ad group. Define audiences, campaign budgets, placements, and more. Choose between "App Install" or "Website" as your promotion type and either standard or accelerated delivery for your ads. 🎯
4
🌟TikTok Promote and Boosting Existing Ads
Wanna give your existing content a shot of adrenaline 💉? TikTok Promote is just what you need! This paid feature lets you pick a goal—video views, website visits, or new followers—and give your video content a boost! 🚀
All right, folks! That's all for today. Go ahead and try it all out—and remember, the sky's the limit! 💥
5
Cracking the code of TikTok Advertising in MrBeast Style! 🚀
Hey guys, you know that I love a challenge! This time, we're breaking down the hype around one of the biggest platforms today – TikTok. Lets smash the puzzle of TikTok advertising like a beast and help you nail it. 💪💻 😎
Launching an ad ain't the endgame, dudes! You need to measure your performance. TikTok has got some cool analytics that help you track your ad performance in terms of impressions, clicks, conversions, and more. Test and compare different ad creatives to see what suits your vibe best. 💼📊💡
Now, be careful about this. Your TikTok ads need to be correctly formatted to drive that engagement. Always aim for a video duration between 9 to 15 seconds (shorter the better 😉). Your unique video ad should be less than 500MB and in any of these file types: .mp4, mov., mpeg, .3gp or .avi. Check out TikTok's ad specs for more guidance. 🎞️🎬📏
8
Making it rain with TikTok ads! 💵💰
Curious about the costs? Well, TikTok plays it close to the chest with its pricing algorithm based on a bid model. But remember, your campaign-level budgets should be at least $50 per day and ad group level budgets must be $20 a day. 💲💰💳
9
Learning from the pros – TikTok advertising examples 🥇
Let's be real, we can learn a lot from those who've cracked the code before us, right? Check out how these brands did it right with their amazing TikTok advertising campaigns. 🏆📺👇
Chipotle: Their creative video content is a hit, especially the influencer-driven "Boorito" offer for Halloween! 🌮👻🎉
Kroger: Their clever usage of the "Hashtag Challenge Plus" feature allowed users to shop directly on the app. Smart, right? 🛒💡☑️
Experian: They hit it out of the park with a simple, direct in-feed ad about the benefits of Experian Boost. Clear and sweet! 💬😃👍
IHOP: Talk about getting into the spirit! They rebranded for Halloween as the "International Haunted House of Pancakes". Sweet and Spooky! 🥞🍁👹
Partymachines: Crushing it with their Spark Ads, they increased their website traffic from TikTok by 620%! 😮🎉💯
eBay: Sneakerheads check this out, their "Sneaker Showdown" campaign nailed it with a 54% increase in comment rate! 👟🏀🥊
Kooapps: Achieved a whopping 67% increase in app installs of its mobile game "Snake.io" in the United States. 🐍📲🎮
10
TikTok advertising best practices 🎯
To make the most out of your TikTok ad campaigns, here are some handy tips:
Being yourself: Authenticity is the name of the game, just like our challenges. Keep it real and true to your brand! 🙌🔥💼
Clarity: Be direct and to the point. Shorter videos (21 to 34 seconds long) are ideal for conversion. ⏰💼✔️
Go Vertical: Shoot upright. Vertical videos outperform square or horizontal ones, increasing impressions by 40%! 📱📐🎬
Timely Promotion: Promote at the ideal time. Tie your ads with trending topics or events for maximum buzz. 📆⏰🎉
Sound and Text: Catchy sounds and clear captions can boost the impact of your ad. 📢💬👍
Hashtags: Hashtagging correctly can skyrocket your visibility. Use relevant and trending hashtags for maximum reach. #tiktok #advertising 🚀🔘💯
Interactive Add-ons: TikTok's add-ons like Gesture and Voting Stickers can massively pump up interactions with your ad. 🖐️🏷️🔎
Partner Up: Collaborate with influencers. It's like joining forces to win a challenge! 🤜🤛🌟
Test and optimize: Review your TikTok analytics often and adjust your strategy for the win! 🎯📈💡
11
Be a TikTok Advertising Champ 🏆
TikTok advertising can be a whole new ball game, but once you have the ropes, you can see some truly amazing results for your business. Keep your messages clear and simple, just like our challenges. Not convinced about using TikTok? Check out top reasons why brands should use TikTok. Let's go out and crack the TikTok ad game like a beast! 🚀💻🏆
Conclusion:
🎉And there you have it, folks – your complete guide to absolutely crushing it on TikTok advertising! Now, armed with all this knowledge, you're ready to take on the TikTok advertising world and skyrocket your brand's influence amongst the TikTok crowd! 🚀 Remember, keeping things simple and authentic is always the win-win strategy here. So, stay true to your brand and see just how far you can go. TikTok has immense growth potential and there is no better time to leverage it than right now!💥 Let's blow up TikTok with your amazing ads! 🎈
What are the reasons for TikTok's immense popularity?
TikTok's popularity can be attributed to several factors, the primary one being its fun and engaging short-video format that appeals greatly to the younger generation. It has also differentiated itself from other social media channels by offering a platform that encourages creativity and self-expression. This is demonstrated in the diversity of content that ranges from comedy skits and dance trends to educational clips and DIY tutorials. In addition to user-generated content, TikTok also offers a platform for businesses and brands to market their products and services in a refreshing way.
How can brands advertise on TikTok?
Brands can advertise on TikTok through a range of strategies. They can create their own branded content and gain visibility by participating in trends, challenges, and use popular hashtags. Additionally, they can collaborate with popular influencers to reach a wider audience. Apart from these organic marketing tactics, brands can also invest in paid advertising options that TikTok provides such as In-feed video ads, Brand takeover, Spark ads, Image ads, Video ads, Pangle ads, Carousel ads, Branded AR content, Hashtag challenges, and Sponsored influencer content.
What types of brands find TikTok advertising beneficial?
A wide array of brands, particularly those in the B2C domain, find advertising on TikTok advantageous. It is especially beneficial for brands whose products can be effectively showcased through a video format. Brands like Chipotle, Guess, and Fenty Beauty, which have products ideal for video promotion, have successfully used TikTok for advertising. While it may be challenging for B2B brands to illustrate their services on TikTok, creative content strategies could still help them engage with their target audience on the platform.
What is the process for setting up ads on TikTok?
The process to set up ads on TikTok involves multiple stages. First, you need to create a TikTok Ads Manager account. After being approved, you can create the TikTok Pixel by setting up a Web Event in your TikTok Ads Manager. Upon installing the Pixel, you can create a new campaign defining your objectives and ad group. The subsequent stage is creating your ad, configuring it appropriately, and submitting it for review. To enhance your ads, you can use the paid feature TikTok Promote. Once your ad is live, you should continue monitoring its performance.
How to set up a TikTok ad group?
Creating an ad group on TikTok requires you to define audiences, campaign budgets, and placements for your ads. After selecting your promotion type, you should choose your ad placement. You can choose 'Automatic placement' for maximum reach or manually place your ads across TikTok and its related apps. After the placement, selecting your creative type is the next step. Turn on 'Automated Creative Optimization' to test various content versions and their engagement. Next, you can define your target audience by various parameters including location, gender, age group, and specific user interests. Lastly, choose the delivery type based on your campaign goals.
What important aspects should be considered while creating a new ad on TikTok?
When creating a new ad on TikTok, it's crucial to adhere to the recommended ad specs for best results. These involve the right video duration, size and appropriate file types. After creating your ad, preview it to ensure it appears as intended to TikTok users. At this stage, make necessary tweaks before submitting it for review. Name your ad appropriately for easy differentiation within your ad group and pair it with engaging ad text that's visible above the ad. Also, include a call to action relevant to what you want the audience to do, to enhance engagement.
What is the TikTok Pixel and why is it important?
The TikTok Pixel is a code snippet that is installed on your website. It collects information about your website visitors and their behavior such as how they arrived on your site, the device they're using, and their location. This data allows you to analyze your website's traffic, identify effective content, track conversions, and tailor your ad targeting more accurately, thus enhancing your TikTok advertising strategy.
How can brands use TikTok Promote feature?
TikTok Promote is a paid feature that allows brands to amplify the reach of their existing content on the platform. It allows you to select a specific goal like boosting video views, website visits, or gaining new followers and accordingly promote your video content. By defining an audience, setting your budget, and scheduling the duration of your ad campaign, you can start your promotion.
Why is monitoring TikTok ad performance necessary?
Tracking the performance of your TikTok ads gives you insights into how well your campaign is performing in terms of impressions, clicks, conversions and more. It allows you to gauge user interaction, engagement levels and the overall success of your campaign. TikTok provides native analytics that helps you monitor these parameters. Constant monitoring also allows you to compare the performance of different creatives and placements to optimize your campaign.
What are TikTok ad specs and why are they important?
TikTok ad specs refer to the technical specifications required for your ads to display correctly and engage users. These include the optimal video length, file size, and acceptable file types. Adhering to these specifications ensures that your ad looks good and functions well on TikTok and across all partner platforms, thereby enhancing user experience and engagement.
What is the cost of TikTok ads?
The cost of TikTok ads is not explicitly available as TikTok uses a bid model, closely guarding its pricing algorithm. But at a broad level, campaign-level budgets should be a minimum of $50 per day, and ad group-level budgets must be at least $20 per day.
What are the notable examples of successful TikTok brand advertising?
Brands like Chipotle, Kroger, Experian, IHOP, and others have used TikTok to design and execute successful advertising campaigns. These campaigns range from influencer campaigns and in-feed ads to hashtag challenges and shopping experiences, highlighting the variety of ways brands can connect with their audience on TikTok. These successful campaigns demonstrate how to effectively use different TikTok ad types and features to drive engagement and achieve marketing goals.
What are some best practices for TikTok advertising?
Advertising on TikTok involves staying true to one's brand identity and being direct with the conveyed message. Using vertical video orientation improves impressions significantly. Right timing is crucial, and so is using sound and text. Including relevant hashtags, using interactive add-ons, and partnering with influencers are other key best practices. To optimize your TikTok ad campaigns, regular testing and reviewing of analytics is a must.
How can sound and text be used effectively in TikTok ads?
Audio plays a significant role in TikTok as it exponentially boosts ad impressions. Audio can be in the form of a catchy song, voiceover dialogue, or ambient sound. Similarly, captions and text overlays form another crucial aspect of TikTok ads. They provide context, highlight key points, and direct viewers' attention. By using sound and text cleverly, brands can enhance the impact of their TikTok ads.
What is the impact of effective timing in posting ads on TikTok?
Effective timing is crucial for maximizing the reach of TikTok ads. Analysing trending topics or timed events can help generate buzz for your ad campaign. For example, eBay's successful Sneaker Showdown campaign synced with the NCAA basketball tournament. Moreover, TikTok's inbuilt analytics can help determine the best time to run your ads for maximum audience reach.
How can hashtags be used in TikTok advertising?
Hashtags play a significant role in TikTok's user engagement. They categorize content, making it easier for users to find and interact with content that fits their interests. When used in ads, relevant hashtags can enhance visibility and drive engagement. Brands can create their own unique hashtags for campaigns or use trending hashtags relevant to their content.
What is the role of influencers in TikTok advertising?
Influencers on TikTok have amassed large followings, which brands can leverage for advertising their products or services. By partnering with influencers, brands can expand their reach, enhance visibility, and generate more user engagement. Influencers can create sponsored content around a brand's products or participate in brand-run challenges, creating a buzz around the brand and its offerings.
Why is it important to test and optimize TikTok ads?
Regular testing and optimization are crucial to ensure the effectiveness of your TikTok ad campaigns. By reviewing your TikTok analytics regularly, you can gauge how your content is performing based on metrics such as views, interactions, and click-through rates. This allows you to make necessary adjustments to your content strategy, ensuring better engagement and a successful campaign.