🚀10+ 🔥Hot Social Media Trends You Can't Afford to Ignore in 2023! 💥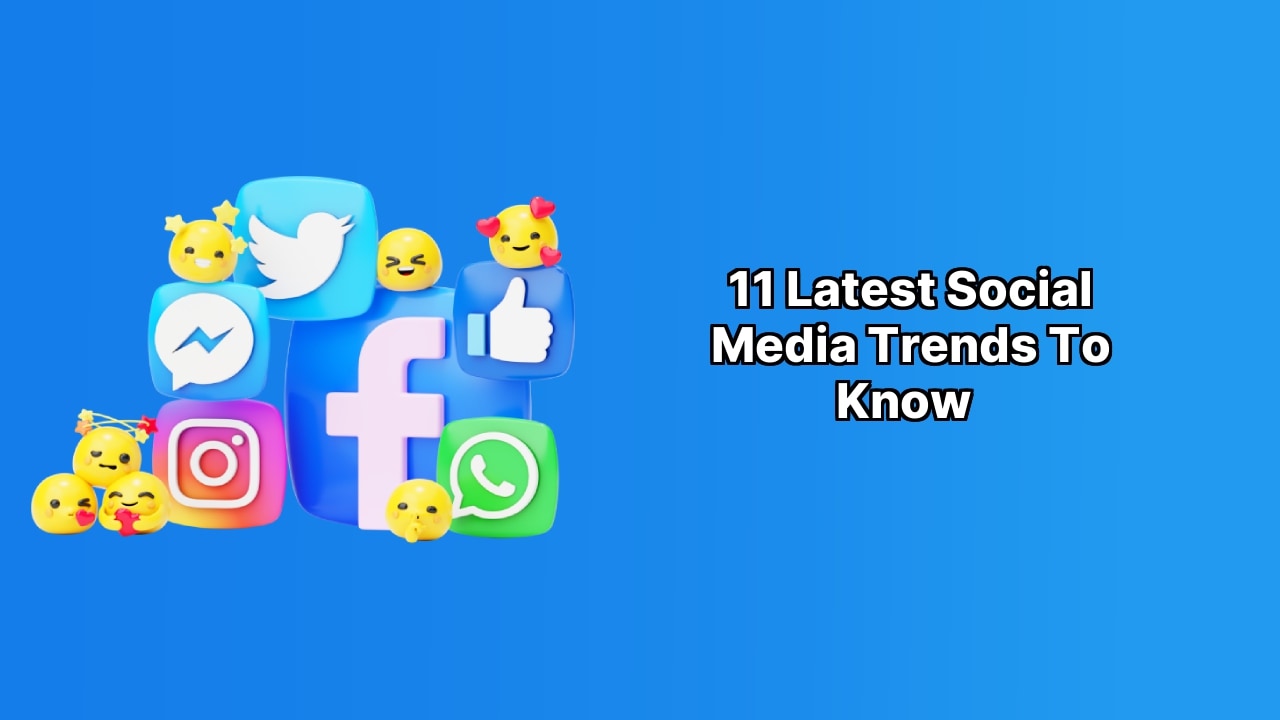 🎉Hey guys! You don't need a 🔮 to tell you what's going to be 💯 in social media in the coming year. All you need is some 📊 data and your boy here to deliver you the DL! We're not talking about which TikTok sounds will be the next big things (because who really knows?🤷). Instead, let's cover some seriously cool 😎 trends that are set to shape social media in 2023. So get ready, cos' it's about to get lit!🔥
1
Ready to SLAY Your Social Media Game for 2023? 😎 Read On!
As we kick off a brand new year, I can't help but wonder about the BIG wave of trends waiting to hit the world of social media…and I bet you're curious too, ain't ya? 😉 Lucky for us, my info-squad and I didn't need any crystal balls to predict the future. All we needed was DATA! 📈 Cool, huh?
2023 isn't about guessing the next viral TikTok audio or dance 🕺. This year, it's about peeping into what's making the audience tick 🕰, where brands are headed and how to keep your game strong amidst all the buzz 🐝. If social data is your daily bread and butter, like it is for the most of those businesses out there, you have hit the jackpot with this article! 💡
2
🚀 New Social Media Trends for 2023! Get ready for a wild ride! 🚀
"Edutainment" content will be King 👑: Not just for kids, folks! Entertaining AND informative content is going to call the shots in 2023. No idea what I'm talking about? Check out this account on TikTok. It's a Fintech brand nailing it with hilarious content about basic money stuff! 💸
More 💲 for Video Production: Let's be real, video is here to stay. Your average Joe is watching 80 mins of TikTok EVERY DAY. Businesses valuing their brand image can't ignore this anymore, hence, more dough for video production and new crew members! 🎥
BeReal and Brand Authenticity🎯: The hottest trend of 2022, BeReal, is enjoying its fame and confusing marketers at the same time. Remember folks, in 2023, authenticity will be your brand's bread and butter. Skip the viral trends, focus on what matters. Be REAL. 🌈
Checkout New Social Networks 🆕 : It's not all about Facebook and Instagram anymore. New networks like Mastodon, Tumblr, Hive and Discord are gaining popularity. Keep an eye out! 👀
The Creator Economy 🌎: With influencers getting a whopping 13.2 times more views than brands on their content, it's time to leverage this trend before it's too late. Tap into the potential of creators and prepare to shine! 💫
Employee Advocacy – Trend Alert 🚨: In 2023, brands will be turning their employees into creators. Call it authentic, cost-effective or productive, employee advocacy is the new social media marketing gem. 💎
Sustainability and How Brands Talk About it 🍃 : With a rise in conscious consumerism, brands will be more vocal about their environmental initiatives. Clear, concise disclosures are going to be the norm. 🌍
3
🛠 Putting it All Together…
2023 seems all set to be a thrilling ride for brands, creators and consumers alike. As we zip through the tunnels of authenticity and skim the waters of conscious consumerism, it's crucial to stay rooted to your core values. Remember, on social media, you're not here to just blend in, you're here to stand out! 🌟 So let's get out there and kill it! 🤘
4
😎 Strap Up For the Green Hush: Trend Alert! 🔥
There's a hush hush revolution afoot: the Green-Hushing wave! Brands are kicking against the status quo in a bid to steer clear of the dreaded greenwashing stigma. Your friendly watchdogs are ever ready to pounce on overblown claims of sustainability! 💥 And you know what? Corporations are starting to quit the grandstanding 😲, and have gone on a low-key with their strategies. Check out this fact-checking tweet! 🐦 Powerful, ain't it?
5
Say Hello to Surprise Marketing through Social Care 👋💓
Ever thought of brands making your day just by reaching out to you on social media? 💡 Yes, you heard right! Businesses are catching on to this trend and fast! Now it's not just about responses, but about delighting you with an experience! 😊 Like this @TomFrankly conversation and this @tumblr post. Talk about raising the bar!🙌 Let's watch and see who's going to win the customer-heart race!
6
A New Budding Romance: Social Media and Legal Teams 💕⚖️
Who's ever thought of social media and legal teams being a perfect pair?😏 Well, it's happening! As memes and contents rub shoulders with intellectual properties, your legal warriors stand in the gap to battle copyright infringements and keep your brands safe! 💪🛡️ A bit dry, right? But hey, here's a little meme to lighten the mood! Find it @tclarkmedia.
7
Back from the Shadows: Social Commerce Rises Again 💰💼
Get this; social commerce isn't taking a backseat after all!🎆 Despite predicted gloom, social shopping is going full throttle! The end of 2022 saw record-breaking shopping, luxury buys and TikTok/Instagram "haul" posts making a return. 🔝 You can't ignore how vital social commerce has become. Get up to speed today, folks!
8
Metaverse Brand Activations Splash! 🎇🚀
Remember when brands like PacSun, American Eagle and Klarna wowed audiences over the holiday season?💥 Those awesome Metaverse explorations have inspired other brands to jump into this endless pool of opportunity! Marketing budget allocations suggest that 2023 is primed to overflow with more of this cool tech!😎
9
The Heat is On: Trend Alert! 🌶️🔊🌐
Trends; they ensure your social media experience stays spicy. That's part of the thrill, isn't it? So, ready to embed these hotties into your annual plan? 👌 Check out this article about developing a social media marketing strategy! Use it and change your game this year. The sky isn't the limit, folks! 🚀
Conclusion:
✌️Well, that's a wrap for our guide to the 🔥hottest social media trends set to take flight in 2023! Ready or not, here they come! 🚀 Whether it's "edutainment", the BeReal revolution, or the booming creator economy, there's a world of new opportunities waiting to be explored. 🎢 Every trend is a chance to elevate your game, so don't miss out on making it big! 💥And hey, why not check out this awesome
article on developing a rock-solid social media marketing strategy
while you're at it? Until next time, keep crushing it and stay tuned for more, my friends! 🏄‍♂️🌊
What do data suggest about social media trends for 2023?
Data analysis suggests a variety of emerging social media trends for 2023. This includes the rise of Edutainment content, increased investment in video production by businesses, the potential of new social media platforms like BeReal, and changes in how brands address sustainability. The creator economy, employee advocacy, and social commerce are also expected to continue flourishing.
How is Edutainment content expected to change in 2023?
In 2023, Edutainment content, which is a mix of entertaining and informative content, is predicted to become even more popular across numerous industries. More brands are expected to leverage the potential of TikTok, Instagram Reels, and other short-form video platforms to disseminate educational content in a fun and engaging manner.
How are businesses expected to invest in video production in 2023?
As video content continues to gain popularity, more businesses are expected to invest heavily into video production in 2023. The growing consumption of video content, particularly on platforms like TikTok, leads businesses to see the potential for more interaction with their audience, leading them to hire additional staff or resources for video creation and editing.
What is the impact of BeReal on brands?
BeReal, a new social media platform, presents an opportunity for brands to explore authenticity and genuine connection with their audience. While it's unclear if BeReal will introduce features for brand advertising in the future, the current trend emphasizes building an authentic brand image.
How are businesses navigating emerging and re-emerging networks in 2023?
As consumers seek new social platforms, businesses may experiment more with emerging or re-emerging networks in 2023. Several rising platforms including Mastodon, Tumblr, Hive, and Discord are becoming noteworthy as people search for their next favorite online communities, prompting businesses to explore these spaces.
What does the data suggest about the creator economy in 2023?
In the creator economy, data suggests that collaborations between creators and brands are set to continue growing in 2023. This is due to influencer content being watched significantly more than media and brand content. Brands are expected to collaborate with creators to increase engagement and reach new audiences.
How is employee advocacy expected to change in 2023?
With the rise in social media usage, businesses are anticipated to harness their workforce's potential by turning them into brand ambassadors or creators in 2023. Employee advocacy has emerged as an effective strategy for increasing brand awareness, controlling brand messaging, and attracting more qualified job applicants.
How are brands expected to talk about sustainability in 2023?
Brands in 2023 are expected to modify their communications about environmental sustainability. A new practice known as green-hushing is predicted to rise in which brands opt for a more silent approach towards their sustainability efforts, in contrast to making grand claims and declarations, to avoid backlash for potential greenwashing.
What are the anticipated changes in social customer care in 2023?
In 2023, social customer care is seen as moving beyond just addressing customer inquiries to performing as a strategic marketing opportunity. Brands are expected to go the extra mile in responding to customer queries, adding personalized touches, humor or insights, to engage their audience more effectively and create delightful experiences.
How are the roles of social media and legal teams changing in 2023?
The relationship between social media and legal teams is evolving. In 2023, they're expected to interact more closely as they navigate new content formats and potential issues like intellectual property infringement. This means an increased focus on understanding and implementing effective social media governance policies.
What is the future of social commerce according to the data available?
Despite initial setbacks and economic uncertainties, social commerce is expected to rebound. With people still shopping and researching purchases on social media, brands are predicted to invest more in optimizing their profiles and providing speedy checkout experiences to convert followers into customers.
What does the data suggest about metaverse brand activations in 2023?
With more marketers investing significant portions of their budget into metaverse/AR/VR social strategies, metaverse brand activations are anticipated to grow in 2023. Several brands have already begun experimenting with metaverse technologies, leading to interesting and innovative brand campaigns.
What are the possible implications of social media trends for businesses in 2023?
In 2023, businesses that can effectively adapt to these emerging social media trends, from the consumer shift towards new platforms, the importance of video content creation, to the rise of the creator economy, may stand to gain competitive advantage. Brands who are cognizant of these shifts will be better positioned to connect and engage with their audiences.
What should brands consider when creating Edutainment content in 2023?
Brands creating Edutainment content should focus on dispelling industry misconceptions and providing useful information in an entertaining manner. The best sources for such content are frequently asked questions by customers and commonly discussed topics in inbound messages. These can then be turned into engaging content tailored for platforms like TikTok and Instagram Reels.
How can businesses harness the power of the creator economy in 2023?
To leverage the growing creator economy, businesses should consider partnering with creators whose audiences align with their target market. These partnerships can generate higher engagement rates, strengthen online communities, and help reach new potential customers.
What approach should brands take towards sustainability communications in 2023?
Brands in 2023 should ensure their sustainability communications are factual, accurate, and reviewed by PR and CSR representatives. This approach helps avoid the risk of appearing to be greenwashing, or making false sustainability claims, which can negatively impact a brand's image and credibility.
What strategy should brands employ for successful social customer care in 2023?
Brands should consider integrating a holistic social media marketing solution that allows for in-depth customer profiling. This helps brands deliver more personalized, thoughtful responses to customers, thereby enhancing their social customer care efforts. Tools like Sprout, integrated with Salesforce, can provide a 360-degree customer view directly within the platform.
How should brands tackle potential legal issues related to content sharing in 2023?
Brands should ensure they have a strong social media governance policy in place to handle potential legal ramifications linked with sharing content in 2023. Building a good working relationship with the legal team allows for better understanding and mitigation of risks associated with intellectual property violations and copyright infringement.
How can brands optimize their social commerce strategy in 2023?
Brands should familiarize themselves with the different social commerce features each platform offers to optimize audience engagement. This includes configuring quick optimizations on profiles to ensure a speedy checkout experience, ultimately converting followers into customers efficiently.
How can brands join the Metaverse?
Brands looking to venture into the Metaverse need to learn how the platform works, identify where their target audience is, and understand the type of content that engages users in these spaces. They should also look at brands that are already successfully operating in the Metaverse for inspiration and guidance.