🔥Level Up Your Social Media Skills: Your Ultimate Guide!🚀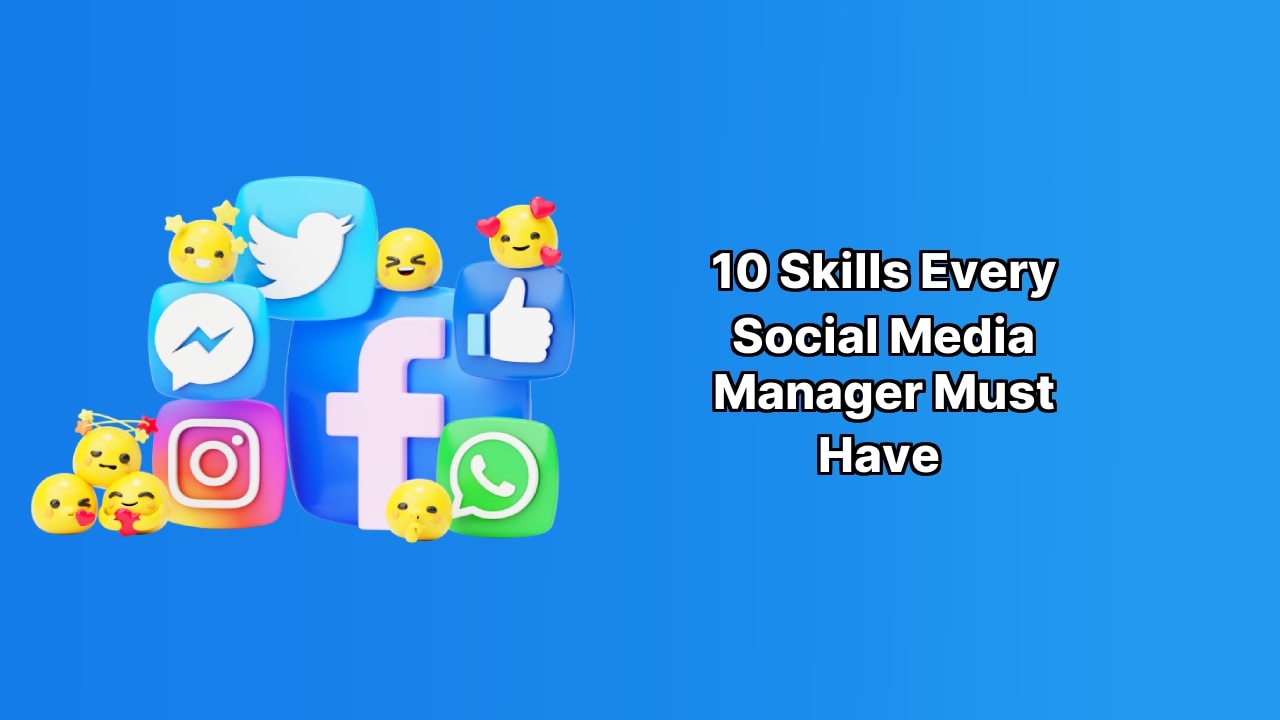 Hey, what's up, guys?!👋 If you're crazy about social media just like me and want to absolutely crush it in the ever-changing digital landscape, then you're in the right place! In this article, we'll tackle the evolution of social media skills and their increasing complexity. 🧗‍♂️We'll dive into everything you need to up your game and stay future-ready in the social media realm. Let's go! 😎
1
A Whole New Game: Social Media Skills That Level Up Your Career 💪🔥🚀
Guys, check it out! The world of social media has changed beyond belief, and if we want to ride that wave 🌊, we've got to level up our skills! Technology changes, new trends, and a ton of other stuff make it a must for social media managers (SMMs) to diversify their skills and stay on top of their game. This isn't a game for the faint-hearted folks, it's the big league! 🥇⚡
2
New Skills Every Social Media Manager Must Have: Are You Ready for the Challenge? 🎯🧠
So, did you know that a LinkedIn report showed that SMM skill requirements in the US changed by an average of 24.9% since 2015? That's wild, right? 😱 Some of the top skills needed today include social media outreach, social strategy, platform expertise and many more! Average won't cut it anymore folks, you've got to be a top player! 🏆🎮 And if you're planning to become a social media manager, or just want to level up your skills for the future, here are some skills you've gotta have in your toolkit. 💼🌠
3
Communication: The Power Tool in Your Social Media Skills Toolkit 🤝📢
Let's get down to the basics – we need to talk and we need to talk well. When you're a social media manager, you're going to be talking to a lot of different people. From writing a brief to compiling social listening analysis for big bosses, SMMs have to communicate effectively to a wide range of people. 🎤🗣️ Here's what you need to remember –
When communicating externally on social media, consistency matters. From posting updates to responding to comments, maintain a consistent brand voice👥📝.
When communicating internally, make sure you can dish out your ideas properly to decision-makers within your team. It could be about social media strategy or revenue expectations. Be clear, concise, and confident.🧑‍💼📋
If you need to brush up your communication skills, here's a double whammy! Get this presentation template for your social media strategy and check out TED Talks on communication for some well-needed inspiration!
4
Writing: More Than Just Words – It's Your Brand's Voice 🗨️✍️
But wait, there's more! As a social media manager, you must be an amazing writer too. It's not just about technical grammar and spelling, it's also about creating engaging and striking content! ✨💠💥 If you think writing is only about long paragraphs and heavy essays, then buddy, you're mistaken!😂 Even a 50-character Instagram caption can make an impact. So, guys, get your words right and let your brand's voice shine through! 🎩📜 If you think you need a bit of help here, don't sweat it! 💦 Here are some tools to get you started! Check out Grammarly for grammar checks, Copy AI for creative Instagram captions, and Hemingway Editor for readable and concise writing.
5
Creativity: The Secret Ingredient to Winning the Social Media Game 🌈💡
You need to stand out in this crowded social media space. And how do you do that? By being creative! From planning innovative social media campaigns to brainstorming with your team, creativity is key! 🎨🎭💫 It may look intimidating at first, but hey, you can always use technology to spark some inspiration. Check out Creative Mornings events and Vidyo on how to create short-form videos. And never underestimate the power of a good laugh or the ability to improvise! 😄💥🎲
6
Efficiency and Project Management: The Art of Getting Things Done 🎩🧩🔬
Last but definitely not least, you got to be efficient. Whether it's planning a campaign or executing it, project management skills are a must! 💼🏁 And if you can ace this, you're definitely in line for some major leadership opportunities. Check out Asana or Monday.com for some project management prowess! 💪🚀 So, folks, gear up and let's smash this! The world of social media awaits… 😎🔝
7
🔥 Get on Top of Your Social Game: Skills You Need in 2022! 💪
Are you ready for the tools of the trade that'll help you own your social media game? Check out these must-have skills that can make your campaigns 🚀 sky rocket and integrate everything smoothly just like a well-oiled machine. Let's go!
Your social media success starts with how well you can manage your projects. We're talking about setting deadlines, maintaining organization, and coordinating with your team. Using a social media calendar tool like Sprout could work magic! 🔮 It's everything you need – track your progress, filters and all. Ready to upgrade your project management skills? Here's a list of some wicked resources:
Social media is the holy trinity of marketing, customer experience, and sales. 🤝 Whether it's ROI tracking or strategy building, you'll need a mix of traditional and digital marketing techniques. Looking forward to enhancing your marketing strategy?
As a social media manager, you're the biggest advocate for your brand. You're all about making that positive impact. 💖 Make your customers feel special. They'll love you for it!
11
Audience Research and Making Connections 👥
Know your people, build relationships. It's the glue that holds a successful social strategy together. 🤩 Explore more on understanding and connecting with your audience.
The social scene changes rapidly. To keep up, you need the agility of a cheetah! 🐆 Stay on top of evolving trends, be quick to adapt, and always have your finger on the pulse.
Know Your Meme: Never miss out on the latest meme action.😜
Twitter Trends: Great resource for new content and emerging trends. 🐦
Google Alerts: Stay updated on your company mentions, the latest news in your industry, and global updates. 🌐
Social media managers know the score – data is king. 👑 Understanding it and applying it is the secret sauce to any successful strategy.
14
Unlock the Power of Social Media: A YouTuber's Guide
🔥 Ever wondered how to take social media shenanigans to the next level🚀? We got you all covered! Just like a MrBeast challenge, mastering social media is all about creativity, fun, and a slice of strategy cakes🎂!
15
Unlock the Social Listening 🎧
The digital world is talking 🗣️! We need to tap into that chatter and use it to our advantage. Being a social media champ involves getting the scoop straight from the customers' mouths 👄. Listen to their conversations, understand their needs, their likes, and dislikes, and turn all those insights into a killer strategy 📝. Want to hone your social listening skills? Check out this cool toolkit, the Marketer's Ultimate Data-Powered Toolkit, loaded with amazing advice on using analytics like a pro.
Digging deep into data, both qualitative and quantitative, is the key to make a lasting impact on social. It's just like figuring out what his audience loves the most before launching a YouTube challenge. Discover trends and build a plan of action that resonates with your audience and for your brand. To get started with data analysis, this ultimate Data Storytelling guide will show you the ropes. It's the MrBeast equivalent of doing the legwork before a crazy stunt!
17
Master Budget Management 💼👩‍💼
Managing social media finances is like planning a video shoot. It includes funds for content creation, collaborating with influencers, or hiring freelance pros. Conduct a social spend audit to understand how much to spend and where. This will help plan funds wisely, just like how we budget for props and rewards for his epic challenges! To start planning your social media budget, get your hands on this handy Annual Social Media Budget Template.
18
Upping Your Social Media Game 🏆
Just like YouTube, social media is a path of lifelong learning 😎. Hone your social media skills at every career stage. Already got the hang of things? There are other areas where you can up your game like personal branding or moving into people management. Whatever your skills are, there's always room to grow. If you're looking to build a long-term career in social, check out this comprehensive guide to become a social media rockstar🤘. Remember, success on social media is like pulling off a successful YouTube challenge. It's about being creative, putting in the work, and never forgetting to have fun! 🌈 🚀
Conclusion:
There it goes, guys! Your all-in-one guide to mastering essential social media skills! 🚀Remember, no matter what milestones you hit or how far you've come, the journey to success never ends. It always demands continual learning and growing. Okay👌, done talking. Now, it's action time! Go forth and conquer social media, and while you're at it, remember to have fun, cause that's what it's all about! Be awesome, work on your skills, and rock the digital world. The sky's the limit! 🎉
What is the importance of communication skills for a social media manager?
Communication skills are critical for a social media manager's job. They are expected to express ideas effectively to different stakeholders and collaborate with diverse teams and followers regularly. These skills become even more vital when engaging externally on social platforms and internally with decision-makers and strategic partners. Resources such as presentation templates and relevant TED talks can aid in improving these critical social media skills.
What are important writing skills for social media managers?
Effective writing skills form another key element of social media management. Social media managers should be well-versed in crafting concise and engaging copy tailored to different audiences and platforms. AI-based content tools and apps like Grammarly and Copy AI can provide assistance in improving writing abilities and generating creative content that aligns with a brand's voice.
How does creativity play a role in social media management?
In the crowded social media landscape, creativity is crucial to stand out. It involves planning innovative social media ideas, producing visually appealing content, and leading productive brainstorming sessions. Various AI-based creative apps can help stimulate the creative process. Improvisation classes can also provide a new perspective on problem-solving and build confidence in managing spontaneous customer responses.
Why are efficiency and project management crucial in social media management?
Efficiency and project management are essential for executing social media plans effectively. Social media managers need to estimate campaigns and distribution patterns and manage these projects from beginning to end. Tools such as Asana and the Sprout social media calendar can assist social media managers immensely in managing their tasks efficiently.
What is the significance of a solid marketing strategy in social media management?
Marketing strategy is a foundational social media skill. It combines social intelligence and marketing acumen to create successful, data-driven, and customer-centric strategies. This includes documenting intersecting efforts between various marketing approaches like email nurtures, paid campaigns, and webinars. Resources like Sprout's YouTube channel and marketing courses on LinkedIn Learning can be useful for improving this aspect.
What role does customer care play in social media management?
Customer care in social media management encompasses customer service, people skills, and spotting opportunities. Developing a comprehensive customer care strategy is an integral part of the role as it puts the voice of the customer (VoC) at the core of the strategy. Resources like podcasts and blogs can help enhance these skills.
Why is audience research important in social media?
Audience research is a critical part of successful social strategies. Insights derived from social listening can inform everything from content formats to posting times. AI-enabled tools are vital for gathering and acting on VoC insights to construct a customer-driven, data-backed, social presence. Tools like Sprout's social listening solution and the Sprout Social Index™ can be beneficial in this aspect.
How is agility a key social media skill?
The fast-paced nature of the social landscape necessitates agility as a fundamental social media skill. It involves the ability to adapt quickly to new trends, opportunities, or crises and adjust long-term social strategies accordingly. Resources like keeping up with daily memes or setting Google Alerts for industry news can help in staying agile and informed.
Why is data analysis important for a social media manager?
Skilful social media managers should regularly analyze data and apply it in their strategies. Data analysis includes quantitative and AI-enabled qualitative data derived through social listening. This provides a precise picture of engagement levels and customer experience (CX) data to share with stakeholders. Tools like the Marketer's Ultimate Data-Powered Toolkit can assist in boosting these skills.
How vital is budget management in social media management?
Budget management is a key responsibility for a social media manager. It involves planning and managing finances for various programs including organic and paid media spending, content creation, and collaborations with influencers. Insightful understanding of project goals and previous spending can assist in making wise budget allocations. Resources such as the Annual Social Media Budget Template can provide valuable help.
What are some new social media skills that have emerged recently?
In recent years, some new social media skills have emerged including social media outreach, social strategy, social media communications and platform expertise like Instagram. AI-driven audience research, project management, and budget management have also become more crucial. Understanding diverse platform algorithms and trends, and leveraging modern social media management tools can help keep up with these changes.
What qualities should a social media manager possess?
A social media manager should be a marketer, strategist, copywriter, and a customer service representative, excelling at each role. Not only does it require understanding various social media platforms, but it also involves aligning social media strategies with the overall business goals, conducting audience research, managing resources efficiently, and analyzing performance metrics.
What tool can a social media manager use to manage their tasks?
Social media management tools like Sprout Social and Asana can be beneficial in managing various social tasks effectively. They provide features for scheduling posts, monitoring social conversations, and detailed analytics to evaluate performance.
How does a social media manager handle crises?
During a crisis, a social media manager should be able to quickly respond and communicate effectively with their audience. They should also collaborate with their team to formulate an immediate action plan.
How does a social media manager play a role in marketing strategy?
The marketing strategy crafted by a social media manager involves using both traditional and digital marketing approaches. They are expected to integrate their social efforts with other tactics such as email nurtures, paid campaigns, corporate events, and webinars.
Why is understanding customer preferences crucial for social media managers?
Understanding customer preferences enables social media managers to create content that resonates with their audience, build their brand effectively, and foster strong customer relationships. It is a vital part of creating a customer-centric strategy.
How can social media managers improve their writing skills?
Social media managers can enhance their writing skills by utilizing tools like Grammarly and Copy AI. These tools can assist in ideating topics and provide inspiration when needed, ultimately improving the writing process.
What's the impact of social listening on social media management?
Social listening provides valuable data about the audience's sentiments towards the brand, allowing social media managers to make data-driven decisions. It plays a major role in Customer Experience (CX) and Voice of Customer (VoC) strategies.
How do project management skills benefit a social media manager?
Project management skills enable a social media manager to lead and execute plans from start to finish effectively. These skills also pave the way for future leadership roles, making project management a prerequisite skill for every social media manager.
What resources can help in building an effective social media marketing strategy?
Books, podcasts, webinars, online courses, and insightful reports such as The Sprout Social Index™ are great resources to refer to when building an effective social media strategy. These resources provide in-depth knowledge and data-led insights to help improve the strategy.