💥Supercharge Your Social Media Game 🚀with Scheduling Tools!🔥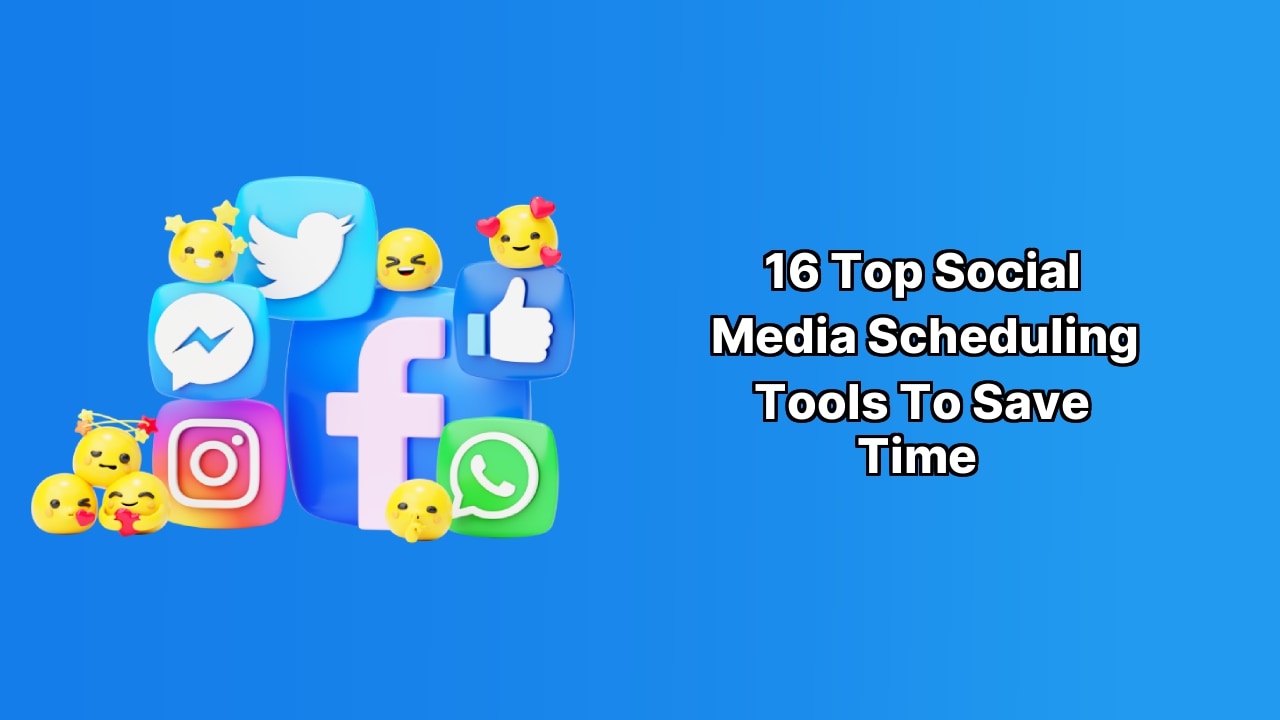 🔥 Hey there digital hustlers! Wanna level up your social media game and give your posts some muscle?💪 Today, we're diving headfirst into the world of social media scheduling tools! 💻They're all about working smart, not hard – prepping and scheduling your posts to hit those peak engagement times and keep your community buzzing! 🐝 It's all about streamlining that workflow and making every post a home-run!🏏 Let's dive in! 🚀
1
🚀 Ready to Level Up Your Social Media Game? 💻
You super-savvy social media masterminds 👀! Always on the hunt for more 💰ROI and less ⏰wasted time. But juggling multiple accounts and building an online community can involve repetitive and time-sucking tasks, right❓ That's where today's incredible lineup of 💥social media scheduling tools can step in and save your day!
2
💼 What the Heck is a Social Media Scheduling Tool? 🛠️
A social media scheduling tool is this ultra-cool software or tool 🧰 that allows you to schedule your social posts across multiple social media accounts and platforms.🚀 It'll make sure you're never left scrambling, and gives you time to focus on other tasks. ✅
3
The Ultimate 💪 Social Media Scheduling Tools to Boost Your Marketing Workflow
👋 So there you have it! That's my smashing list of top-notch social media scheduling tools to bring your A-game to your marketing workflow! 😎🔥
4
🎉Supercharge Your Social Media Content with Scheduling Tools!💻
Want to up your social media game? Imagine prepping your photos, captions, and hashtags in advance for repeated use with a platform like Sked Social! Can you imagine it? Live drag-and-drop previews, real-time amendments and creative post templates… It's like that dream Instagram tool you never *knew* you needed 🤯✨
5
💡Finding Your Perfect Post Planner
Creating and scheduling content is vital, but you don't want to be that annoying guy spamming the same content over and over, right? Right. That's where a wicked little tool called Post Planner comes in. You can find content ideas, schedule posts from different sources, and figure out what content is star-rated based on engagement. It's like having a cheat code for growing your following! 🚀✨
6
🎯Getting Competitive with StatusBrew
Executing a wicked social media strategy just got easier with StatusBrew. Your team can rock this expansive dashboard, schedule content, tag posts and track your competitor's accounts. Yes, actually. Hundreds of potential wins in one place? Now that's competition. 🏆💪🏽
Meet Edgar. He's a social media scheduling tool that's armed and ready to help you schedule not just your social content but also blog posts. You can also run A/B testing and see what contents are appealing to your audience. So make sure to say hello to Edgar and let him drop some traffic to your page. 📣💼
eClincher is your new best friend for managing multiple social media channels. Auto-publish blog posts, schedule related content, and handle all your messages, comments, and mentions in one place. It's like your own personal edit suite with millions of free photos. Talk about a game-changer! 📸🎈
9
👑Ruling Your Social Media Presence with NapoleonCat
Here's introducing you to NapoleonCat. This social media scheduling tool helps you categorize content, posts and shows you a preview of your post before it's online. Plus, with its simple interface and role-based permissions, running your social media strategy just became a royal affair.🎩👑
10
📋What should you look for in a social media scheduling tool?
🎯Brand and team needs: Start off with a specific software RFP to nail exactly what your team and brand need.
💡Ease of use: Check if your chosen tool has a seamless user interface and provides an easy-to-navigate dashboard. Remember, the tool should be helping you save time, not giving you headaches.💆‍♂️💡
🔧Quality support: Choose a tool that offers you exceptional customer support because that's when the experience gets from good to great.👍🎉
11
🕹Taking Advantage of Social Media Scheduling Tools
Brands, from small to big, are all using these tools to grow their social media presence. Having these tools in your arsenal can seriously help you up your content game. Ready to try? Get your hands on a free trial of Sprout Social for 30 days. Unleash your brand's power! 💥🚀
Conclusion:
🔥 And that's a wrap, guys! Hopefully, you're now buzzing to try out these social media scheduling tools 🛠 and can't wait to see how they revolutionize your workflow! Remember, it's not always about the grind – sometimes, you gotta work smarter, not harder. 👨‍💻 So go ahead! Try these tools, start scheduling and let's continue to boost that online presence on a global scale 🌍! Until next time, keep it real and keep it digital!💯🎮