The Ultimate Guide to Crafting an Effective Social Media Proposal 💯 🚀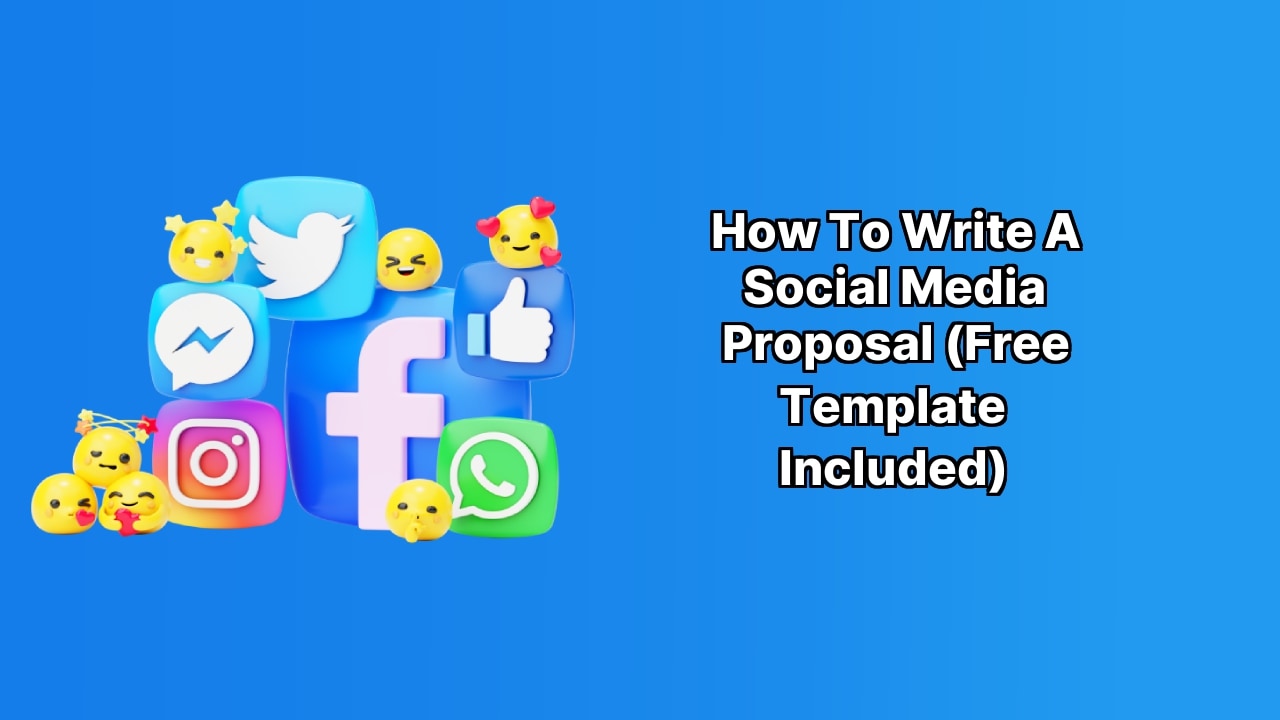 📝 Greetings everyone! It's time to roll up your sleeves and dive into the world of social media proposals. If you're a freelancer or an agency offering social media services, listen up cause this nugget of information could be the game-changer you need! 🎯 Crafting a social media proposal can seem daunting, but we are here to untangle the complexities for you. A social media proposal outlines how your skills and expertise can serve a prospective client's goals. But, remember, it's not just a contract! 📃 You're bound to have questions, like what goes into a proposal? How to make it stand out from others? Where does it fit into your workflow? In this guide, we'll break it down for you – the key proposal components, an example to understand better, and even, a free template to get you started! 🌟
1
Understanding the Core Elements of a Phenomenal Social Media Proposal! 🚀
Need a power-packed 🎯 social media proposal that stands out? 💥 Let's dive into the key components, so you know what you need to kill it in the game! 💪
2
How A Social Media Proposal Works 💼
A top-notch social media proposal clearly spells out what services are going to be provided, what the costs will be 💵, and how it's going to benefit the client 🙌. Think of it as a roadmap 🛣️ guiding your client to understand your plan of action!
3
Document Details That Count 🗒️
This includes your relevant business details 🏢 and the potential clients' details.💡 An effective way to make the proposal feel more personalized and tailored to the client! 😎
4
Client's Goals and Objectives 👑
Clearly outline what the client wants to achieve with your services. Is it more follows? More sales? Greater exposure? 🌐 Keep it crystal clear and concise! 🎯
5
Showcase Your Previous Success Stories 🏆
Let your stellar track record do the talking! 🙌
Sharing your achievements is a major win! 🏅
Don't hesitate to flaunt the important numbers. 💯
6
Explaining the Terms of Agreement 👨‍💼
Next, go in-depth on the conditions, fees, billing practices and work habits. Just remember folks, clarity is the key. 🔑 A good strategy is to include a 'kill fee' just in case the client chooses to pull the brakes! 🛑
7
Preparing the Client for the Next Steps 👞
Outline the process to follow after the proposal is sent, including how you'll follow-up and if the client can ask for revisions. This is a major time-saver and clears any confusion! 🙅‍♂️ There's no one way to write a proposal. 🆓 Feel free to include extra stuff like an expiration date or a copyright notice. Remember, different clients might require different proposal styles. 🔄 For some, a digital proposal does the trick 💌, while others might require you to present it in person. No matter what, make it easy to read for your client. 📚 Creating a template can help make this process faster and easier! 📋 Remember friends, a great proposal is key, but it doesn't guarantee success. 😮 So stick around, keep innovating, and if you ever need help in growing an account, don't hesitate to reach out to a growth consultant. 💬 Here's wishing you the best of luck! 🍀
Conclusion:
As we wrap up, remember, a social media proposal is a strategic blend of your industry knowledge, understanding of the client's needs and your unique skills set. And while a well-written proposal is a must, don't underestimate the power of format and presentation. Perfecting these elements will certainly set you apart from the competition! 🏆 🔥 And hey, if you want to explore Sprout Social to personalize your proposals or need guidance building an effective process, check out the Agency Partner Program! 🤓 Once you have the mastery of crafting a compelling social media proposal, you're one step closer to nailing success. It's time to channel your inner beast and get those keyboards clacking! Roll out some epic proposals and watch the magic unfold. 💪 🔮
Continue Reading
What is a social media proposal?
A social media proposal is a comprehensive document that outlines your service offering, strategy, and steps towards achieving the desired outcomes for a potential client. It's a crucial tool for freelancers and agencies offering social media services to portray their abilities and convert potential clients. It is pertinent to consult with a possible client to grasp their needs and goals before creating the proposal.
Can you provide an example of a social media proposal?
An example could be similar to hiring an interior designer. You might have a vision for your dream kitchen, but not the expertise to execute it, hence, you bring in a designer. On receiving several proposals, you select the most suitable choice based on their industry knowledge and understanding of your requirements. Similarly, a social media proposal should portray industry knowledge and understanding of a client's needs without disclosing every step of your strategy.
Where does a social media proposal fit into my workflow?
A social media proposal fits into the sales process of your workflow. A clear and defined sales process contributes to significant revenue growth. Stages in the sales process might include writing and sending the proposal, client's review, answering client's queries, and agreement on the proposal, followed by contracts.
What are the important components of a social media proposal?
Main elements of a social media proposal include analysis, understanding client's needs, scope of work which includes what you will do for your client, project milestones & deadlines, proof of work demonstrating your past successful projects, terms of agreement outlining your work terms and practices, and lastly, next steps for the client post proposal.
What does the 'Analysis' component in a social media proposal convey?
The 'Analysis' segment in the proposal intends to identify the client's challenges regarding their social media presence. It commences with an understanding of what the client requires and how you can assist them. For instance, if a client wishes to leverage social media to boost sales, this section should include current sales metrics and an analysis of the ineffective existing strategy.
What does the 'Scope of Work' component of a social media proposal include?
The 'Scope of Work' component of the social media proposal outlines the specific services you will deliver to the client. This may involve posting schedule, content creation and curation, brand keyword monitoring, analytics and reporting, and social media management details. This is the most detailed part of the proposal and outlines the extent of your service provision.
What implications does 'Project Milestones & Deadlines' component of a social media proposal have?
Often combined with the scope of work, this section clearly defines the metrics for gauging the project's performance. For example, if a client seeks more visibility from social media, impressions and reposts could be a part of your key metrics. With current statistics on hand, write down numeric, realistic goals to expand in the proposal.
Why is providing 'Proof of Work' in a social media proposal crucial?
'Proof of Work' reinforces the reason a client should choose your services over your competitors. It is likely that clients receive multiple proposals for similar projects. In this section, highlight your specific experience with past clients who had similar goals and testify your successful endeavors with client testimonials or examples of successful projects.
Could you explain the 'Terms of Agreement' segment of a social media proposal?
The 'Terms of Agreement' section spells out your work methods and contract terms. It could mention the fee structure, project, billing practices, working mode, and termination terms. Including such explicit terms in the contract helps manage client expectations and prevent potential misunderstandings.
What should the 'Next Steps for the Client' component of a social media proposal outline?
This part of the proposal guides the client on subsequent actions after reviewing the proposal. For instance, it could specify when you will follow up, whether the client can ask for revisions on the proposal, and other procedures to keep the communication flow uncluttered and efficient.
Are there any additional elements to include in a social media proposal?
Elements like 'Expiration Dates' and 'Copyright Notices' could also be part of your social media proposal. Also, the length of the proposal may differ based on the client's scale and needs. For example, a proposal for a small local business might look remarkably different from a proposal for a multinational corporation.
Is there a social media proposal template available?
Yes, there are social media proposal templates available which could provide a basic structure for your proposal. You can customise them as per your and the client's requirements.
What's the best way to deliver a social media proposal?
The delivery method could vary based on client preference. Some clients may find a digital delivery via an email or project management tool adequate, while others may require an in-person presentation. In either case, the proposal should be easy to comprehend and present professionally.
Does a social media proposal ensure success in acquiring clients?
Even though a well drafted proposal is a crucial element in acquiring clients, it doesn't guarantee success. Therefore, it is important to invest in building strong relationships, demonstrate valuable expertise and provide unmatched service quality to clients. You may also want to consider continuous learning and improvement in your service provision.
Is a Social Media Proposal considered the same as a contract?
No, a social media proposal is not a contract, although it can be used as a basis for one. The proposal outlines the service offerings and steps that will be taken to achieve the desired outcomes for the potential client. Once the proposal is agreed upon, a contract would formalize the agreement and specify the obligations of each party.
Why is personalizing your pitch important?
Personalizing your pitch enables you to connect more deeply with the potential client's specific needs and goals. By understanding their unique challenges and tailoring your strategies accordingly, you're more likely to convince them of your ability to deliver the desired results.
Should the proposal be simple or complex?
The proposal should be comprehensive, but not unduly complex. Ensure that it clearly communicates your understanding of the client's needs, your proposed solutions, and the value you bring. Use language that is professional yet easy to understand, and provide sufficient detail without overwhelming the potential client.
What role does data play in a social media proposal?
Data plays a vital role in a social media proposal. It not only backs up your claims but also showcases your analytical ability. Use data to highlight current metrics, forecast outcomes, and provide evidence of past successful campaigns. Data-driven proposals are likely to instill more confidence in the potential client.
Are there tools to assist with creating a social media proposal?
Yes, there are numerous social media management tools, such as Sprout Social, that can streamline the process of creating a social media proposal. They are efficient in monitoring keywords, creating presentation-ready reports, and simplifying various aspects of social media management. You could test these tools through free trials to get a clearer idea of their benefits.