💥Unleashing the Power of Social Listening in Your Marketing Strategy💥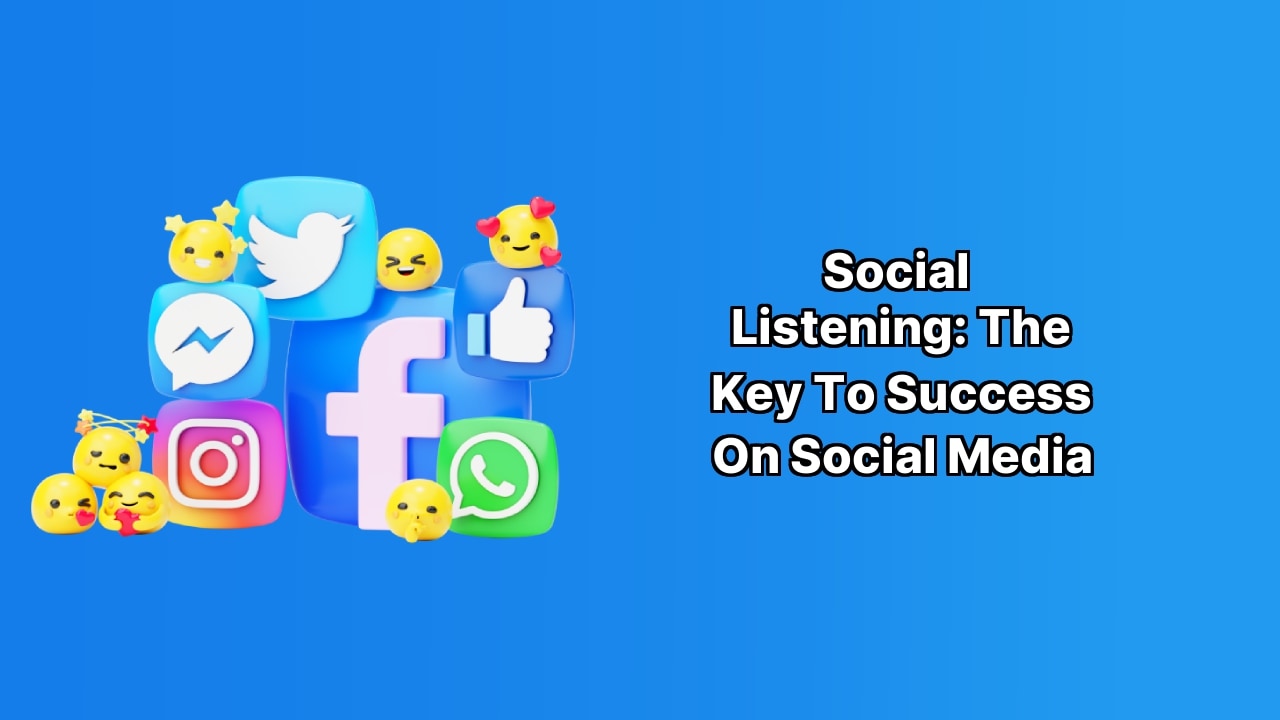 💥Yo, it's your buddy here! Got a question: Do you think you're a good listener? Not just in your day-to-day chats but in terms of your brand's voice? Well, guess what? It's time to put your listening skills to the ultimate test! Enter the world of social listening – the secret sauce of successful marketing on social media. It involves following and analyzing conversations around your brand and beyond, enabling you to dig through endless opportunities. The awesome result? A bullet-proof social media strategy that's based on real, concrete data. Let's dive in!🚀
1
😳 Are You REALLY Listening to Your Audience? 👂
Can you honestly say that you're a top-notch listener? 🎯 Sure, one-on-one, we all know the importance of active listening and clear communication. But are you really listening to the needs of your brand's audience too? Through the magic of social listening, you can finally know exactly what your customers need without all the guesswork. 🕵️‍♀️
2
🔍 Discovering What Your Customers are all about
In this age of social media, transparency in consumer conversations is the new norm. 😎 From call-outs to shout-outs, we now have endless opportunities to learn about our audience. Such golden nuggets of information may include:
🔥 Topics and trends your customer base is passionate about
👑 Ways for your company to outshine competitors
🎯 Emerging pain points and challenges your customers face
💌 Types of marketing messages that really resonate
3
💥 Ignoring the Guesswork and Just Listening
Many brands are often guessing and not really listening 🙈. Through strategic social listening, brands can analyze customer conversations at scale effectively. The end result? A more meaningful and impactful social media marketing strategy! 💪
4
🎧 Harnessing the Power of Social Listening
Social listening is a way of finding out and understanding online chatter about your brand. This includes convos about your company, competitors and even the industry as a whole. 🕵️‍♀️ Insights gained from these can then be used to make informed marketing decisions. It's important to clarify, though, that social listening isn't simply about tags or @mentions. While it does involve acting on direct feedback from folks, it also involves reading between the lines! 📚 The five Ws (and one H) of social listening tell us:
👥 Who is your audience?
💬 What does your audience want?
🕘 When is your audience engaging with you?
📍 Where are they active and engaged?
❓ Why do they talk about you?
🎁 How can you better serve them?
5
👀 Social Monitoring vs. Social Listening
Let's clear up one thing: these two are not the same.Think of them like this: monitoring tells you what and listening tells you why. 🤔 Both are equally important. Social media monitoring involves tracking and responding to messages received about your brand. On the other hand, social listening is all about understanding the bigger picture. 🌎
6
💡 The value of social listening
Listening data can be a goldmine for brands of all sizes. Done right, you can translate social conversations into killer content and more revenue. 😱 Social listening can provide valuable opportunities to transform online chatter into actionable business insights. For instance, social listening can help you gauge brand health, analyze your industry, compete in the market, report on campaign performance, and even monitor audience response to an event!🎉
7
📊 Social Listening in practice
How about a real-world example? So, imagine you're responsible for marketing a franchise restaurant evolving through a brand overhaul. You're focusing on what dishes the customers can't get enough of. With social listening, you can monitor social mentions of your brand and look for common patterns. Amazing, right? 😍
8
🎖️ Social Listening Strategies
Whether it's about your product, customers or competition, social listening can uncover answers. From granular data to big picture insights, you can build strategies that really matter. The key is in discovering insights about your brand health. 🏥 As they say, knowledge is power 👊. With social listening, you can get answers to crucial questions like:
😄 How do customers feel about my brand or product?
⬆️ Is perception trending up or down?
🔁 Which types of content do people share about my brand?
💻 Does my social audience align with other channels?
By embracing these insights, you can tune up your messaging, product strategy, and so much more. So, are you ready to embrace the power of social listening? 🏁
9
Get Your 👂 Ears On! Acing Social Data Listening in 5 Easy Steps! 💥
Let's get real, folks! Absorbing all your customer data at once can be as confusing as a Rubik's Cube! 🧩 But hey, don't stress! Whip up a master plan using these hot tips! 🚀
Ready? Set… go! 🏁
Find your most frequently asked questions and create a killer FAQ document or knowledge base to tackle these questions! Be the guide on the side, not the sage on the stage! 🧙‍♂️ ⚡️
Focus on the good stuff! Figure out what your customers love 💖 about you and let it shine in your campaigns and content strategy! 🌈 Don't let a few grumpies get you down! Dig deep and fix the root cause! 🌱
Your key social media fans are your brand's cheerleaders! 📣 Find out what makes them tick and use those traits to target new audiences! Be like a DJ, mix in the old with the new! 🎧
13
Be a Conversation Detective! 🔎
Don't be shy! Dive into those positive and negative comments! Focus on your brand growth, not just your follower count! 😊 If there's trouble in paradise, 🔥 work out if it's your social presence or your company at large. No worries, you got this! 💪
Remember, the goal is joy! If your customers ain't happy, it's time to turn that frown, upside down! 😊
14
Turning Hiccups into High Fives! 🙌
Sometimes stuff hits the fan. 🌀 From shipping issues 📦 to service outages ⚡, hey, it happens! The trick is to figure out the cause and prep for the future! Your fans will love you for it! 🥰
Okay, folks, that's a wrap! 💫 Remember, don't silo your social data. Use it to supercharge your organization! So, let's keep those ears open, listen to your audience, and be the brand they can't live without! 🚀
15
🔊 Are you ready to tap into the power of Social Listening for events? 🌐
Hey folks! Is your audience really getting your message? Is your event the talk of the town? Are people leaving with smiles on their faces? If you're still scratching your head 🤔, don't worry. You've got to check out Social Listening. This tool can take your event from average to AMAZING! 😎
16
🕵️ Why should you care about Social Listening?
Picture this. You've put hours, days, and even weeks into planning an event. But how will you know if it was worth it? Simple! Check out Social Listening. It's your secret weapon 🚀 for gauging audience reactions and making your next events even better!
Remember the Oscars 2018? Sprout teamed up with Inc. to predict the winners using Social Listening. They analyzed social mentions for each nominee and measured the positives against the negatives to predict the winners. 🌟💫 Pretty cool, right?
17
💡 Understanding Social Listening tools
Social Listening is like a game of 4D chess, trending topics, brand mentions, analytics, engagement… it's got it all! You see, it's more than just collecting social data. The real magic happens when you turn that data into answers and insights. ✨🔮 And that's where Sprout's tools come in. From the Smart Inbox to Keyword Reports, they've got it covered. 📊📈
Think of Smart Inbox as your personal assistant for social engagement. Every conversation about your brand, neatly organized in one place 📂. Here's how it can help.
Create a one-stop-shop for social engagement: Combine all your messages in one place and save time switching between platforms.⏱️
Stay focused and never miss a message: Keep track of all your notifications and respond swiftly. 📢
Maintain engagement as a team: Collaborate with your team and deliver better customer service. 🎯
Stop missing out on conversations about your brand! With the Brand Keywords feature, you can track all mentions, even those you are not tagged in. It's like having your digital spy. 🕵️‍♂️🖥️
Want to discover popular topics and hashtags related to your brand? The Trends Report is your answer. 🗣️🌐
The Keyword Report is a goldmine 🏆. It reveals the keywords related to your brand, competition, and industry. It's perfect for keeping tabs on industry trends and tracking the effectiveness of your hashtag campaigns. 📝
Delve deeper into social sentiment with Sprout's Listening features. Uncover emerging trends, identify thought leaders, and carry out deep sentiment analysis. 📖✨
23
🚀 Ready to take the plunge?
If you're raring to get started, your first task is to choose a social listening tool. Build your own or buy them? 🤔That depends on your bandwidth and budget. Once that's sorted out, you're ready to rock and roll! 💪
24
🎯Setting Your Sights: What Goals to Aim for with Social Listening?🎯
Let me ask you something, what's the real deal you want to achieve with social listening? Setting clear goals is like hitting the jackpot in any marketing strategy, and guess what? Social listening is no different! 🎯 There's really no 'one-size-fits-all' answer here, but I'll let you in on a little secret…your goals will help you hit the bullseye with your strategy! 💡 Let's jump into some of the most common goals I've seen brands aim for:
Deep-dive analysis of your brand to gain insights into what customers and prospects really think 🐠
Keep your finger on the pulse of your industry or niche and find out what's fresh and relevant for content creation 💾
Eye up your competitors' products, audiences and marketing tactics like a hawk 🦅
Figure out the buzzworthy content to share based on trends and data 📊
Identify your main peeps on social media to better inform your targeting strategy 🎯
25
📍Data Sources: Where's Your Treasure Map Leading You?📍
Ok, let's have a little trivia time! Where should you pull your listening data from? Twitter is like the treasure chest of data for social listening tools. That's why, even if your brand isn't active there, I'd still recommend starting with Twitter listening. You can explore other islands like Instagram and Facebook too! 🌐 Managing all these platforms manually would be like trying to find a needle in a haystack… boring, right?! 🙄 Sprout, the cool social platform, fetches its social data from various nooks and crannies, like social apps, the web and even more. This method lays out an all-encompassing map of where your brand stands! ⚓
26
🎨Crafting Your Topics and Themes: Masterpiece in Making 🎨
Creating your actual listening topics is like designing your blueprint to success. A little brainstorming can go a long way here! 💭 Here are some elements you might want to include in your queries:
Keywords or phrases 🔤
Hashtags #️⃣
Cashtags 💲
Mentions of users 🏷️
Mentions from user 🗣️
Mentions to user 💌
And guess what? Your listening strategy requires more than the basics of hashtags and keywords. You can tune the logic of your search with extra parameters. For example, if you want to track the sentiment around Chicago-style pizza, you might end up with a unique mix like this:
chicago pizza 🍕
chi-town pizza 🏙️
chicago deep dish 🍽️
chi-town deep dish 😋
chicago pie 🥧
27
📊Gather Your Facts: Where Data Meets Strategy 📊
Once you've honed your topics, you can start gathering data to steer your strategies. Based on our Chicago-style pizza theme, let's say you noticed many mentions related to cold weather in Chicago 🍕❄️. Why not turn these valuable insights into awesome content like:
Social posts about your business hours during the freezing weather ❄️⏰
A blog post about the impact of weather conditions on pizza sales 🌨️💰
An innovative, weather-themed promotion ☔🎈
Helping out Chicago shelters or workers with a heartwarming free pizza initiative 🍕❤️
28
📏Measure Twice, Cut Once: Check Up on Your Progress 📏
Just like how I check the views on my videos 🎥, you too have to check your data to figure out if your strategy is working or not 🤔. A few noteworthy listening metrics to consider are:
Clicks 👆
Reach 🗣️
New followers 📈
Profile visits 👣
Engagement rates 👥
Engagement speed ⚡
29
🚀Ready to Blast Off with Social Listening?🚀
The more keenly you listen, the stronger bonds you build with your customers. That's why investing time in drafting a fail-proof social listening strategy is worth every second ⏱️! Sprout can help turbo-boost your social listening process with accurate, real-time data. So, why not turn your customer conversations into action-packed tactics with their amazing tools? You can even take them for a test-drive with their free trial! 🎁
Conclusion:
That's all, folks! Remember, the secret to thriving on social media and beyond is to listen up and listen well. Your customers' conversations are the golden tickets to unlock a winning marketing strategy. So, why not give social listening a shot, and watch as your brand steals the limelight?! Not sure where to start? Dive into a free trial of
Sprout Social
and experience the magic of their listening features for yourself!🔥
What is social listening in marketing?
Social listening in marketing involves scrutinizing conversations and trends about your brand on various online platforms. It's a strategy used to learn about your audience preferences, feedback, frustrations, and praises. It also gives marketers insights into their competitors' performance and the broad industry landscape. The ultimate goal is to use this information to make refined marketing decisions and content strategies.
How is social listening different from social monitoring?
Despite seeming similar, social listening and social monitoring serve different purposes. While monitoring informs you about what is being said about your brand, listening provides a deeper analysis by explaining why those conversations are happening. It provides a holistic view of your audience's behavior along with valuable insights into their preferences and trends.
What does it mean to listen to your brand's audience?
Listening to your brand's audience refers to paying attention to your customers' conversations about your brand and industry. It includes understanding their feelings, preferences, problems, and praises. The objective is to use this information to enhance your product and service offerings, improve brand reputation, and develop a more effective marketing strategy.
How can social listening improve my marketing strategy?
Social listening can unearth valuable patterns and trends about your audience that can inform your content strategy. Knowing your audience's preferences, pain points, and interaction times can help you develop more effective marketing campaigns. Furthermore, by tracking customer sentiment, you can learn about your brand's reputation and make necessary adjustments in your strategies.
What exactly do you analyze in social listening?
In social listening, you analyze conversations related to your brand, industry, and competitors. You study your audience's behavior, reactions, and engagement with your brand and others. You track emerging trends, popular topics, and marketing messages that resonate with your customers. It's essentially about gaining insights into customer sentiment and using it to guide your marketing decisions.
What strategies are employed in social listening?
Common strategies used in social listening include monitoring brand health, gaining industry insights, performing competitive analysis, campaign analysis, and event monitoring. Each strategy serves a specific purpose, such as understanding public perception, spotting industry trends, comparing competitor tactics, evaluating campaign performance, and analyzing audience responses to events.
How can social listening help understand brand health?
Social listening provides data about your brand's public perception, which is vital for understanding its health. It shows how your customers and industry perceive your products or services. You may discover bugs, concerns, or praises that you were not aware of, challenging your assumptions and helping you enhance your brand image and service quality.
How can social listening aid in industry insights?
Social listening enables you to identify trends within your industry before they become mainstream. By closely monitoring industry discussions and topics, you can adapt your messages and content strategy to stay ahead. It helps you spot disruptions, gaps, and frequently asked questions, allowing you to provide timely solutions and relevant content.
What role does social listening play in competitive analysis?
Social listening allows you to scrutinize conversations about your competitors to understand their strategies, strengths, and weaknesses. By comparing your brand's mentions and volume of messages with competitors, you can gauge your share of voice. It also enables you to understand and adapt things that work for your competitors and identify areas of opportunity.
How can social listening enhance your campaigns?
Social listening helps to track the performance of your marketing campaigns. By analyzing the impressions, engagements, sentiments, and influencers discussing your campaigns, you can gauge which ones resonate with your audience. This helps you tweak future campaigns for better results and prevents reliance on underperforming strategies.
How can event monitoring be done with social listening?
Event monitoring with social listening involves tracking online conversations about your event or conference. This could include reactions to specific sessions, comments about speakers, or feedback about the event experience. It helps you understand your attendees better and discover opportunities to improve future events.
Why choose a third-party social listening tool?
Third-party social listening tools ease the process of tracking and analyzing millions of online conversations. They save time by providing a comprehensive view of your brand, industry, and competitors across various platforms. They also offer valuable features like keyword tracking, sentiment analysis, and trend spotting, making your social listening efforts more effective and efficient.
How can I leverage social listening tools like Sprout?
Social listening tools like Sprout provide valuable insights that can shape your marketing strategy. Features like the Smart Inbox help organize all customer communication in one place. Keyword reports help you discover patterns in keyword usage and related trends. Other features, like the Trends Report, highlight popular topics related to your brand, guiding you in content creation.
How can I set goals for my social listening strategy?
Defining clear goals for your social listening strategy depends on what you aim to achieve. Common objectives include understanding customer sentiment, tracking industry trends, monitoring competitors, discovering trending content, and identifying key social media audiences. Your goals will direct your social listening efforts and shape your overall marketing strategy.
What are some important metrics to measure in social listening?
Crucial metrics in social listening include reach, new followers, profile visits, engagement rates, and speeds. Tracking these can help you determine the effectiveness of your listening efforts and guide you in refining your marketing strategy. It's also useful to track clicks and monitor specific conversations around your brand.
How should you choose relevant data sources for social listening?
Choosing relevant data sources for social listening depends on where your audience is most active. Most social listening tools pull data from platforms like Twitter, Instagram, Facebook, and others. It's essential to gather data from sources where your audience is engaging about your brand to ensure accurate insights.
What should I consider when building my social listening topics?
When building your social listening topics, consider specific queries related to your brand, including critical keywords you want to track. You might also need to add exclusions to refine your search further and avoid irrelevant results. Once set, these topics will guide your listening efforts and shape your marketing strategies.
What information should I gather to inform my social listening strategy?
To inform your social listening strategy, gather data about trending topics, keywords, sentiments, and the audience's behavior related to your brand. This includes understanding where your audience is most active, what issues they raise about your brand, and what they appreciate. This data will guide your marketing decisions and content strategy.
Once I've collected social listening data, what should I do next?
After collecting social listening data, the next step is to analyze it and derive actionable insights. This includes identifying patterns and trends, understanding sentiments, and gauging audience behavior. The objective is to use this information to improve your products and services, enhance your reputation, and develop a more effective marketing strategy.
How can social listening improve my brand's reputation?
By tracking your audience's sentiments about your brand, social listening can help you understand what people think about your products or services. If you discover negative sentiment, it signals areas you need to improve. Positive feedback, on the other hand, can reinforce your successful practices. This allows you to continuously improve and enhance your brand's reputation.