How to Launch Epic Social Media Giveaways and Contests! 😎 🎉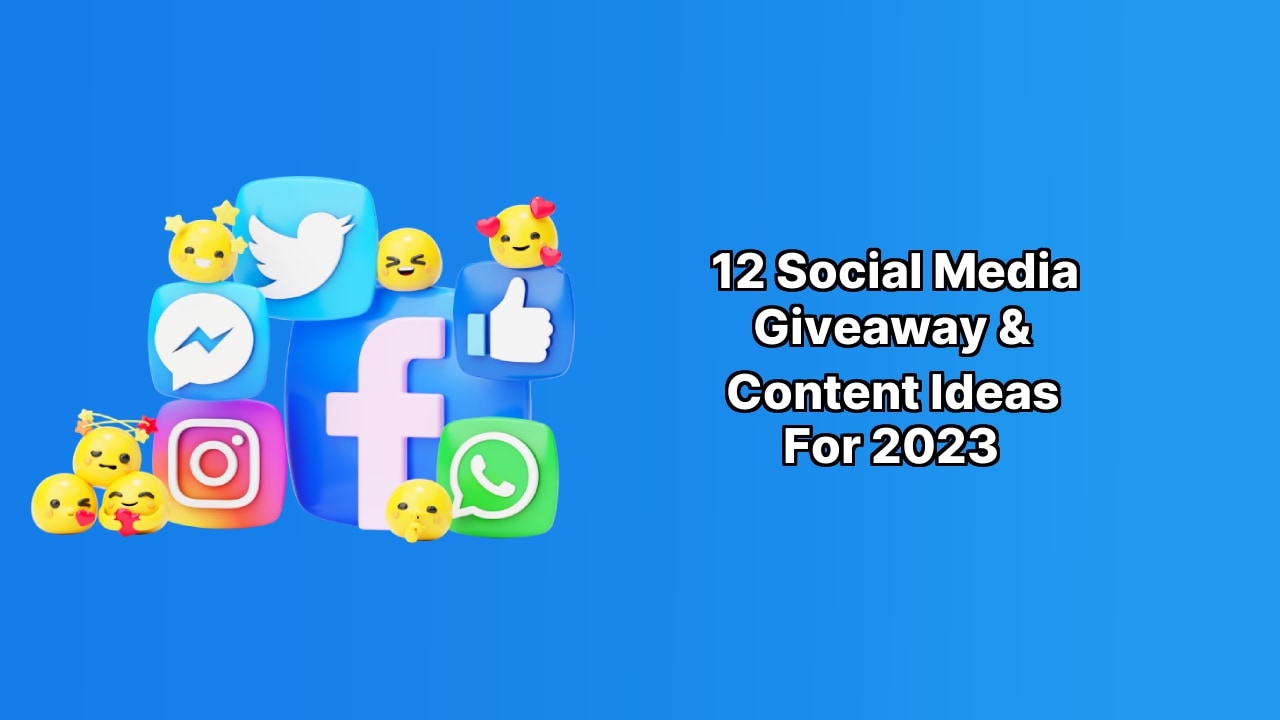 🚀 Boost your brand's presence and create a social media wave with epic giveaways and contests! If you love making things exciting for your followers as much as they love winning, this guide is guaranteed to fuel your brand's popularity in no time. Get ready to launch fun giveaways and contests that increase followers, convert leads, boost brand awareness, and skyrocket loyalty. Buckle up and join us on this exciting ride! 😄
1
Skyrocket Your Social Media Engagement through Giveaways and Contests 🚀💥
😍Who doesn't love to win prizes? Especially when it's from their favorite brands. Supercharge your social media buzz and improve your engagement by creating a social media giveaway or contest. Imagine the thrill of winning an @Airbnb gift card worth $1,000 or a flight credit with the same price! That's sure something to create a big 🎇 SMILE 🎇.
2
✨ FIVE DAYS OF GIVEAWAYS ✨
Contests and giveaways can do wonders! They not only boost your follower count but also improve 💎brand loyalty💎, convert leads and greatly amplify brand awareness. Say you're @SparklingIce. Your next giveaway could be a game changer!
Now you may be wondering, what's the difference between a social media giveaway and contest? Let's jump into it!
3
🥇What is a Social Media Giveaway? 🥇
In a social media giveaway, people are tasked to complete a simple task (following an account, tagging friends, or liking and sharing posts). The fun part? Winners are chosen at random! It gets better. This type of competition can help you reach a wider audience – allowing you quicker promotion of new product launches or brand partnerships.
4
🎯What is a Social Media Contest? 🎯
Now, a social media contest is where things get really interesting. Here, fans are challenged to submit their best versions of a task. They could make their best photo, write their best caption or give their best answer. Winners are chosen based on their performance. It's all about creativity and talent! This will not only attract your most gifted followers, but it also enhances engagement, builds a niche community and fosters relationships. Now what's not to 💖love💖 about that?
5
🏆Why Create a Social Media Giveaway or Contest? 🏆
We've seen how viewer attention span is shrinking. Consequently, creating marketing campaigns that truly engage customers can be tough! Yes, views are good, but actual engagement signals enduring customer relationships! So how about increasing your followers, amplifying brand awareness, converting leads and increasing brand loyalty? That's exactly where social giveaways and contests come into play!
6
💡How to Run a Social Media Giveaway or Contest 🛠
Ready to kickstart your own giveaway or contest? Let's run through the steps.
Set your Goals and Decide your Giveaway or Contest Type: Determine what you're going after; more social media followers, more leads, retaining customers or bolstering brand awareness. 🎯
Pinpoint your Budget and Prizes: What is your budget? Identify how much you can allocate between ads and prize costs. Also, make sure the prize is relevant to your target audience. 💰
Know your Audience and Choose the Right Platform: Understand your audience demographics to determine the best platform(s) to host your giveaway or contest. Make sure you comply with your chosen platform's giveaway and contest guidelines! 😊
Plan and Run your Giveaway or Contest: Create a project plan. Define your timeline, deliverables, and rules. Build your content calendar, announce the prize, track content and watch the entries roll in! 🚀
Measure your Results: Once it's over, see how well you did based on the objectives you set initially. Tools like Sprout Social come handy in tracking hashtag and keyword use, follower count, and engagement rate. 👀
7
Cool Giveaway Ideas to Ignite Your Creativity 💡
Now that you know how to launch a giveaway, it's time to brainstorm some ideas. Let's get your creative juices flowing.
Brand Partnership Bundle: A great way to reach your audience is to team up with brands they already follow for a joint giveaway. Combine your resources to get an epic prize bundle. 😎
Travel to a Dream Destination: Travel giveaways are always a hit! Who doesn't love a dream vacation? Tease photos from the destination and details about the accommodations to attract participants. 🌴
Mystery Box: Add an element of surprise with a mystery box full of goodies. And to keep the momentum going, ask the winner to film an unboxing video! 🎁
Reward Loyal Customers: Encourage customers to join your loyalty program with the promise of great deals and new products. Add premium freebies to sweeten the deal. ✨
Follower Milestone Giveaway: Celebrating follower milestones? Show them some appreciation through giveaways. Whether you're celebrating 100 or 100,000 followers, remember, nurturing loyal fans goes a long way. 🎉
8
Tag Your Friends and Share the Fun! 🎉
There's nothing like a good giveaway to get the excitement brewing on your social media platform! And what's even better, is to let your followers join in the fun by tagging their pals in your comment section or sending giveaway details through a direct message. 💬 Word of mouth recommendations from buddies aren't just trusted, they're the golden ticket 🎫 to get your giveaway the attention it deserves. Just like the flamboyant style of MrBeast, your followers could truly spread the love and joy about your event.
9
Stand up, Stand out – Give Back! 💖
Want to know a fascinating fact? According to the 2022 Sprout Social Index™, 71% of consumers consider it's crucial for brands to raise awareness and make a stand on social issues. So why not use your giveaway as a golden opportunity to donate to individuals or organizations in need? 🎁 Speaking out on social issues is sure to mirror MrBeast's philanthropy, and cements a stronger relationship with your audience!
10
Social Media Contest Ideas 💡
Looking for a top-notch social media contest idea to meet your brand objectives? Let's unwrap some creative contest ideas sure to make your brand pop just like a MrBeast challenge!
Seasonal and Holiday-themed Contests: There's something magical🧙‍♂️ about holidays and seasons, isn't there? Capture that magic by creating contests centered around holidays like Easter 🐣, Halloween 🎃, or Christmas 🎄. Let your followers build a gingerbread house, find the cutest Mother's Day image, or film a spooky scare!
Photo, Caption, or Video Awards: Unleash the creative genius in your followers! Let them share an artistic photo or a humorous caption and reward the best ones. This is also a chance to collect user-generated content 📸, a smart move to market your brand organically.
Digital Scavenger Hunt: Take advantage of technology to bring people all over the globe to your brand! Organise a digital scavenger hunt where participants submit photos or videos 🗺️ to prove they completed challenges or found treasure items.
Trivia or Guessing Contests: Gamify your social media content! 😇 Encourage your followers to take part in a trivia game related to your brand or product. Or, run guessing contests 👀, which can drive massive engagement.
Essay, Story, or Poem Submissions: Turn your followers into storytellers! By hosting a writing contest, you not only give amateur writers a platform, but also create meaningful narratives for your brand. Winners could be awarded with prizes 🏆, and invited to speak at future events.
11
The Goal: Genuine Relationships with People ❤️
The real purpose behind giveaways and contests isn't just about increasing social media followers. It's about fostering genuine connections with people and turning them into a loyal audience. Don't forget, it's part of the process to build a brand that your audience loves and trusts. And who knows, the person winning your giveaway today might be your biggest brand evangelist tomorrow! 🎖️
Looking for more tips on interactive brand building techniques? Click here to download the latest Sprout Social Index™: Social Media Trends for 2022 & Beyond.
Conclusion:
💯💥 That's a wrap on how to craft epic social media giveaways and contests! With these ideas in your marketing playbook, you're ready to make a real splash in the social media ocean. And remember, the goal here isn't to chase vanity metrics. It's about building real and lasting relationships with your audience. So let's march forward and create engaging contests that not only increase your follower count but also foster genuine connections. For more amazing insights on social media trends, check out the latest
Sprout Social Index™
. Get ready to transform your followers into customers and watch your brand soar high! 🚀🌟
What are social media giveaways?
Social media giveaways are promotional tactics utilized by brands, influencers, and creators where individuals are asked to complete a certain task, like tagging friends, following accounts, or liking and sharing posts, to get a chance at winning a prize. Winners are chosen at random, making it a fair opportunity for all who participate. Such giveaways can help a brand reach a wider audience and are particularly effective for promoting new product launches and brand partnerships.
What is a social media contest?
Social media contests are another form of promotion where participants are challenged to give their best versions of a specified task which could be a photo, caption, or an answer. Winners are chosen based on their performance, often favoring the most creative or talented submissions. This approach can foster relationships, build a niche community, and generate user-created content.
Why should a brand conduct social media giveaways or contests?
Conducting social media contests and giveaways can be extremely beneficial for brands as they can increase follower count, convert leads, amplify brand awareness, and foster brand loyalty. Participants may be asked to like or follow the brand as part of the contest, or provide their information such as name and email, thereby aiding in lead generation. Moreover, collaborations with different brands or influencers can extend the brand's reach, and regular, exciting prizes can ensure followers return for more.
How can a brand successfully execute a social media giveaway or contest?
Executing a successful contest or giveaway involves several steps. First, the brand should set goals and decide the type of contest or giveaway. Then, a budget and prizes should be determined. It's essential to understand the audience demographic and choose the most suitable platform to host the contest or giveaway. A detailed project plan including timeline, deliverables, set rules, content calendar etc., should be made. Cross-promotion on other social platforms, newsletters and websites can increase the reach. Finally, after the contest ends, the performance should be measured based on initial objectives.
What are some effective social media giveaway ideas?
There are several innovative ideas for social media giveaways. Brands can collaborate with non-competing but complementary brands to host joint giveaways. Travel vacations are also a popular choice as people feel excited about an all-expenses-paid trip. Mystery boxes, early-bird access to deals for loyal customers, follower milestone giveaways, and contests that involve tagging friends or donating to causes are all effective ways to captivate the attention of the audience.
What are some engaging social media contest ideas?
Seasonal and holiday-themed contests, best photo or caption contests, digital scavenger hunts, trivia or guessing contents, and writing contests are some effective ideas. The focus of all these contests should be active participation, relevance to the brand, and providing an opportunity for users to showcase their creativity or knowledge.
What are the key considerations when choosing a prize for a giveaway or contest?
Choosing a prize that is relevant to the target audience is crucial as it attracts entrants who are most likely to convert. It could be a product from the brand's portfolio, a cash prize, or other relevant items. The prize should be within the allocated budget which should cover both the prize costs and ad expenses.
Why is user-generated content important for brands?
User-generated content is seen as more authentic and trustworthy than brand-created content. It gives prospects a glimpse of how real people interact with the brand's products or services, which can strongly influence their purchasing decisions. Besides, it builds a sense of community and engagement among customers and prospects.
How can hosting a social media contest or giveaway help in lead generation?
During a contest or giveaway, a brand can ask participants to sign up or submit their entry by completing a form on their website where they provide their name, email address and other relevant information. This not only makes them eligible for the contest, but also adds them to the brand's lead database.
What are some commonly followed rules for entering social media giveaways or contests?
Common rules for entering social media contests or giveaways often include following the brand's account, liking or sharing the contest post, tagging friends in the comments, or reposting the contest post on their own account. Other rules might include completing a form on the brand's website or creating some form of user-generated content, like a photo or video.
Why should a brand set goals before conducting a social media contest or giveaway?
Setting goals provides a clear direction for planning and executing the contest or giveaway. It helps brands decide what type of contest or giveaway to conduct, what prizes to select, and how to measure success. Potential goals could include increasing social media followers, generating leads, retaining customers or amplifying brand awareness.
Why is it important to measure the results of a social media contest or giveaway?
Measuring the results allows brands to assess the performance of their contest or giveaway based on the objectives they set. By analyzing data like hashtag and keyword usage, follower count, and engagement rate, brands can see how well they achieved their goals and find the areas that need improvement for future campaigns.
How can social media giveaways encourage brand loyalty?
If a brand consistently offers exciting prizes and opportunities, its followers will keep an eye out for more, especially if the brand continues rewarding its loyalists. Over time, this anticipation and engagement can build strong brand loyalty.
How do social media giveaways maximize brand awareness?
Giveaways encourage participants to share, repost, or discuss the contest on their own channels, which extends the brand's reach. Also, by partnering with other brands or influencers for a giveaway, a brand can tap into a new audience, further heightening its visibility.
What is the impact of brand partnerships in social media giveaways?
In brand partnership giveaways, brands share resources to offer bigger, combined prizes and expand their reach. This cross-promotion exposes the brands to each other's audiences, giving them access to a larger, yet still targeted group of potential customers. It's a win-win situation for all brands involved.
Why is a clear project plan necessary for conducting a social media giveaway or contest?
A clear project plan helps to chart the timeline of the contest or giveaway, set the rules, decide the communication strategy, and plan for unexpected contingencies. It provides a roadmap for the campaign and helps keep everything organized and on schedule.
Why should a brand know its audience before launching a social media contest or giveaway?
Understanding the target audience is critical for a brand because it determines the platforms to use, the type of contest to run, the prizes to offer, and the way to promote the contest. A deep understanding of the audience ensures that the contest or giveaway appeals to the right people and achieves its desired outcomes.
How important is cross-promotion of a social media contest or giveaway?
Cross-promotion is key to increasing the reach of a contest or giveaway. By promoting it on various channels like other social platforms, email newsletters, and the brand's website, the probability of the contest garnering more participants and going viral is substantially improved.