😎 Got the Mojo to Dominate Social Media Consulting? Here's Your Ultimate Guide! 🔥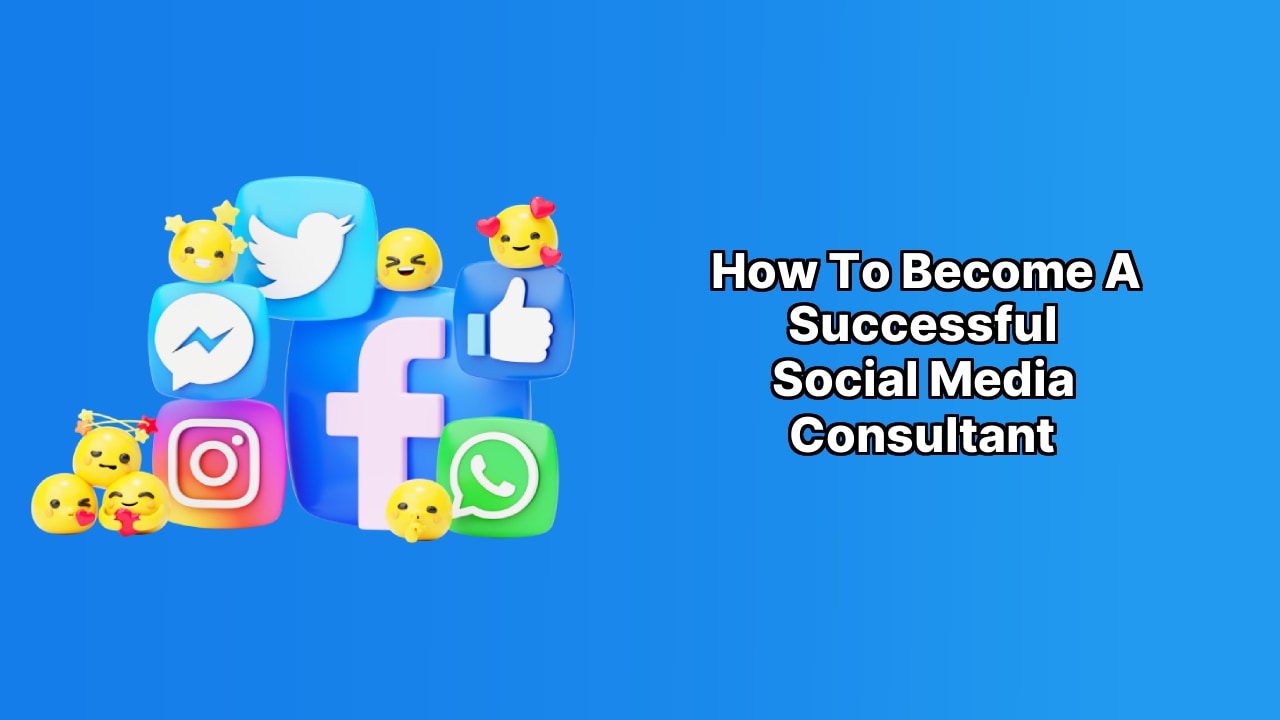 😃 Hey folks! Are you dreaming of the hustle and freedom that comes with being a social media consultant, but not sure where to start? Amid the current trend, with a whopping 56% of non-freelancers considering the freelance route, there's never been a better time to shine bright! 🌟 But wipe off that beach holiday fantasy! This gig ain't four hours a week of fun in the sun while you watch your bank balance grow. It involves some real sweat and hustle! But, don't sweat it! I've got your back! Let's dive deep into the world of a social media consultant and how to set your ball rolling for success! 🎢✨
1
💥 Ready to Crush the Social Media Consulting Game? 💥
You've got the burning question: Can you become a social media consultant? With a boom in the freelancing world (56% of non-freelancers keen to jump into the gig economy), we'd say it's the 🔥 hottest time to try it out.
But hold on! Don't start daydreaming about working from a tropical paradise and doubling your income yet. Getting into this game requires 💪 serious effort and time. Let's break down what it takes to be successful in this field.
2
🚀 So, What Does a Social Media Consultant Actually Do? 🚀
Simply put, social media consultants or agencies help clients step up and expand their social media presence. This role can vary a lot and the services on offer can range from simple to complex! We'll dive into these specifics and more a bit later.
3
🔎 Taking The Plunge: Pros and Cons 🔎
Being a consultant gives you the awesome privilege of setting your own hours and work locations. Plus, data shows that consultants can potentially rake in more money than other professionals in the same field.
But here's the kicker, you'll basically be running your own businesses. That means, unless you can afford outsourcing, you've got to handle everything from accounting and tax payments to content development and networking. Sounds challenging, right? 🧗 If you're ready, here are seven rockstar tips we've compiled to help transform you into a successful social media consultant!
4
🔍 Research, Research, Research! 🔍
Just like starting any biz, it's key to do detailed research about your industry, potential client base, and pricing. A super-detailed business plan can help you map out how to bring in the 💰.
Leverage platforms like LinkedIn and Google to know your competitors. Figure out who surfaces when you Google terms like "social media consultant Houston", or "hospitality social media consultant". Get a clearer idea about their service offerings. Ask yourself: do you have what it takes to wear the social media manager hat solo?
5
🎯 Choose Your Speciality and Services 🎯
This is where you decide whether you want to specialize in certain industries or handle any company's social media marketing needs. Each route has its own benefits and challenges.
Through your research, match your service offerings with a suitable client base. For instance, if you specifically want to help out restaurants with their social media marketing, research local eateries to see who could use assistance.
Social media consultants offer a plethora of services, that might overlap with SEO, content creation and other marketing strategies. A few potential services to consider include:
Social media auditing 💼
Coaching sessions or retainers 👩‍🏫
Community management 🌐
Social media strategy development 🏗️
Remember to set clear boundaries about your deliverables for clients, that's vital for a healthy professional relationship.
6
📚 Keeping Your Admin Side Organized 📚
Apart from setting up your workspace, you'll need proper systems and workflows to run a smooth consulting business. Can be anything from third-parties to software for handling invoices, client appointments, insurance, etc.
If you can, consider hiring an accountant preferably from the get-go. And make sure you have necessary measures to protect yourself from lawsuits.
In order to keep everything running smoothly, it is always smart to prepare yourself on the business side before diving headfirst into the world of social media consulting!
7
🎒 Gear Up With the Right Tools 🎒
Equip your virtual toolbox with software programs that can automate a bulk of your routine tasks. Trust us, it's a life-saver! If your services focus on analytics, decide how you manage your reports. Tools like Sprout can help create shareable, ready-to-use reports, saving you hours of time.
8
🐢 Starting Small Is Smart 🐢
Many successful consultants started off juggling a full-time 9-5 job while growing their side hustle. The transition to full-time consulting doesn't always have to be speedy! It's okay to start small. Develop a foundation and build up your client base gradually. And most importantly—don't forget to enjoy and learn from the journey!
9
💡Exploring the Exciting World of Social Media Consulting
Hey there, 👋 ever taken a peek at the fascinating world behind your favorite social media posts? Becoming a social media consultant could be your ticket to a fast-paced, creative job that you dig! 💼 Let me share some dope tips to help make this happen! ✔️
10
📍Taking the First Few Steps
Ok, so first off, diving headfirst into this may not be the smartest move. In the words of the legends, proceed with caution! Why not give the gig a spin by taking on a few clients while you still have your day job? 🔄 Hunt for your first few clients at:
And of course, don't forget the good old networking in local freelancer groups and participating on social media and industry chats! Tag, you're it! 🏷️
11
🚀Blast Off with Your Brand
What's more powerful than a rocket taking off? Your personal brand! 🚀 As a consultant, you gotta self-promote and show the world you know your stuff! So, set up a website, curate those social channels and ooze expertise! 👌 Every tweet and interaction is a piece of your portfolio. 💼 Your presence can, and should do much of the selling! 💰
12
🧠Flex Your Expertise Muscles
With one finger on the pulse of social media, you gotta keep up with trends and show 'em you've got the goods! Try some of these out:
Blog—for yourself and as a guest writer
Be a guest speaker on podcasts
Keep up on social trends
Take a deep breath and network. Network. Network! 🏊‍♀️ No matter who you are, there's always room to grow your network of industry professionals!
13
🙏Remember to Care for Yourself
Let's not forget about you in all this madness! Make sure to take care of numero uno. With great power, comes great responsibility and potential for burnout. 🥵 Start by:
Taking actual lunch breaks
Ignoring notifications occasionally
Not everything has to be a priority all the time! Make sure you're taking care of you, too.
14
🎯Ready to Be a Pro Social Media Consultant?
Becoming a social media consultant may not be easy peasy lemon squeezy, but it's pretty rewarding! If you're ready to turn passion into profession, do your research and jump on in! Also, don't forget to check out our social media consultant checklist and enjoy a free 30-day trial at Sprout Social. Let's do this!✌️
Conclusion:
So, you think you've got what it takes to be a successful social media consultant? Awesome! 📈 But remember, it's not all about glitz and glamour. It requires dedication, grit, a touch of creativity, and an ounce of strategic planning! Do your research, set your goals, prepare a stellar business plan and you're all set to conquer the world of social media consulting! 💼🌎 And hey, there's help at hand! Try out
Sprout Social
for free with a 30-day trial, and make your life a tad bit easier! Remember, while setting up your business, don't forget about your well-being! It's crucial to take breaks and prioritize yourself, because your health isn't worth any price tag! 😌💪 So, go forth and get your game on – the world of social media consulting is waiting for you! 🚀🌠
What is the role of a social media consultant?
A social media consultant is an individual or agency that collaborates with businesses to enhance, fine-tune, and expand their social media presence. The workload of a social media consultant varies depending on their services, ranging from one to many. These services may involve different aspects of social media such as content development, marketing strategy, client engagement, and more.
What are the advantages and disadvantages of becoming a social media consultant?
As a social media consultant, you have more flexibility with self-set hours and location. There's also potential for higher earnings and a wider salary range compared to other social media professions. However, you'll also be running a business, which means managing tasks like accounting, billing, tax payments, marketing, sales pitches, content development, and networking. These are all essential to keep the business going.
How should one start becoming a social media consultant?
Begin by conducting comprehensive research on your industry, pricing, and potential client base. This includes identifying potential competitors and understanding the array of services they offer. From there, decide on your service offerings. Whether you choose to focus on a specific niche or cater to a broad client base will impact your business strategy.
What services can a social media consultant offer?
The role of a social media consultant is extensive. Services may include social media auditing, coaching sessions or retainers, training, community management, account creation and setup for new businesses, and development of social media strategies. Offering a mix of services can diversify your income but maintaining focus is also important.
How to decide on the fees for social media consulting services?
Setting fees can be challenging. During your research phase, consider the charges of other consultants. Some prefer charging by the project while others prefer hourly rates. A helpful approach could be to determine your goal salary and break it down into daily rates, accounting for holidays and sick days. It's also crucial to value your worth and build your expenses and self-employment taxes into your pricing.
What are some administrative processes to consider in social media consulting?
Setting up your physical workspace is a start, but you also need to establish efficient processes and workflows for client management, invoicing, insurance, and tax payments. It's also important to document every step in detail, from client intake to onboarding and invoice delivery. An accountant could be a valuable investment to manage financial aspects.
What are some necessary tools for a social media consultant?
It's crucial to have a toolkit of software programs that can automate some of your processes. A social media management platform, analytics program, content calendar, and invoicing app can be immensely helpful. If you're providing analytics as a service, deciding whether to produce your own reports or use an automated tool will impact your workflow.
How can a beginner start gaining experience as a social media consultant?
Starting small, perhaps with a side hustle while working a full-time job, can provide a safety net while you familiarize yourself with your new role. Taking on one or two clients at the beginning enables you to manage your workload and refine your processes. Resources like Built In, Fiverr, Upwork, and networking groups can connect you with potential clients.
How important is self-promotion for a social media consultant?
As a social media consultant, a significant portion of your time will involve self-promotion and establishing your expertise. Maintaining an updated website and active social channels is key. You should also exhibit your expertise by keeping up with social media trends and contributing to industry conversations through blogs, podcasts, and social media spaces.
Why is networking essential for a social media consultant?
Building a robust network is just as important as building a client base. Engaging with fellow consultants, participating in industry conversations, and making connections can enhance your reputation as an expert in your field. Networking can also help you connect with potential clients and receive valuable advice and feedback.
What are some self-care tips for social media consultants?
It's crucial to avoid burnout when you're working for yourself. Setting boundaries, managing client expectations, prioritizing tasks, and carving out time for yourself are critical. Remember, healthy communication and workflow can enhance rapport with clients and reduce stress levels. Balancing client work with self-care activities can benefit both your personal wellbeing and the success of your business.
Is it worth it to become a social media consultant?
The role of a social media consultant can be challenging, but it can also be incredibly rewarding. It offers flexibility, potential for higher earnings, and the opportunity to create your own business. Adequate research, careful planning, efficient workflow, and networking can set you up for success in this career path.
What is a social media audit?
A social media audit is a systematic review of a business's social media channels. A consultant determines what's working, what's not, and how to optimize posts, profiles, and strategies for future success. It includes the evaluation of the brand's online presence, performance metrics, and the social media strategies of competitors.
What is a coaching session in social media consulting?
Coaching sessions in social media consulting involve training businesses on optimizing their social media strategies. They typically cover areas such as content creation, brand positioning, hashtag usage, customer engagement, analytics, and more. The goal is to provide clients with the knowledge and tools to manage their social media effectively.
What does community management entail?
Community management involves fostering a positive and engaging environment on a brand's social media channels. This can include responding to comments and messages, managing brand reputation, creating engaging content, and cultivating relationships with followers. It's an essential service offered by social media consultants to help companies connect with their audience.
What is involved in social media strategy development?
Social media strategy development is the process of outlining a detailed plan to optimize a business's online presence. These strategies assist businesses in reaching their marketing goals via social media. It usually involves identifying the business' goals, conducting competitor research, identifying target audience, creating a content plan, and determining performance metrics.
What is the importance of setting boundaries in the consulting business?
As a social media consultant, setting boundaries with your clients is critical. It ensures that you and your client have a clear understanding of the work to be undertaken, how it will be delivered, and when it will be completed. Boundaries also protect your time and personal space, preventing overwork and burnout.
What are some hurdles a new social media consultant might face?
New social media consultants may face challenges like finding clients, setting competitive rates, managing multiple accounts, creating effective strategies, and staying updated on ever-changing social media trends. Balancing work and personal life, especially while working from home, could also be a significant challenge for new consultants.