🚀 Mastering Social Media Character Limits – A Beastly Guide 🎯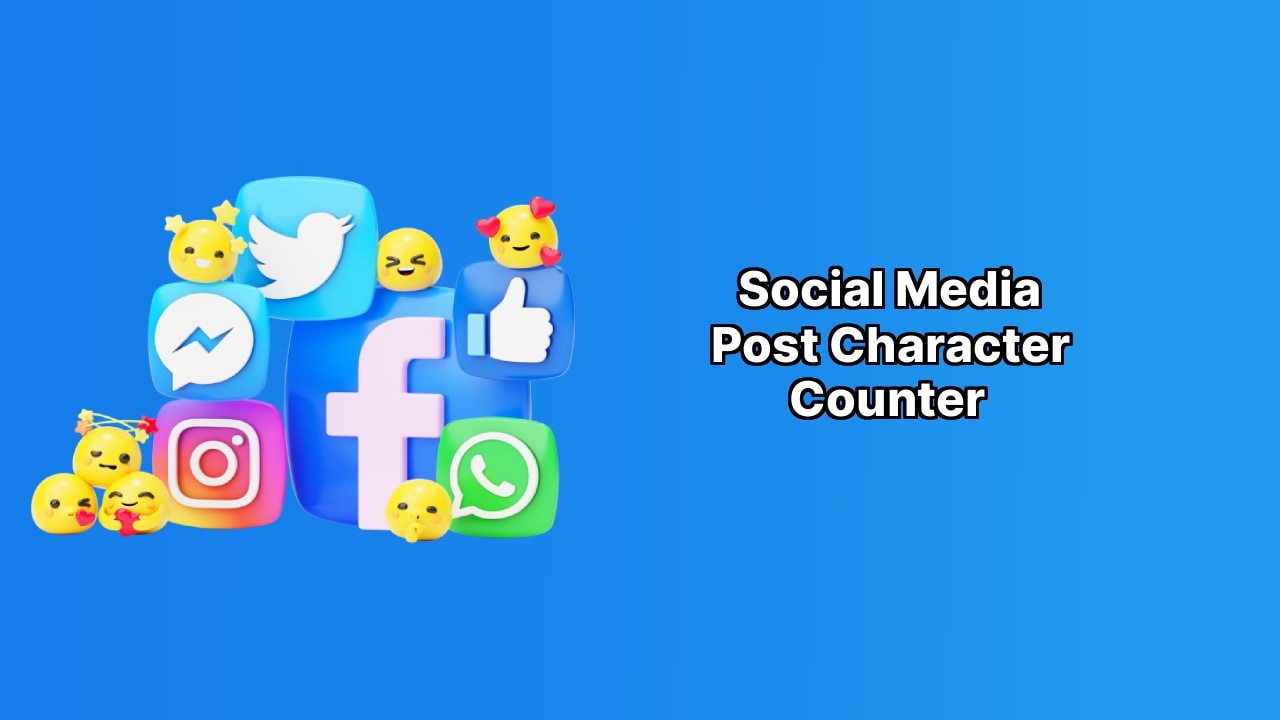 🔥 What's up, gang? Your success in the social media realm is just about to take off 😎. We're diving deep into the world of social media character limits! Yes, they're real, they matter, and they apply to every single platform. Keeping tabs on each platform's limit can be a bit of a drag, So to save you the hassle, we have crafted this uh-mazing guide that talks about ideal post lengths and all the nitty-gritty details for Facebook, Instagram, and more! Strap yourselves in, everyone, we're about to drop some knowledge bombs 💣!
Here
is a free social media character counter to make your lives a tad bit easier.
1
🔥Optimized Social Media Posts For the WIN!💯
💡 No matter whether you're tossing tweets into the Twitterverse or filling your Facebook with fresh and fun content, you've gotta remember the golden rule. Ding ding! 🛎️ They all have platform-specific character limits!😱 Now ain't that a fun fact?
💪 More importantly, you need to know the sauce – the ideal character count for social media posts. This lil' secret here can super-boost your chances of getting people to eat up or engage with your posts.🚀
2
The Ultimate Guide 🕹️ to Social Media Character Limits
Surprise!! 🎉 We've put together an in-depth guide on social media character limits and ideal post lengths, just for you. PLUS, a free social media character counter to check your post lengths before you hit that tempting "Post" button. Ready? Let's dive down this rabbit hole!🐇🕳️
3
👀 Facebook Character Count: What to Know
Want to create an EPIC ad on Facebook? Here's what you need to know:
Headline: 40 characters
Body text: 125 characters
Link description: 30 characters (only 20 for carousel ads and in-stream video ads though!)
📚 Facebook is perfect for long-form content, allowing up to a whopping 63,206 characters! But remember, shorter posts often perform better on Facebook. Aim for around 50 characters, which seems to be the sweet spot.😉
Also, Facebook also has character limits for usernames, Page descriptions, and comments. Check these out:
Username character limit: 5 minimum and up to 50 maximum
Page description: 255 Characters
Facebook comments: 8,000 Characters
4
Instagram Character Count & Hashtags: A Complete Breakdown 📸
Let's look at the character limits for Instagram:
Headline: 40 characters
Body text: 125 characters
Link descriptions: 30 characters
Instagram captions: 2,200 characters (but they get cut at 125!)
Instagram bio: 150 characters
Instagram username: 30 characters
💥 Instagram lets you add up to 30 hashtags in a single post. But using fewer hashtags (between 1 and 10) can drive more engagements. Get #hashtaghappy now! 🎊
5
Meet the Twitter Tweet 🐦: Master the 280
Twitter recently gave us more room to breathe, moving the Tweet limit from 140 to 280 characters! The best tweets live in the 240 to 259 character territory, so fill that space and start a tweetstorm!💬
But wait! There's a cap on DMs, profile names, bios, handles as well here:
DMs: 10,000 characters
Twitter Handle: 15 characters
Profile Name: 50 characters
Bio: 160 characters
6
📌 Pinterest and LinkedIn Limits: Let's Explore!🔍
For Pinterest, try to stay within these character limits:
Profile name: 30 characters
Bio: 160 characters
Username: 30 characters
Board name: 50 characters
Board description: 500 characters
Pin title: 100 characters
Pin description: 500 characters
LinkedIn's got a slightly different game plan. It has several areas for text, each with its own character limit. Take a look:
First name: 20 characters
Last name: 40 characters
Status update (personal profile): 1,300 characters
About us/Summary: 2,000 characters
Company Page name: 100 characters
Company update: 700 characters
7
🎥 YouTube & Character Counts: Lights, Camera, Action!
YouTube is all about those videos, but don't forget about its important text fields:
Video title: 100 characters
YouTube description: 5,000 characters
Playlist titles: 150 characters
YouTube tags: 500 characters
So grab your keyboard and start making every character count! 🗣️ Use this guide to adapt your voice and approach according to the different social media platforms. 🌐 Time to craft the perfect post! 🏆
8
🎯 How to Craft Killer Marketing Messages for Social Media – A Ultimate Guide 👊💥
Hey there, you! Yes, you! The one who's working tirelessly to create a badass💪marketing message for your brand on social media. Have you been struggling to fit your creative epiphanies within those pesky character limits? 🤔 Maybe you've been missing the mark with your messaging. Don't worry, we've got you covered! 😉
We've got a guide that's going to help you deliver compelling, impactful and above all, effective marketing messages that never fail to hit the target 🎯. This is all about making sure every word, every character, counts. So grab a snack, get comfy, and let's dive right in! 🏊‍♂️
9
📝 The Art of Creating Engaging Marketing Messages: The Basics
First things first, let's get down to the basics. You want to be the captain of your brand, steering it towards success. And for that, you need compelling content. 💯 But how can you make sure your brand message fits the infamous social media character limits? Here's how to cut your story short and sharp, without losing its impact. 🤔
10
💡 Get Creative with Your Content
Your content is the heartbeat of your brand. It's what drives engagement and what gets people talking. It needs to be fresh, unique, and above all, authentic. If you're feeling stuck, try using authentic video content or emojis🎈🎉, and watch your engagement soar. 🚀
By getting to know your audience 👥, you can tailor your marketing message to fit their needs and preferences. Now that's a solid path towards building strong brand loyalty and trust. So, get to know your audience, make them feel important, and they'll surely return the favor. 😊
12
⌛ Keep It Short and Sweet
Brevity is the soul of wit, and it's also key to creating attention-grabbing social media posts. Keep your marketing messages short, concise, and to the point. Need tips on creating short but powerful content? Check out this comprehensive guide on short content. Remember, short doesn't mean boring, and long doesn't mean enticing! 😉
We hope you found these tips helpful! Now you're fully prepared to craft killer marketing messages that will surely hit the mark. Remember, it's all about making sure every word, every character – yes, even those emojis – count! So let's get your marketing missions ready for a blast off on social media! 🚀
Conclusion:
👊 Bam, that's it! By now, you must have realized that mastering character limits is key to slaying the social media game! This guide should help you craft perfect social media posts that people would love to read and engage with. Yes! That's what we're talking about! So, buckle up and start putting our tips to use. You can even keep count of your characters using our
handy tool
. Keep your content crisp, engaging, and within character limits. And remember, every single character counts! 💫 Ready to squeeze out more marketing magic? Then check out our
guide
on creating compelling marketing messages. Catch you on the flip side, guys! 👋
What is the maximum character count for Facebook posts?
Facebook allows up to 63,206 characters for regular posts. This provides users with ample space for detailed storytelling or in-depth explanations.
What is the optimal length for a Facebook post?
According to a BuzzSumo analysis, the optimal length for a Facebook post is roughly 50 characters, as these posts tend to garner the most engagement.
Are there character limits for Facebook usernames, Page descriptions, and comments?
Yes, Facebook enforces character limits across its platform. Usernames must be at least 5 characters and can be up to 50 characters long, page descriptions should not exceed 255 characters, and comments are limited to 8,000 characters.
What are the character limits for Instagram ads?
Like Facebook, the character limit for Instagram ads is 40 characters for the headline, 125 characters for body text, and 30 characters for link descriptions.
What's the allowed character count for Instagram captions?
The limit for Instagram captions is 2,200 characters. However, captions get truncated at 125 characters on the platform.
What's the ideal Instagram caption length?
The optimal Instagram caption length is between 1 to 50 characters. Using fewer characters drives more interactions.
How many hashtags can you add to an Instagram post?
Up to 30 hashtags are allowed per Instagram post. But using every hashtag slot isn't always beneficial and could result in a shadowban for your account if irrelevant hashtags are used.
What's the optimal number of Instagram hashtags?
A Quintly study found that fewer hashtags, between 1 and 10, drive more interactions overall.
Are there character limits for Instagram bios and usernames?
Yes, Instagram enforces character limits on its platform. The bio character limit is 150, and the username character limit is 30.
What is Twitter's character limit for tweets?
Twitter allows up to 280 characters for tweets, a significant increase from its previous 140-character limit.
What is the ideal length for a tweet?
Tweets between 240 and 259 characters tend to receive the most engagement, including likes, replies, retweets, impressions, and link clicks.
Does Twitter have character limits for other features?
Yes, Twitter has character limits for DMs (10,000 characters), handle (15 characters), profile name (50 characters), and bio (160 characters).
What are Pinterest's character limits?
Pinterest has various character limits: profile name (30 characters), bio (160 characters), username (30 characters), board name (50 characters), board description (500 characters), pin title (100 characters), pin description (500 characters).
What are LinkedIn's character limits?
LinkedIn applies several character restrictions across its platform, such as first name (20 characters), last name (40 characters), status update (1,300 characters), about us/summary (2,000 characters), company page name (100 characters), and others.
What are the character limits on YouTube?
YouTube has character limits for its text fields, including video title (100 characters), description (5,000 characters), playlist titles (150 characters), and tags (500 characters total).
What is a social media character counter?
A social media character counter is a tool that allows you to ensure your social posts are within the established character limit. One can paste their content into a social media character counter to verify if the post fits the character limit.
Why is understanding the character limit on social media platforms important?
Understanding character limits on social media platforms is crucial as it allows you to tailor your content to match the platform's requirements. By doing so, you can increase your chances of engaging your audience effectively.
Does character limit impact the performance of social media posts?
Yes, the length of a social media post significantly impacts its performance. Posts tailored to the specific character count of each platform tend to drive better engagement.
Can improper handling of character limits lead to post truncation?
Yes, exceeding the character limit could lead to truncation of your post on certain platforms, such as Instagram, where captions are truncated after 125 characters.
Do different platforms have different optimal character counts?
Yes, optimal character counts vary across platforms. For instance, the optimal character count for a tweet is between 240 to 259, while for Facebook and Instagram post, it's around 50 characters.