🚀 Take Your Social Media Game to the Moon with the Best Analytics Tools of 2023 📊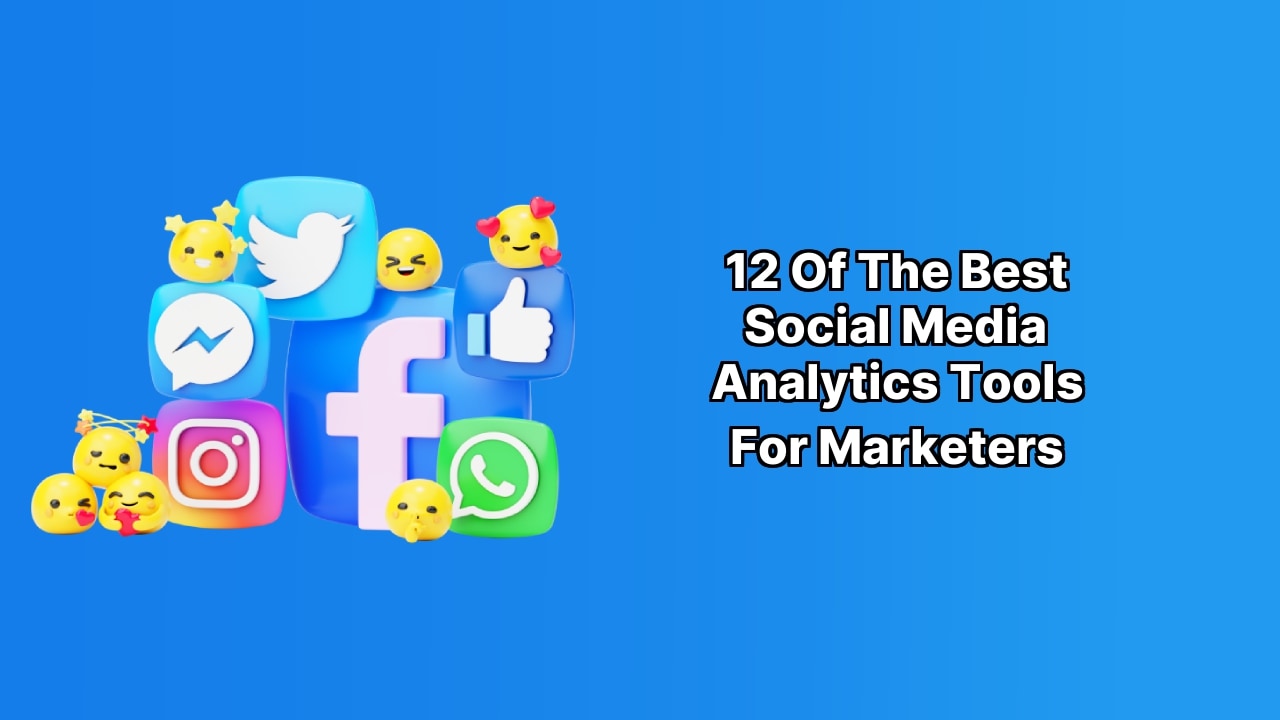 Hey fam, if you're crushing it in the social media game, you already know that understanding your performance is paramount!💯 Whether you're tracking reach, followers, engagement, clicks, conversions – you name it – Social media analytics are your best friends!👏
While most of these platforms have their own built-in insights, you want to have an easy, all-in-one dashboard that collects and displays your data. So, in today's epic rundown, we're diving into the top 12 social media analytics tools that'll catapult your marketing strategy into the stratosphere in 2023! Strap in, we're about to blast off!🚀
1
🚀 The Game Changer: Social Media Analytics Tools in 2023 📊
Yo peeps, if you're running your brand's digital show on the big and bustling stage of social media 📱, you gotta have a clear sense of how well or "not so well" your content or campaigns are performing. The solution? Social media analytics tools. These software programs can help you measure your reach 📡, followers 👥, engagements 💌, clicks 💻, and conversions 💹 across various platforms in a single space. How cool is that? 😎
In today's post, I'm going to share with you 12 of the best social media analytics tools that you should consider in 2023. If you're serious about your social media marketing game, you should definitely check them out! 🚀
2
The Power of a Social Media Analytics Tool in 2023 💪
Investing in a tool that gives you a deep dive into your social media strategy's performance is crucial. Simply posting content and not keeping an eye👁️ on its reach, engagement, and other numbers, makes it really hard to understand your audience 👥 and create a targeted strategy. Up for success? Tools like these could be your best teammates! 🏆
An analytic tool can help ensure you're consistently rolling out content that hits home with your target audience. With these tools, you can understand: 💡
How many people your posts are reaching 📡
How often people like or interact with your content 💬
The growth rate of your social media following 🔝
How many sales and conversions your social media posts are generating 💰
And so much more! By putting these facts on your radar, you will get a clear idea of what content to publish, when, and where. What a result, right? 🎯
3
Top 12 Social Media Analytics Tools to Boost your Online Presence in 2023 🥇
Whether you're looking to analyze your performance on a single network or do a quick comparison of results across multiple networks, these platforms got you covered. 🔄 They even provide features like cross-channel social media analytics, making them an easy pick for your digital ambitions in the coming time. 🎯
With these tools, you can track audience demographics, industry influencers, campaign performance, share of voice, and consumer sentiments. To put it simply, these softwares provide fast, user-friendly ways to understand and present social insights. This way, you're not just shooting in the dark with your digital strategy 👍.
So here you go! Remember, these analytics tools are your secret sauce to making your social media presence more effective and impactful in this rapidly evolving digital world. Use them wisely, and you're up for some big wins! 🏆
4
🔥 Dominating the Social Game with Top-Notch Analytics Tools 💯
Ever thought about skyrocketing your online presence just like a boss? 😎 Well, it's time to step up your social media game! 🚀 Here are some insane tools that are gonna help you crush it! 💥
5
Rival IQ: The Rival You Need🏆
Rival IQ literally puts the "IQ" in your social media strategy! 😎 Custom dashboards for each client? 👀 Influencer tracking and hashtag analytics? 🎯 You heard it right! Plus, sharing reports in multiple formats like PPT, PDF, PNG or CSV? Dream come true, folks! 😮
6
Iconosquare: Not Just for Gram 📸
Iconosquare, the swiss army knife of social media analytics is here to help you boss those metrics 📊 across multiple social media platforms like Instagram, Facebook, Twitter, LinkedIn and TikTok! Its features let you create custom dashboards to see your most important metrics – follower growth, audience demographics, post engagement, you name it! 😲 With collaborative content creation and social listening, you're all geared up to conquer social media! 💪
7
Tailwind: Visually Slaying the Social Space 👁️‍🗨️
Tailwind is THE tool if you have BIG plans for Instagram and Pinterest! 📌🔝 You not only get insights on Pinterest and Instagram but also find best hashtags, seamless link-in-bio tool and more. 🥳 All of this with an easy-to-use dashboard that's pleasing to the eye too? Yes, please! 🙌
8
Audiense: For the Twitterati 🐦
Advice for brands who've got big plans for Twitter –Audiense! 🎉 With this tool, you can create customer personas, gather sources of influence, and find the best influencers. 🥇 Plus, a deep dive into your Twitter analytics is just what you need to enhance your Twitter audience and performance. 🚀
9
quintly: Analytics on Steroids ⚡
quintly isn't your ordinary analytics tool. 💡 With support for a number of social media platforms like Facebook, Instagram, LinkedIn, Twitter, TikTok, YouTube and Snapchat as well as Instagram Stories specific analytics, you might want to call it – the SUPER analytics tool! 😈
10
SparkToro: Know Your Audience, Rule the World! 😉
SparkToro's got just what you need to level up your social media game. 💯 Want to discover where your customers are hanging out online? 🕵️‍♂️ Need to know what they're buzzing about right now? 🗣️ Or wished you could measure your own account's influence and authority online? 🤓 Get set for a power-packed social insight booster! 💣
11
🤔 How Can You Use These Tools for Business Growth?
Here's the thing, folks! Owning your data with these tools can mean the difference between a positive ROI or just winging it! 📈 Strategic decisions backed with data is what we're talking about. 😉 Still unsure on how to gather the best insights? Start with a free 30-day trial and you're good to go! 🤘
What are social media analytic tools?

✅These are your magic wands 🪄 for measuring the performance of social media marketing campaigns. You can make data-driven decisions for your social strategies, like what content to create and when to drop it. 🔥

What can social media analytics tools measure?

📊They enable businesses to track and dive deep into key performance indicators (KPIs) like engagement rates, impressions, and reach. 🚀

What are the benefits of social media analytics for business?

💼These tools give insights into performance across social networks, help track progress, gauge effectiveness, and optimize strategies. Pretty much like your secret weapon to stay ahead of competition. 💣
Go ahead, get your hands on these tools and start slaying the social game! 🔥
Conclusion:
That's the end of our epic journey through the galaxy of social media analytics tools! 🌌🔭 It's time for you to take control of your data and make your marketing strategies rock!🎸 You can pick from the listed tools to see which one feels like the right spaceship for your mission! Still not sure where to start? No stress! Test-drive any of them with a free trial, or grab a free social media analytics spreadsheet template to get a clue of the metrics you need to track! 🎢💡
Remember, making data-driven decisions is what propels your campaigns towards success, so don't just wing it! Make sure to use analytics tools that provide you with insights about your audience, like who they are, what they like, and when they interact with your content.🎯 This is how you fuel your rocket and blast past your competition! 📈🥇
Catch you on the flip side! Until the next one! ✌️💥
What is the definition of a social media analytics tool?
A social media analytics tool is a software application that is used to collect, process, analyze, and interpret data from various social media platforms. The primary objective of these tools is to evaluate the efficiency and effectiveness of social media marketing campaigns. This technology gives marketers the ability to form strategies based on data-driven insights, which might include the types of content to create and the optimal time to share it.
What metrics can be measured using social media analytics tools?
With the help of social media analytics tools, brands can track numerous key performance indicators (KPIs). These include metrics such as engagement rates, which gauge the level of interaction with content; reach, which shows how many people see your content; and impressions, which tell you how often your posts are displayed.
How do businesses stand to benefit from social media analytics?
Companies can tap into a wealth of valuable insights about their social media performance by using social media analytics tools. These boast the ability to analyze multiple social platforms; this means brands can track their growth, assess the success of campaigns and fine-tune their approaches. Furthermore, these analytics tools present the possibility to gain a deeper understanding of the audience, achieve competitive intelligence, and make decisions influenced by data. This is all useful for refining results and staying one step ahead of the competition.
Which social media analytics tool would you recommend for Instagram?
Iconosquare is a highly recommended social media analytics tool for Instagram. Initially, it started as a standalone Instagram analytics tool before the digital platform introduced its native insights, but now it includes numerous social media channels in its analysis. It supports metrics monitoring for more than 100 factors making it a great choice for extensive insights into Instagram performance.
What makes BuzzSumo a useful tool for content analysis?
The primary utility of BuzzSumo is its function as a resource for analyzing the social engagement of any content piece. It is particularly efficient at showing the share count of your content across platforms like Facebook, Twitter, and Pinterest. This tool is also useful for monitoring the performance of material competing for industry-relevant keywords, supporting businesses to understand their standing against competitors.
What features does Followerwonk offer for Twitter analytics?
Followerwonk is a Twitter-focused analytics tool. It aids brands in searching relevant Twitter bios for potential engagement, comparing user accounts, analyzing follower stats, and more. Businesses can draw on valuable insights to boost their Twitter strategy through a free Followerwonk account.
What social media platforms does Quintly support?
quintly is an advanced social media analytics tool that supports a wide range of social media platforms. These include Facebook, Instagram, Twitter, LinkedIn, YouTube, Snapchat, and even TikTok. This tool also provides performance analytics tailored to Instagram Stories, enabling brands to ensure audience engagement with their story posts.
How is Google Analytics used for social media campaign tracking?
Though not strictly a social media analytics tool, Google Analytics is incredibly useful for tracking social media campaigns and measuring social ROI. Businesses can set up specific reports for social media tracking, allowing them to see how much web traffic each social network is driving. By using UTM parameters, businesses can also track specific social media campaigns
What unique features does the social media analytics tool Rival IQ offer?
Rival IQ is a comprehensive social media analytics tool that enables businesses to track their success over a variety of channels, including YouTube. The tool features competitive analysis, social listening, reporting, and social media audits, making it a valuable choice for brands with a broad online presence or agencies working with multiple clients.
How can businesses leverage Sprout Social's analytics tools?
Sprout Social's analytics tools offer cross-channel social media analytics, which enables businesses to delve into their performance on a single network or quickly compare results across multiple networks simultaneously. The tool provides a simple method to organize and share data with easy-to-understand reports, and businesses can also create their own custom report using Premium Analytics, tailor-made for the organization's KPIs.
What are the capabilities of HubSpot's social media analytics tools?
Among the capabilities of HubSpot's social media analytics tools are the tying of social media performance to business and revenue growth. The expansive graphs and visuals provided break down the numbers by specific platform features like the audience, session lengths, and impressions. Also notable is the platform's ability to reveal insights into the entire customer journey—not just social media-specific metrics—but all of the marketing tactics impacting the bottom line and hence, the social media campaign's ROI.
How is IZEA useful for influencer campaigns?
IZEA is an analytics platform that caters specifically to social media tools needed for influencer campaigns. It offers valuable metrics like reach, engagement rate, potential cost behind a particular influencer, audience demographics of potential influencers, influencer campaign performance, and conversion rates.
How useful is Tailwind for social media analytics?
Tailwind is a social media management and analytics tool, which started as Pin League, a Pinterest scheduling tool. Though it supports Facebook, Instagram, and Pinterest, its features cater best to the visual-centric platforms of Pinterest and Instagram. Correspondingly, brands focusing heavily on these platforms can find the insights and capabilities of this tool beneficial.
What kind of audience insights can Audiense provide?
Audiense is an audience-building tool that offers insights into a brand's performance across various social media platforms. However, its primary focus is Twitter, making it an ideal choice for brands that emphasize their Twitter audience and performance. With Audiense, brands can easily create customer personas based on target audience demographics and gain a deep dive into their Twitter analytics.
What are the key capabilities of SparkToro?
SparkToro closely resembles Audiense in providing audience intelligence. Though it doesn't provide analytics from your social media performance, it offers valuable insights into the audience, competitors, and other profiles within networks. Features of SparkToro include identifying where customers spend time online for accurate advertising, uncovering audience demographics for improved ad targeting, and understanding your account's influence and authority online.
How does investing in a social media analytics tool enable businesses to understand their audience better?
Investing in a social media analytics tool allows businesses to get deeper insights into how their social media strategy is performing. These tools provide valuable information on the reach of posts, frequency of interactions with content, growth rate of social media following, and the number of sales generated from social media posts. This information helps businesses understand their audience better and create targeted strategies.
What metrics do social media analytics tools provide to help businesses create and publish resonating content?
Social media analytics tools offer insights like reach of posts, how often people interact with content, growth rate on social media, and conversions from social media posts. This invaluable data aids in understanding what type of content resonates with the audience, thus informing businesses what to publish, when, and where.
What are some of the top social media analytics tools to consider in 2023?
The list of top social media analytics tools for 2023 includes Sprout Social, HubSpot, IZEA, BuzzSumo, Google Analytics, Followerwonk, Rival IQ, Iconosquare, Tailwind, Audiense, quintly, and SparkToro. These tools provide comprehensive insights and analytics on multiple social media platforms to inform and improve your marketing strategy.
How can businesses effectively use these social media analytics tools to grow?
To grow and achieve positive ROI, businesses need to own and utilize their data. Understanding and analyzing this data will enable them to run data-driven campaigns that produce significant results. Choosing the right analytics tool from the list above that aligns with their business needs will help in this endeavour.