📌Unlock the Power of Social Bookmarking: Revolutionize Your Content Game🔥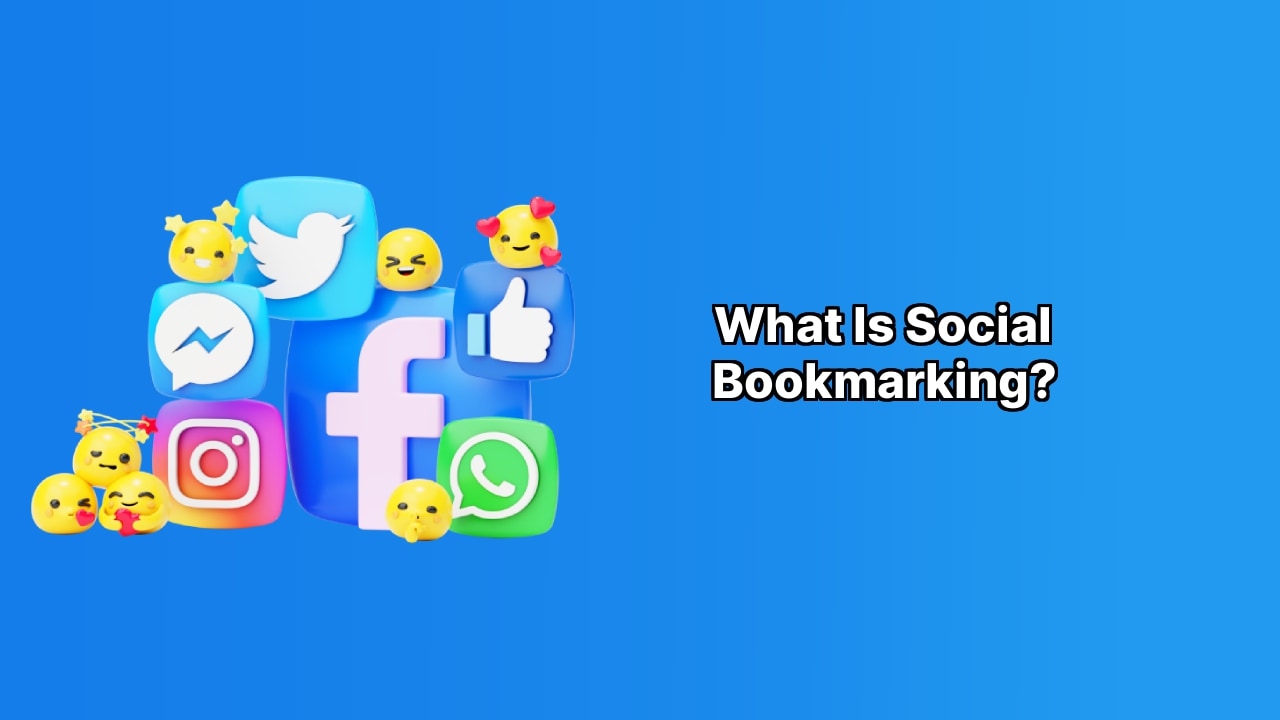 Hey guys😺! Ever dreamt of having the ability to bookmark not just browser pages but also social media posts? 🤔 Imagine if you could tag, save, access it anytime and from anywhere around the globe. 🌍 Doesn't that sound like a superhero feature?💥 Well, guess what, it's real it's called Social Bookmarking. So, buckle up as we delve into the fantastic world of Social Bookmarking and check how it can turbocharge your content marketing game. 🚀 Let's see if we can get a million likes for this new content hack!👍
1
💥Exploding the Concept of Social Bookmarking💥
Ever imagined a super cool way to save your favorite articles, discussions, and websites right in your browser? Well, say hello to Social Bookmarking! 💻 Bookmarking has gone social, and it's totally changing the way we interact with content on the web. 👏
Forget saving social media posts to your browser bookmarks. These features on different platforms got it covered for you.🔖 The best part? Your bookmarks are online! So, you just need any device and internet connection to access them. Anytime. Anywhere. 🌍
2
🚀From Zero to Hero: The Journey of Social Bookmarking Sites🚀
Social bookmarking sites have had quite a ride! They started as simple tools, and guess what, they've turned into online communities bustling with discussions and group creations based on relevance. Talk about leveling up! 👆
How do they work? 🤔 It's simple! Discussion topics are grouped into rooms or threads, and you can follow the contents that pique your interest. 🎯 As you follow a content, you'll get a nudge with a notification in your personal feed whenever something new pops up. 🚨
Starting point for discussions? It's always the links! And they provide knowledge-sharing opportunities as well. This is what makes these sites a goldmine for social media inspiration, earning backlinks, and networking with possible influencers. 🎖
3
🔍Why Have Social Bookmarking Sites in Your Toolkit?🔍
Discover and Save Valuable Content: For companies and managers investing in social media marketing, social bookmarking is like stumbling upon a treasure chest. It helps you spot valuable content and save it to jazz up your publishing schedule. 🗓
Stay Tuned in With Trending Topics: Most of these sites show which topics are trending, recent, or related to a specific topic. Making it easy for you to stay on top of what's happening.🗞
Search on Point: With the search option, you can hunt for specific words or phrases, helping you find the exact content that matches your brand and audience. It's like having your personal content curator!🧐
Searching for a needle in a haystack? Nah, that's old school. With social bookmarking, you find information that's more relevant, refined, and perfect for you to see, curate, and share. 🎯
4
📣Making the Most Out of Social Bookmarking📣
How cool would be it to know what's hot and happening in your industry with just a click, right? 💁‍♂️
Social bookmarking sites let you do just that! They even help your brand to go big by earning backlinks through relevant content and connecting with potential collaborators or influencers. And the benefits don't stop there:
Get Access to Relevant Curated Content: You can establish your authority on social pages and your blogs with handpicked content. 🏅
Boost Your Website's Presence with High Domain Authority Backlinks: These give you a leg up on Search Engine Result Pages (SERPs). 🚀
Get Interactive with Potential Collaborators and Influencers: Engage with them to skyrocket your online success. 🌐
But remember! Creating a room full of ads or spamming isn't cool. Communities appreciate genuine effort to share relevant links rather than a constant nudge towards your personal website. So, let's keep it authentic, shall we? 😇
Conclusion:
Alright guys, that's the lowdown on social bookmarking! 🎉 It's just like finding an Easter Egg in a game, but instead of candy, you get fresh and valuable content 🎁. Companies and social media managers can utilize social bookmarking to speed up social media growth and find the hottest, trendiest topics related to their business. But remember, nobody likes spam, so keep it genuine, engaging, and don't over-promote your website.💯 With social platforms like
Pinterest
,
Reddit
, and
Digg
, you can interact with potential collaborators, influencers, and pioneer your industry with ease. This hack could be your golden ticket 🎫 to skyrocketing your online presence. So, what are you waiting for? Let's revolutionize the way we curate and share content with social bookmarking. Give it a shot guys and let me know how you get on! Lights out!💡
What is the concept of social bookmarking?
Social bookmarking is a method where internet users can store, classify, share, and search for various web resources using browser-based tools. These resources are stored online, meaning they can be accessed from any location or device with internet access.
How do social bookmarking sites work?
Social bookmarking sites function by organizing discussions into specified rooms or threads. Users can follow content they find engaging and will receive alerts in their personal feed when new information is posted. The links shared within these platforms spark conversations and knowledge sharing.
What are some popular social bookmarking tools?
Why do companies and marketers benefit from using social bookmarking?
Social bookmarking allows businesses and marketers to source and save valuable content for their publishing schedule. It simplifies the process of curating content and accelerates social media growth. These platforms offer insights on trending topics and enable a more targeted search and discovery of content.
How can social bookmarking enhance content curation?
These platforms make curating relevant content easier by highlighting trending and popular topics within a particular industry. Instead of searching on broad search engines, social bookmarking provides a more refined and pertinent source of inspiration.
What role does social bookmarking play in backlinking?
Social bookmarking platforms can significantly improve a website's backlink profile by providing connections to high domain authority sites. These backlinks help boost your presence on Search Engine Results Pages (SERPs).
How does social bookmarking interaction promote business growth?
Social bookmarking platforms allow for interaction with potential collaborators and influencers, thereby expanding the brand reach and facilitating online growth. It enables businesses to engage with their audience and build their brand reputation.
What type of content can you bookmark on social bookmarking sites?
You can bookmark practically any web-based content on these sites, including blog posts, articles, images, videos, and even entire websites. The type of content you can bookmark largely depends on the specific bookmarking site.
Can social bookmarking platforms predict trends in a specific industry?
Social bookmarking sites make it easy to see what's popular and trending within your industry. This can help anticipate trends and stay updated with industry updates and customer interests.
Is it possible to organize bookmarks on social bookmarking platforms?
Yes, most social bookmarking platforms offer features to categorize and manage the saved bookmarks, making it easier to locate and use them when needed.
Can features by different platforms be utilized to bookmark posts?
Yes, various social bookmarking platforms provide unique features that allow you to tag, save, manage, and share bookmarks in your own way according to your needs and preferences.
Is it possible to search for specific content on social bookmarking sites?
Yes, most bookmarking sites offer search features that allow you to find specific content by entering a particular word or phrase, simplifying the discovery process significantly.
Does social bookmarking have any social aspects?
Absolutely, social bookmarking allows you to share your bookmarks with others, and likewise learn from the shared bookmarks of others making it a social process.
Do social bookmarking platforms frown upon spam and direct advertising?
Yes, social bookmarking sites typically discourage spamming and direct advertising. To participate meaningfully in these communities, it's important to share information from diverse, relevant sources, and not just from your own website.
Can social bookmarking be considered a useful tool for marketing strategies?
Absolutely, social bookmarking could be a valuable part of a broader content marketing and SEO strategy as it aids in content discovery, improves SEO, and increases audience engagement.
How does social bookmarking help in networking?
Social bookmarking can help you build a network by following similar content interests or topics, and interacting with influencers and potential collaborators, thereby increasing your brand visibility.
How do social bookmarking alerts function?
When you follow a piece of content or discussion on a social bookmarking site, you will receive notifications in your personal feed whenever new related information is posted.
Does social bookmarking benefit Search Engine Optimization (SEO)?
Yes, social bookmarking can be beneficial to SEO efforts by earning high domain authority backlinks, increasing brand visibility, and driving organic traffic to your site.
How can social bookmarking aid in building authority on social pages and blogs?
By curating and sharing relevant, high-quality content, businesses can build their authority on social media platforms and blogs. It helps in establishing the brand as a thought leader and trustworthy information source within their industry.
How can social bookmarking contribute to a brand's online success?
Social bookmarking can contribute to a brand's online success by improving its SEO, expanding its network, aiding in content discovery and curation, and increasing audience engagement, leading to a higher brand visibility and credibility.