🔥Ultimate Round-Up of the Best Shopping Apps in 2022🚀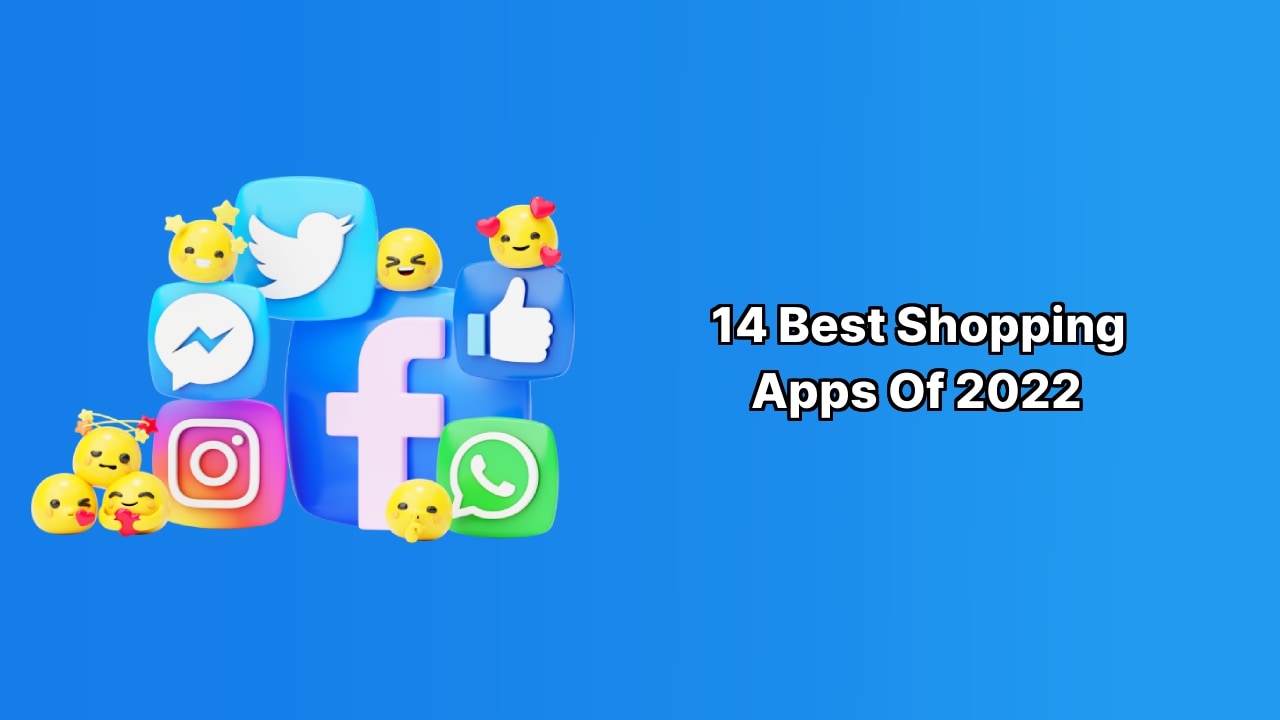 Hey, what's up everyone?
You know how much we ❤️ the convenience of shopping from our phones 📱 right? The world of m-commerce is exploding 💥and by 2025, it's gonna make up nearly half of all US retail m-commerce sales! From clothes 👗 and electronics 📺 to cars 🚗 and houses 🏠, there's an app for it all. But with hundreds of options, which ones are the best? Well, don't worry. We've done the dirty work for you, and in this post, we will reveal the ultimate round-up of the best shopping apps of 2022! 💰🛍️🔍
1
📱 M-Commerce: Shop 'Til You Drop with These Killer Apps 💥 👑
Ever felt the urge to shop 'til you drop but you're stuck at home or just too lazy to visit the store? Say no more 'coz now you can happily shop from the comfort of your couch! Welcome to the future of shopping… M-commerce! 🙌 (That's just fancy talk for Mobile Commerce, BTW! 😏)
By 2025, 50% of all US retail m-commerce sales are gonna be carried out through smartphones! 📲💵 Mind-blowing, right? And guess what, there's literally an app for buying ANYTHING on the planet, from a swaggy outfit to a self-driving car! 🤯
So, I've assembled this bomb list of some of the most popular shopping apps around that'll not only save you time but also score you some wicked deals. 😉😎💯
2
🌐 Marketplace Shopping Apps: Chuck Your Cart Out the Window 🛒🚀
First up, let's talk about marketplace shopping apps! These are places where sellers and buyers come together to do business. The best thing about these is, they don't own any stock themselves, they just serve as cool middlemen helping the transactions go smoothly. 🖐💼💰
1️⃣ Amazon: They don't call it the "Everything Store" for nothing. From electronics, kitchen utensils to toys, Amazon has it all! But the real cherry on top? They deliver to over 100+ countries with same-day or overnight delivery in some areas! 🚚🌐😱👍
3
👗 Clothing Shopping Apps: Bye-bye Dressing Rooms 🚪👋
Clothing tops the list of items people buy online. Clothes shopping apps have made it even easier for shoppers to purchase fashionable items. 🛍👠💄
2️⃣ ASOS: Home to over 850 brands, ASOS is a fashionista's paradise! Plus, it offers free shipping and return options! 🎁🚢
3️⃣ ThredUp: Looking for great deals on used fashion items? ThredUp's got you covered! It's basically an online thrift store that offers 'new with tags' items too. 💝🛍🧥👖💍
4
📲 Social Media Shopping Apps: Shop, Like, Tweet, Repeat! 😂💸
Recent data shows that 98% of consumers plan to make at least one purchase through social media this year.
4️⃣ Facebook Marketplace: This tool enables buyers and sellers to connect and deals in various products. The biggest plus—the service is free! 🤩👏💰
5️⃣ Instagram Shopping: With Instagram Shopping, businesses can set up their own storefronts. It also offers product tags, catalogs, and seamless checkout all within the app. 📱🛒🏪
6️⃣ YouTube Shopping: YouTube creators can connect their stores and promote merchandise with tagged videos and end screens. Now, that's cool! 😃👍👕👚
5
💰 Cashback Shopping Apps: Cash in on Your Purchases! 🎉💵
Earning while you're spending…sounds too good to be true, right? Meet cashback shopping apps! 💸💸💸
7️⃣ Rakuten: This app features over 3500 brands. Shoppers get rewarded whenever they make a purchase. There are rewards every single time, what's not to love about that? 😍💰🔥
8️⃣ RetailMeNot: Offering coupons and cash back from over 15000 brands, RetailMeNot ensures your wallet stays fat while you shop to your heart's content! 🛍💳💪
9️⃣ Ibotta: Ibotta is a cashback and gift card app used at more than 500,000 retail stores. Every time you make a purchase, you earn cash back! It's like being paid to shop! 💃💸💰
6
🛍 Grocery Shopping Apps: A Supermarket in Your Pocket! 👖👍🍎🥦🍗
Shopping for groceries online is a game-changer. 🔄👨‍🍳 These apps eliminate the need to commute and browse the aisles. Plus, they offer exclusive discounts. 😲💹🍏
🔟 Flipp: Flipp isn't a grocery delivery app, but it helps shoppers find deals, coupons, and weekly ads, which means you'll never miss a sale again. 💵💣🛒🎉
So, there you have it! My favorite m-commerce apps to make shopping more fun and efficient. Remember, smart shopping isn't about buying less but getting more value for your money! 💪💰✨
7
🔥 The Ultimate Guide to Shopping Apps! 🏷️💸
Hey, all! Looking for the best shopping apps 💻📱 to snag amazing deals? Guess what, you've hit the jackpot! 🎉 We're going to explore some of the coolest shopping apps out there, from those offering thousands of retailers (no joke, it's over 2,000! 🤯) to mystery shopping and car shopping options. Let's go! 🚀
8
🎁 Retail Shopping Apps – Shop 'til You Drop! 🛍️
Start with a digital shopping list, let your app find the hottest offers, or just manually clip the deals you're interested in. With some of these apps, you're the boss! 👑 Plus, some even offer a mystery shopping feature that helps you earn cash while investigating customer service! 🕵️‍♂️💰 Talk about a win-win, right?! 🔥
9
🛒 Mystery Shopping Apps: Your Secret Weapon to Extra Cash! 💵
Shopkick: This unique, mystery shopping app allows you to earn rewards (or "kicks" as they call 'em 🥊) for scanning barcodes at select stores, watching videos, and learning about new products! You can redeem these sweet kicks for gift cards or PayPal credit! 💳💸
Field Agent: Another wicked-cool mystery shopping app where you act as an "agent" (let's pretend you're like Bond…retail Bond 🕶️🛍️), conducting audits, surveys, trying new products, and much more in return for cold, hard cash. Currently available in 8 countries including the good ol' US, UK, and Canada. 🇺🇸🇬🇧🇨🇦
10
⭐ Car Shopping Apps: Drive Away with the Perfect Deal! 🚗
Car shopping apps are like mega online marketplaces for buying, selling, and even financing new and pre-owned cars. They're loaded with killer features like advanced search filters, photos, car inspection reports, and loan calculators to help you zero in on your dream ride 🏎️💨 Here're two hot picks:
CarGurus: This shopping app is all about new and used cars. Its deal-rating algorithm studies thousands of point factors like price and accident history to help you nab the best deal out there. 🤓 And yes, it's available in the US, UK, and Canada too! 🌎
Carvana: Carvana is a US-exclusive app offering the best in buying, selling, and trading used cars online. The cherry on top? Your purchased vehicle can be delivered straight to your door! 🚘🏘️ All purchases have a 7-day money-back guarantee, so no worries about buyer's regret! 💯
11
💡 The Future of Shopping Apps: E-commerce, Social Media, and Beyond! 🌐
With busy lives and the convenience of online shopping, more folks are choosing apps over in-store purchases, especially when they're on the go. 🏃‍♂️💨 But hey, that's not the end of it! Online shopping is now more of a social activity 🎉🌐 Brands are brainstorming creative ways to connect with customers through platforms like Facebook, Instagram, YouTube, and even TikTok. Want more juice on this? Check out this social shopping guide for tips and future predictions. 😉🌟
Conclusion:
And there you have it, folks! 📢 This has been our ultimate round-up of the best shopping apps of 2022 🏆 From Amazon to Carvana, these apps have revolutionized the way we shop online, making it easier, cheaper, and more fun! And let me tell you this: with social media turning into the new shopping mall, the future of m-commerce looks very, very bright 🚀🌟 So, keep an eye on this space, as more technologies and innovations are surely just around the corner. Until next time, keep on shopping and saving! 💸🛍️✨
What is meant by m-commerce?
M-commerce, or mobile commerce, refers to selling and buying goods and services using mobile devices, including smartphones and tablets. It's a subset of e-commerce and is expected to account for nearly half of all US retail m-commerce sales by 2025.
What kind of products can be bought via shopping apps?
Today, almost every type of product can be bought via shopping apps. This includes clothes, electronics, cars, houses, and more. Numerous specialized shopping apps cater to different product types, making it very convenient for consumers.
Which is one of the biggest online marketplaces in the world?
Amazon is one of the most significant online marketplaces globally, featuring over 350 million products from various categories such as apparel, jewelry, books, electronics, kitchen utensils, toys, baby products, and more.
What kind of items is frequently bought online?
The most common items purchased online are clothing. Shopping apps dedicated to fashion have made it convenient for consumers to buy trendy apparel, shoes, bags, and accessories right from the comfort of their homes.
How do social media shopping apps work?
Social media shopping apps like Facebook Marketplace, Instagram Shopping, and YouTube Shopping allow businesses to set up storefronts on these platforms. Consumers can then directly buy, research, and review products without having to leave their favorite social platforms.
What is the purpose of cashback shopping apps?
Cashback shopping apps reward consumers for their purchases. They do this by partnering with brands and offering cash or loyalty points when a customer makes a purchase through an affiliate link. Examples include Rakuten, RetailMeNot, and Ibotta.
How do grocery shopping apps prove beneficial?
Grocery shopping apps save consumers time and money by providing online delivery or store pickup options. They often integrate features like virtual shopping lists, access to nutritional information, a well-organized selection of brands, exclusive discounts, and deal bundles.
Can you explain the concept of mystery shopping apps?
Mystery shopping apps pay users to conduct audits, surveys, review products, or collect in-store product information. These apps often serve those looking to earn extra income. Examples include Shopkick and Field Agent.
What are the features of car shopping apps?
How is online shopping becoming a social activity?
More consumers are viewing online shopping as a social activity rather than a transactional one. They're turning to Facebook, Instagram, YouTube, and TikTok for conducting product research and purchases, transforming these platforms into social shopping hubs.
What are the delivery options available on Amazon?
Amazon offers delivery to over 100 countries and in certain areas, offers same-day and overnight delivery. It provides a seamless and convenient shopping experience to its customers worldwide.
What are the payment options supported by the ASOS app?
ASOS supports various popular payment methods including PayPal, Apple Pay, Google Pay, Klarna, and major credit and debit cards, offering a flexible shopping experience to its users.
What products are available on ThredUp?
ThredUp offers a broad range of fashion items pre-vetted by the company. These include designer clothing, bags, jewelry, shoes, and accessories, with some items labeled as 'new with tags'.
What functions does the Facebook Marketplace provide?
Facebook Marketplace allows buyers to connect with sellers in their area or other cities to find new and used products across various categories. It's convenient and free to use for anyone with a Facebook account, allowing product listing, purchase, and checkout via Facebook's main app.
What is unique about Instagram Shopping?
Instagram Shopping enables businesses to set up a storefront on the Instagram app. Users can find shops, collections, and guides from the Shopping tab, view product details, and checkout on Instagram.
How does YouTube Shopping work?
YouTube Shopping allows creators to promote products and merchandise from their external eCommerce platforms like Shopify by tagging them in videos and showing them in channel stores. However, only eligible creators can set up shops on YouTube.
Why do consumers like Rakuten?
Consumers are fond of Rakuten as it offers a wide selection of partners, including restaurants, ride-sharing services and retail stores. The app has over 15 million members and has paid out over $2 billion in cash back rewards.
How does Flipp help with grocery shopping?
Flipp assists shoppers by providing deals, coupons, and weekly ads from over 2,000 retailers, simplifying the process of deciding where to shop and what to buy. Users can create digital shopping lists in the app, and Flipp will find deals for those items.
How does the Field Agent app operate?
Field Agent helps users earn money by completing tasks such as conducting audits, trying new products, leaving reviews, and collecting in-store product information. This information is used to help companies understand retail customer experiences better and enhance their products and services.
What is the unique feature of the Carvana shopping app?
Carvana allows users to buy a car online and have it delivered directly to their doorstep. It also offers a 7-day money-back guarantee making it easier for buyers to return vehicles that don't meet their expectations.