🚀 Pinterest Power: Unpacking the Mighty Impact of Pinterest on Brand Success! 🎯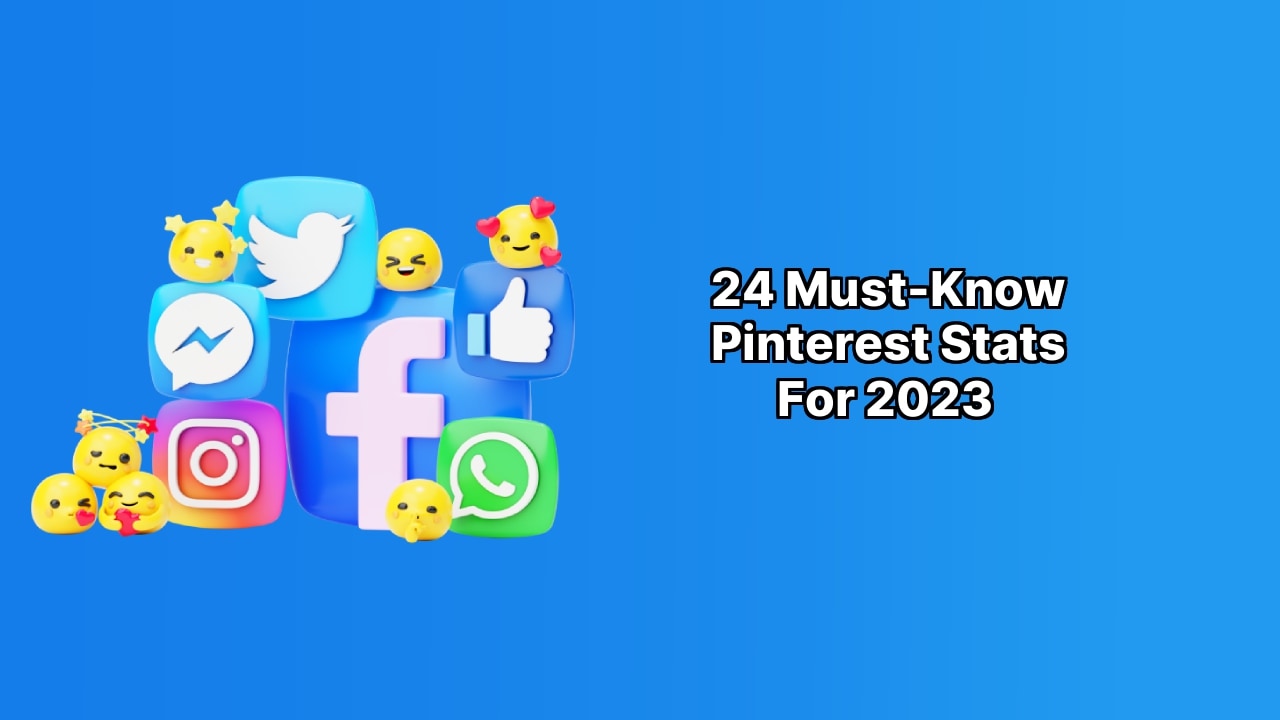 Hey FAM! 💥 Ever wondered what makes Pinterest the go-to platform for many brands? 🤔 Ever think about ways to skyrocket your brand's recognition with the power of visuals? 🚀
In the ocean of social media platforms, Pinterest stands tall with its unique vibes. 💯 But, rather than taking a blind leap, let's dive into some mind-blowing Pinterest stats to measure the real potential of this platform! 💡 Buckle up as we embark on a journey exploring the realms of Pinterest – from usage data, to demographics, and some wild advertising facts. 🎢 If your brand already has a presence on Pinterest, your personal Pinterest analytics could be a gold mine of insights. 📊 According to
Sprout Social
, 60% of organizations use their social data on a daily basis to make informed decisions. 😲 So, ready to get Pinterested? ⏱ Let's jump right in! ➡
1
😎A Crazy Deep Dive into Pinterest Statistics 🚀
Hey, ever thought of crushing your brand on a platform with a visual twist – Pinterest? Here are some jaw-dropping Pinterest stats that might just convince you to jump in. But hold up, if you're already surfing the Pinterest wave, using your own Pinterest analytics on the daily? Genius! 🧠👍 With that out the way, let's dive into Pinterest stats right now.
2
😲 Pinterest: A Marketers Paradise?
Hit that like button 'cause Pinterest is the 15th most-used social media platform. Not as gargantuan as Facebook, YouTube, and the likes, but watch this space, folks! 📈

💰 Did you know? Around 45% of US Pinterest users rake in over $100k per annum? That's a whole lot of purchasing power right at your fingertips. Get that cash flow running!💸

Brace for it – Pinterest generated a whopping $877 million in Q4 of 2022. As if that wasn't enough, it cranked up a total of $2.5 billion in 2021. Now that's a profit wonderland!💰💰

Wait for it – Pinterest is at the top of the ACSI (American Customer Satisfaction Index), tied with YouTube at a score of 76/100!💪✨
3
📊 User Obsessed? Pinterest Has You Covered 🧐
Get ready for the bomb – Pinterest boasts 450 million monthly active users. And it's growing!📈😲

💣 We're not done yet. Year-over-year, Pinterest's user base is growing at 7.5%, trailing only Snapchat and LinkedIn. Facebook? A meager 1.6% growth.😵

🇺🇸 American? Running a U.S.-based brand? Listen up! Pinterest has a strong 84.6 million U.S. users (18.8% of total users). That's a captive audience for your products!
4
💡 Know Your Pinterest Users: Demographics and Usage 💯
👭 Majority wins here with 76.2% of the Pinterest user base being women. Looking to capture a female audience? Pinterest is where you need to be.🎯

Try this for size – The largest cohort? None other than Millennial women aged 25-34, taking up 28.5% of the entire user base!💃

If you think Gen Z is out of the Pinterest game, think again! With approximately 23 million Gen Z users today, the platform has seen a steady increase from 16.4 million in 2020.🔥

🎉 Good vibes only! A staggering 80% of Pinterest users feel positive while using the platform – no surprise with its high ACSI score. Plus, nine out of ten users fondly call it their social media oasis.🏝️

💳 Who's ready for some online shopping? Brace for impact – around 85% of weekly Pinterest users have made a purchase based on pins from a brand.👀

🔍 With 5 billion monthly searches on Pinterest, SEO on this platform is🔑. Optimize your pins, boards, and profile using relevant keywords to soar through search results.

📊 Your stats guru tells you it pays to advertise on Pinterest? They're not wrong! Pinterest ads deliver a whopping 32% higher ROAS (return on ad spend) than other digital platforms. Get more for less!💥
5
⌛Pinterest: The Social Media Methuselah
Most social media posts on platforms have a 'blink and you've missed it' lifespan. With that said, try this for size – Pinterest pins, once posted, last from six months to an entire year! Hear that? That's the sound of your brand being discovered, months after you've hit 'post'! 💡🔥
6
🚀Get Flying High On Pinterest's Popularity For Your Business!✨
Pinterest, you heard it right, kids! Ranked as the 5th most popular social commerce platform, Pinterest brings a 🎁wealth of opportunities⛏️ for your brand. You bet!💪 With mega giants like 🌐Facebook, 📸Instagram, 💃TikTok, and 📩Messaging apps topping the social media platforms 🛍️online shoppers are likely to drop their dough, Pinterest is a gold mine waiting to be explored for your brand's 💸conversion opportunities.(source)
7
🎯Reel in New Customers with Pinterest!
A staggering 80% of weekly users have discovered a new product or brand 🌟on this platform. So, folks, drifting in the sea of Pins might just lead to a high tide of brilliance for your business. 4 out of every 5 users have found a brand-new product here, creating a 🚀launchpad for your product or brand followed by a potential purchase.💰 Don't hesitate, peeps! Promote your products on Pinterest and hike up the chances to reach a fresh audience or potential customer.(source)
8
💸Bigger Spending on Pinterest!
And just when you thought things couldn't get any sweeter, there's more! Folks on Pinterest are opening their wallets much wider than on other platforms. 📍Pinterest users spend twice as much than their counterparts on other social media platforms. So, if you are kicking off products with a higher price point like luxurious furniture or designer togs, Pinterest is your go-to place! 🛒 Not an ounce of shyness needed here, guys! Fill up your Pins with your proudest products. Pinterest user's demographic data reveals they've got heavy pockets💼 and aren't scared to splurge on their shopping extravaganzas.(source)
9
🔝Level Up Impressions With Pinterest Catalog!
Hold onto your seats, folks! Because we've got one more Pinterest-wonder to share with you! Brands using a Pinterest Catalog get 5 times more eyeballs on their product pins. Bada-bing, bada-boom! 💥💥That's a lot more impressions than brands not using it. If you've been humming and hawing about making Pinterest's social selling tools your BFF, let this tip-tip the scales!(source)
10
📊Stay Ahead With The Latest In Social Media Marketing!
Ladies and Gentlemen, it's 2023! You need to stay up-to-date 🔄with the latest social media marketing statistics. Make these Pinterest stats your secret weapon, shaping your strategies to deliver social selling gold. 💡
11
🛍️Learn How to Sell On Pinterest!
Time to set up your social selling game! 🔧Figure out how to sell on Pinterest and you could watch your sales and conversions 💹upsurge through your preferred social media platforms.(source)
Conclusion:
SOOO, THAT'S A WRAP, folks! 🎉 We've waded through a compendium of eye-catching Pinterest stats that simply cannot be ignored! 🔥 We've seen how Pinterest stands as a strong contender among social media platforms, catering to a high-income base and experiencing consistent revenue growth. 💰 We've seen that it's not just a platform, but a monumental visual search engine with billions of monthly searches! 🌐 The Pinterest user is no common Joe, with most having an inclination to find a new brand and splurge on shopping. 🛍So, given these powerful stats, why would you ever stall on upping your Pinterest game? 🎯 Is there anything more convincing than learning that creating a Pinterest Catalog can amplify the visibility of your brand by 5x? 😲 So, gather your creative forces, press those strategic gears into motion and ride the visual wave of Pinterest to the top! 📈 Till next time, keep hustling, keep growing! 🚀✌
What is the ranking of Pinterest among other social media platforms?
Pinterest is ranked as the 15th most popular social media platform globally. It sits behind giants such as Facebook, YouTube, WhatsApp, and Instagram; yet, it still offers great potential for brands and marketers.
How lucrative is Pinterest for businesses?
In the fourth quarter of 2022 alone, Pinterest generated a whopping $877 million in revenue. Over 2021, it amassed a total of $2.5 billion, affirming its viable business side.
What is the income bracket for most US Pinterest users?
About 45% of US Pinterest users earn an income of over $100,000 annually. This makes Pinterest a potentially lucrative platform for businesses aiming to reach an audience with great purchasing power.
How do Pinterest's user satisfaction rates fare?
From July 2021 to June 2022, Pinterest scored highest on the American Customer Satisfaction Index (ACSI) at 76/100, tied with YouTube. This shows a high level of user satisfaction for the platform.
What's the count of Pinterest's active monthly users?
Pinterest boasts nearly half a billion monthly active users. Although this figure pales compared to Facebook's nearly 3 billion users, Pinterest is experiencing steady year-over-year growth.
How popular is Pinterest in the U.S.?
The U.S. constitutes the largest share of Pinterest's audience, with 84.6 million of its 450 million users based in the U.S, accounting for 18.8% of its user base.
Does Pinterest influence purchase decisions among its users?
Majorly. About 85% of weekly active users on Pinterest have made a purchase based on a pin. Merchants can thus leverage product-oriented boards to boost sales.
What's the gender composition of Pinterest's user base?
On Pinterest, 76.2% of users are women. Men represent 17.2%, while 6.6% are unspecified or identify as another gender. Therefore, businesses targeting female demographics might find Pinterest an ideal platform.
Which age group constitutes the largest user base on Pinterest?
Millennial women aged between 25-34 years form the biggest segment of Pinterest's audience, accounting for 28.5%.
How effective are Pinterest advertisements?
Ads on Pinterest deliver a 32% higher return on ad spend (ROAS) compared to other platforms, especially in food, health, and beauty industries.
How popular is Pinterest for brand discovery?
About 80% of weekly users have discovered a new brand or product on Pinterest. This highlights the platform's potential for brand visibility and engagement.
How popular is Pinterest as a social commerce platform?
Pinterest ranks as the 5th most popular platform where online shoppers are likely to make a purchase, following Facebook, Instagram, TikTok, and messaging apps.
How much traffic does Pinterest receive?
As of May 2022, Pinterest received a staggering 945.3 million monthly visits, with users visiting the site more than twice per month on average.
What portion of Pinterest's web traffic comes from the U.S.?
About 44% of Pinterest's web traffic originates from the United States, with Brazil, India, Argentina, and Colombia following up.
What characterizes Pinterest's search queries?
Nearly 97% of searches on Pinterest are unbranded. Users are commonly searching for general items, devoid of specific brand names, thus allowing for more brand discovery opportunities.
What's the lifespan of Pinterest posts?
Pinterest pins can last anywhere between six months to a year. Unlike other platforms where posts have a short lifespan, on Pinterest, your pin can continue garnering views long after it's been shared.
Do Pinterest users spend more compared to other platforms?
Yes, shoppers on Pinterest reportedly spend twice as much as those on other social media platforms.
How effective is Pinterest for product cataloging?
Businesses leveraging Pinterest Catalogs see five times more impressions on their product pins compared to those not using this feature.
How many Gen Z users are on Pinterest?
Based on projections made in 2020, Pinterest should have around 23 million Gen Z users this year, constituting roughly 5% of its user base.
How is Pinterest's year-over-year growth?
Pinterest manifests a steady annual growth rate of 7.5%, making it the third fastest-growing platform. This showcases its increasing popularity and potential for wider audience reach.