🚀Launch Your Next Big Idea with These Brilliant Marketing Campaign Ideas🔥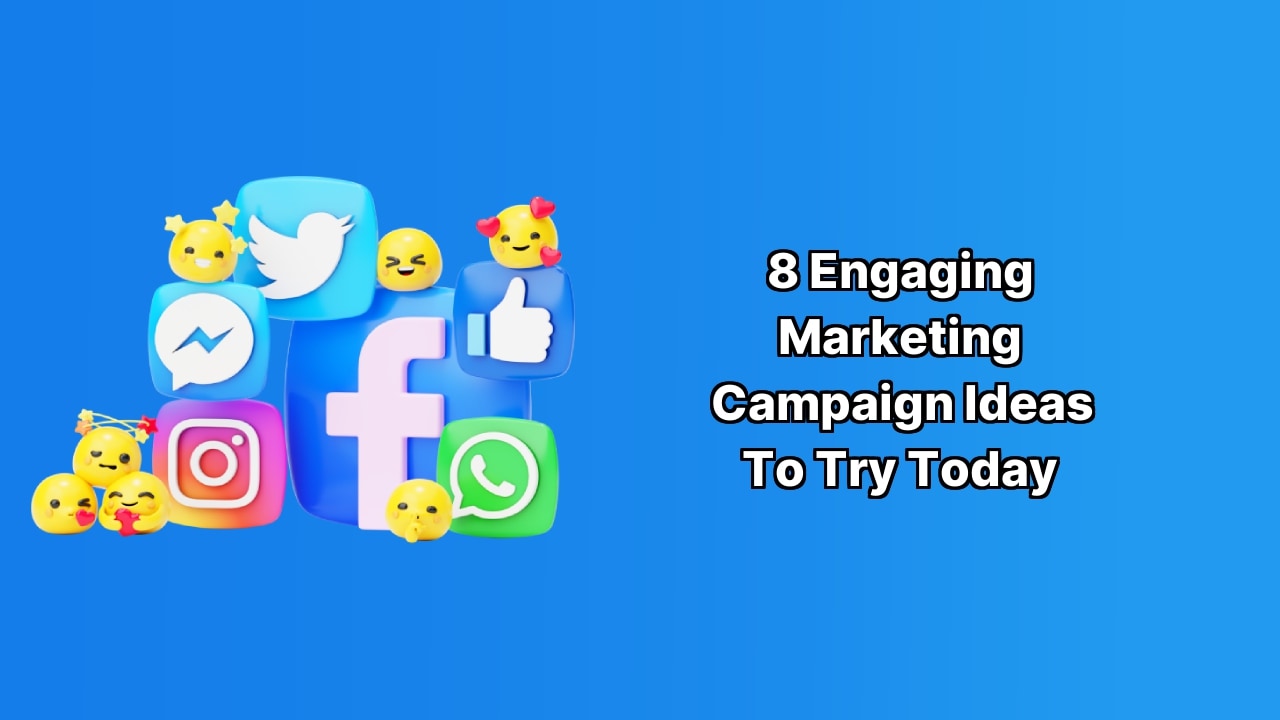 💡 Need a little boost for your marketing campaigns? You're not alone. It's not always easy coming up with fresh, engaging campaign ideas. The good news? We got your back. 👊 You don't need to consistently create something out of nothing. That's because we've got a neat guide here with the 411 on successful marketing campaign planning and execution. Plus, we include real-life examples and practical strategies that you can adapt to fit your goals. So, dive in and start swimming in a sea of new ideas! 🌊🏊‍♂️
1
📈Crushing Marketing Campaigns 101: The No-BS Guide You've Been Waiting For! 🚀
🆘 Struggling to brainstorm some killer marketing campaign ideas?😩 Relax, you're not alone. Every business owner wants to keep that revenue flowing constantly with bombastic promotions, but sometimes the creative juices just aren't there. 💦 Got a recent marketing campaign that nosedived? Engagement rate dropping faster than a hot potato? Don't panic! ☝️ The issue could be that you're stuck in the rut of ad-hoc marketing, i.e., throwing around promotions willy-nilly, with no definite goal or success strategy in sight. 🎯
2
🔍 What's a marketing campaign anyway?
Let's get the basics down. The term "campaign" is tossed around quite a lot in the marketing world, but what does it mean?🤔 In simple terms, a marketing campaign is an initiative or promotional push carried out by a brand, linked to a significant business goal. 💡 These campaigns usually consist of creatives like ads, videos, photos, blog articles, and more across various marketing channels, like social media or emails. 📧 These campaigns could be aimed to 🔸 boost brand awareness, 🔸 launch new products or services, 🔸 enhance customer engagement, 🔸 increase sales and revenue, 🔸 maximize customer lifetime value, or 🔸 cut down customer attrition. Remember those classic marketing campaigns of yore? The ones like "Got Milk?" and Nike's "Just Do It". You're probably thinking of TV ads, billboards, or print ads in magazines. But the present-day scenario is different. These campaigns aren't just for the big dogs anymore. With the digital age came an array of tools and marketing channels, accessible to businesses of all shapes and sizes! 💼 It's crucial to know that a campaign is the sum of its components. An individual sale or discount isn't a campaign, although they can be a part of one. Similarly, hashtags and posts aren't campaigns, but they can be parts of a social media campaign.👌
3
🎯 The Common Threads of "Successful" Marketing Campaigns
Sure, for a marketing campaign, you've got endless creative possibilities. 🎨 But irrespective of your business type, there are vital features your campaign should have:
Time-sensitive: Perfect campaigns are like perfect vacations—they just don't last forever! As per conventional knowledge, it typically takes two to three months to plan an impressive campaign.
Measurable: You've got to track your campaign data. If you don't measure your campaign based on the correct metrics, it's a busted flush!
UnSpice things up: Your campaigns should be as original as your brand and cater to what your audience needs. You certainly don't want to recreate old campaigns or imitate competitors.
4
📝 Must-Dos for Modern Marketing Campaigns
Running a campaign is far better than ad-hoc marketing simply because it keeps you focused. By associating your promotions with particular objectives and outcomes, you bar yourself from meandering aimlessly. But remember, the planning phase is crucial for any campaign. It can make your break your entire effort.
5
🎲 Establish Relevant Business Goals
What are you hoping to achieve and how? Goal-setting is vital. A clear goal associated with specific objectives means you understand the smaller tasks contributing to the larger picture. If you're acquainted with the SMART framework for goal-setting, this should be a piece of cake! 🍰 If not, here's what SMART stands for:
S: Specific — Your goals should be crystal clear and well-defined.
M: Measurable — Your goal should have at least one or more metrics to measure.
A: Achievable — Your goal should be feasible given the resources at your disposal.
R: Realistic — You should be capable of achieving the goals with your current resources.
T: Time-sensitive — Every goal needs to have a set time frame, be it one year or several months.
6
🎯 Choose Your Priority Marketing Channels
And where should you promote your marketing campaigns? There isn't a one-size-fits-all answer to this ❗️ Multi-channel marketing is in vogue and practically effective to maximize engagement. But spreading your ideas across several channels requires more time and resources. So, start by answering these:
Where do you already have your marketing presence and customer engagement?
Where can you realistically advertise given your budget? 💰
7
📊 Pick Your Metrics and KPIs
Remember that every successful marketing campaign is driven by data. Some common metrics used to gauge performance include traffic, sales figures, event attendance, clicks, impressions, reach, and more. 💻 Make sure that the figures align with your campaign's goals. For instance, a marketing campaign that earned you a ton of followers but negligible sales isn't much to boast about.
8
🚀 Assemble Your Campaign Collaborators
Who do you need on your team to bring your campaign ideas to fruition? You'll likely need to delegate work to experts outside your team, such as SEO professionals, graphic designers, copywriters, and more. Who you depend on—whether that's your team, an agency, or freelancers—depends largely on your timeline and budget. So lace up your boots, and get to it! 🏃‍♂️
9
✍ Set Reasonable Deadlines and Milestones
With everything else covered, you can go ahead and chalk out a roadmap for your campaign, including deliverables and deadlines, and it's always better to give more time for preparation to avoid any hiccups. Remember, your campaign is a journey, and these are the steps to success. Now go smash them goals, folks! 💥👊
10
Ready to Level Up Your Marketing Game?
Look, folks 👀: no time to dilly-dally or hesitate. There's a bigger picture here, and it's all about communicating effectively with your squad to know their own work patterns 🗓. Your ultimate goal? Yeah, it's to determine what you can do and what you can't. Need a tool 🛠 to get this done? Well, check out something like Asana. It's a one-stop solution where you can glimpse all the moving parts of your marketing tour de force, including stuff like roles, deadlines 📅 and approvals. And if you're kinda stuck on planning your timeline 🕑, we've got a cool social media campaign template that will surely help!
11
Let's Get Right into AMAZING Marketing Campaign Ideas 👍
Hey ho, let's go! You don't happen to be a marketing magician to set up a fantastic marketing campaign. There's a plethora of ideas out there, waiting for you to explore 💡. So, let's get down to it. Here are eight spellbinding campaign ideas you can adapt with a pinch of creativity 👯:
Inform the Mob with an Educational Campaign 🎒: Combine education with sales. Create learning materials like instructional videos, blogs, and product demos that serve your audience and sell your offerings. It's a win-win!
Build a Stellar Referral Program 🔁: Perfect for e-commerce brands, create a referral program that keeps the sales rolling in. Offer discounts, trials, or freebies that incentivize your loyal customers to bring in new ones.
Go Befriend an Influencer 😎: Influencer marketing is ruling the roost, folks! Connect with an influencer on Upfluence or similar platforms to introduce your brand to new audiences!
Create a Buzz with a Contest or Giveaway 🎁: Giveaways and contests are hot on social media! They drive engagement and build brand awareness. Make sure they are well-designed, with clear engagement criteria such as likes, follows, hashtags, or content creation!
Engage Customers with a User-Generated Content Campaign 📢: UGC is a magical potion for organic promotions. Encourage your customers to share your hashtags and photos – You might be surprised how willing they are!
Prepare for Holiday Campaigns 🎊: Not all marketing campaigns need to be groundbreaking. Old school holiday campaigns, timed around Thanksgiving, Black Friday, or Christmas still work wonders for increasing sales!
Hype Up Your Next Product Launch 🚀: If you are on the verge of a product launch, build anticipation with a well-planned marketing campaign, including a high-quality launch video, pre-orders, or a countdown timer on your website!
Aim for a Customer Success Campaign 💖: Your happy customers can be a gold mine for future campaigns. Collect and share their positive feedback, curate customer reviews, and gather testimonials to win over new customers!
12
Extra! Extra! Three Bonanza Marketing Campaign Examples, Just For You 👑
Feeling the heat now? Let's crank up the inspiration a notch! Check out these brilliant examples of marketing campaigns to spark up your imagination ✨:
#SpotifyWrapped—UGC/Hashtag Campaign 🔥: This is what we call a complete hit! This edgy UGC and hashtag campaign by Spotify urged its users to share all the songs they've been jamming to, resulting in millions of social shares and engagements!
Headspace—Facebook Ad Campaign 🎈: Check out Headspace's video ad campaign. With soothing audio and vibrant animation, it triggered an impressive boost in brand recall, awareness, and interactions!
Gymshark—Black Friday/Product Launch Campaign 🐟: When Gymshark dropped its Black Friday campaign and a new product, it resulted in an insane reach of 16+ million people on Instagram! Talk about creating a buzz!
So, got your gears grinding for your next marketing campaign? The world 🌏 of marketing is your playground. It's time to brainstorm and create amazing campaigns that set the stage on fire 🔥!
13
🔥 Supercharge Your Campaigns! Insights and Trends to Level Up in 2022 & Beyond! 🔥
Hey there, ever thought of jazzing up your campaigns to WOW factor and seeking some kickass inspiration? You've landed at the right place! 😎 This master guide is guaranteed to stoke your creative fires and help you turn ideas into action! 🚀
It's way cooler to cook awesomeness beyond ideas, you gotta understand the A to Z of campaign execution strategy. 💪 Implementing these bad boys is the game changer! 💯
15
🔍 Catching Up With 2022 Trends 🔍
Alright folks, the world of social media is ever changing fellow netizens! 🌐 You gotta stay updated! ✅ This is where the latest Sprout Social Index™: Social Media Trends in 2022 & Beyond comes into play. Whiz through the current trends, relevant insights, and hot data to level up your campaigns. 🏆
16
💎 Pro Tips For Campaign Execution 💎
Mastering Best Practices – Once you're armed with findings from Sprout Social Index™, it's time to explore and implement the best practices for launching successful campaigns. 👑
Staying Current And Updated – The scenario of social media keeps evolving. Always be on the lookout for new updates, platforms, and preferences to keep your campaigns relevant. 💼
Create Engaging Content – The ultimate goal is to create content that grabs attention and drives user interaction. Choose a theme for your campaign that's relevant, innovative, and intriguing. 🎨
17
🏁 Campaign Beyond 2022! 🏁
Time to wear your creative hat folks! It's all about creating immersive campaigns that resonate and engage with your audience on multiple levels. 🤹‍♂️ Always remember, dare to be different and the results can be truly exciting! 🎆
Please note: It's crucial we maintain a considerate and respectful space for everyone. Therefore, personal names or channel names shouldn't be part of your campaigns. Additionally, refrain from adding image links; instead enrich your campaign content's visual appeal through other mediums. 👍
19
🎖️ Conclusion: Aim For The Stars 🎖️
Well folks, that's it for now! Remember, the sky's the limit and your creativity is your rocket fuel. 🚀 So go ahead, light up your campaigns and let them shine brighter than ever before! Remember, the world of social media waits for no one. So strap in, hold tight, and prepare to launch! 🏎️
Conclusion:
So, ready, set, go! 🚦Your next brilliant marketing campaign is just a few decisions away. With the right goals, metrics, resources and strategies, you are all set to take your business to the next level. And no, you don't have to navigate these waters alone. We've got your back. 😉 Remember, the best marketing campaigns are those that are unique and value-driven. Just let your creativity shine, and let your campaigns do the talking! 💬 And as always, don't forget to keep experimenting and having fun. After all, marketing is also about pushing boundaries and trying new things. So, here's to your next big banger of a marketing campaign! 🎉🎈🚀
What is a marketing campaign?
A marketing campaign is a promotional push or initiative by a company, typically tied to a major business goal. Campaigns normally involve promoting different types of content (e.g., ads, videos, images, blog posts, copywriting) across various marketing channels such as social media and email.
What are some common goals of marketing campaigns?
Common goals that companies aim to achieve through marketing campaigns include boosting brand awareness, launching new products or services, improving customer engagement and satisfaction, driving sales and revenue, increasing customer lifetime value (CLTV), and reducing customer churn.
What are the characteristics of successful marketing campaigns?
Successful marketing campaigns are usually time-sensitive, measurable, and unique. They have a predetermined duration and need to be monitored and assessed based on performance metrics. Also, their content and approach should be based on the target audience's requirements and preferences, and they should be original and not mere repetitions of past campaigns or imitations of other companies' strategies.
What is the role of goal-setting in marketing campaigns?
Goal-setting is crucial in marketing campaigns as it provides a clear direction for the campaign. It helps define what you hope to achieve and how you plan to do it. A comprehensive goal-setting framework is the SMART model, which stands for Specific, Measurable, Achievable, Realistic, and Time-sensitive.
Which marketing channels can be used for promoting marketing campaigns?
There isn't a definitive answer as it largely depends on where your company has an existing marketing presence and customer engagement, as well as where you can advertise based on your budget. Some popular marketing channels include social media platforms, email, and your company's website.
How important are metrics and KPIs in marketing campaigns?
Metrics and Key Performance Indicators (KPIs) are essential in marketing campaigns because they provide measurable data to assess whether or not your campaign achieved its goals. Common performance metrics include traffic, sales and revenue figures, event attendance, engagement like 'likes' and clicks, impressions, reach, and referrals.
What resources and deliverables are needed for a marketing campaign?
Common resources and deliverables needed for a marketing campaign include graphics, logos, ad designs, ad copy, email copy, landing page content, keyword research, social media posts, product photos, and videos. These requirements will largely depend on your campaign's nature and your business goals.
Who are the potential collaborators for a marketing campaign?
This includes a range of professionals such as email marketing experts, social media managers, SEO specialists, graphic designers, copywriters, and web designers. Depending on your budget and timeline, you might rely on in-house teams, external agencies, or freelancers.
Why is it important to set deadlines and milestones in a marketing campaign?
Deadlines and milestones are critical as they ensure your campaign progresses on time and mark the progress of your marketing push. They provide a roadmap for your campaign, including tasks, roles, and delivery dates, allowing you to better manage your time and resources.
What is an educational marketing campaign?
An educational marketing campaign is dedicated to providing informative content to the audience. Such a campaign creates resources like how-to videos, blog articles, and product demos to sell to your audience while educating them about your product or service.
What is a referral marketing campaign?
A referral marketing campaign is a long-term strategy where existing customers are incentivized to refer new customers. Customers would receive rewards such as discounts, trial offers, or free bonuses for every successful referral.
What is influencer marketing?
Influencer marketing involves partnering with influencers (individuals with a significant social media following) to promote your products or services to their followers. Micro-influencers and influencer discovery platforms have made it easier for brands to connect with relevant influencers within their budget.
What is a contest or giveaway marketing campaign?
Contest or giveaway campaigns on social media ask users to perform certain actions, like following the page, tagging friends, promoting a hashtag, or creating content, for a chance to win a prize. These campaigns are often time-sensitive and can effectively promote brand awareness and engagement.
What is a user-generated content campaign?
A user-generated content campaign encourages customers to organically promote the brand by sharing their own content, such as photos or videos featuring the product or service, usually via a designated hashtag.
What are holiday campaigns?
A holiday campaign revolves around a specific holiday or festive season, like Christmas, Thanksgiving, or Black Friday. These campaigns often involve special promotions, discounts, or themed content and can drive significant traffic and sales.
How can companies hype up product launches?
Companies can hype up new product launches with a marketing campaign that builds anticipation. This can be achieved through a high-quality launch video, pre-order promotions via email and social media, and a countdown timer on the website.
What is a customer success campaign?
A customer success campaign leverages the feedback and testimonials of satisfied customers to promote the brand and win over new customers. It usually involves curating and promoting positive customer reviews and collecting case studies and testimonials.
What is an example of a successful user-generated content and hashtag campaign?
Spotify's #SpotifyWrapped campaign is an excellent example of a successful user-generated content and hashtag campaign. It encourages users to share their most-listened-to artists and tracks every December, which results in millions of social shares and engagements.
What is an example of an effective Facebook ad campaign?
Headspace's colorful video ad campaign is a compelling example of an effective Facebook ad campaign. The animated ad was able to capture the brand's voice and provide a taste of their product, resulting in increased awareness, recall, and interactions.
What is an example of a successful Black Friday and product launch campaign?
Gymshark's 2018 Black Friday campaign is a striking example of a successful Black Friday and product launch campaign. By building anticipation and releasing a new product during the event, the campaign reached a staggering 16+ million people on Instagram and generated a high rate of return on their ad spend.