😉 Unlock the Power of Local SEO: Explained! 💻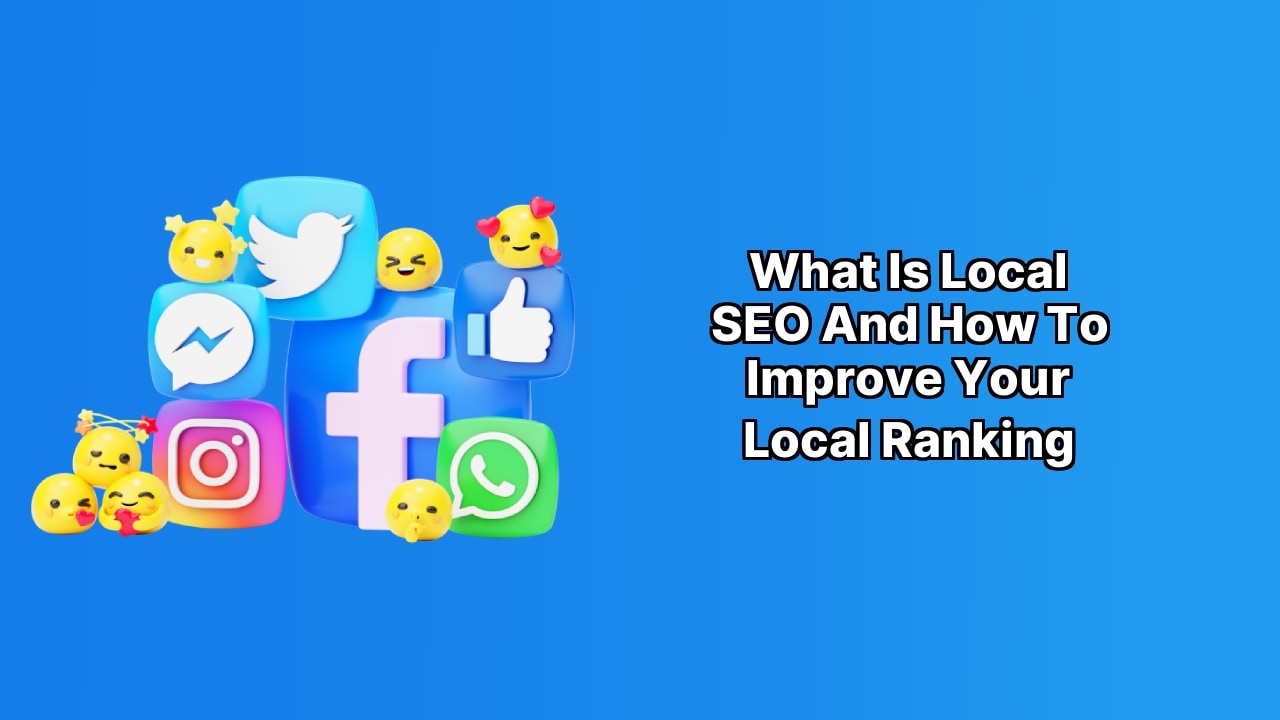 Yo, guys! 🙌 What's up? Raise your hand if you've ever tried to find a local business or service online. 🙋‍♂️ I bet that was pretty much everyone. Actually, it's a fact that 97% of all peeps are doing this all the time! (thanks to Social Media Today for that fun fact 🧐). Yeah, folks, local searches are a big deal for businesses, and if you're not showing up in those results, you're like a ninja in the dark – unseen and underrated.👥 But don't sweat it, my friends, 'coz we've got the perfect escape room for you here – the world of local SEO! Keen to learn more? Of course, you are! 😎 Let's dive straight in!
1
💻 Local SEO: Your Ticket to Sky-high Google Rankings! 🚀
Boom! 🚀💥 Did you know that a whopping 97% of folks use online search to find a local business? Yup, you heard that right! 46% of all Google searches are on the hunt for local info too, according to Social Media Today.
If your killer business isn't showing up in those local search results, you might as well be invisible to potential customers. Big "uh-oh" there, folks. 😨 But hey, I've got a cure for your ranking woes – Local SEO! It's like a crystal ball 🔮 making your business pop up when locals are searching.
2
🌍 What is Local SEO & Why Do YOU Need It? 🎯
So, what's this magical "Local SEO" I hear you ask? 🤔 Well, it's all about optimizing your online visibility for local search results. You know, when you Google "concerts near me" or "best painting service in [insert your location here]", that's a local search! ⌨
Can't stress this enough, folks – local SEO could crank your business up to 100! Why you gasp? Here are a few reasons:
Boost your online visibility! 🌐 Visibility equals customers and customers equals cash! Cha-ching. 💰💰
Bring more foot traffic! 🚶‍♀️ Got a physical store? Local SEO sends folks your way! C'mon in! 🏠
Attract targeted traffic! 🎯 Folks searching locally are looking for YOUR business. Get 'em in the door! 🚀
Build trust and credibility! 🙌 Local SEO helps you appear authentic and professional, building trust in your brand!💎
3
🍫 The 'Snack Pack' vs. Organic Search Results 🍏
Here's the scoop on how local SEO enhances your visibility with the 'Snack Pack'. So Google arranges local search results in three sections:
Sponsored – These guys appear at the top, but they're paying for that prime spot folks! 💸
Snack Pack – A box highlighting the top three business listings related to the search query. This box is more visible than anything below it! 👀
Organic results – These are the natural search results appearing below the Snack Pack listings. Still great, but not as eye-catching as that Snack Pack. 😔
⚠️ Your mission: Rank on the first page of organic local searches AND ace the Snack Pack. This equals optimum visibility and more potential customers knocking on your door. 💪
4
📈 Six Kick-Butt Ways to Boost Your Local SEO Strategy 🚀
Enough talking – Let's dive right into some local SEO boosting strategies that'll give you that edge you're looking for! 🙌
Claim and optimize your GMB (Google My Business) listing! 🚀 Stating facts here guys – this is THE most critical part of your local SEO strategy. Head over to the Google My Business website to claim or create your listing. Not sure how to optimize? 👉 Add loads of photos 📸, your business hours 🕘, relevant categories and other contact info!
Make your website mobile-friendly! 📱 With folks glued to their phones 🤳, you gotta make sure your website looks sleek on mobile. Consider click-to-call buttons for instant queries! ☎️
Collect customer reviews! 💬 More reviews = better visibility in local search, not to mention some serious reputation enhancement 🌟. So, holla at your customers for reviews on Google, Facebook, Yelp — all of it!
Build local links! 🔗 Link signals are big players in ranking. Build local partnerships, sponsorships, and guest posts to acquire those sweet local backlinks! 💻
Ensure NAP (Name, Address, Phone Number) consistency 📝 Keep your business info consistent across all platforms to make your local SEO just right! Watch out for mix-ups, folks! 👀
And there you have it, folks! With this bag of tips, you're all set to boost your local SEO and take your business straight to the Google stars! 🌟🚀
5
🔎 Listen up! Here's How Social Listening Can Power up Your Local SEO Strategy! 🚀
Yo, what's up guys! Bet you didn't think something as simple as 👂listening could kickstart your marketing game! Welcome to the cool side of gaining insights for your local SEO strategy – something we call social listening! 💡
So, what exactly is social listening? 🤔 Well, it's nothing but tuning in to what people in your target location are yakking about. Their likes, their dislikes, their wants, their needs – the works. 💬 And the best part? You can use all this to your advantage! Want to know how? 😏 Keep reading!
6
The Magic of Social listening 🎩❗
When I say social listening, don't just think it's limited to knowing if people are rocking to your brand. Nah, it's much more than that! 🌐 Here's how you can use it to your benefit:
Learn about your audience's interests: The real essence of social listening lies in knowing what gets people talking. You might find folks complaining about not having a place to chill outdoors at your cafe☕ or wishing they could get their nails done at your hair salon💇. Well, guess what? That's your cue to introduce just that and bag yourself some more happy customers!😉 Check it out on Hubspot for more insights.
Shape your local content strategy: With the right social listening tools, you could learn what your target audience is craving! This could be anything: recent happenings, local events, city news, etc. Deliver what they're seeking, and you'll be the town's favorite!😎 Also, while you're at it, use long-tail keywords 🔑 to optimize your content! Need more info? Take a look at this Notre Dame SEO guide.
Boost your online visibility: When it comes to catering for your local audience, SEO is your best buddy! Think about it – what better way to reach out to your peeps than making yourself easily discoverable online? With a killer SEO strategy, you can claim your space in local searches and see your business grow!🌳 Check out Impact's guide to SEO in 2022 for more deets.
7
Apply It To All Locations – The More the Merrier! 😜
Remember ladies and gents, your light should shine everywhere! So, apply your SEO magic to more than one location if your business stretches that far. A good local SEO strategy is a one-size-fits-all kind of thing! For more mind-blowing insights, don't forget to download the 2022 Sprout Social Index™ here! 😊
Conclusion:
Well, guys, that's all for now! SEO sounds complicated right? 🧩 But let me tell you this: It's like playing
Among us
, you have to figure it out! But once you do, it's a killer move to win the game! 🥳 With local SEO, we're talking about showing up when your potential customers are looking for precisely what you offer. Just like leveling up in
Minecraft
, it takes some work, but the results will blow your mind! 💥 So gear up, get your local SEO strategy in place and become the real deal in your local search game. And hey, don't forget to always add a bit of fun into it; it's the true spirit of the game, you know! 😜 Check out the
2022 Sprout Social Index™
for some more incredible tips for your journey. Talk soon, champs! 🙌✌️
What does local SEO mean?
Local SEO refers to optimizing a business's online presence to attract more customers from relevant local searches on search engines. Any search for a service, product, or information relating to a particular locality falls under local search. The goal of local SEO is to enhance online exposure and attract more targeted traffic to a specific location.
Can online search be impactful for a local business?
Absolutely. Social Media Today reports that 97% of users use online search to find local businesses while 46% of all Google searches aim to find local information. Hence, local SEO can profoundly impact businesses, leading to increased visibility and more potential customers.
Why should a business aim to rank in local search results?
If a business isn't visible in local search results, it might miss out on potential customers. Ranking in local search results can generate valuable traffic and translate into increased customer engagement and business growth.
What are the key benefits of local SEO?
Local SEO can offer numerous benefits, including increasing your online visibility, boosting foot traffic to physical locations, attracting targeted traffic to enhance conversion probabilities, and improving business credibility and trustworthiness.
What is a snack pack in local SEO?
In local search results, Google classifies results into three sections: sponsored, snack pack, and organic. The snack pack presents the top three business listings related to a search query in a box that appears more prominently than organic local search results. This enhances visibility and improves chances of attracting targeted traffic.
What is Google My Business and how can it affect local SEO?
Google My Business (GMB) is a tool from Google that lets you create free business listings. According to Moz, it's one of the top components Google uses to rank businesses in organic local search and snack pack results. Therefore, claiming and optimizing your GMB listing is a critical part of your local SEO strategy.
Can mobile optimization influence local SEO?
Definitely, a growing number of consumers are using mobile devices for local searches. A study by Uberall showed that 82% of participants had done a near me search on their mobile devices. Thus, creating a mobile-friendly website can genuinely impact your local SEO.
How can customer reviews boost local SEO?
Review signals such as a large number of authentic and positive reviews can significantly contribute to your local search and snack pack ranking. This can enhance your business's local search visibility and improve its reputation.
Are organic search results important in local SEO?
Yes, organic search results are vital for local SEO. Even though they appear further down on the page, ranking on the first page of organic search results could extend your online visibility. Therefore, a primary aim of local SEO should be to rank both in the local snack pack and on the first page of organic local searches.
How does link building fit into local SEO?
Just like traditional SEO, link building is an essential component of local SEO as link signals like linking domain authority and quantity can influence local search rankings. The focus on local SEO, however, should be on earning links from authoritative websites relevant to your target location.
Why is NAP/citation consistency crucial for local SEO?
Google uses citation signals such as citation volume and NAP (Name, Address, Phone Number) consistency to determine local search rankings. Ensuring your business NAP is consistent across all platforms is essential for boosting local SEO.
How can social listening contribute to a local SEO strategy?
Social listening can provide valuable insights into what people within your target location are saying. These insights can drive changes to your business strategy, product, and service offerings, leading to improved local SEO.
What should you focus on when optimizing your website for mobile users?
You should create a mobile-friendly website that is easy to navigate and find crucial information. Additionally, adding clickable call buttons on your site and GMB listing can enhance connection with mobile users who make up a significant proportion of the local search population.
Can businesses optimize their presence in GMB?
Yes, businesses can optimize their Google My Business profiles by sharing regular updates and fresh content. This can enhance rapport with customers and increase visibility in local searches.
What platforms should businesses focus on for review collection?
Businesses should prioritize platforms where Google anticipates reviews, including their website, GMB listing, social media profiles, and customer directories such as Yelp, Foursquare, and Angie's List depending on your business type.
How can partnerships enhance local link building?
Partnerships with authority websites in your target region, such as local trade associations or educational institutions, can yield valuable backlinks for a robust link profile, contributing immensely to your local SEO strategy.
What are some effective ways to maintain NAP consistency?
To maintain NAP consistency, regularly review and correct any discrepancies in your business name, address, and phone number across all platforms. Actively search for duplicate listings and resolve them promptly to improve your local SEO.
How can local content strategy enhance local SEO?
A robust local content strategy tailored to audience interests and priorities can dramatically improve local SEO. It enables you to provide the information that your target audience is actively searching for, thereby driving traffic and boosting online visibility.
Can local SEO be applied to multiple locations?
Yes, local SEO efforts can span various locations. If a business operates in multiple areas, the ideas and strategies of local SEO can be universally applied to improve visibility and attract potential customers.
What sources can help businesses learn more about local SEO and other digital marketing trends?
The 2022 Sprout Social Index™ provides valuable insights to help businesses understand and effectively use local SEO and other digital marketing trends.