🔥Master the Art of Link-In-Bio Game on Instagram💥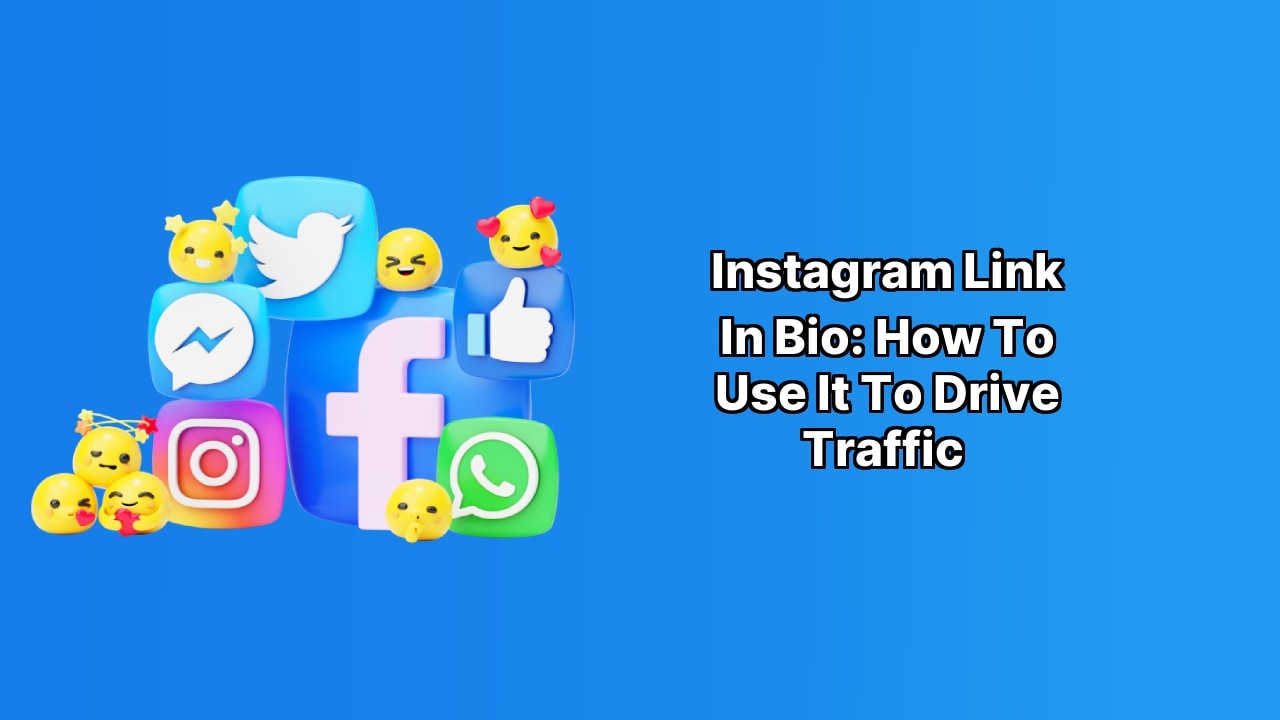 Hey there, savages of the internet world, getting ready to bust the Instagram algorithms 🔥, aren't we? So, let's not waste time. The magic trick to slingshot your brand on Instagram and rack up that mucho traffic on your main site is by weaponizing 'link-in-bio'. It's like having a secret combo move in a game; you know, a bit like those wild power-ups 💥. So here, we're going to unravel the steps to exploit this super cool tool on Instagram, just the way we're used to doing things – go big or go home, right?! 🚀 Buckle up; we're going on a wild ride!
1
💥Crack the code of Instagram – Link in Bio Phenomenon!
Aha! Caught your attention with that explosive intro, didn't I? 😇 Well, this is what you're gonna learn today. Handle links in your Instagram bio like a pro and watch the traffic flood your website. 'Link in Bio' – Heard of it?! That's what we're mastering today, fellas. Let's get it! 🚀
2
🤔What does 'Link in Bio' mean, actually?
Buckle up, 'cause we're going deep into the Instagramverse!💫 The term 'Link in Bio' is your gateway to add clickable URLs in your bio section. Most social media platforms give you the freedom to link your website, product pages, content, or an important page that needs attention. It's like giving a whirlwind tour of your brand from within that little profile! 🌪️
😇 Facebook and Twitter users will find it easy-peasy since they can include links right within their posts. Instagram, however, plays hard to get 😉. Accounts with more than 10,000 followers can share links through Stories. For others, links in bio is the way to go. Using this, each bio can house up to five link destinations! How's that for innovation! 💡
Wait! There is more. 🤩 'Link in Bio' tools can stack up all these essential destinations in a custom landing page via one single URL. This means the user has one-click access to all your important links! Woah! 🤯
3
✨Adding a link to your Instagram Bio is as easy as 1, 2, 3!
Are you ready to link and roll? Follow these easy steps:
😉 Go to your profile and tap on the "Edit Profile" button.
💻 Enter the URL of your choice in the "Website" field.
💓 Tap "Done" and BOOM! The Link in your Instagram bio is ready to rock.
4
🛠️Link in Bio Tools – Your Secret Weapons!
Sometimes, one link is just not enough! 😉 If you wish to provide your followers with links to more than five pages and products, use a 'link in bio' tool. Lemme drop some knowledge on a few options you might want to consider:
5
💣Making the most of Instagram Link in Bio!
We've covered the basics, and now let's see a few ways you can charge-up promotions using these smart links:
🎉 Flaunt the ongoing sale or upcoming discount by linking the sale page!
🚀 Promote a product launch by leading users to a landing page with all the exciting info about the new product.
🎁 Share links to popular blogs, latest articles, giveaways, and make the competition fierce!
🌐 Link your 'About' page where visitors can learn in-depth about your brand or product.
📺 Make your podcasts or videos popular by directing visitors to them.
💖 Lastly, don't forget to link your best-selling products!
There you have it! The amazing world of Instagram Links in Bio. So, go on, give it a try and watch your website traffic surge! 🚀
6
Blast Your Bio Link into the Cosmos of Success!🚀🌐🔗
Want to turn your bio link into a traffic magnet? 😲🧲 Hold up! Let's delve into some wicked strategies that can help fine-tune your link usage for MAXIMUM impact! By cranking up your game, you'll be drawing in high-grade leads who won't be able to resist clicking away!
Revamp your bio link in a way that transforms it into a selling point for your brand. It's not just about sticking a URL and hoping for the best, it's about using the link to further your ultimate goal – conversion! 🎯 So get ready, ladies and gents, as we dive into a jam-packed guide. Don't overlook the vital integration of these dope tips into your Instagram marketing strategy for a killer mix. 🧪 Let's get this party started! 🎉
7
Tactic Numero Uno – Be a Conversion Conductor!🤟🚀
Hyperlinks are powerful tools💪. They're not just ordinary tools, they are secret weapons that can steer the wheel towards the funnels of conversion. And guess what? Your link in the bio is no exception to this!🔥 It's like your business's magical portal that transports potential customers right where you want them. So, why not polish that portal and make it irresistible? 😏
8
What's the Drill for Building that Pull?🛠️🎣
First off, attractiveness is the key.🔑 Make sure your link serves a solid introduction to your brand with a dash of intrigue thrown in! Intrigue goes a long way in delivering that fatal attraction.😉
You've got to keep it fresh. 🍃💡 Updating your bio link regularly to cater to current campaigns or product launches could pump up those engagement levels. So, never let 'em see you getting old. 😉
The magic of simplicity.✨ Avoid using long, ugly URLs. Remember, beauty lies in brevity, and the easier it is to read, the higher the chance people will click! So, trim that URL to look slick and neat like a snazzy sports car ready to drive up your traffic! 🚀🏎️💨
Well, hold on to your cap! You've journeyed far, but there's a tad more to go before you hit the bullseye.🎯 Before you race off, don't forget to check out our Instagram marketing strategy guide to help you see just where this whole bio link dazzling magic trick comes into play in your grand scheme of things. Trust us, it's one pretty important chapter in your business success story!✍️📚
Conclusion:
And that's a wrap, folks! 🎬 We've cracked the code on how to boss the 'link-in-bio' tool on Instagram for scaling up your brand presence and driving crazy traffic to your main site. Sky-rocketing your social media game never got so easy, huh?! 🚀 You've got all the tips and ideas you need! Now, it's time to hit the stage and make some noise with this awesome feature. And if you want to deep-dive into the savage world of Instagram marketing, don't forget to hit ⬆️ our
Instagram Marketing Strategy Guide
📖. As we always say, why stop here when you can go beast mode! Let the games begin! 🔥
What does the term link in bio mean in the context of Instagram?
The phrase link in bio on Instagram refers to the clickable hyperlink that users can insert in the biography section of their profiles. This link normally redirects followers to the profile owner's website, product page, a particular piece of content, or any other relevant webpage. Unlike other social media platforms such as Facebook and Twitter, Instagram restricts the sharing of clickable URLs within post captions. Thus, the link in the bio becomes a crucial tool for many Instagram users to redirect their followers to important URLs or pages.
Are the bio links on Instagram really that essential?
Yes. For those running a business or trying to build an audience through Instagram, the links in the bio are paramount. They serve as an integral part of their digital marketing strategy as they drive followers from Instagram to their website or other important pages. Since Instagram allows only one clickable hyperlink in the bio, these links need to be carefully chosen and managed to ensure they direct followers to the most important and relevant pages.
Why are Instagram's bio link capabilities different from Facebook and Twitter?
Unlike Instagram, Facebook and Twitter allow users to share clickable links to individual pages, products, or content directly within their posts. While having a link to your homepage in your bio might suffice on these platforms, on Instagram, you're limited to sharing only one hyperlink in your bio. That's why it's more crucial for an Instagram user, especially those with less than 10,000 followers, to effectively leverage their link in bio.
Why does Instagram restrict the sharing of links within post captions?
It seems to be a policy of Instagram to maintain a specific user interface and experience. Instagram has always been a platform focused around the use and sharing of visual content, and the absence of clickable links in individual posts helps to maintain this focus. By doing so, Instagram is keeping the user experience centered around browsing and engaging with images rather than clicking on links.
How can one add multiple links to their Instagram bio?
Even though Instagram restricts users to only one hyperlink in their bio, there are tools like SproutLink, Linktree, Feedlink, and Lnk.Bio that allow users to bypass this restriction. These tools let users create a customized landing page with all the desired links. The URL of this landing page is then added to the Instagram bio, allowing followers to access multiple links from one central location.
What are the benefits of using an Instagram bio link tool?
Using a bio link tool enhances the user experience by giving your followers easier access to all desired links from one place. This helps keep potential leads and traffic that might have otherwise been lost due to Instagram's restriction on links in individual posts. Moreover, bio link tools enable businesses to highlight multiple products, posts, pages, and services, increasing the reach and visibility of their online offerings.
How can I add or change the link in my Instagram bio?
To add or change the link in your Instagram bio, first go to your profile and click the Edit Profile button. Next, enter the desired URL in the Website field and click Done. The link will now appear in your bio, ready for your followers to click on.
Can I use the Instagram bio link to promote my products or services?
Absolutely. Businesses often use the link in their Instagram bio to direct followers to their products, services, content, and any other pages of importance. From promoting a current sale or new product launch to directing followers to popular blog posts or contests, the bio link can be leveraged in numerous ways to promote a business and boost engagement.
Why is it beneficial to use a custom URL on Instagram?
Using a custom URL in your Instagram bio can add credibility, match with your branding, and allow followers to easily identify your business. Custom URLs not only look more professional, but they are also easier for your followers to remember, increasing the likelihood they revisit your site.
Can I monitor the performance of the links in my Instagram bio?
Yes, you can. Most Instagram bio link tools come with built-in performance tracking features. These allow you to monitor the click statistics for each link, giving you valuable insights into the performance of your links and how your followers are interacting with them.
Can I highlight a cause or charity using my Instagram bio link?
Yes, your Instagram bio link is not restricted to just business promotions. You can link to any webpage that you feel is important to share with your followers. If you want to raise awareness about a cause or charity, you can certainly use your bio link to direct your followers to the related webpage.
What kind of content can I promote using my Instagram bio link?
Businesses use the Instagram bio link to promote a wide range of content such as blog posts, products, news articles, events, and more. Essentially, any content that can be hosted on a webpage can be promoted using the Instagram bio link.
How do Instagram contests benefit from the bio link?
Instagram contests or giveaways are popular ways of engaging followers and attracting new ones. Businesses often use their Instagram bio link to direct followers to the contest rules, registration page, or other relevant pages, hence enhancing the promotion's visibility.
Can I link to a video or podcast using my Instagram bio link?
Absolutely. Your Instagram bio link can direct followers to any URL, including a video, podcast, or any other form of media content. This can be a helpful way to promote your multimedia contents and make them easily accessible to your audience.
Can I use my Instagram bio link to offer a free product sample or demo?
Yes, you can. You can share a link to a page where followers can sign up to receive a free sample or demo of your product. This strategy not only offers value to your followers but also serves as an effective way to gather valuable leads.
What are the advantages of using an Instagram bio link?
The biggest advantage of using a bio link on Instagram is that it can help drive targeted traffic to your website or other online content. It serves as an effective digital marketing tool, allowing you to promote your products, content, events, and other offerings to your followers on Instagram. Moreover, it's an excellent way to gather leads, as it often involves directing followers to a webpage where they can provide their contact information.
Can influencers benefit from the Instagram bio link?
Yes, influencers, like businesses, can significantly benefit from using a bio link on Instagram. They can use it to promote their blog posts, collaborations, events, merchandise, and any other content or products they want their followers to access.
How does the Instagram bio link contribute to the conversion funnel?
The Instagram bio link plays a pivotal role in the conversion funnel by acting as a bridge between Instagram and your website or other online offerings. By directing your followers to product pages, landing pages, or other areas of your site, the Instagram bio link can help move your followers along the conversion funnel—from awareness to consideration, and ultimately, to conversion.
Are there any restrictions on what the Instagram bio link can point to?
As long as the content adheres to Instagram's community guidelines and terms of use, there are no specific limitations as to what your Instagram bio link can point to. It can direct followers to any URL – your website home page, a product page, an article, a video, a podcast, or any other online content.
Is there a cost associated with using Instagram bio link tools?
While some Instagram bio link tools like Linktree and Lnk.Bio offer robust features in their free versions, they also have paid plans that unlock additional features. The prices for these plans vary by provider, starting from as low as $0.99/month. Thus, whether or not there's a cost involved largely depends on your specific needs and which provider you choose.