🔥 Spark Up 📱 Your Instagram Stories with These Amazing Ideas 🌟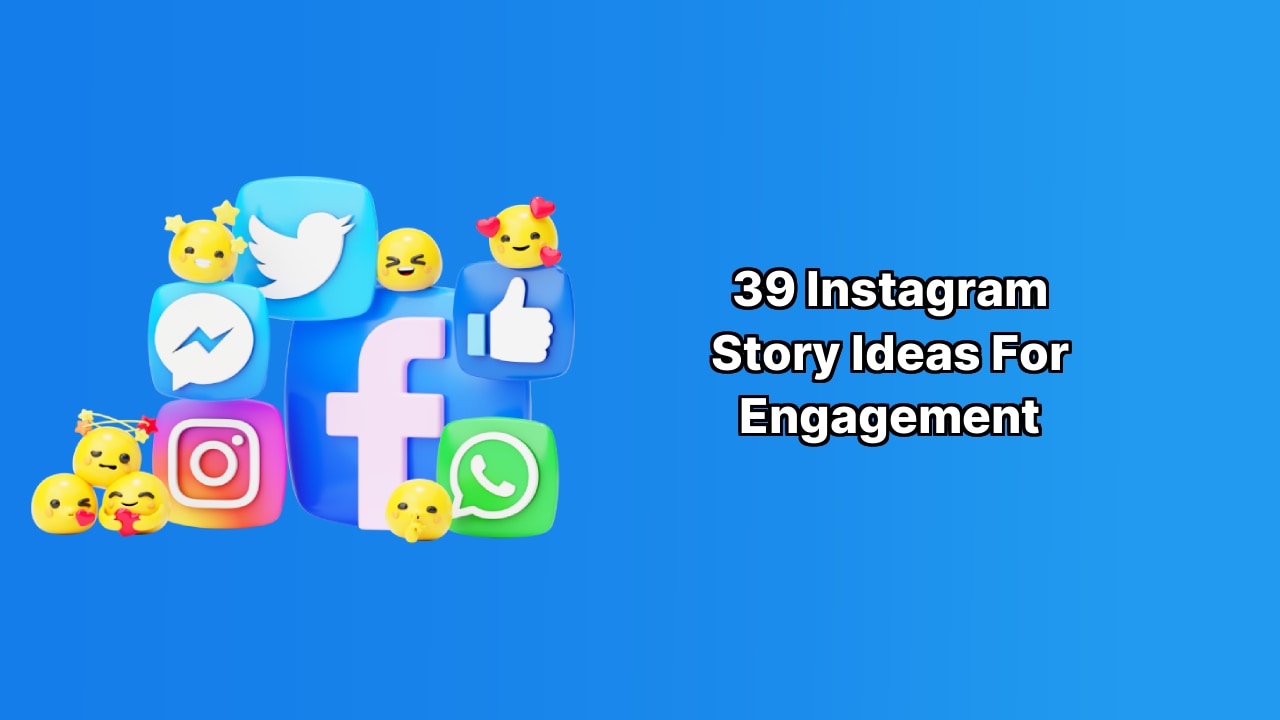 💥 Boom! Welcome, guys! Events, random stuff, chilling, or just life in general, we LOVE sharing it on Instagram Stories. 📷 Right? Want to make your Insta game even stronger? Here's your golden opportunity to do so! If you've been snoozing 😴on refreshing your Instagram story ideas, it's time to wake up! Let's discover how Instagram Stories can be a game-changer for engaging with your audience. 🚀 Go beyond the usual and dive into 39 fabulous Story ideas that'll keep your feed buzzing with likes, comments, and shares! 🎉
1
💥Booom! Boost your Instagram Game with these Stellar Story Ideas!💪
Ready to level-up your Insta influence? You've come to the right place! Instagram stories are powerful weapons to engage your audience. Yup! More stories = More opportunities to creatively engage!🎨 So let's dive into some crazy-awesome Instagram Story ideas that will have your audience hooked.🎣
2
Business booster Instagram Story ideas💼🚀
<h3>Create a 'This or That'</h3> A fun, interactive way to engage peeps. They love voting for 'This' or 'That' and getting to see what's popular. Magic? Almost.🎩🐇 You can even do some undercover product research like clothing company Rawson did! <h3>Promote Discounts with Stickers</h3> Discounts are like candy – we all want em'.🍬 And guess what? Instagram stories are one of the best places to promote your sweet deals! Mix in some discount codes and include a sticker that links directly to your products, and voila! You're golden. 🥳 <h3>Countdown a Product Launch</h3> Who doesn't love good old suspense? 😲 Creating a countdown to an upcoming product drop creates epic hype! Bonus points for Instagram countdown stickers allowing viewers a reminder when the excitement is over, so they're one of the first to shop! <h3>Share your Blog or Article content</h3> Know what's better than sharing your latest blog or article? Sharing it on your Insta Story with a handy dandy link sticker that sends folks right over to read it! Check out how the pet insurance company Figo does it for inspiration. 📒 <h3>Use stickers to Emphasize your content</h3> Stickers aren't just for kindergarteners anymore! 😉 Use cute graphic stickers to add emphasis to your main points!
3
Use Cute Instagram Story Ideas 💖
<h3>Create a game</h3> Who said games were only for kids? Not Instagram! Use games to help engage your audience and make your story even more entertaining! 🎮 Check out Crumbl Cookies' guessing game for some inspiration! <h3>Write a Thank-you for your followers</h3> Your fans are the rockstars that power your Instagram journey, right? 🌟 Show them some love when you hit a new milestone – be it a new follower count or selling out of a product. <h3>💫Last but certainly not least: Share Uplifting and Inspiring Content</h3> In our daily hustle and bustle, we can all do with a bit of positivity! 😊 So make someone's day with a bit of inspiring content. Heads up! 💡 Engagement is the name of the Instagram game. And thanks to our tips, you're all set to score a hat-trick! 🎩🎩🎩 So get out there and put these brilliant ideas into action, and watch your Instagram fans shoot up! See you at the top! 🚀
4
😎 Innovatively Embrace Inspirational and Uplifting Moments 😎
Ever wondered how the epic vibe-making moments are created? Well, it's all about inspiration and uplifting scenarios that we stumble upon every day. They tend to have a profound effect on our emotions and, remarkably, they're highly sharable.
Need an example? Look no further than those touching stories of human triumph and resilience, like the one from Lurie Children's Hospital. The story brought to life a former patient who grew up to raise money for the hospital. Indeed, it's simply emotional, uplifting, and inspirational.
💡 Key Takeaway: Inspirational content doesn't have to be monumental – just share genuine human stories and uplifting quotes. Don't forget to also embrace cute and furry friends in your content!
5
🐶 Feel the Power of Cute Pets🐾
Who can resist the charm of a cute otter, a fuzzy kitten or a playful pup? Animals have a knack for going viral because they offer an attention-getting factor to your content. Don't believe it? Just think about those "aww" moments when you see cute animal posts.
Regularly featuring pets in your content series, like for "Fuzzy Fridays" or "Working Like a Dog Wednesdays", can keep audiences engaged and waiting for the next adorable moment.
🚀 Bonus Tip: Use user-generated content featuring your audiences' pets and you will have yourself a super-engaging series that goes beyond just sharing content but also building a community
6
🔙 Throwback Thursday is Forever Young!
Introduce a bit of nostalgia into your content mix with "#TBT." It's a precious throwback to the good old days. No matter how young or old your business is, there's always something to look back on and share.
Share what your storefront looked like when you first started.
Take a journey back in time to your first office before everything exploded.
Showcase the initial version or blueprint of your product.
Compare your artwork, space or product from a few years ago to today.
Enjoy the magic of Throwback Thursdays and reshuffle your past successes by sharing them again. You just might go viral one more time!
7
💃 Show off Your Outfit of the Day #ootd
Do you fancy fashion trends? Are you inclined to sports teams' gear or students showing school pride? Then showcasing your outfit of the day is your ticket to building a more personable and relatable presence!
On top of that, you can lean into user-generated content to add even more authenticity and credibility to your content. Encourage followers and fans to share their #ootd featuring your brand. Connecting with your audience using everyday moments like these encourages strong and enduring brand loyalty.
8
🎤 Spark Interactive Conversations with Your Audience 🎤
One great way to really become part of your audience's life is by asking their opinion on topics that matter to them. Starting an "Ask Me Anything" (AMA) session provides you with a goldmine for engaging with your community and sparking future content ideas.
Your audience is full of insights, experiences, and opinions just waiting to be shared. So, why won't you dive in? Let them realize that you value them by giving them the chance to ask anything, start a poll, quiz or prompt.
🔥 Hot Tip: AMAs, Polls, and Prompts are not only fun engagement drivers but also valuable sources of audience insights for your next big wave of content. Soak it all in, interpret, implement, and innovate!
9
📸 Share in Style with Artistic Collages and Custom Layouts 📸
Collages are a beautiful way of showcasing multiple visuals in your content. They serve as visual catalogs that easily feature lookbooks, mood boards, and more. With photo editing tools, you can go beyond Instagram's 'Layout' option and make more creative, custom layouts that bring your brand to life.
Whether it's a brand-specific story or an ongoing series, custom layouts ensure visual consistency across your content. Plus, using apps like Canva and Sprout Social can save you tons of time and ensure your content stands out!
10
🧭 Turn Your Brand into a Story with Instagram Story Ideas
How does revealing behind-the-scenes activities, using emoji sliders, or showing how your product is made sound? They all offer a peek behind the curtain and tell the ongoing saga of your brand.
And that's not all! You can create guides, prompts, and quizzes to keep your audience tapping and coming back for more. It's all about creating interesting narratives and interactive moments that effectively engage and motivate your audience members!
💡 Remember: Keep your content interactive, uplifting, and insightful. Engage with your audience, accentuate the small moments, and most importantly, have fun along the way!
11
🚀 Become an Instagram Stories Superstar 🌟
Hey, you're already here, and I know you can't wait to make your Instagram Stories📱 pop out. Whether you're out to inspire, be hilarious or interesting, let's amp your digital game. Buckle up, this ride is fast and fun. 🎢
Instagram has so much to offer for your Instagram Stories. By the end of this read, you'll be eager to try these tips out, and I promise, it'll be worth it.✌️
12
💲 Fundraisers and Small Business Support
Brace yourselves for some feel-good vibes.🥳 With Instagram, you can launch your own fundraiser or even support a small business you root for. Begin your story and hit the "Donation"🎁 sticker. Choose your preferred organization, and post your story. You'll see how much is raised and who chipped in. Pretty cool, right? ❤️
Also, if your heart is with small businesses, don't forget the "Support a Small Business"🏬 sticker. Why not both? There's no limit when it comes to helping out.
13
🎭 Meta Avatars and Memes
Share the many faces of you with Meta Avatars😇. Select the "Add your Meta Avatar"👤sticker and explore an array of emotions. Go beyond selfies, folks.
You know what's both fun and engagement-boosting? Memes! Share memes that are trending or even create your own spin on them. Bet you'll have some good laughs, and hey, who knows – you might even go viral.📈
14
🔄 Before and After Reels
Show your progress or transformation using Instagram's before-and-after feature. It could be DIY projects, organization efforts, hair transformations💁, or makeup tutorials💄 — you name it! Remember, your followers love to see the magic unfold.✨
15
🎉 Instagram Story Birthday Ideas
Celebrate your birthdays or your brand's anniversaries in style with Instagram. Kickstart the hype using a countdown tag🔢 and let the enthusiasm build up! If you're in for double the fun, consider giving away discounts or launching new products on the big day. A win-win, isn't it?🎁
Another smart move is to create a digital birthday card🎈. An effective call to action, or an exciting benefit, can drive your fan engagement right into the top corners. Bingo!🥳
Create a custom hashtag📛 for your special day and urge your fans to use it. This is an excellent tool for user-generated content and further interaction.
And how about some birthday music🎶? Dive into your stickers, pick the Music sticker and create a merry vibe. TikTok isn't the only place to groove!💃
16
🤳 Instagram Story Selfie Ideas
If you're promoting a new show or movie🎬 or a product launch🚀, Filters and AR effects🎩 are your best friends. Capture your audience's attention and keep them hooked!
You could also design your own filters😎 and prompt your event attendees to use them. Or why not venture into a dance💃 trend, thanks to Instagram's "No Hands" feature? Don't just narrate, show!
Well, that's it guys. Instagram stories can ramp up your engagement meter and skyrocket your visibility. There's an infinite stretch of creative choices🎨, and all it needs is your magic touch. Focus on your strategy and witness your growth story unfold on Instagram one Story at a time!🚀
Conclusion:
Phew! 🥵 That was a lot, but we sure had fun, didn't we? So, guys, this was all about how you can energize your Instagram Stories and keep your followers coming back for more. Whether it's for business or fun, the sky's the limit when it comes to creating Instagram Stories that captivate. 🌈 So why be okay-ish when you can be the best? Remember, the kind of content you post matters and it's all about creating something that your followers will love to interact with. 😍 Keep rocking your Instagram, guys, and until next time, stay awesome! 🤘
What are Instagram stories and why are they important for marketing?
Instagram stories are a feature that allows users to post photos and videos that disappear after 24 hours, similar to Snapchat. They are vital for marketing due to their visibility at the top of the follower's feed and the possibility for regular posting without overwhelming the audience. They also offer more opportunities for creative engagement and interactive content, making them a popular choice for brands as over 33% of users use Instagram stories more than five times per week.
Can you share some Instagram story ideas for businesses?
Instagram story ideas for businesses could include polls for customer engagement or research, promoting discounts using stickers, using a countdown to create hype for a product launch, sharing blog content directly from your story, emphasizing your content with stickers, and more. Companies can also share customer reviews, behind-the-scenes glimpses, or introduce team members for an authentic and transparent experience.
What are some fun or cute Instagram story ideas?
Fun or cute Instagram story ideas can include creating interactive games, thanking followers for milestones achieved, sharing uplifting or inspiring content, including pets, engaging in Throwback Thursday content, sharing outfits of the day, or answering frequently asked questions from the audience.
What are some ways to engage followers with Instagram story questions?
You can engage followers with Instagram story questions by asking for their opinion on a topic, starting an ask me anything session, starting a poll or a prompt, or starting a quiz. All of these ideas use Instagram's interactive stickers to create engaging and interactive content.
What are some Instagram story layout ideas?
Instagram story layout ideas could include sharing an artistic collage, using a photo editing tool to create a custom layout, layering one photo on top of another, or creating a step-by-step guide. These options allow for flexibility and creativity in presenting content.
What are some cool Instagram story ideas?
Some cool Instagram story ideas could include walking followers through how a product is made, using emoji sliders for fun interaction, sharing a fundraiser, adding your Meta avatar, sharing trending memes, or showcasing before-and-after transformations.
What are some Instagram story ideas for birthdays?
Some Instagram story ideas for birthdays could include doing a birthday countdown, creating a digital birthday card, adding a custom birthday hashtag, playing happy birthday music, or even throwing a virtual party.
What are some Instagram selfie story ideas?
Instagram selfie story ideas could include using a filter that promotes a new show or movie, taking a selfie with a custom filter for your business, using the no hands feature to perform a dance, or even just sharing a day in your life.
Are there any limits to the kind of content you can create with Instagram Stories?
While there are some guidelines and best practices to follow, there are essentially no limits to the content you can create with Instagram Stories. From behind-the-scenes tours to customer testimonials to how-to guides, the possibilities for creative, engaging, interactive content are vast.
How can businesses increase their engagement with Instagram Stories?
Businesses can increase their engagement in several ways. Experimenting with different content types like polls, quizzes, and prompts can help increase interaction and engagement. Moreover, using features like Stories stickers can boost visibility and traffic, while promoting discounts or countdowns can drive sales. Ultimately, providing value and connecting with your audience will help foster greater engagement.
What are some effective marketing strategies for Instagram Stories?
Some effective strategies could include posting consistently, experimenting with different content types, incorporating interactive elements like quizzes or stickers, combining in-feed and story content, and utilizing user-generated content. Brands can also boost traffic by incorporating features like the link sticker in their stories.
How can businesses track sales through Instagram Stories?
Businesses can track sales by using UTMs codes in their links for Story stickers. These codes can track any sales you make through your Stories, which can help you connect your efforts back to business goals and prove your marketing's ROI.
What are some practical ways to create engaging Instagram Stories?
Practical ways to create engaging Stories could include repurposing blog or social media content, involving the audience via questions or polls, sharing behind-the-scenes content, and creating a visually appealing layout with the help of design apps like Canva. Remember, the key is to create content that your audience finds valuable and engaging.
Why are Instagram Stories popular for promoting limited-time discounts?
Instagram Stories are popular for promoting discounts because of their visibility at the top of the follower's feed and the high frequency of users checking their Stories. It allows brands to remind followers regularly about the promotion without overwhelming their feed. The use of link stickers also allows viewers to shop directly from the Story.
How do countdown stickers help in product promotion on Instagram?
Instagram's countdown stickers are a great tool for creating hype towards an upcoming product launch or special announcement. Viewers can enable a reminder when the countdown ends, which can lead to increased traffic, anticipation, and conversion rates when the time comes to shop or check in.
How can businesses humanize their brand through Instagram Stories?
Businesses can humanize their brand by sharing behind-the-scenes content, introducing team members, or sharing candid moments from the workday. Engaging with followers through questions, polls, or AMAs can also show a more personal side of the brand while fostering trust and community with the audience.
What are some ways to leverage user-generated content in Instagram Stories?
User-generated content can be leveraged by encouraging followers to share their experiences with your products or services, using a specific hashtag, or submitting photos. This content can then be reshared in your Stories, providing authentic social proof while also making your followers feel valued and involved.
How can Instagram Stories drive traffic to other content such as blog posts or articles?
Instagram Stories can drive traffic to other content by using the link sticker feature, which allows you to link directly to blog posts, articles, or other content from your Story. This is an effective way to drive viewership without making followers navigate away from the platform.
What are some ways to create catchy and interactive Instagram Stories?
Catchy and interactive Stories can be created by using Instagram's various features like quizzes, polls, slider emojis, link stickers, custom filters, and more. Regularly updating content and experimenting with different styles and subjects can also keep viewers engaged and coming back for more.