Maximize Instagram Stories Highlights to Boost Your Brand! 😎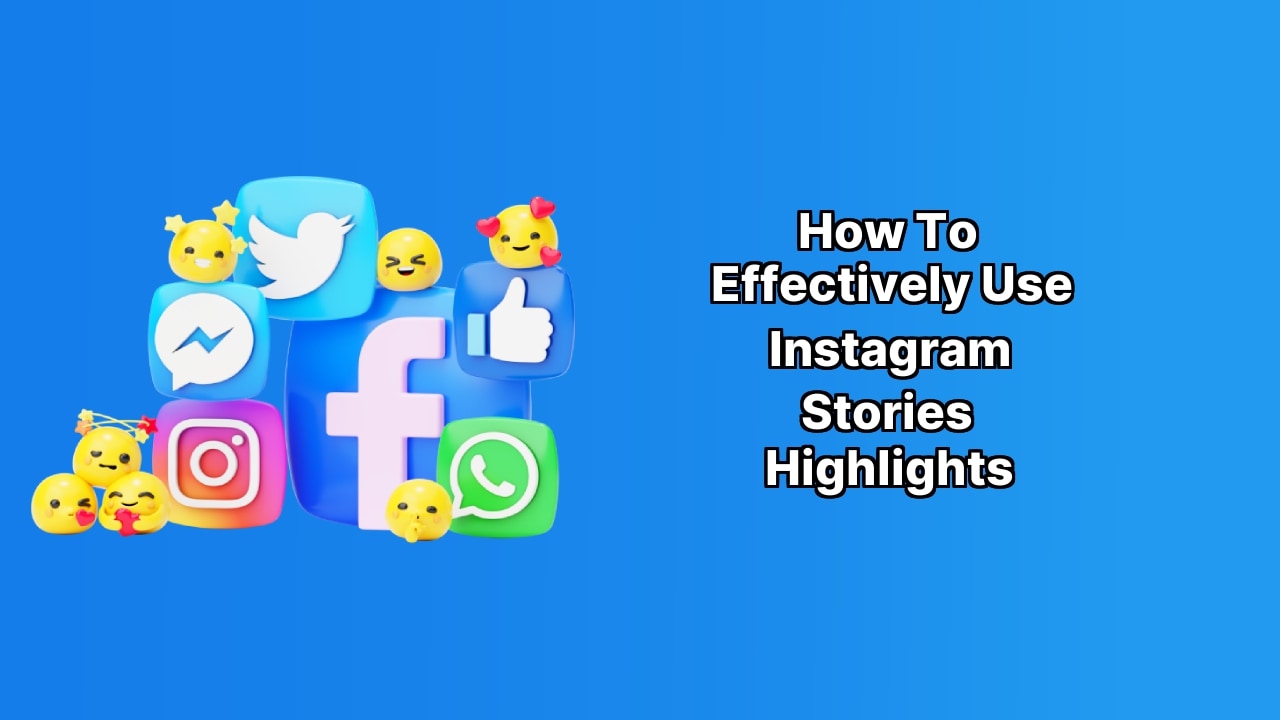 Fellow marketers, are your Insta stories expiring faster than ice cream melts in a desert 🍦☀️? Fear not! Instagram Stories Highlights swoop in to save the day! 💪 Your precious content is about to get a Second Life with this feature where you can save the best of your stories beyond the 24 hours expiry! They'll be the cherry on top of your profile cake 🍰, ready for your followers, old and new, to relish anytime they want! 🎉 In this article, we'll dig deeper into what are Instagram Stories Highlights and how to create and use them efficiently for your brand. So buckle up, as we dive in! 🚀
1
🔥 Instagram Stories Highlights: The Ultimate Explainer! 🔥
Boy oh boy, is Instagram Stories worth the hype or what? 😎 With unlimited potential to connect with your fans, it only lasts 24 beautiful hours. Such a bummer, right? ✨ But hey, did you know there's a wicked cool way to immortalize those Stories? Meet – 🥁 drum roll please 🥁 – Instagram Story Highlights! Let's get this party started!🎉
2
💡 What are Instagram Stories Highlights? 💡
✨Instagram Stories Highlights✨ is like a VIP room for your Instagram Stories. It lets you save your Stories right on your profile, letting your fans old and new bask in their awesomeness even after the 24-hour expiration date. 💯
For example, if you peep the Instagram feed of
, they save their Stories into neat little categories. So, if you have a thing for specifics, you can dive right into your jam. And the best part? These Stories keep gaining views and interaction way past their debut date. Sweet, ain't it? 🌟
3
👣 How to Set Up Your Instagram Stories Highlights? 👣
To get started with your Instagram Stories Highlights, think of how you can compartmentalize your content. Consider the various stuff you share. Can you divide it into sections? Something like:
Behind-the-scenes 🎬
Meet the team 👩‍💼👨‍💼
Reviews 📝
Blog posts 📚
Products/Services 👓👜
Events 🎉
Once you've listed your categories, get down to creating your Highlights. Hop over to your Instagram profile and under 'Story Highlights,' select 'New' and choose Stories from your archive for your new Highlight. And voila, your Stories are now ready to win hearts forever! 😍
4
🎯 How to Nail Instagram Stories Highlights Like a Pro? 🎯
Presenting 10 killer ideas to rule Instagram Highlights' world:
5
Showcase Your Products or Collections
Give your fans a tour of your virtual shop. Exhibit your product varieties or highlight one product at a time and link it using Instagram Shopping. 💼🛍🔗
Keep your fans in the loop by sharing your company's milestones. Seeing all the highs your company has hit is sure to give your fans the warm fuzzies. 🎉🗞
Offer your audience practical and valuable educational content. This could be blog posts, tips, workout routines, healthy recipes; you name it! Get creative! 🧠📚
Trying to get the word out about upcoming or recurring events? Instagram Story Highlights got your back. Spread the word and watch the registrations pour in! 🥳🎟
Create an FAQ Highlight to answer all common customer queries in one place. Easy accessibility to information? Check. Clever use of Instagram features? Check. 💪🎯
10
Show Off Your Rave Reviews
Humans are social creatures. We love affirmation. Showcase your positive reviews and testimonials in a Highlight to boost your credibility. 🌟💬
11
Hook 'Em with Fun Content
Sharing fun content like quizzes and puzzles is a sure-shot way to keep your fans coming back for more. 🎲🧩🤩
12
Spotlight Your Campaigns
Kicked off a new marketing campaign? Make a Highlight just for it. Now, your campaign will shine in the limelight as long your campaign runs. How's that for being strategic? 😉🔦
13
Let Your Fans Meet Your Squad
When fans see the faces behind a brand, they feel more connected. Share day-in-the-life Stories or employee takeovers to humanize your brand. 🤝🎥
So folks, that's how you rock the world of Instagram Stories Highlights. Are you up for the challenge? 🚀
14
Get Ready to Level Up Your IG Stories Game! 🚀
Hey dudes! 🙋‍♂️ So you're ready to step up your Instagram game, huh? Good on ya! I've got some neat tips that'll transform your IG story game. Wanna try 'em out? Then read on! 🕹️
15
Employee-Focused Stories Are Totally Rad! 🙌
Did you know that featuring your team members on your Stories can add a personal touch and make your brand more relatable? 💼 Before you dive in, always ask which folks are chill with showing up online. It's all about respect, right? 🕴️
16
Hit the Spot with Highlight Covers! 🍒
Want to strengthen your brand image? Branding your Highlight covers is a legit strategy! 🎯 You've got some options here, so let's break 'em down! 🧗‍♂️
17
Topping Up Your Highlight Covers with Picture Perfect Photos! 📸
Keep it simple, dude! Grab some high-quality shots and use 'em as each cover. This strategy rocks Instagram regularly! No fuss, just smooth sailing! 🚤
18
Play Your Cards Right with Your Brand Colors 👩‍🎨
Remember those cool icons or short text tags representing the subject of your Highlight stories? Use 'em! Match 'em up with your brand colours for a sweet combo! There's this one brand Nature's Path who've got this locked! 🔒
19
Keep It Simple with Blank Colors 🌈
The last strategy is like that dark horse that wins the race unexpectedly. It's straightforward but gets results! 🏇 Just use some blank colors that go with your brand, man. One brand that nails this is The Sill with their pastel colors! Check 'em out!
Now you're ready to cook up your own Story Highlight categories! ✨ Think about what makes the most sense for you and go for it! Don't forget to keep an eye on your Instagram Stories analytics. Measure and tweak – it's the name of the game in the digital world! 🌐
21
Rock and Roll with Instagram Story Highlights! 🎸
Monster shout out, guys! Keep your IG Stories lit and never stop exploring! 🛠️ Ciao for now – catch you on the flip side! 👋
Conclusion:
So, guys that's the full download on Instagram Stories Highlights! Now, you know how to keep your audience coming back for more, even after the 24 hour window expires! ☑️ With this feature, you can showcase your stellar products, share exciting company updates, provide insightful educational content, promote events, engage your followers in a meaningful way, and much more 🏆 You can also introduce your lovely squad to your customers and even brand your Highlight covers! All this action is right at your fingertips, you just need to start creating! 🎨 So, what are you waiting for? Go ahead, get cracking, and revamp your Instagram Stories game with Highlights 'cos your content deserves more than just 24 hours of fame 🌟
Get started with Instagram Story Highlights now!
What are Instagram Stories Highlights?
Instagram Stories Highlights are classified Stories saved to a user's profile so they can be accessed after their initial 24-hour post duration. Thus, allowing followers to view and interact with these Stories past their expiration date.
What are some of the popular options for Highlight categories?
Some popular options for Instagram Stories Highlights categories may include behind the scenes, meet the team, reviews, blog, products/services, and events. These categories should reflect the different types of content you share on your Stories.
How to start creating Instagram Stories Highlights?
To start creating Instagram Stories Highlights, go to your profile and click on the circle with a plus sign that says New. You will be taken to your Stories archive, where you can select past photos and videos to add to your Highlight.
What is the significance of Instagram Stories Highlights?
Instagram Stories Highlights extends the life of your Stories, collecting views and interactions way past their initial 24-hour period. They also allow you to categorize and display the content of your Stories based on your audience's interest.
What are some effective uses of Instagram Stories Highlights?
Efficacious uses of Instagram Stories Highlights include showcasing products, sharing company announcements, providing educational content, promoting events, answering follower questions, displaying customer testimonials, engaging followers, promoting campaigns, introducing team members, and branding Highlight covers.
How can businesses maximize Instagram Highlights potential?
Businesses can maximize their Instagram Highlights potential by crafting specific Highlight categories that resonate with their audience's interests. By consistently checking their Instagram Stories analytics, businesses can assess the performance of their Highlights and make the necessary adjustments.
Can Stories Highlights be used to answer follower's questions?
Yes, creating an FAQ Story Highlight for any Stories you've created that answer customer queries can expediently address common customer concerns and questions. Use the Question sticker to get Q&As coming in, record or type out the answer on a photo or blank background, and save them in the FAQ Highlight.
How can Instagram Stories Highlights help in promoting products?
One of the best ways to use your Story Highlights is to showcase your different products or collections. You can create a Highlight for each major facet of your business, showcasing the range of your products. You can also combine Instagram's features to link each product to their respective shopping page.
How can businesses use Instagram Stories Highlights to boost customer engagement?
For boosting customer engagement, businesses can create fun and engaging Stories and save them into a Highlight for their followers to enjoy. For instance, they could use stickers like polls and questions, share quizzes, games, and more to captivate their followers' interest.
Can Instagram Stories Highlights be used for branding?
Yes, businesses can also use Instagram Stories Highlights for branding purposes. They can design their Highlight covers to match their profile and overall brand aesthetic, contributing to a cohesive brand identity and visual appeal.
How can Instagram Stories Highlights display achievement milestones?
Businesses can use Instagram Stories Highlights to archive and display their achievements and milestones over time. All these Moments can be categorized under an Announcements or Achievements Highlight, allowing new followers to see all the significant milestones the company has hit.
How can Stories Highlights benefit businesses in their marketing campaigns?
When launching a marketing campaign, businesses can include Instagram Story Highlights in their strategy. They can create a Highlight category specifically for the campaign, and save any related Story to that Highlight so it'll last throughout the span of the overall campaign.
What type of content can be included in the Instagram Stories Highlights?
Content included in Instagram Stories Highlights can range from product features, company announcements, educational content, event promotion, testimonials, employee introductions, Q&As, and more. The key is to provide content that resonates with the audience's interests and values.
Is there any restriction on Stories Highlights with respect to their 24-hour visibility?
No, the beauty of Instagram Stories Highlights is that they are not restricted by the 24-hour visibility rule of regular Stories. Once added to Highlights, Stories can be viewed at any time, extending their reach and lifespan.
Can one edit his/her Instagram Stories Highlight?
Yes, one can edit his/her Instagram Stories Highlight at any time. From the content of the Highlight to the title and cover, everything can be customized as per the need and branding requirement of the business or individual.
Can Instagram Stories Highlights be used to share blog posts and educational resources?
Yes, Instagram Stories Highlights provides a great platform to share links or promotional graphics for blog content and other educational resources like ebooks, podcasts, videos, etc. You can categorize these under a Resources or Blog Highlight for user's easy access.
How to decide on the categories of Instagram Stories Highlights?
To decide on the categories of Instagram Stories Highlights, consider the different types of content you share on your Stories. Break down your content into various sections or themes that resonate with your followers' interests and curiosities.
Can companies introduce their team through Instagram Stories Highlights?
Yes, utilizing Instagram Stories Highlights is an excellent method to introduce the team behind the company. This strategy can foster a more personal relationship between the company and its audience, increasing trust and rapport.
How to brand Instagram Stories Highlight covers?
Branding Instagram Stories Highlight covers can be done in several ways. Some may opt for high-quality photos, symbols, or words to represent each cover. Simpler options may involve using different colors that represent the brand.