Unlock the Power of Instagram for Your Business – Let's Get Started 🚀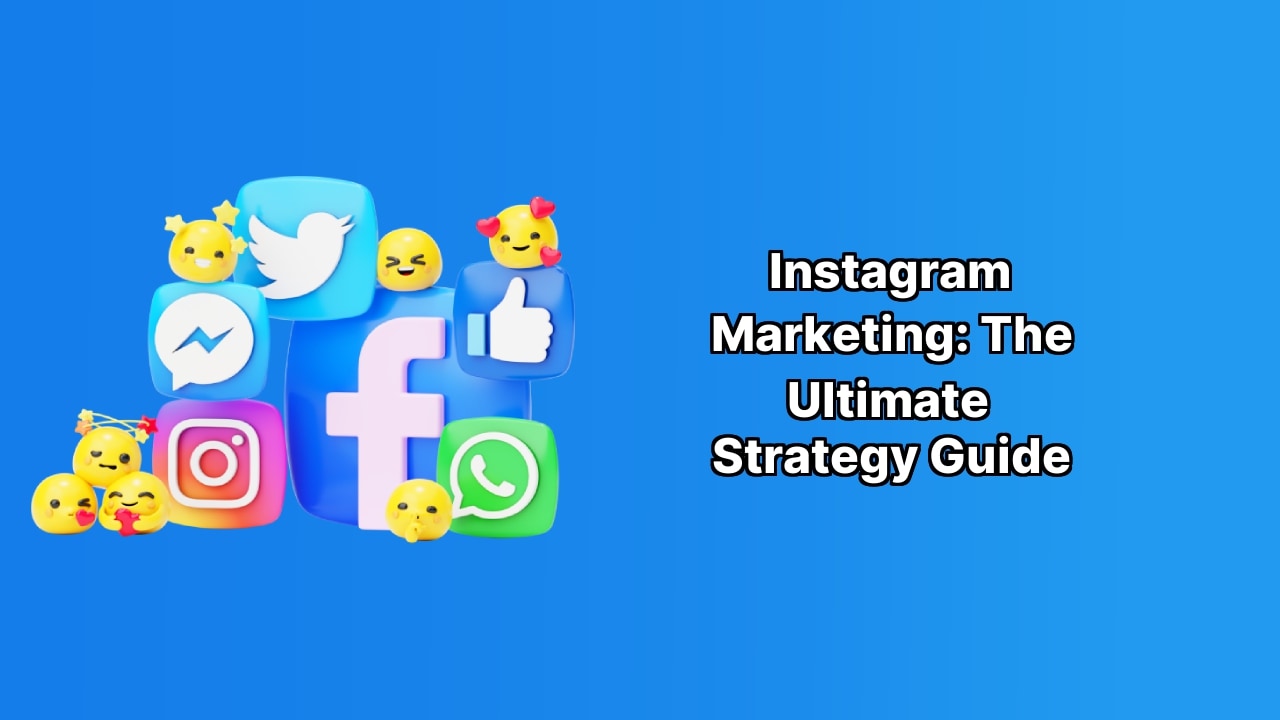 Hey you! Yes, you… Looking for glittering gold in the social media vault? Get your pickaxe ready, because we're going to dig deep into the Instagram goldmine! Currently home to more than 2 billion active monthly users, Instagram isn't just for cute dog pictures and pizza selfies. 🐶🍕 It's an absolute treasure trove for businesses. By the end of this guide, you'll know exactly how to tap into this wealth, attracting customers and enhancing your brand like a pro! Ready to load up your cart with Instagram gold? Let's roll! 😎
1
😲 Woah! Did you know Instagram has 2 billion monthly active users?
That's what i'm talking about, pals! 😃 Instagram has turned from an app for casual photos and selfies into a lifeline for businesses and influencers 🚀
2
Who Needs Filters When You Have a Good Business Strategy? 🎯
Here's the deal, folks: Instagram isn't just about fun photos anymore. It's about having a perfectly designed and visually stunning feed to make you shine bright like a diamond. 💎
3
Why Use Instagram For Marketing? 🤓
Let's get down to business. Social media marketing is booming, with nearly 5 billion social media users worldwide 🌍 Instagram, in fact, was the most-downloaded app at the end of 2021. That's something to think about, right? 😮
And listen to this: 59% of Instagram's 2 billion users log into the app daily. With a cool mix of ages and genders on the app, you're bound to find a segment of your target audience there.✌️
But that's not all! With Instagram's awesome features that help promote your brand in different ways, it's a given you'll have an engaging marketing strategy. These features include: Carousel posts, Instagram Stories, Story highlights, Instagram Reels, Instagram shopping, and Paid partnerships for influencer campaigns. This is how Instagram creates a steady revenue stream for ecommerce brands and builds a community of loyal customers. So, buckle up, and let's do some serious business! 👊
4
Create An Instagram Strategy Like a Boss 😎
The first thing you gotta do is define your Instagram marketing goals. 🎯 Do you want to generate leads? Build a community? Increase brand awareness? This is gonna be your mastermind plan, your game-changer. Change your mindset, change your game, am I right? 🙌
Now, let's move on to creating your business profile. First things first, download the Instagram app onto your smartphone and input your necessary profile information. Don't forget to switch your account to a business profile to get access to tools specific to Instagram for business. It's easy peasy, folks! 😁
5
How to be a Star ⭐ on Instagram
Want to stand out and let the internet know you've arrived? 😎 Well, you gotta have a defined and clear-cut Instagram profile. Keep this checklist handy:
Convert to a business profile (remember, this gives you access to analytics and other cool features)
Decide on your brand creatives
Make the most out of your hashtags. Create ones that are unique and relevant for your brand
It can be a bit overwhelming at first, but remember, slow and steady wins the race! Once you've defined your goals, optimized your profile, and started interacting with your customers, you'll find your own rhythm. And everything will fall into place. 🌈
So, what are you waiting for, folks? Let's dive deep into the world of Instagram and make it big! 💪
6
Boost Your Instagram Game with these Awesome Tips! 🚀
What's up guys! 🙌 Today, I'm gonna share some top-notch tips for managing your Instagram strategies. We're going to talk about your bio, profile picture, target audience, and most importantly – your content! 🎯
7
Jazz Up Your Instagram Bio: Your Personal Billboard! 🌟
Remember, your Instagram bio is like your business billboard in the digital world. It's all about making a killer first impression! It's basically the only place where you can direct Instagram traffic to your promotions or websites. 😏
Make sure you include a clear description of what your business does, use some of your relevant hashtags, and don't forget to put a call-to-action along with a trackable link to monitor the behavior of your Instagram traffic. 📊
8
Your Profile Picture: Make It Sleek and Elegant! 👌
Your Instagram profile picture plays a big role. Here's a thing, it's confined to only 110×110 pixels. That's why it's got to be sleek, minimalist, and high-resolution. Consider sticking to your logo or a part of it that fits perfectly. The goal is Brand Recognition. 👓
9
3: Identify Your Target Audience: Know Your Crowd! 🎯
Before you start posting your content, you should definitely know who your Target Audience is. Alignment between Instagram's demographics and your customer profile is a key factor for success. Once you've nailed it down, target only those interested in your product or service! 🧲
10
Unleash Your Instagram Content Strategy! 🎨
Guys! I'm going to highlight some specific Instagram marketing tips for creating content that crushes it based on industry best practices. 🏋️‍♂️
Eye-popping imagery: Instagram became famous due to stylish and eye-catching snaps. Modern smartphones can help you to achieve that attention-grabbing shot. Don't forget to play with filters and style options. 📸
People-centric photos: Always remember, social media is all about being social! Share customer photos and go behind-the-scenes to make your brand relatable and human. 👥
Videos: Videos have a high shareability factor, and thankfully smartphone cameras are incredibly capable these days. Get creative with looping or timelapse effects! 🎥
Memes and image macros: These can be used for humor and inspiration. Break up the monotony of your feed and engage your followers on a personal level! 😂
Instagram Stories: Story content has great reach potential. Use it for time-sensitive promos or updates to tap into your audience's fear of missing out (FOMO)! ⏰
11
Consistent Content: Keep the Ball Rolling! 💪
Stay on top of your game! Make sure you publish your content consistently. Pay special attention to crafting catchy captions and getting the timing right. Most brands publish daily, but it's important to balance quantity with quality. Remember to use hashtags and calls-to-action in your captions, and keep the essence of your content personal and friendly. 😉
12
Grow, Grow, Grow: Get Those Follower Numbers Up! 🔝
Your follower count doesn't just grow on trees, you gotta work on it! Put your Instagram front and center across other marketing channels, and make a point to interact with your followers regularly. A growing follower count depends on you showing up day after day! 🗓️
So, there you have it guys. Now watch your Instagram rock! 🔥 Don't forget to tag your friend who needs this, and see you in the next one! 👋
13
Level Up Your Instagram Game 🚀
Alright, listen up folks! You want to level up your Instagram game on turbo charge? You've come to the right place! Consider this article your guide to Instagram greatness. Let's jump straight into it! 🏁
Instagram isn't just about popping off selfies and slurping smoothie bowls, it's about being a part of the community—participating and engaging.🏆 Remember, no sidelines in this game, my friends! 💯
Analyzing your performance and running through your analytics like a detective with a magnifying glass is critical to your growth. If you really want to succeed, you've got to study your stats like a pro! 📈🧐
15
Top-Notch Instagram Analytics Tools to Look Up🔎
16
Claim Your Instagram Stardom Today! 🌟
No matter what size of a brand you are, the expert tips and practices highlighted in this post can definitely sky-rocket your Instagram journey into stardom!🎯
You've gotta keep experimenting and remember to keep track of what's working best and what's kinda going meh with your followers. It's all about consistency!⌛💡
With tools like Sprout, managing your Instagram strategy will be as easy as a walk in the park! 🌳🚶‍♂️
Ready to conquer the Instagram world? Let's take off! 🚀
Conclusion:
Whew! We've done some serious digging, guys. This Instagram goldmine we've explored? It's not just for show. The stats, strategies, and secrets we've shared here can truly transform your business and take it to new heights! 💪 With Instagram's vast user base and wide range of features, you can generate brand awareness, increase engagement, and drive impressive sales. Remember, folks, Instagram marketing isn't about striking gold overnight. It's about consistently mining value, nurturing relationships, and creating eye-catching content. But with the right tools, like
Sprout Social
, you can lighten the load and hit those goals more efficiently. So, what are you waiting for? It's time to show Instagram what you're made of! 💥🎉
What is the definition of Instagram marketing?
Instagram marketing refers to a social media marketing strategy that uses Instagram and its features to build a community and promote a business. It involves creating content for the platform, developing a cohesive content plan, interacting with the target audience and implementing more techniques for successful results.
Why should businesses use Instagram for their marketing strategies?
There are close to 5 billion social media users worldwide, and Instagram has a significant portion of these users. By the end of 2021, Instagram was the most-liked application. With a broad distribution of ages and genders on the app, businesses can reach their target audience effectively. Instagram's focus on visual content lets product-based businesses showcase their offerings in engaging ways. It also has several features that allow businesses to promote in varied ways, making the platform ideal for a thriving marketing strategy.
How can a business create an Instagram business profile?
A business can start by downloading the Instagram app and signing up using the business email. After filling in the required details and being taken to the newly created profile, the next step is to upload a profile picture and input necessary profile information. The last step is to go to the Account menu in the Settings and change the profile to a business profile to gain access to business-specific tools.
What are the steps to creating an Instagram marketing strategy?
A successful Instagram marketing strategy involves several steps. Initially, defining the marketing goals is crucial. Next, optimizing the Instagram profile and understanding the target audience is essential. Then, creating a content strategy involving engaging and consistent content plays a vital role. Lastly, growing a healthy follower count and monitoring performance through Instagram analytics are the final steps.
What is the importance of defining marketing goals in an Instagram marketing strategy?
Defining Instagram marketing goals is vital as they determine the content strategy and the time spent on the platform to achieve them. It also helps in understanding the return on investment from Instagram which aligns with these goals. The goals can aim to increase brand awareness, generate engagement, improve website traffic, or boost sales.
What is the significance of optimizing an Instagram profile?
Optimizing an Instagram profile can influence engagement rates and discoverability of the profile. It can involve converting the account to a business profile, deciding on brand creatives like hashtags and bios, and uploading a suitable profile picture. This optimization process is vital for both new profiles and those looking to fine-tune their Instagram marketing.
Why is understanding the target audience important for Instagram marketing?
Knowing the target audience helps in creating and publishing content that appeals to them. By aligning Instagram's overall demographics with the business's customer profile, the content strategy can be effectively geared towards people interested in the product or service.
What are the elements of an Instagram content strategy?
An effective Instagram content strategy includes various elements. Eye-catching imagery, people-centric photos, entertaining and informative videos, memes, image macros and Instagram Stories are some popular content types. These can help engage the audience and increase brand visibility on the platform.
What is the importance of publishing content consistently on Instagram?
Consistency in publishing content on Instagram helps maintain audience engagement and visibility of the brand. This includes crafting compelling captions, understanding the optimal timings and frequency for posts, and cross-posting from other social networks. An Instagram marketing tool can help in scheduling content for efficacy.
How can a brand grow its followers on Instagram?
A brand can grow its followers on Instagram through consistent engagement activities like responding to comments, promoting the Instagram handle across other marketing channels, and regularly monitoring analytics to understand which content resonates with the audience.
What are some Instagram analytics tools?
Several Instagram analytics tools can provide comprehensive data for efficient marketing. Tools like Sprout Social, Iconosquare, TapInfluence, Curalate and Bitly offer various features like analytics dashboards, influencer databases, tracking features, and more to enhance the brand's Instagram strategy.
What is the benefit of using an Instagram analytics tool?
An Instagram analytics tool offers insights into the performance and reach of the posts on the brand's profile. This data assists businesses in understanding what resonates with their audience and tailoring their content strategy accordingly. Additionally, some tools also offer scheduling and messaging features.
How can businesses promote their Instagram handles?
Businesses can promote their Instagram handles prominently on their websites, social buttons, or feeds to let customers know about their active Instagram presence. They can also strategically place the handle in email newsletters, business cards, brochures, and other marketing materials.
Why is hashtag usage important in Instagram marketing?
Hashtags play a significant role in Instagram marketing. They can encourage followers to engage with the brand and enable the brand to do the same. Having a unique brand hashtag can also serve as a call-to-action to encourage customer photos and create a community around the brand.
What role does the Instagram bio play in marketing?
Despite being only 150 characters, an Instagram bio is crucial. It acts as the brand's first impression with customers and potential followers, highlighting what the brand offers. The bio also contains the only link that can funnel Instagram traffic to promotions or the brand's website.
What is the significance of audience engagement in Instagram marketing?
Engaging with the audience, responding to comments, and participating actively on the platform can boost brand visibility and grow the follower count, increasing the overall reach of the brand's Instagram marketing tactics.
What type of video content can brands create for Instagram?
Brands can create various types of video content for Instagram. These include short bite-sized promos, looping videos, timelapse videos, and more. They can be created seamlessly with modern smartphones and third-party apps and can significantly increase engagement on the platform.
Why is user-generated content effective in Instagram marketing?
User-generated content allows brands to showcase their satisfied customers and portray their products in real-world settings. This can lead to increased trust and credibility, which can boost engagement and conversion rates.
How can brands use Instagram Stories for marketing?
Instagram Stories can be an effective tool for deals, company updates, or playful content. They enable brands to stay on top of their followers' feeds and help tap into the customer's sense of FOMO (fear of missing out). Half of the Instagram users have visited a website to make a purchase after seeing it in Stories, making them a great marketing tool.