🚀 The Ultimate Instagram Game Plan for Businesses! 🎯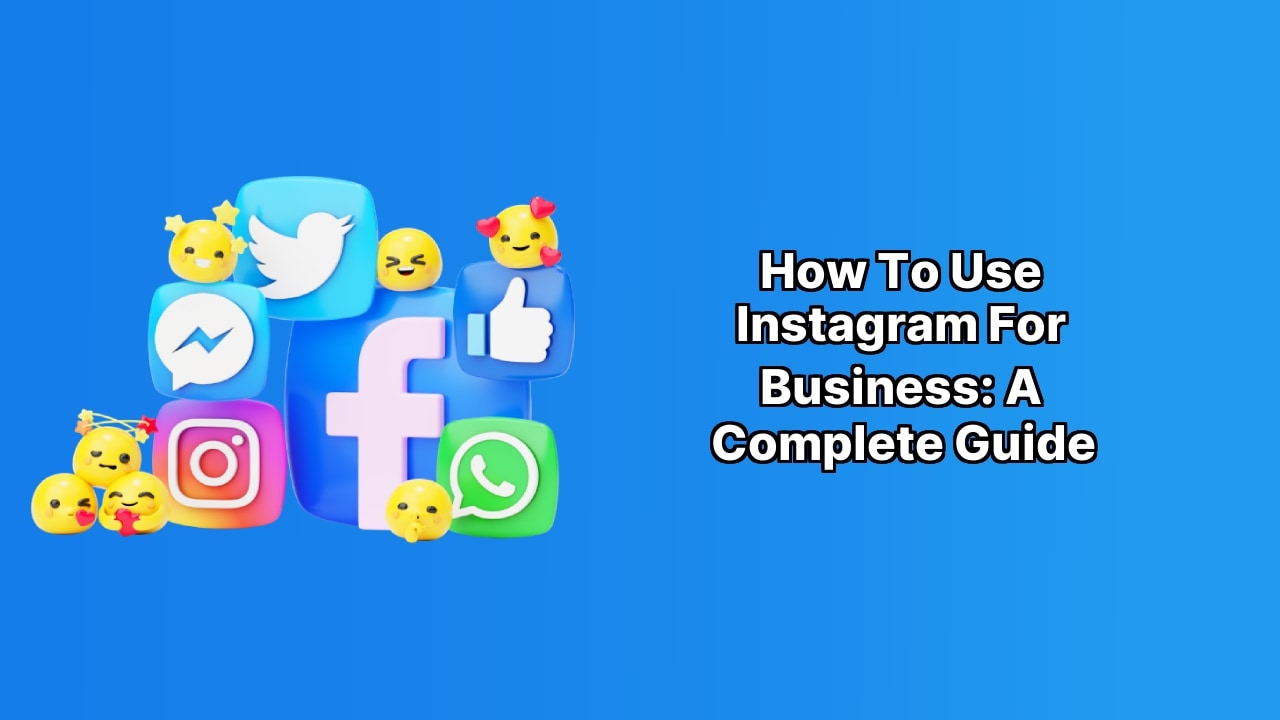 Hey all! We're gonna take an awesome look at Instagram – the social media Goliath with over 2🚀 billion monthly users. That's a quarter of the world's population!🌍. If you're a social media newbie or looking to leverage Instagram to enhance your brand, we've got your back! With this remarkable guide, you're about to learn the ropes of how to use Instagram for business. From fine-tuning your profile to creating superb standout content, we got it all covered! Stay tuned with us as we tap into Instagram and help you ride the wave of its amazing capabilities! 📊📈 💼🤑
1
Your Complete Guide to 😎 Crushing It on Instagram for Business
Get this, Instagram has taken the social media 🌐world by storm, boasting over 2 billion 💥active users every month. That's like a quarter of the world's entire population, guys! It's a massive chance to promote your brand and rake in that dough 💰. So, whether you're a total newbie on Instagram or looking to level up 🚀 your marketing game, this all-in-one guide on using Instagram for business is for you.
2
The Magic 🔮 of Instagram
Unlike other platforms, Instagram is all about the visuals 📸. It's loaded with stunning pics and videos that keep users hooked. But hey, don't sweat 😅 it if you're a B2B or service-based brand. Trust me, with the right approach and our guide by your side, you'll build an audience and keep them engaged in no time!
3
Step 1: Set Up That Business Profile 📇 Like a Boss
Let's start with account types. There are three – personal, creator and business. Now, if you're a brand, you've gotta set up a business profile. It's brimming with useful features I know you'll dig, like:
Adding tons more info 📝 to your profile
Uncovering insights/analytics 📈 about your audience
Running Instagram ads 📢
Linking up with a scheduling app 🗓️
Tagging products 🏷️ in your posts
Each feature is designed to pump up your brand's presence on Instagram. So, make the most of it!
4
Step 2: Supercharge ⚡ Your Business Profile
Since there are more sections in a business profile, squeeze all you can from them to give potential followers a clear picture of your business. Here's how:
Profile photo: Slap your company logo 👔 on here. It helps people identify your brand easily.
Name/Username: No brainer here, folks. This should be your business name – just how it looks on other social media profiles. Just keep in mind, no spaces in the username.
Pronouns: Use it if you're the face of the company.
Links: Add up to five clickable URLs🔗. It can be your website or any other promotional page. Or use a link-in bio tool to get more✅.
Bio: Use this spot to give users a taste of what you're all about. It could be a description of your business, why they should follow you, or even your brand's slogan.
Page: This allows you to connect your Instagram business profile to your Facebook business page.
Category: Choose a category that portrays your offerings.
Contact options: List all the ways clients can reach you – like email or phone.
Action buttons: Add call-to-action buttons like "Order now", "Book now", or "Get quote".
Instagram story highlights: Showcase your best stories in categorized highlights on your profile.
5
Step 3: Craft a Solid 🪓 Instagram Marketing Strategy
Like every other marketing channel, Instagram deserves a well-thought-out strategy. So, get ready to do some audience 👥 research, set goals 🥅, track metrics 🧮 and develop a killer content calendar 📅.
6
Step 4: Unleash 🐾 Quality Content
Content is the backbone of Instagram. From posts, stories to reels, exciting content is what keeps your audience wanting more. Plus, make sure to stay updated on Instagram's best practices to get the best results.
7
Step 5: Leverage Instagram Tools / Apps
There's a whole range of Instagram tools that can enhance your posts. Some are perfect for editing photos while others are great for creating branded graphics.
Apps to consider include:
Writing catchy captions isn't rocket science. Keep them short, sweet and enticing. And remember – always keep an eye on your performance 🎯. So, get going and crush it on Instagram!
8
🎖️ Maximize Your Instagram Swagger! 💪
So, you aim to ramp up your Instagram presence? Well, stand back and let the world take note! 🚀 Your Insta-success is about to leapfrog like a turbo-rocket, so buckle in and read on!
9
📝 Unleashing the Power of Instagram Captions 📝
Having a 2,200 character limit doesn't mean you gotta max it out! Get creative. Ask intriguing questions, tell a captivating story 📖 to boost the comment flow! Embrace emojis, hashtags, and the colloquial language of the YouTube universe 🌍. Ever heard of Instagram caption ideas? Here's the hard truth: it's a gold mine 💎 waiting to be explored. Get on board, explore the link here for an epic collection of 400+ caption ideas.
10
🎨 Instagram Recipe for Success: Variety is the Spice! 🌶️
It's boring to produce the same ol' cookie-cutter content. Instead, it's time to mix things up, fellas! Share interesting stories, photos 🏞️, branded graphics, and videos 🎥. Or, try something fresh like carousel posts, guides, or live broadcasts 📡. Plan your content pantheon in advance and maintain a vibrant diversity to smack your followers with awe 😮.
11
🛍️ Skyrocket Your Sales with Shoppable Posts 🚀
For all the e-commerce brands out there: Instagram shoppable posts 🏷️ can supercharge your game. It's as easy as pie 🥧! Just set-up an Instagram shop, tag products in your posts, and voila! Your followers can click, shop, and purchase without exiting the platform 🛍️.
12
🚀 Get Set to Grow Your Follower Count! 🚀
Your Instagram follower count may seem like a mere vanity metric, but truth be told, it packs a considerable punch 🥊 in putting up a social proof and widening your hoop of audience reach 🏟️. Here are some sparkling strategies to turbocharge your follower count 🔺:
Comment on other posts, especially those from users who appear to be your ideal audience 😎.
Use fitting hashtags to help Instagrammers find your amazing content 🔖.
Collaborate with influencers to get dreamy access to their followers 👥.
Share your account across your website and other social feeds to widen your reach 🕸️.
Spy on the content with the most engagement, reproduce and multiply 😃.
Start brewing some catchy brand awareness ads 🔔.
13
💡Heading into the Business-verse of Instagram 💼
Curious about Instagram for business?🧐 Hop on – Instagram is absolutely free 💰 for business; only ads cost a dime or two. It's the go-to place for small businesses. A tiny but mighty feature-loaded platform, Instagram can drench your endeavour with unparalleled success 🌈. Go professional! Opt for a Professional > Business account 🎩. With the tool palette filled with brand-tailored features, you can build your followers and trigger sales 💵. The Instagram terrain is filled with opportunities. So, come on, folks! With a compelling story and a willing heart, make yourself the trending talk 👅 of the Instagram town! Hone your Insta-skills with our all-inclusive guide Instagram for Brands. Go out and conquer! 💪
Conclusion:
So, there you've it, folks! Instagram is the boss of the social media world that can ignite the rocket boosters for your brand! 🚀 It's a wild playground equipped with the potential to skyrocket your business to unforeseen heights! For any business out there eager to tap the power of engaging visuals and reach out to a lit 🔥 audience base, Instagram is undeniably the showstopper! If you're still hungry for more hacks and tips, get your hands on our 'Instagram for Brands' guide and craft an alluring and sophisticated strategy that captivates and converts! That's it from us today, keep up the hustle, and get ready to create some Instagram magic! 💫
What is the importance of having an Instagram business profile?
Establishing an Instagram business profile affords brands access to numerous beneficial features. This includes additional sections in your profile to elaborate on your brand, analytical insights, the ability to advertise, the connection to scheduling apps, and the feature to tag products in posts. Each of these assets enhances your brand's presence on Instagram.
What features should I optimize on my Instagram business profile?
You should leverage the following profile elements for optimal visibility: profile photo, name, username, pronouns, links, bio, page, category, contact options, action buttons, and Instagram story highlights. These elements should clearly communicate what your business does and why users should follow it.
Why is it important to establish a strong Instagram marketing strategy?
An effective Instagram marketing strategy helps you reach the ideal target audience through tailored content. This strategy ensures that you set and achieve your goals, whether they're to increase sales, website traffic, engagement, followers, user-generated content, or influencer partnerships. It's also critical to track performance and metrics to maintain and improve your strategy over time.
What factors should I consider while creating a content calendar and publishing schedule on Instagram?
When building your content calendar, keep in mind your target audience, content types that may be more engaging for your brand, and the frequency of your posts. Leverage your Instagram insights to determine what type of content resonates most with your audience, and adjust your content calendar accordingly.
Are there any best practices to follow when posting content on Instagram?
Yes, a few best practices include testing out new Instagram features, utilizing the right tools and apps to create or edit posts, writing engaging captions, and exploring different Instagram post types. For e-commerce brands, shoppable posts can be a game-changer as they facilitate a smoother shopping experience for their audience.
How can I grow my Instagram follower count?
There are several strategies to grow your Instagram follower count. These include commenting on posts of potential audience members, using relevant hashtags, posting consistently, collaborating with influencers, cross-promoting your account on your other platforms, and producing more content that receives high engagement.
Is it free to create a business profile on Instagram?
Yes, creating an Instagram business profile is completely free. However, if businesses want to advertise on the platform, they would need to pay for that.
Can small businesses benefit from Instagram?
Indeed, small businesses can significantly benefit from Instagram by utilizing its wide range of features. Every brand, irrespective of its size, can effectively interact with their audience, build a following, and drive sales through this platform.
What type of Instagram account is best for businesses?
For businesses, it's recommended to create a Professional > Business account over a personal or creator account. This gives businesses access to specific features that allow them to build a following and make sales.
Why should brands focus on visual storytelling on Instagram?
Since Instagram is a visual-centric platform, it provides businesses with an opportunity to tell their stories in a visually appealing way. This not only enhances the brand's online presence but also helps cultivate a dedicated following and drive customer engagement.
Why should brands work to grow their Instagram following?
While the number of followers on Instagram is a vanity metric, a larger following can aid in social proof and provide a wider audience for the brand on the platform. It also gives the perception that the brand is popular and trusted by many.
What benefits does an Instagram Shop offer for businesses?
An Instagram Shop allows businesses to showcase and sell their products directly from the platform. Users can tap on a product, be directed to a product listing, and make a purchase without leaving Instagram, enhancing the overall user experience and potentially driving sales.
What types of content can businesses share on Instagram?
Businesses can share numerous content types on Instagram, including photos, branded graphics, videos, carousel posts, reels, guides, live video broadcasts, and stories. Variety in content adds interest and can result in improved user engagement.
Why is it essential for businesses to define their target audience on Instagram?
Defining a target audience helps businesses create relevant and engaging content that appeals to their potential customers. It allows businesses to align their Instagram strategies accordingly, resulting in higher engagement and a stronger connection with their audience.
What is the purpose of using hashtags in Instagram posts?
Hashtags in Instagram posts help categorize content, making it searchable and discoverable by users interested in similar topics. It can lead to increased visibility, engagement, and potential followers for businesses.
How do Instagram insights help businesses with their marketing strategy?
Instagram insights provide valuable analytics about a business's performance, including engagement rates, follower demographics, and best-performing posts. Access to this data can help guide the brand's content strategy, ensuring they create content that their audience finds appealing and engaging.
What are the benefits of collaborating with influencers on Instagram?
Collaborating with influencers allows businesses to tap into new audiences who already trust and value the influencer's opinions. This can result in increased brand awareness, credibility, and potentially, new followers or customers.
How can businesses increase engagement with their Instagram captions?
Businesses can boost engagement by crafting compelling Instagram captions. Engaging captions often include asking a question to prompt responses, telling a relatable story, using emojis for added personality, or including hashtags for discoverability.
How does cross-promotion on other platforms help grow an Instagram following?
Cross-promoting your Instagram account on other social media platforms or your website can help boost your follower count. The audiences on your other platforms may not know about your Instagram presence, and cross-promotion exposes them to your content and encourages them to follow.
Are Instagram brand awareness ads effective for businesses?
Definitely, Instagram brand awareness ads can effectively increase a brand's visibility, reach a wider audience, and generate potential leads or customers. These ads can be precisely targeted to reach users who are likely to take an interest in your offerings.