🎉 Mastering the Art of Instagram Giveaways: A Step-by-Step Guide 💯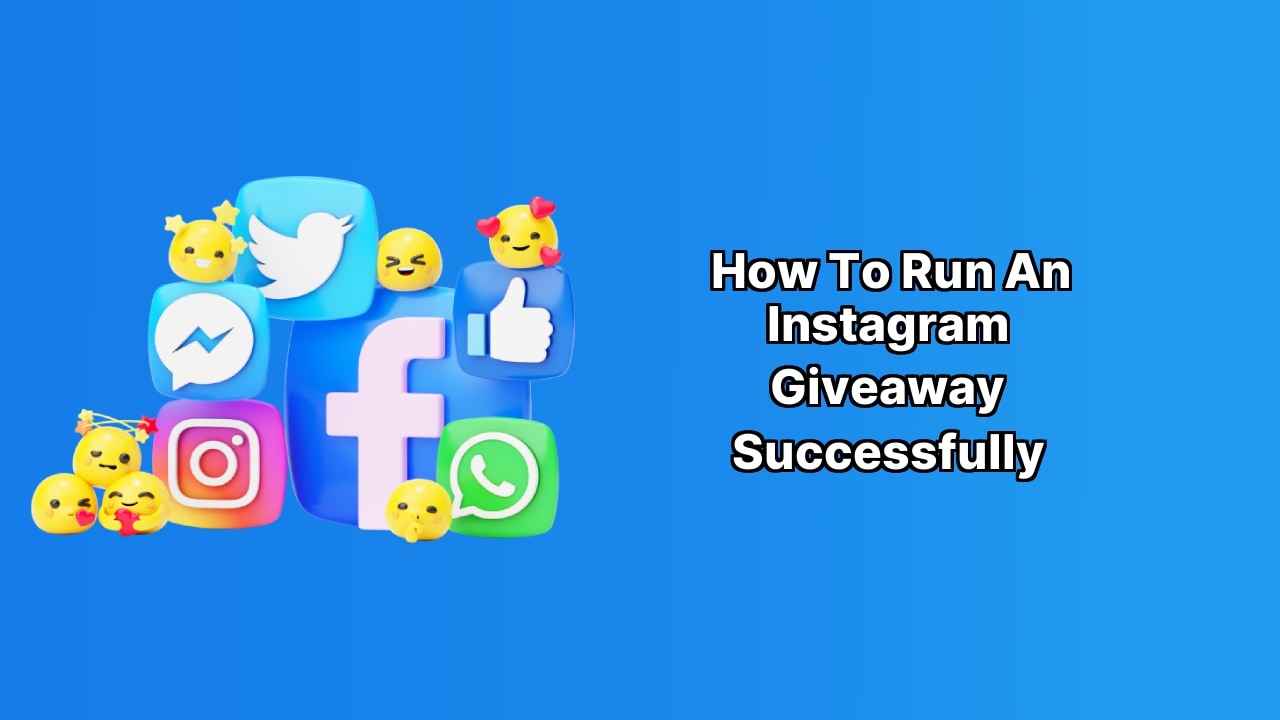 Hey! 🤗 If you're trying to make your brand pop off on the Gram 📸, you've landed your spaceship at the right space port 👽. We're about to buckle up 🚀 and blast off 🌠 into the thrilling world of Instagram giveaways and contests. These dynamic strategies can seriously boost your engagement, expand your following and transform those followers into eager customers. 🙌 Plus, isn't it just awesome to give back to your audience and make someone's day? 😊 Get ready to create a supercharged 🚀 library of user-generated content, grow your following, and turbo boost your Instagram game while having a whole lot of fun in the process. Ready? Let's roll! 🏎️💨
1
🎉Wanna Host an Epic Instagram Giveaway? Here's How! 🔥
Hey lovely bunch, looking to blow up your Instagram game and get that insane follower boost? 💪 Plus, wanna have loads of fun and give something back to your peeps? 👏 Hosting an Instagram contest or giveaway could be your perfect move!
But why you'd want to host an Instagram giveaway? Let's break it down!
2
Reasons to Host an Instagram Giveaway 🎁
Note: This is not just about getting people hyped up for the freebies—here's the real tea! 💡
Get more followers: You gotta play smart—make 'em follow you on Instagram to enter the giveaway. Boom! Just like that, your Instagram following scales up. 📈
Generate higher engagement: Giveaways are like 'Growth-Hacks' that get your posts more likes, comments, shares, and saves. That's the algorithm's sweet spot, baby! So, expect to see your content in front of loads more eyes, kicking your engagement up a notch. 🚀
Increase reach and impressions: More interaction on your giveaway posts means better reach to your followers. They keep seeing your content, they keep interacting—you keep showing up at the top of their feeds. That's how you win at Instagram. 🏆
Collaborate with others: Instagram giveaways can open doors to awesome collaborations. Find a cool brand with a complementary product and join forces to host a bangin' giveaway. Increase your reach and offer your followers a sweet bundle of complementary products. It's win-win! 🤝
3
5 Incredible Instagram Giveaway Ideas to Rock Your Insta Game 💥
Like, comment, and follow: Simple but effective—have people like your post, drop a comment, and follow your account. Wanna go one step further? Get them to tag their friends or nominate someone to win. 👥
Tag a friend: This one's gold! Gets the word out about your Instagram contest, helps your followers discover new brands and bloggers. More tags, more entries—it's a ripple effect of awesome awareness for your brand! 🎊
User-generated content: Want an arsenal of user-generated photos for future content planning? Run a UGC giveaway. Have your peeps share a photo with brand-specific #️⃣ or tag and voila! Loads of sweet content! 🔖
Collaborations: Team up with a similar brand and host a collaborative giveaway. A more enticing prize and double the audience reach—what's not to love? 💕
Instagram Stories: They are quick, fun, and catchy! Have your followers share a post in their story for an entry. You get the word out, and they don't break a sweat. Convenience is key, remember? 🔑
4
Here's Your Roadmap to Run a Successful Instagram Giveaway 🛣️
Folks, follow the yellow brick road! Here's your 6 step guide: ⬇️
Define your Goals: Do you want more engagement, more followers, or a library of UGC? Nail down your giveaway goals right at the start. 👊
Identify your Budget and Prizes: Your budget should fit the scale of your prize. Offering cash or a premium electronic device? That's cool—but remember, your prize should feel like a 'must-have' to your target audience! So, get creative here. What about a gift card/limited edition product from your brand? Keep it unique and attractive. 💼
What's next? Stay tuned for the next steps in our awesome epic Instagram blueprints! Let's keep those notifications on, shall we? 😉
5
Crushing it on Instagram with Competitions and Prizes!
Not everyone can win, but everyone loves a shot at victory! 🏆 This is why hosting a killer Instagram contest or giveaway improves your repute among your followers.💥 More significantly, it makes them more interested in what you're offering.✨
6
Step 1: Deciding your Game Type
When it comes to Instagram competitions, are you team "Contest" or team "Giveaway?" 🤔 A Contest means participants are in for a challenge. 🥊 They have to show their best skills to snag that prize! A Giveaway, on the other hand, need participants to be lucky enough to be selected randomly! 🍀 Determining which one suits your needs best is crucial to your contest's success.
7
Step 2: Steer your Contest
The enjoyment of entering your Instagram competition or giveaway should be smooth and simple! Ain't nobody got time for a complicated entry process. Plan your contest wisely. Determine how long your Instagram contest will last. Choose an exclusive hashtag for your campaign. Figure out your contest's theme and finally, decide how you will announce the winner.
8
Step 3: Production time! 🎬
Your audience needs to know about your fun contest! So, put on your designer hats and create bold, eye-catching promotional posts. Make sure to use high-quality photos of the prize and mention 'GIVEAWAY' or something similar in bold letters. 💰 Pay attention to the craft of your captions – make it exciting and clear about the mechanics of the giveaway. Don't forget to follow Instagram's promotion guidelines, found here. 📚
9
Step 4: Keeping an Eye 👀
Measure, track, repeat! Keep a tab on how many entries you're receiving and analyze the numeric progress of your competition. Use a social media management tool to get detailed reports on hashtag usage, engagement rate, follower count, etc. How exciting is it to see those numbers rising sky-high? 🎢
10
Step 5: Picking the Lucky Winner
Time to roll the drum – it's the moment everyone has been waiting for! 🥁 Picking the winner using an Instagram giveaway picker tool ensures a random selection. 🖥️ Record this moment of glory and share it with your audience. This makes it more enticing and credible. A few popular tools include Wask GiveawayPick, Comment Picker, and Iconosquare.
Now that you're ready to host kickass Instagram contests, why wait? Start rolling and take your followers on a fun, competitive journey! 🎉 This not only better engages your current audience but also attracts more potential followers. Who doesn't love being on a winning team? 👑 Remember the more the merrier! Looking for more tips? Check out the latest Sprout Social Index™.
Conclusion:
So, there you have it! You've got the scoop on how to host a killer Instagram giveaway, growing your following rocket-fuel style 🔥 while turning followers into customers 🛍. It's time to light up the Instagram universe with your brand! Remember, the key is to be clear with your goals 🎯, know your budget, plan diligently, build eye-catching 🤩 campaign assets, keep an eagle eye on your results 📈, and choose your winner fairly. Embrace the power of
Sprout Social
for measuring your epic win and rely on tools like Iconosquare and GiveawayPick for selecting your lucky winners 🎉. Turn on your spaceship's ignition and prepare for an exciting journey toward Instagram success! Expect a booming following, increased engagement and more conversions. Good luck, space-adventurer! 🚀🌟
What does hosting an Instagram giveaway entail?
An Instagram giveaway typically involves an Instagram post that prompts your audience to carry out a task or set of tasks in order to enter a raffle for a free product or prize. These campaigns can generate substantial excitement around your brand and significantly enhance your brand's reach and audience engagement.
What are some benefits of running an Instagram giveaway?
There are several benefits to approaching this strategy. First, it can help you gain more followers, especially if you require users to follow your Instagram account to enter the giveaway. Second, Instagram giveaways can significantly increase audience engagement. Third, they can increase your overall reach and impressions. Lastly, Instagram giveaways are an excellent opportunity for collaboration with other brands.
What are the different types of Instagram giveaways?
There are five main types of Instagram giveaways. They include 'like, comment, and follow' giveaways which require users to engage with your post and follow your account to gain entry, 'tag a friend' giveaways where users must tag a friend or friends on the giveaway post, 'user-generated content' contests, 'collaboration' giveaways with other brands, and 'Instagram Stories' giveaways where users share your post on their story as entry.
How should one approach planning an Instagram giveaway?
Firstly, it is crucial to define your Instagram giveaway goals. Understanding your objective will help determine your giveaway's success. Next, identify your budget and prizes. Ensure your prize is specific to your target audience. Then, plan your Instagram giveaway's conditions. Keep your entry process simple and easy for users. Give thought to your giveaway's duration, theme, how to announce the winner, and more. Finally, design your campaign assets and measure your giveaway entry results.
How can I ensure successful asset design for the campaign?
Make sure you create engaging and visually appealing images for your Instagram feed and Instagram Stories. Include high-quality photos of the prize and use bold and noticeable text. Also, your captions should be engaging, clear, and detailed with the contest rules and how to participate. Ensure you comply with Instagram's terms and conditions.
How do I measure the success of my Instagram giveaway?
Track the number of entries, relevant posts using the giveaway hashtag, and if any questions about the giveaway arise. Use social media management tools like Sprout Social to generate reports on hashtag usage, follower count, and engagement rate. Additionally, pay attention to any corresponding increase in sales during and after the giveaway.
Are there tools to help with selecting a winner for an Instagram giveaway?
Yes, there are several Instagram giveaway picker tools one can use. These include Wask, GiveawayPick, Comment Picker, and Iconosquare among others. These tools can help ensure that a winner is chosen at random and credibility is maintained throughout the process.
How can running an Instagram giveaway boost conversions?
Instagram giveaways can introduce new potential customers to your brand. By incentivizing engagement with a prize or reward, you make your brand more appealing. This can result in increased followership and potentially more customers.
How can I turn Instagram giveaway entrants into customers?
A well-planned Instagram giveaway can pique interest in your products or services, leading to an increased follower count and potentially more customers. A part of the conversion process can be giving out prizes or rewards that showcase your brand. The winners, in turn, could become brand advocates, further increasing awareness and potential conversions.
What are Instagram Stories giveaways?
Instagram Stories giveaways are contests where the form of entry is a share of a post on the participant's Instagram Stories. This method is effective in spreading the word about the giveaway due to the ease of sharing, and it does not require considerable effort on the part of the audience.
What are User-Generated Content contests on Instagram?
User-Generated Content contests on Instagram are giveaways where the audience is asked to share a specific photo or create content using a branded hashtag or by tagging the business running the contest. It not only rewards your followers but also provides the business with a collection of user-generated content for future marketing campaigns.
What are Tag a Friend Instagram giveaways?
Tag a Friend giveaways on Instagram are contests where participants are asked to tag friends in the post's comment section in order to enter. This technique can catalyze a ripple effect of awareness around your brand as more users participate in the contest.
What are Like, Comment, and Follow Instagram giveaways?
Like, comment, and follow contests on Instagram require participants to like the contest post, leave a comment, and follow the brand's Instagram account to be considered for entry. This is one of the most popular methods of conducting giveaways on Instagram.
What are Collaborative giveaways on Instagram?
Collaborative giveaways on Instagram involve multiple brands teaming up to give away a set of prizes in a single contest. This is an effective strategy to cross-promote between different audiences and increase overall brand awareness among new potential followers.
What are some important aspects to consider when defining my Instagram giveaway goals?
Going in with a clear objective is important when planning your giveaway. Whether you're aiming to get more engagement on your content, gain a larger following, or generate plenty of user-generated content for social media, your objective will dictate the type of giveaway you should run.
What is the best way to identify my budget and prizes for the Instagram giveaway?
Start by determining your overall budget. Next, choose a prize or set of prizes that falls within your budget and is appealing to your target audience. You might start with a smaller prize for your first giveaway to gauge interest and then scale up for future giveaways.
What distinguishes an Instagram contest from a giveaway?
In a contest, winners are selected based on their performance in a specific task or set of tasks. On the other hand, in a giveaway, winners are chosen randomly from the pool of entrants, and the selection doesn't hinge on any performance task.
Why should the Instagram contest have a specific theme?
Having a specific theme for your contest can help in guiding participants. This is especially crucial for contests that rely on user-generated content. It gives entrants a clearer idea of what kind of content you're seeking.
What do I need to consider when notifying the winner of an Instagram giveaway?
You should have a predetermined way of notifying the winner. It could be by tagging them in a post or comment, messaging them directly, or via an Instagram Story. Whatever you choose, be sure to let all the participants know this beforehand so they can expect how the winner announcement will be carried out.