🔥 Light Up Your Insta Game with Collab Posts 🚀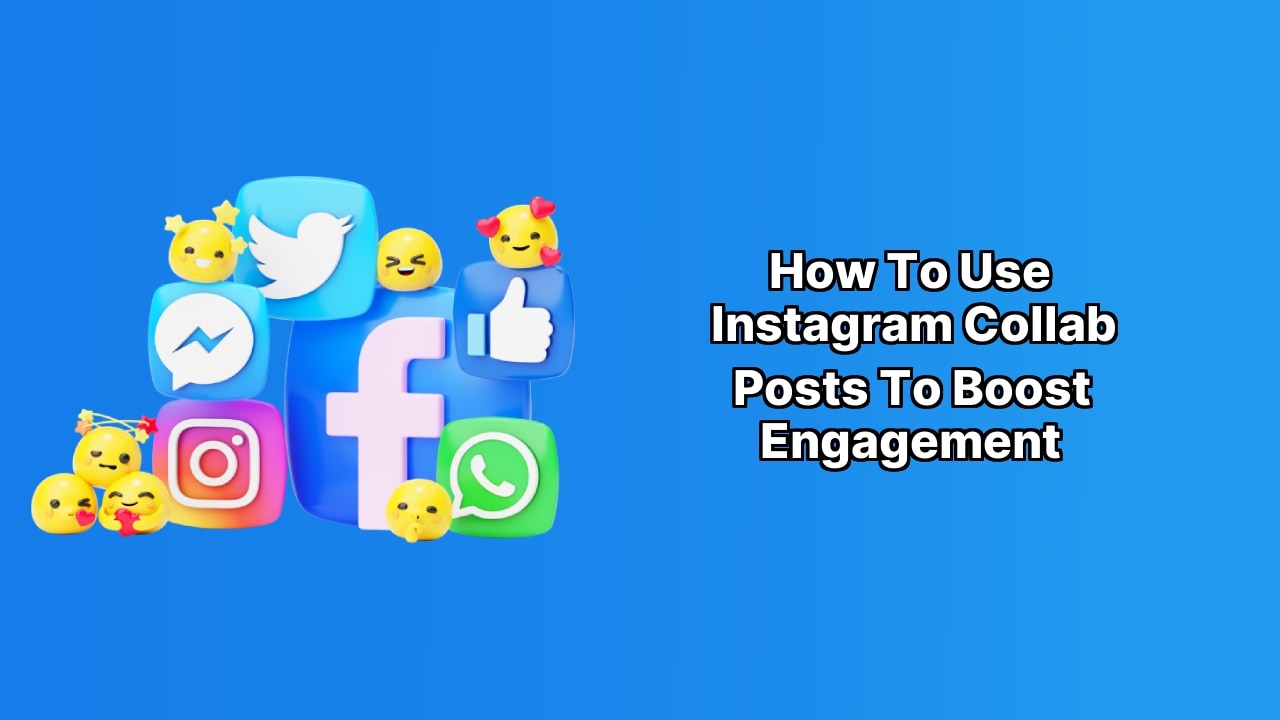 👋 Hey, Insta world! Want to explode your follower count and sales? Take a page out of the top brands' book and collab your way to success! 🤔💡 Did you know, 90% of Instagrammers follow at least one brand? Insta collab posts are your ticket to expanding your followers list and skyrocketing your account's engagement. 🌐📈 They are posts created and shared by two profiles simultaneously. Invite a collaborator to join the fun and marvel at how the likes, comments, and shares duplicate! Not enough? You can even combine this tool with shoppable posts to boost your sales. It's time to turn your Insta account into a profit-maker. Let's dive in! 💦💼
1
😲Did You Know You Can Double Your Instagram Game with Collaboration Posts?😲
Crazy, right? Over 90% of Instagram users are chilling with at least one brand on their feed! 🚀 So let's make the most of this and get your brand on their radar.
Instagram collabs — yeah, you heard it right! It's the newest Instagram feature that's super dope for streamlining your efforts. It's like playing a tag team game but on Instagram. 🤼‍♀️ Let's dive into this feature and see how you can make it a crucial part of your social media strategy.
2
What's an Instagram Collab Post Anyway?🤔
Imagine having one awesome post visible on two Instagram profiles simultaneously — sounds insane, right? It's not just like any other post. You and your buddy create a single Feed Post or Reel together, but instead of it just appearing on one page, now both of you can share the same post. 😲 This collaboration doesn't stop at shares but also applies to likes, comments, and reach. 🚀 (source)
But, one ground rule: just one buddy at a time, OK? 😉 Live and Stories have yet to catch up with this cool feature though.
3
Why Should Brands Get on Board the Collab Train? 🚂💨
Boost Your Reach: Struggling to make your brand visible on Instagram? Collabs can be your secret weapon! By leveraging on these, you reach more people through the accounts they already love! 🌐
Ramp Up Your Engagement: With more reach comes more engagement. Enjoy increased likes, shares, and comments — all thanks to collabs. Post at the right times, and watch the engagement explode! 💣
Get More Followers: Endorsements from influencers or brands that users already trust can give you a heads-up! Users are more likely to hit the follow button when they see you co-creating content with their favorite brands. ⭐
Sell More with Instagram Shopping: Take your shoppable posts to the next level with collabs. They increase your reach, building brand trust which leads to increased sales — a killer combo for any business! Greenback rain, anyone? 💸
4
Steps to Creating a Collab Post on Instagram 📝
Phase 1: The Post Creator
Makes a Feed Post or Reel in the usual manner. 📸
Adds all necessary customisations. ✨
Choose Tag People from the menu. 🧑‍🤝‍🧑
Choose Invite Collaborator from the menu and find the user. 🔍
Done! Detailed the post and share it. 🚀
Phase 2: The Collaborator
Goes to the activity page. 📌
Checks the invite notification and reviews it. 📧
Accepts the invite. 🤝
5
💡6 Epic Instagram Collab Post Ideas💡
Now, you might be wondering, but where do I use these collabs? Don't worry, here are a few kickass ideas:
Pair up with Other Brands: A collab with a brand sharing a similar audience can do wonders, giving you new opportunities for cross-promotion. 🤝
Work with Influencers: Influencers have a highly engaged following. Collaborate on a series of posts and watch your brand's visibility grow! 🚀
Your Other Instagram Accounts Need Some Love Too: Got more than one account? Collab posts can get some eyeballs on those accounts as well! ⏰
Support a Great Cause: Show your brand values and deliver something your customers care about by collaborating with a charity or nonprofit. ❤️
The Big Reveal – New Product Launch: Using collabs for a new product launch can create a buzz and maximize your efforts. It's a win-win! 🎉
Who Doesn't Love a Discount? A discount campaign or a giveaway can get a boost by showing up on two accounts instead of one. 🎁
6
Embrace Instagram Collab Posts for a Bangin' Instagram Game 📈
Are you ready to take your Instagram strategy to the next level? Instagram Collab Posts are the future. Don't miss out on this trend and make the most of it — it's time to rethink social strategies! Heck, and if you need help doing it, Sprout Social can help guide you with a powerful Instagram marketing strategy! Get ready for wild success and explosive growth — it's time to crush it! 💪
Conclusion:
💥 BOOM – you are now equipped to dominate the Insta battlefield and unlock new levels of growth! With Instagram Collab posts, you're not just leveraging your own audience, but also exposing your brand to a whole new, untapped market. 🗝️ But remember, amigos, using Collabs smartly and strategically is the key. Take time to understand your audience, partner with brands and influencers wisely, and stay active in bringing in fresh content. The top brands and creators swear by this tactic – trust me, you will too! 🏆 Embrace the Collab culture today and watch your brand's online presence explode. Happy 'gramming! 📸💫
What is an Instagram Collab post?
An Instagram Collab post is a joint content effort that appears on two profiles at the same time. One user creates the post and invites another user to participate. Once the invitation is accepted, the post, including its comments, likes, and shares, are featured on both participants' accounts. This feature currently supports only Feed Posts or Reels and allows only one collaborator per post.
How can Instagram Collab posts benefit brands?
Instagram Collab posts can offer several benefits to brands. These include increasing the reach of your account, improving audience engagement, gaining more followers, and boosting sales from Instagram shopping. This happens due to the exposure to a new audience, endorsement by a known figure, and combining the functionality with shoppable posts, respectively.
Is collabs feature available for Instagram Lives and Stories?
Currently, Instagram does not support the use of the Collab feature for Lives and Stories. It is exclusive to Feed Posts and Reels.
How to create a Collab post on Instagram?
The process involves two main steps. Firstly you would create a Feed Post or Reel as usual. Then during the tag people stage, you would select the Invite Collaborator option and search for the user you wish to collaborate with.
How to accept a Collab invitation on Instagram?
As a collaborator, you can accept the Collab invitation by visiting your activity page. You'll find an invite notification here which you can review and then select Accept to complete the process.
What ideas can brands use for an Instagram Collab post?
Brands can explore several ideas for utilizing Instagram Collab posts. These can include partnering with other brands, teaming up with influencers, promoting other accounts within the brand's ecosystem, aligning with valued nonprofits or charities, launching a new product, or announcing promotional giveaways or discounts.
How do Instagram Collab posts help in boosting reach?
Instagram Collab posts can increase a brand's reach by exposing their content to the followers of the collaborator. This approach can help brands overcome the Instagram algorithm's limitations and showcase posts through accounts that users commonly engage with.
How can Instagram Collab posts improve engagement?
As Instagram Collab posts increase the visibility of the content, it correspondingly amplifies the opportunities for audience interaction. This can lead to more comments and greater engagement, especially if posts are timed correctly.
Can Instagram Collab posts help in gaining followers?
Yes, Instagram Collab posts can impact follower growth. When your brand appears in users' feeds via a collaboration, it carries an implied endorsement from a brand or creator that the user already follows. This credibility can incline users to follow your brand.
Are Instagram Collab posts effective in increasing sales from Instagram shopping?
Yes, by coupling Collab posts with Instagram shopping, brands can potentially increase their sale conversions. The combined impact of increased reach and engagement can help turn visitors into buyers.
What are the two phases involved in the creation of an Instagram Collab post?
The creation of an Instagram Collab post involves two phases. In the first phase, the post is created as a Feed Post or Reel. In the second phase, the collaborator is invited to share the post.
Can more than one collaborator be involved in a single Instagram Collab post?
No, Instagram currently only allows a single collaborator per post for the Collab feature.
How does inviting a collaborator work in an Instagram Collab post?
The invitation process involves selecting Tag People from the post details menu. After this, you choose the Invite Collaborator option and use the search bar to find and select the user you want to collaborate with.
Are there any specific collaborations that seem to work best for Instagram Collab posts?
While this can vary based on brand preferences and target audience, collaborations with influencers or brands that share a similar audience can be highly effective for Instagram Collab posts. Another beneficial tactic is to associate your brand with a valued non-profit or charity.
Is the Instagram Collab post feature being widely adopted by influencers and creators?
Yes, influencers and creators have eagerly adopted Instagram Collab posts as it offers increased reach and engagement for their content. Brands are now following suit and starting to explore this feature.
Can Instagram Collab posts support shoppable tags?
Yes, Instagram Collab posts are compatible with shoppable tags. This allows brands to direct users straight to their products, increasing the chance of a sale.
How do Instagram Collab posts play into the growth of the creator economy?
With Instagram Collab posts, creators get a platform to showcase their work to a broader audience. They get involved in partnerships, which not only gain more exposure for their content but also benefit the brands they collaborate with.
Can Instagram Collab posts be used to promote a new product launch?
Yes, Instagram Collab posts can be a powerful tool for new product launches. By collaborating with another account, the brand can leverage the benefits of mutual efforts, reaching a larger audience and creating a buzz around the new product.
Is there any benefit to promoting other accounts through Instagram Collab posts?
Yes, brands can use Instagram Collab posts to promote other accounts within their ecosystem. This can be beneficial as users already following one of a brand's accounts may be interested in following others as well.
Can Instagram Collab posts be used to support a nonprofit or charity?
Yes, brands can use Instagram Collab posts to align with valued nonprofits or charities. This not only spreads awareness about a cause but can also build engagement and loyalty with the brand's audience by showcasing shared values.