🔥Get the Lowdown on Instagram Carousels!➡ Swipe Epic Content + Tips🚀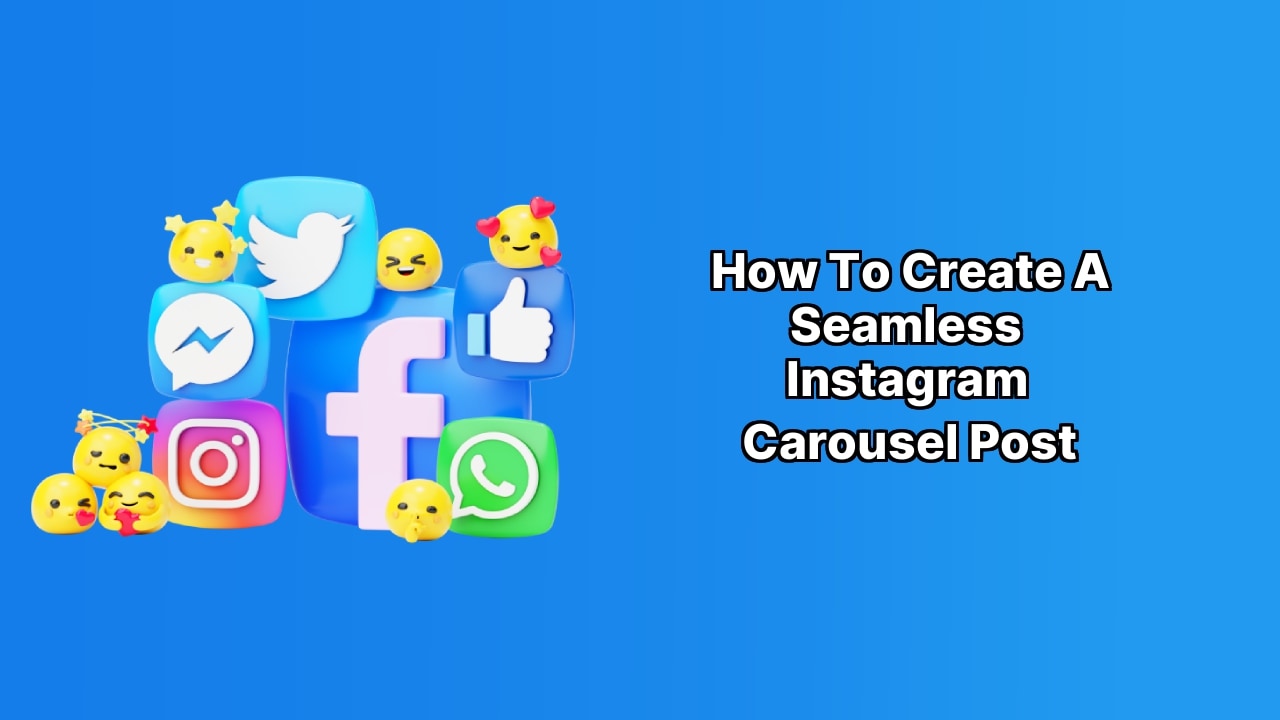 Hey you guys! It's time to dig into the world of Instagram carousels🤳They're totally still smashing it on IG and could be your golden ticket to keeping that engagement clocking up. Why? Because they get folks to stop scrolling and start swiping.💥 So, let's dive right in and give you a sweet breakdown on why you gotta post IG carousels, load up on tips and toss out examples like they're hot💎 Let's explore the IG Carousel kingdom!💪
1
🚀 Get ready to take your Insta 🖼️ game to the next level with Carousel Posts! 🔥
Guess what? Instagram carousels are still 🔥HOT🔥, seriously folks they're not going anywhere anytime soon. People go bananas 🍌 for this feature because it makes them smack the brakes, stop scrolling, and swipe. Just like in video games, sometimes you have to stop and investigate, right? 😜
So, the big question is – what exactly is an Instagram carousel? 🕹️(Bet you're already thinking of game strategizing, aren't you?) Check this out if you don't know what carousel is.
An Instagram Carousel is a post filled with MORE than one photo or video 📸 You can see them by simply swiping through the post on the app. Desktop followers can click the arrow button on a post. Think of it as a good old slideshow, where YOU hold the power to control which slide shows next.
I mean, who doesn't love extra control? 😉
2
🏅 Instagram Carousels: Enhancing Engagement! 💪
Instagram Carousels score BIG when it comes to engagement. Stats show that they outperform both photo and video posts. That's right, folks! Research by Socialinsider.io revealed that Carousels see engagement rates between 1.65% and 5.40% (way better than the average platform rate of 1.2%). 💥BOOM💥
Let's say you got an interesting topic 💭, a bunch of related pictures 📷 and a story to tell… Instagram carousel is your savior!
3
🎯 When to Use Instagram Carousels?
Educational content 🎓
Data and infographics 📊
Tutorials 🛠️
Brand storytelling 📖
Before-and-after reveals 😲
Photo dumps 🗑️
Product reveals 🎁
Product/brand updates 🔄
User-generated content 👥
Event highlights 🎉
Behind-the-scenes looks 👀
4
🔧 Instagram Carousel: Size Matters! 😏
Yup, size does matter when it comes to Instagram Carousel photos and videos. They recommend an image resolution of 1080 x 1080 pixels 🧱. Videos should have minimum and maximum resolutions of 600 x 600 pixels and 1080 x 1080 pixels respectively.
5
💻 How to Create a Carousel Post on Instagram?
Well, let's say you've collected all those knockout images or videos 🎥. Now, it's time to create your Instagram Carousel Post. Brace Yourself because you're🔥gearing up for massive engagements🔥!
6
🔜 Scheduling Your Carousel Posts!
A winning Instagram Carousel post isn't just about great content, it's also about timing. ⌛As my fellow social media manager, you know that efficiency is key. To boost your post's engagement, you need to keep your feed active 🔄 and content fresh! And Facebook Creator Studio can help you out here.
7
📆 How to Schedule a Carousel Post with Sprout Social?
If you're an all-rounder who likes handling everything under one roof, then Sprout Social is your buddy.😎 The best part? You can master Instagram Carousels directly from your desktop app. Check that out on the Sprout Help Center.
8
🎈 Get Inspired with Instagram Carousel Examples!
Get your thinking cap on and check out these remarkable examples. 😎 Spark your creativity and influence millions. In the end, it's all about the master game plan! 😉
Answering burning questions 💡
Bite-sized visual guides 🎬
Revealing a new collection/product line 👕
Event highlights 📅
Spotlighting ingredients 🥗
Mini store tour 🏬
9
Diving into the vibrant world of Instagram Carousel Templates💥
👀Let's peek into the world of Instagram folks! Ever notice some stunning visuals as you scroll through your feed?📱Those are Instagram carousel posts and they're seriously crushing the Insta game. Not only are they super eye-grabbing but also get people swiping left in no time!😲
10
A Mini Tour with Instagram Carousel Posts🌐
Take the @exist_green store for example; followers got a sneak peek of what's inside! Think about it this way— it's like inviting your buddies for a quick tour of your epic showroom… but on Instagram. 🎉 These carousels are one step ahead, creating a unique, immersive experience for everyone. Who wouldn't love that?🤷
👀Eye for an eye… here's a look into the carousel post. Deep dive into it!
11
Mastering Instagram Carousel Templates🎨
But hey, creating fab Instagram carousels isn't just about slapping a few pics together. If you want to nail the carousel game, you gotta focus on high-quality images!✨And nah, these aren't just any images. We're talking on-brand, cohesive visuals that make your feed pop!🎆
Here's a hack: Instagram carousel templates. They're like these superpowers that transform your posts into a work of art! With a consistent style of color schemes🌈, fonts, and design elements, your carousel will look like a masterpiece in no time. All you gotta do is customize these with peppy text, graphics, and photos, and voila!💁‍♂️
12
Becoming an Instagram Carousel Jedi👑
Now, you might be wondering, "Where can I score some of these nifty templates?"🤔 Great news, places like Canva, PicMonkey, and Adobe Stock are the golden tickets you're seeking!✨
These sites offer a swoon-worthy stack of stock templates. They're perfected for anyone looking to save time, or who doesn't have the design chops but still wants to look pro!👏
But if you're rocking your own strong brand identity and want to channel that through your Instagram carousels, don't hold back! Just go ahead and design your own from scratch.🔨
13
Unlocking the secrets of audience engagement🔑
In fact, it's not just about looking good. What really matters is engaging your audience! It's super simple: the more they swipe, the more they connect!😍
Did you know that according to 📊 Spark Social Index, 46% of consumers think engagement is key to becoming top-notch on social media?
So go all out and get your audience swiping! With these tips, templates, and ideas, your Instagram posts will be hard to resist. Plus, you'll get a sweet boost of audience engagement!🚀
Alright, enough with the talk. It's time to create! Remember, great carousels start with great templates. Get out there, get designing, and get those swipes!👉
Conclusion:
Stop the press! The numbers don't fib – Instagram carousels are no joke😎 They're loaded with engagement and if you're not using them, then you're losing out big time! So, use these golden tips, juicy ideas, and marvelous template resources that are perfect for crafting eye-popping carousels to make your audience swipe left. Now, remember, jamming with your audience is THE way to become an IG champion, 💪 according to just under half of all consumers. For more insane insights into the psyche of the social consumer,
check out Sprout Social's research here
.💡
What is an Instagram carousel?
An Instagram carousel is a singular post on Instagram that contains multiple photos or videos. Users can scroll through these by swiping left on the post in the mobile app or by clicking the arrow button on the desktop version. It functions almost like a custom slideshow that users can control.
How do Instagram carousels contribute to user engagement?
Instagram carousels have the advantage of eliciting more active user engagement, as they require users to swipe to see more. If the first image or video is engaging enough, users are more likely to pause and swipe through the other pieces of content as well.
How does the performance of carousels compare to other types of Instagram posts?
A study by Socialinsider.io discovered that carousel posts have higher engagement rates than both photo and video posts. Carousels manage to achieve engagement rates between 1.65% and 5.40%, surpassing the average platform engagement rate, which stands at 1.22%.
In what scenarios can Instagram carousels be effectively used?
Instagram carousels excel in displaying various types of content such as educational content, data and infographics, tutorials, brand storytelling, before-and-after reveals, photo dumps, product reveals, product/brand updates, user-generated content, and event highlights.
What are the size requirements for Instagram carousels?
Instagram recommends image sizes to be 1080 x 1080 pixels for effective display. Videos should have a minimum resolution of 600 x 600 pixels and a maximum resolution of 1080 x 1080 pixels. The aspect ratios to follow are square (1:1), horizontal (1.91:1), and vertical (4:5).
Can you walk me through the process of creating an Instagram carousel post?
Firstly, click on the + symbol at the top of your screen. Select the option to create a new Post, and tap on the option to Select multiple images or videos. Select up to 10 photos or videos, then tap on Next. You can then edit, apply filters, and add captions, tags, and other information to your post. Once everything is complete, tap Share to publish your carousel post.
Can Instagram carousel posts be scheduled?
Yes, carousel posts can be scheduled using tools like Facebook Creator Studio. This helps maintain a consistent publishing schedule. However, each carousel post must be manually uploaded, making it somewhat time-consuming. An all-in-one social media management tool can simplify the process and allow for more efficient scheduling.
What is the process for scheduling an Instagram carousel post via Facebook Creator Studio?
First, log into your Creator Studio account and select the Instagram button at the top. Click on the Create Post button and choose the option to create an Instagram Feed post. Next, click on the Add content button to upload the images or videos you want on the carousel. Once your post is ready, click on the drop-down arrow next to the Publish button, select Schedule, and choose the date and time for it to go out.
How can Sprout Social assist in creating and scheduling Instagram carousel posts?
Sprout Social has a feature that allows users to publish and schedule Instagram carousels directly from the desktop or mobile app. It's a convenient option for users who prefer managing everything from a single platform.
What are some good examples of Instagram carousel utilization?
Brands like Sprout Social use carousels to share answers to relevant questions; Canva shares visual guides; ColourPop Cosmetics reveals new collections; NotionHQ highlights events; and Frank Body puts a spotlight on ingredients. All these instances showcase the versatility of carousels.
How can Instagram carousel templates aid in maintaining a consistent visual identity?
Carousel templates help maintain a consistent style across posts as they can be customized with consistent color schemes, fonts, and other design elements. They make each image form a unified look, contributing to a cohesive brand representation on Instagram.
Where can I find Instagram carousel templates?
Websites like Canva, PicMonkey, and Adobe Stock offer a variety of pre-made templates that can be customized and downloaded. These templates save time, perfect for those who prefer not to design from scratch.
What are the advantages of designing carousel templates from scratch?
Custom designing your carousel templates gives you more flexibility and the ability to precisely present your brand's visual identity. While it can be more time-consuming, it may yield more desirable results specific to your needs.
How important is it to have engaging content on Instagram carousels?
Engaging content is key to success in social media. It not only helps to grab users' attention but also makes users more likely to engage and interact with your posts. A notably catchy or intriguing first slide can be crucial in prompting users to swipe through the rest of the carousel.
Can you combine images and videos in an Instagram carousel?
Yes, an Instagram carousel post can consist of a mix of photos and videos up to a total of 10 slides. However, when using certain apps like Sprout Social, you currently cannot combine both in the same carousel post.
What is the maximum number of slides that can be included in an Instagram carousel post?
An Instagram carousel post can contain up to 10 individual slides (photos or videos).
Are carousel posts a good fit for all Instagram users?
Yes, Instagram carousel is a great tool for all users – whether they're businesses, influencers, or everyday users. They offer a versatile and engaging way to share a variety of content types and tell more in-depth stories.
Which type of content works best for carousel posts?
There isn't a one-size-fits-all answer as it largely depends on your audience and your brand. However, types of content that have seen success include educational content, tutorials, product reveals, and story-telling content.
Does creating carousel posts require professional design skills?
While having professional design skills can help, it's not strictly necessary. Tools like Canva and PicMonkey allow users to use pre-made templates, making the process easier. Good aesthetic sense and understanding of your brand's visual identity are important though.
How often should I use carousel posts in my Instagram content strategy?
The frequency of carousel posts depends on your specific content strategy, audience preferences, and the type of content you produce. However, since carousels have been proven to drive higher engagement rates, including them regularly in your content mix can be beneficial.