Your Ultimate Guide to Crushing Your Instagram Bio 👊💥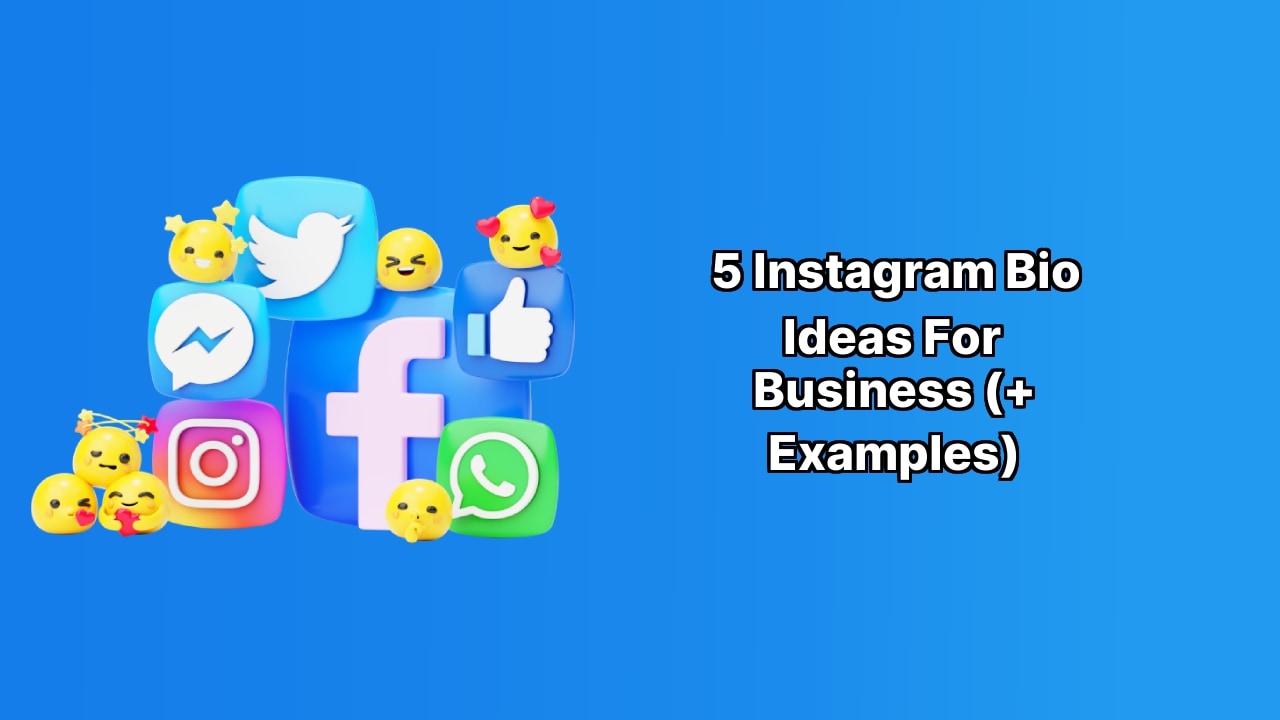 👋 Hey, everyone! Have you ever clicked on an Instagram account, rolled your eyes at the bland or non-existent bio, and clicked away faster than you can say "meh"? 🤦You're not alone. A great Instagram bio is as vital as. .. well, as those decadent 🍩 donuts you were planning to 'gram. Your bio is the soul of your profile—it tells users who you are, what you're all about, and why they should hit that "follow" button. 🎯 So, buckle up, because we're going deep into the Instagram bio jungle! 🌴
1
📸 Instagram Bio: What Is It and Why It Matters?
🤔 Have you ever found an awesome photo or video on Instagram, then you click on the profile and there's no info in their bio? It kinda feels like a letdown, right? A lot of people feel the same way about incomplete Instagram bios. That's why, if you're running a business, you gotta have a killer Instagram bio! It's just as important as the content you post. 🚀
An Instagram bio is like the billboard for your business on the platform. It's the sweet spot that tells people who you are and what you've got to offer – all in just 150 words. Yep, that's real tight! 😱 So, it's important to make every character count! 🥇
2
💡 How to Jazz Up Your Instagram Bio?
We're gonna go in detail on the essential elements to add in your Instagram bio. Hang on to your hats, friends! 🎩
📛 Name and Username: Your username is like your Insta ID and it's super important. You could use your brand name or popular abbreviations to stand out. Think something like @coolbeans instead of the full CoolBeansandBagels. 😎
📸 Profile Photo and Branding: Gotta have a pic! Use your logo or an image that screams your brand. The crazier, the better! Just like National Geographic TV and their yellow rectangle logo. 👀
📣 Instagram Bio Copy: This is where you tell people what you're all about. You only have 150 characters here, so be extra savvy. Witty and catchy phrases work great! 🎉
🔗 Bio links: Add clickable links to your website, specific promotions or products. This helps viewers learn more about you with just one click! 👆
🔖 Category: Instagram lets you choose a category for your brand. Are you a restaurant? A clothing line? A media company? Shout it out loud! 📢
📲 Call-to-action and Contact Buttons: Make it easy for people to interact with your brand. Add call-to-action buttons like "Buy Now", "Contact Us", or "Learn More". Sadly, they're only visible on mobile, though. 📱
3
🖌 Tips for Creating an EPIC Instagram Bio
So, we've talked about what needs to go into your Instagram bio. Now, let's make it epic! 🚀
🎯 Know Your Goal: Be sure about what you want from your Instagram bio. Do you want it to portray your brand personality? Or, do you want to announce your latest products and offers? Make sure the bio aligns with your brand's goals. 🙌
✨ Let Your Brand Personality Shine: Use your Instagram bio to express your brand's personality. Is your brand fun and laid back? Use a more casual tone. Are you more formal and serious? Keep it professional. Don't forget to sprinkle relevant emojis here and there! 🎈
Alright, folks! That's about it – the key ingredients for a killer Instagram bio! Remember, it's not just about what's in the bio, but also how you present it. Let your bio be an exciting representation of your brand and watch your popularity soar! 🚀
4
🔥Crack the code of Instagram Bio like a Pro🔥
Hey guys, you gonna love this one! 🤩 Imagine your Instagram bio acting like a magnet, pulling in followers and racking up likes? Now, that's not magic, you just need to know how to play the game.🎮 Let's check out some dope tips on how to level up your Instagram bio game! 😉
5
👉Top 5 Tricks to Optimize Your Instagram Bio👈
Make the most of the '150 characters': Instagram gives you only 150 characters for your bio. Make them count 🔥 You need to show what your profile is all about in a nutshell.💡 But hey, don't forget about your followers who use screen readers. Let's keep it simple and understandable for them too! 👍
Use clickable hashtags and profile links: Instagram lets you put clickable hashtags and profile links in your bio. It's a great chance to lead your followers to your other Instagram handles or some nifty content. If you have multiple handles, this is your jackpot! 🎰 And what about hashtags? Just tag some awesome user-generated content, and watch the magic unfold! 💫
Keep it 'easy-peasy-lemon-squeezy': Make sure that your bio is as easy to read as a comic book. 📘 Use line breaks, spacing, and formatting to make your info stand out. 🌟 You could even get creative with pipe or vertical bar characters, or maybe use emojis as bullet points (sounds fun, right?). But remember guys, these count into your character limit, so use them wisely! 🎯
Include a smashing call to action: Your bio is the perfect place for a direct CTA. Tell your followers exactly what they need to do on your profile. Maybe they need to shop your feed, check your latest blog post, or use a specific hashtag? Spell it out for them in your bio! Your bio, Your rules! 💪
Use a link-in-bio tool: Use a good link-in-bio tool to diversify your single bio link into multiple ones. This way, you can direct your followers to different places from a single location. Isn't that cool? 😎
6
Curious about Instagram Bio? Check out these FAQs 🔍
'Where is the link in bio on Instagram?' 🤔 : Well, it's in your profile editing section, next to the 'Website' field. Just paste your preferred link there, and you're good to go! As simple as that! 🚀 For more info, check out Instagram Help Center.
'How do you add a link in an Instagram bio?' 😕: Trust me, it's as simple as pie.🥧 All you have to do is edit your profile and put your link into the 'Website' field. Just one paste and you're done! 🎈
'How many characters can you use in an Instagram bio?' 🧮: Instagram has a bio character limit of 150 characters. It might sound less, but hey, the less, the more creative you need to be! So, start squeezing in that creativity guys! 🎉
7
Final Thoughts: Be Creative, Be You! 🎨
Creating an exciting Instagram bio doesn't need to be a challenge. It could be an awesome way to reveal your brand identity, show your creativity, and entertain your audience. Remember, it's your bio, so make sure it screams 'YOU'! So, start experimenting and see how it impacts your profile engagement. You'd be amazed! 🚀 With these tips at hand, you're ready to rock your Instagram bio game! 😎
Conclusion:
So, ready to unleash your channeled MrBeast and 🚀 rocket your Instagram profile sky-high? Crafting the perfect Instagram bio might feel like assembling a 1000-piece puzzle at first, but once you have all the pieces 🧩, it all falls into place. Remember, your Instagram bio is more than a string of emojis and keywords. It's like your virtual handshake 🤝 to the Instagram world—it sets the tone, exudes your brand's personality, and ultimately, decides if users hit that follow button. So, take these tips, and transform your bio from bla to bomb! 💣 Happy 'gramming, folks! 📸
What is an Instagram bio?
An Instagram bio is a brief overview of a brand or individual that appears at the top of an Instagram profile. Within the 150-character limit, it concisely communicates what your business does and for whom. It's an opportunity to make an impactful first impression and express your brand's unique identity.
What makes an Instagram bio important?
Being often the first point of contact for many users, an Instagram bio is key in establishing your brand's presence on the platform. It tells visitors who you are, what you sell, and why they should care about your business. It can be the deciding factor in whether a user follows your account or not, making it a critical element in any Instagram business strategy.
What are the key elements to include in an Instagram bio?
The core components of a successful Instagram bio include the username or @handle, profile photo, bio copy or description, clickable bio link, category, and call-to-action or contact buttons. All these items combine to provide essential information about your brand and drive user engagement.
Why is the Instagram username important?
The username, often referred to as the @handle, is your Instagram identity. It's part of your Instagram profile URL and appears at the very top of your profile, making it highly visible. It could be your real brand name, an abbreviation, or a variation that's commonly associated with your brand.
What should the profile photo in an Instagram bio be?
The profile photo in the Instagram bio should be reflective of your brand's visual identity. In most cases, brands use a high-quality image of their logo for better brand recognition across all social media channels.
What should be included in the Instagram bio copy?
The bio copy, the part under your name, should express your brand personality and specify what you offer. Due to a 150-character limit, it's essential to be concise yet impactful, explaining why users should follow your account.
Are there any best practices for adding links to my Instagram bio?
Although Instagram only allows for one website link in the bio, brands often use link-in-bio tools to make the most out of this feature. These tools create a specialized landing page with shortcuts to multiple content or product pages, providing users with more navigation options.
What is the purpose of specifying a category in my Instagram bio?
Specifying a category tells users what kind of business you run–whether it's a restaurant, an e-commerce store, or a media company. It appears under your business name (if enabled) and can save valuable space in your bio for other essential details.
Why are call-to-action buttons important in an Instagram bio?
Call-to-action buttons, which are available for Instagram Business accounts, drive user activity straight from your profile. They can facilitate a variety of actions, such as buying products, booking appointments, or sending messages, making it a more user-friendly experience for potential customers.
What strategy should I follow when writing an Instagram bio?
Start by defining your goal – what you want to achieve through your Instagram bio. Whether it's expressing your brand personality, promoting your latest products, informing people about your business, or declaring your brand mission, having a clear sense of direction helps you write a targeted, impactful bio.
How can I add brand personality to my Instagram bio?
Adding personality to your Instagram bio involves careful choice of language, tone, and messaging. Depending on your brand approach, you can achieve this through fun and friendly wordplay, distinct emojis, or by establishing your brand authority.
How do I incorporate hashtags and profile links in my Instagram bio?
Instagram bios can feature clickable hashtags and profile links. This function can be used to direct users to other Instagram handles you manage or to relevant, tagged content. It's a helpful feature for businesses that operate multiple accounts or want to showcase user-generated content.
What readability considerations should I keep in mind while writing my Instagram bio?
Your Instagram bio should be easily readable and quickly understood. Proper formatting such as line breaks, spacing, and simple language can optimize readability. Be cautious with special characters and emojis as they may not translate well on a screen reader, hindering accessibility for some users.
What is a compelling call-to-action in an Instagram bio?
A compelling call-to-action (CTA) in an Instagram bio gives clear directions to users about the next step you want them to take. CTAs could encourage users to visit your website, shop your feed, follow you, or use your branded hashtag depending on your strategic goals.
Where should I place the link in my Instagram bio?
The link is placed in the Website field when editing your profile on Instagram. Given that you can only include one link here, many brands opt to use link-in-bio tools that cater to Instagram-specific navigation requirements.
How do I include a website link in my Instagram bio?
To add a link to your Instagram bio, simply go to edit your profile and paste the desired URL into the Website field.
What is the character limit for an Instagram bio?
The character limit for an Instagram bio is 150 characters, so it's important to ensure that every character counts in conveying your brand message.
What is the best way to include contact buttons on my Instagram bio?
Instagram Business accounts have the option to include call-to-action buttons that facilitate direct contact or actions from users. These include Message, Call, Email, Book, Reserve and other customizable options depending on your business requirements.
Can I use emojis in my Instagram bio?
Yes, emojis can be used in your Instagram bio and can add personality to your brand's online presence. However, be cautious as not all emojis translate well on screen readers. It is also important that these emojis align with your brand's personality and are universally understood by your target audience.
Should I keep updating my Instagram bio regularly?
Yes, it's a good practice to periodically update your Instagram bio to reflect your latest offerings, products, or content. This keeps your profile fresh, relevant, and appealing to viewers, potentially increasing user engagement, followers, and conversions.