💬Boost Your Business with WhatsApp: The Ultimate Guide 🚀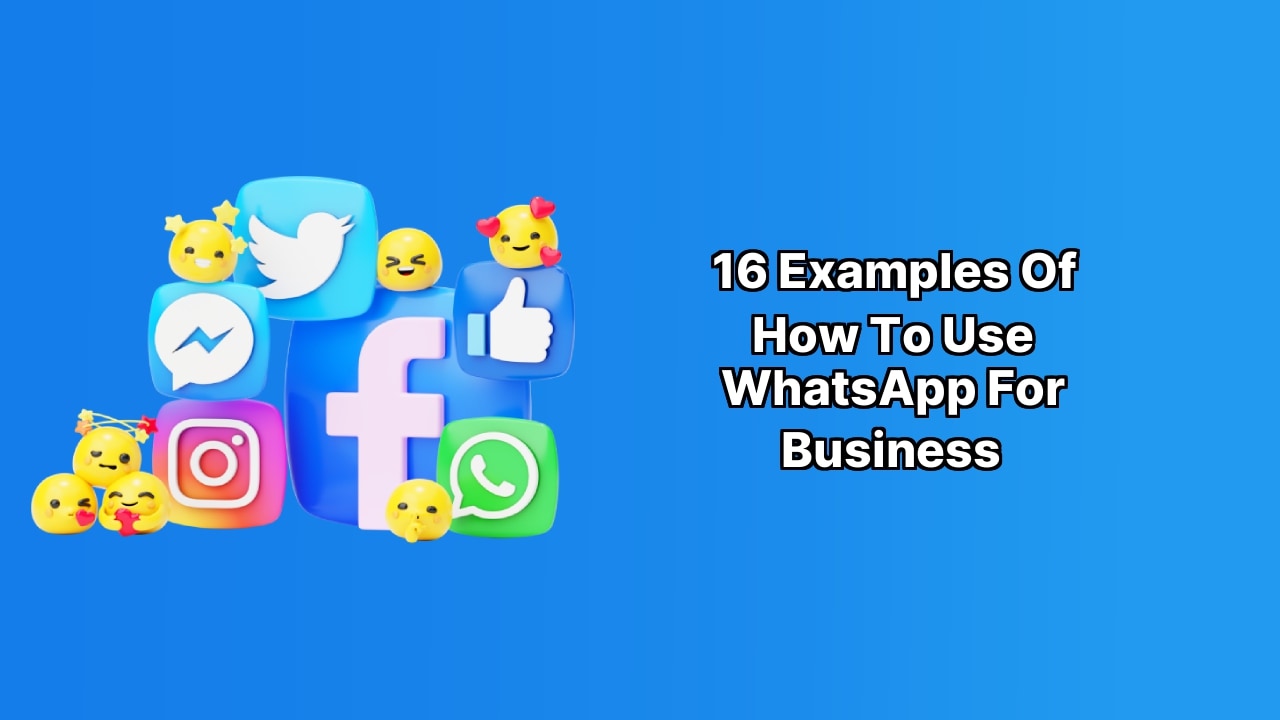 🔍 Ever wondered why WhatsApp is the buzzword for businesses? 🌍 Courtesy of our global, digital era, consumers now demand personalized and convenient experiences. And, they're ready to pay more💲💲 for businesses that provide such services. The star of this show? WhatsApp 💫. With businesses striving to meet customer needs and restrictions reducing in-person shopping, apps like WhatsApp are a stronghold for brand-customer communication. From marketing to customer service, WhatsApp Business is your one-stop solution to streamline operations. 🎯 Dive into this super engaging guide to unveil the potentials of WhatsApp for your business, its features, and some mind-blowing examples of brands mastering the game. 🚀 Let's achieve that explosive growth, shall we?
1
😎Conversational Marketing is Getting BIGGER and It's all Thanks to WhatsApp!📈
More and more businesses are unleashing the power of personalized service. Because you know what? A whopping 90% of consumers from around the world are happy to spend more just to get a more personalized service!😱
Can you guess what's helping them out, big time? It's WhatsApp Business! From customer care to financial services, HR, and marketing campaigns, WhatsApp is pretty much the Batmobile every business needs right now.🔥
In this guide, we're gonna talk about how WhatsApp is changing the game, some seriously cool ways to use it, and tips for leveraging it like a boss.💡
2
💖Why Businesses are LOVING Whatsapp💖
WhatsApp isn't just a communication tool anymore. It's a superhero in disguise that's skyrocketing businesses towards success. Here's why they're loving it:
Global Reach: With WhatsApp, you can connect with billions (that's right, billions with a B!) of people from over 180 countries. Talk about a business party!🎉
Customer Experience: Want to build better relationships with your customer? Hit 'em up on WhatsApp. It's like having a friendly chat with your neighbor!💬
Employee Satisfaction: It's not just the customers that are happy but also your employees! No more long hours of waiting on calls or juggling emails. WhatsApp makes customer support a breeze!💼
Increased Profitability: WhatsApp is not just saving time but also money! Streamlining customer service can actually increase your profitability!💰
3
🎩Genius Ways to Use WhatsApp Business
With WhatsApp, you're only limited by your creativity. So let loose, and check out these ideas. Implementation guaranteed to make your customers go 'WOW'!
Optimize your Profile: Fill out all the details in your profile and answer those frequently asked questions right up front.💼
Digital catalogs: Create an impressive catalog of all your products on WhatsApp and make it easier for your clients to choose.🧾
Chatbots: Make customer support faster and effortless with chatbots that can answer simple customer queries.🤖
Status Updates: Share useful content, new offers, or updates about your products through the status feature. It's like Snapchat, Instagram and Facebook stories but for your business! 📣
Creative Marketing Campaigns: Engage customers with personalized marketing campaigns to keep them coming back for more.🔥
Business Processes: Replicate key areas of your business processes on Whatsapp for seamless operation. 🔄
Ads that Lead to WhatsApp: Connect your Facebook and Instagram ads with Whatsapp to draw in customers and strike up engaging conversations! 💬
4
💡 Whatsapp Business Tools You Need to Use Now!
WhatsApp offers loads of features you can use to streamline your business and provide awesome customer service. Let's check them out.
Quick replies: Prepare responses in advance for common customer questions to save time.
Automatic away messages: Tell your customers when you'll be back to respond by setting away messages.
Contact and message Labels: Organize your chats and contacts with cool labels.
Catalogs and Collections: Showcase your products in style with catalogs and collections.
Catalog links: Share your catalog directly with customers in chats.
Cart: Make shopping easy with the in-app cart feature.
Broadcast Lists: Send the same message to multiple customers at once.
Whatsapp has a special API meant for larger businesses. This allows access to even more advanced marketing and customer care features, talk about leveling up in style!🎯
So, there you have it, folks! That's how you make the most of WhatsApp Business to scale your brand. So, sit back, grab your phone, and let WhatsApp Business work its magic!😎
5
📣 Want to Market like a PRO? Switch to WhatsApp Business! 🔥
Can you guess the trend that's shaking up the business world right now?? That's right! It's WhatsApp Business! 🚀This amazing tool has got heavyweights in the industry like Vodafone and Estée Lauder offering around-the-clock customer services 😱, and it doesn't stop there! It can help you streamline every facet of your business, from marketing campaigns to human resources and even financial services – all from your phone! 😎
6
Customer Service A+ on WhatsApp Business
Ever wondered how you could boost your customer service ratings? Let me tell you something, Vodafone got it right! 🎯 They're using a snazzy AI chatbot named TOBi who's doing a great job deflecting customer requests to their employees. Imagine having a bot that reduced the need for live customer support! 😅 Check it out here. In times of virtual shopping taking over where in-store experiences used to reign, Estée Lauder dropped a game-changer: specialist personalized skincare consultations using their AI chatbot, Liv. 🤖💄
7
Handling 💵 Over WhatsApp
You thought skipping the bank queues was great? Wait till you hear this. Banks are making transactions over WhatsApp! 📲 Brands like ICICI and HBL Bank are leading the way in the world of WhatsApp Banking. 🏦
8
Fun with Marketing on WhatsApp
Absolut Vodka pulled off a mind-blowing product launch using WhatsApp, by having customers engage with a chatbot doorman named Sven. 🍸Meanwhile, Carrefour Group switched from cost-ink paper coupons to digital via a chatbot to offer their clients personalized deals based on location and preferences!? 🏪 Brazil's Hellmann's saw potential in WhatsApp and sprinted ahead with a campaign where users got real-time assistance from professional chefs while they cook! Talk about having your own personal Master Chef! 🌟
9
Recruitment 💼 Using WhatsApp Business
Looking to streamline recruitment? Look no further than Deutsche Post DHL Group. With WhatsApp, candidates can apply directly, no lengthy online forms! Now, that's what we call user-centric! 🏃‍♂️
10
🚀 Skyrocketing Sales Using WhatsApp Business
Brands Be Like: 'Who needs a physical storefront when we have WhatsApp?' French newspaper Le Monde used WhatsApp stories to target their customers and grew their followers by 10,000! WOW! 😱 Triya, the Brazilian beachwear brand, crushed their sales by conversing and updating their customers about their orders via WhatsApp. 🏖️ Wrapping it up, the popular real estate brokerage Centaline Property integrated WhatsApp with their property recommendation engine to increase their sales pipeline, resulting in a whopping 27% hike in sales! 🏢 Their secret weapon: List Messages and Reply Buttons in WhatsApp.
11
Are you ready to rock WhatsApp for your business? 💪
With ❤️ from Mr.Beast.
12
💬 Exclusive Chitchat with One of the Biggest Names in Messaging Tech! 🚀
💻 Ever wondered who's behind the genius of your favorite messaging apps? 🤔 Well, keep reading, because today we're diving deep into the world of tech messaging, revealing some juicy details from an exciting interview! 📲 No, we're not mentioning names here, but this mastermind heads up developer partnerships at none other than Meta, the mega-tech giant! 🌐 Let's get straight into it! 🔥
13
🎛 Dominating the Messaging Tech Space!
At the helm of messaging developer partnerships, this top shot has been instrumental in revolutionizing how we communicate. 📱💡 Picture this – billions of messages flying across our globe each day, connecting individuals, fostering communities, and enabling business growth. 🌐💰 It's the stuff of sci-fi, but it's happening right here, thanks to the innovative minds at Meta! 🎯
14
🎢 The Thrilling Journey to Messaging Supremacy!
So, how did this all come together? 🤔 Our subject revealed the secret sauce during our interview – and guess what folks, it's not just about tech! It's about collaboration, creativity, and cultivating strong connections with developers all over the world. 🤝💡
The vision: Creating seamless messaging platforms that enrich our digital lives. ✨
The mission: Building solid partnerships with developers that drive innovation. 🚀
The execution: Making it all come together in a world of endless digital possibilities. 💻
Wondering what happens behind the scenes at Meta's Developer Partnerships division? 🕵️ Get the inside scoop right here. It's all about creating breakthrough messaging technologies putting developers at the heart of strategic decision making. 💡 Together, they're crafting the future of digital communication. 🚀
16
🏆 The Key Takeaways to Boost Your Game!
Wrapping up our chat, these are the words to live by if you're in the tech game: Innovate like mad, collaborate like your success depends on it (because, spoiler alert: it does), and always, always, nurture your developer partnerships. 👊💥
Innovation is not just recommended, it's required. Don't be scared to think big, think different, and challenge the norm. 🎯
Collaboration creates a synergy that amplifies your success. Teamwork makes the dream work! 🤝
Developer partnerships are essential in the tech world. Nurture them, value them, and see your project take off! 🚀
💪 Let's rule the future of messaging tech together, guys! With the right mindset, a dose of daring, and a drive to develop, our possibilities are limitless. So, what are you waiting for? Let's bring our A-game to the tech scene! 🎯💥
Conclusion:
🎯 Seen how incredible WhatsApp is for business? Get ready to skyrocket 🚀 your profits and make your customer service a breeze! With personalized conversations with consumers worldwide🌐, enhancing your team's satisfaction, and the ultimate aim of raking in higher profits, WhatsApp is indeed a jackpot in today's digital-heavy world. Whether you own a local store or run an international behemoth, WhatsApp is the key to unlock your boundless potential. Just channel this tool in creative ways and leverage its advanced functionalities to leave a lasting mark. 💪 And hey, you're definitely not alone in this game! We've got massive brands paving the way for impressive WhatsApp usage. Be it customer support, marketing, HR, or sales, the impact is just phenomenal. So, are we ready to hop on this game-changing ride and bring on the sales storm? Let's crush it with WhatsApp marketing! 😎
What are some clear benefits for brands that use WhatsApp to engage with customers?
Brands can leverage multiple benefits by engaging with customers through WhatsApp. This includes expanding global reach, as WhatsApp is globally the most popular messaging app with over two billion active users across 180+ countries. It also improves customer experience by providing a seamless platform for customer support. Additionally, it can enhance employee satisfaction as customer support personnel are 50% more likely to engage with customers via messaging platforms, providing them the freedom to multitask. Lastly, by streamlining customer service, brands can increase profitability.
What are some inventive ways to use WhatsApp for business?
Brands can use WhatsApp in innovative ways to bolster their social media, sales, or customer service strategies. This includes optimizing their business profile, creating digital catalogs, supporting customer service through chatbots, sharing content via the Status feature, developing creative marketing campaigns, replicating core business processes on WhatsApp, and leveraging WhatsApp's connectivity with Facebook and Instagram ads to foster customer conversations leading to sales.
What are the seven key WhatsApp Business account features that brands should use?
The seven key features of the WhatsApp Business account are: Quick replies to automate responses to frequently asked questions, Automatic away messages to manage customer expectations during non-business hours, Contact and message Labels for enhanced organization, Catalogs and collections to display inventory, Catalog links to share product details with customers, the Cart tool for in-app purchases, and Broadcast lists to send mass messages to customers who have saved the business number in their contact list.
What are the differences between WhatsApp Business Account and WhatsApp Business API?
The WhatsApp Business API is an advanced version of the WhatsApp Business Account, intended for medium and large businesses. It offers access to the tools provided by WhatsApp Business Account, with added advanced marketing and customer service features such as multi-agent access, profile verification, multimedia message templates, message variables for personalization, and interactive messages. Unlike the free WhatsApp Business Account, the API comes with a conversation-based pricing model.
Can you provide some real-world examples of brands using WhatsApp for business?
Several brands across various sectors have effectively leveraged WhatsApp for business purposes. For example, Vodafone uses an AI chatbot to address over 200,000 customer queries per month, while Estée Lauder uses WhatsApp for personalized skincare consultations. Nissan Saudi Arabia has an automated chatbot for customer inquiries and sales facilitation. Additionally, companies like Mutua Madrileña and ICICI Bank use WhatsApp for customer support and basic banking transactions. Brands like Absolut Vodka and Adidas have launched innovative marketing campaigns via WhatsApp. Some companies even use WhatsApp for human resources-related tasks or pipeline growth, like BASF Group and Le Monde.
How can WhatsApp be beneficial for the customer experience?
Consumers increasingly prefer convenient and personalized digital experiences. WhatsApp meets these expectations by providing a streamlined platform for customer support and engagement. Through features like quick replies, away messages, and catalogs, companies can ensure swift response times and personalized customer interactions, delivering enhanced customer experiences.
Why is personalization important in the context of WhatsApp Business usage?
Whith personalization, brands can tailor their responses and offerings based on the specific needs and preferences of individual customers. Personalization increases customer satisfaction and engagement, thereby potentially increasing sales and overall company profitability.
How does using a digital catalog on WhatsApp contribute towards better client interaction?
By creating a digital catalog on WhatsApp, businesses can offer customers an easy way to discover their products or services. This interactive feature not only makes it easy for customers to browse offerings, but also allows businesses to send product links directly in conversations, thus leading to enhanced customer interaction and potential sales.
Why are Call-to-Action (CTA) buttons important in WhatsApp Business accounts?
CTA buttons in WhatsApp Business accounts serve a crucial role in prompting customers to take desired actions like shopping, applying for jobs or making inquiries. They simplify the process for customers, making it more likely that they will complete the desired action, and also allow business to better track customer engagement and response.
Can you name some innovative uses of WhatsApp in financial services?
Financial service providers are also increasingly using WhatsApp for business. Spain's leading insurance provider, Mutua Madrileña, uses WhatsApp for customer support on over a thousand topics. Banks in India and Pakistan, like ICICI Bank and HBL Bank, use WhatsApp to answer customer queries and facilitate basic transactions. Money transfer providers in Africa, like Mukuru, are using WhatsApp to reduce transaction costs and enhance reliability of wire transfers.
What are some examples of effective marketing campaigns conducted through WhatsApp?
Several brands have conducted creative marketing campaigns using WhatsApp. For instance, Absolut Vodka used WhatsApp to publicize a product launch event in Argentina through a chatbot competition for tickets. Carrefour Group offers digital coupon catalogs via WhatsApp based on customers' locations and preferences. Hellmann's in Brazil implemented a campaign offering real-time cooking advice from culinary professionals to customers via WhatsApp.
How can WhatsApp Business be used for human resource purposes?
Various companies utilise WhatsApp for human resource functions. For example, BASF Group uses WhatsApp to engage potential recruits using a chatbot that quickly responds to candidate queries. The logistics company, Deutsche Post DHL Group, allows candidates to apply for positions directly from the app, providing a more user-friendly application process.
How can WhatsApp Business aid in pipeline growth?
WhatsApp Business can effectively nurture the sales pipeline through targeted content sharing and customer engagement. For example, Le Monde used WhatsApp's status feature for targeted content sharing to grow its follower base. Triya, a Brazilian beachwear brand, multiplied its sales after strengthening its presence on WhatsApp. Centaline Property used WhatsApp to quickly qualify leads, increasing sales conversions by 27%.
How does the use of automated replies benefit businesses on WhatsApp?
The Quick Replies feature on WhatsApp allows businesses to set up automated responses to frequently asked questions. This not only saves time and effort but also ensures prompt responses to customer queries, thereby enhancing customer experience and satisfaction.
Why are automatic away messages useful in WhatsApp Business?
Automatic away messages in WhatsApp Business are beneficial as they help manage customer expectations when the business is not available. These messages can be triggered during non-business hours, particular periods like holidays, or when receiving high volumes of inbound messages. A clear away message improves customer experience by informing them when they can expect a response.
How can the 'Catalogs and collections' feature help businesses using WhatsApp Business?
The catalogs and collections feature in WhatsApp Business allows businesses to display their inventory within the app. This way, customers can conveniently browse products or services, and businesses can share item details directly in conversations. This feature not only enhances customer experience but also promotes in-app purchases, leading to potential sales growth.
How is the 'Broadcast lists' feature in WhatsApp Business beneficial?
The Broadcast lists feature in WhatsApp Business allows businesses to send a single message to multiple customers at once, saving substantial time and effort. However, businesses should use this sparingly and in alignment with best practices to avoid alienating customers.
What kind of advanced features does the WhatsApp Business API offer?
The WhatsApp Business API, designed for larger scale operation, offers advanced features beyond those in the standard WhatsApp Business account. This includes multi-agent access, profile verification, multimedia message templates for marketing purposes, message variables for chat personalization, and interactive messages for enhanced customer engagement.
What role does conversational marketing play in a WhatsApp business strategy?
Conversational marketing plays a crucial role in a WhatsApp business strategy as it allows businesses to engage with their customers in real-time, providing personalized experiences. It builds strong, meaningful customer relationships and can lead to increased sales and company growth. Thus, the majority of customers prefer brands that engage via channels like WhatsApp.