😎 Become a TikTok Pro: Your Ultimate Guide 🚀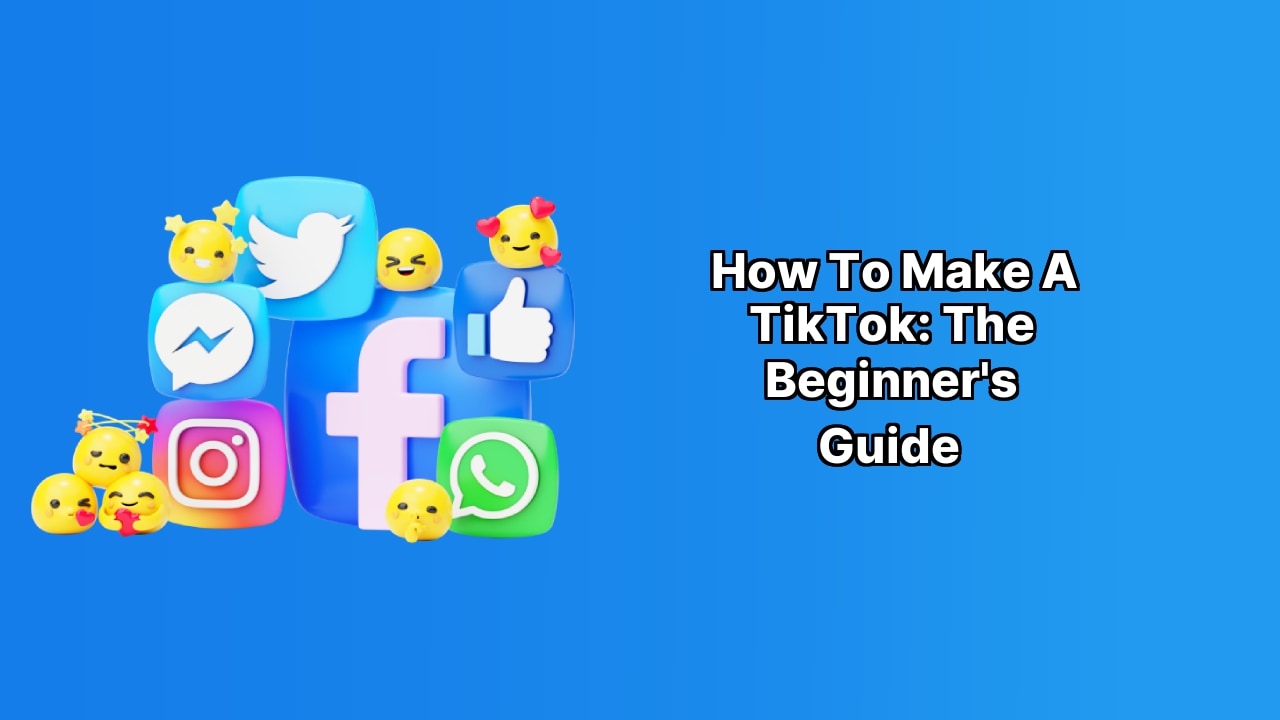 ✌️ Hey there guys! It's all about TikTok today. 🤳 Can you believe that 30% of Gen Z swing to TikTok for product research and almost half of users admit they've bought something advertised on TikTok? 💰 So, if you've got a brand (or you're thinking of starting one), TikTok ain't something to sleep on! 😴 So, let's dive right in and start creating some mind-blowing content on TikTok. 💣 Ready to become a TikTok Pro? Let's roll! 🚀
1
💥 Unleashing the Power of TikTok for Your Business 💥
💡 TikTok is more than just entertainment 🎭. It's a game-changer in the commerce bling 💍. It lights up 💡 purchase decisions, aids in product research 📈 and helps consumers 👥 feel closer to brands. Did you know that 💫 30% of Gen Z social media users choose TikTok for researching products? 🛍 On top of that, about 49% of users made buying decisions 🛒 after spotting products on TikTok. Hooray! 🙌 Well, that's not even all… The real deal is: most TikTok users feel much closer to brands 🤝 that are chattin' and vibin' with genuine and human-like content on the platform. Get it? TikTok for your business is tech-gold 💎. Check this out 👀: I'll guide you on how to make TikToks and start building a strong brand presence on the platform. Let's roll! 🎬
🚀 How to Make a TikTok Account
📽 How to Record a TikTok Video
🎥 How to Make a TikTok
🔃 How to Make a TikTok Using Pre-Recorded Videos
🖼 How to Add Pictures to TikTok
🎵 How to Make a Sound on TikTok
💡 Let's Get Creative with TikTok!
3
🚀 How to Make a TikTok Account 🚀
Ready to dive into the TikTok world 🌍? Let's start by creating an account to showcase your awesome brand 👇: Step 1: Download the TikTok app from the App Store or Google Play💻. Step 2: Launch your brand🚩 into the 💡 TikTok world by tapping on the "Profile" button on your screen. Step 3: Sign up 📝 with your brand's official email, or use existing accounts with the biggies: Facebook, Google, Apple, Instagram or Twitter 🏙. Step 4: Store your secret🔒: Enter a secure and memorable password for your TikTok account. Step 5: Claim your brand name! Use this as your TikTok handle and add it to your username to make it easier for folks 🧍 to recognize your brand. Step 6: Switch to a business account by tapping on the top right-hand corner of your "Profile" page on your screen, and select the correct category for your business 👔.
4
📽How to Record a TikTok Video 📽
Lights, camera, action! 🎥 Let's get rolling on recording videos on TikTok and boost your brand visibility 👀: Step 1: Tap the magical "+" icon and let your camera 📷 roll. Step 2: Set the tempo ⏱ of your video using the scrollbar. Step 3: Rock the show with tools 🛠 and add the zing of effects, filters, and audio 🎵. Step 4: Press the record button 🟥 to start filming your awesomeness. Step 5: Review your creation ✔️, make further tweaks, and hit 'Next'. Step 6: Swing it out ☄️ to the world by adding a video description, settings and hitting 'Post'.
5
🔃 How to Make a TikTok Using Pre-Recorded Videos 🔃
Already got some cool videos 🎥 on your cell? Brilliant! Here's how to make your TikTok using pre-recorded stuff 👇: Step 1: Tap the magical "+" icon and select "Upload🔼". Step 2: Choose your favorite pre-recorded videos 🎦. Step 3: Spruce them up with text, stickers, captions and charm 💫. Step 4: Hit "Next", add a description, change the settings, and voila! 🎇 Post your extraordinary TikTok.
6
🖼 How to Add Pictures to TikTok 🖼
Wanna make TikToks using your captivating pictures 📸? Sure thing! Here are some ways to do it:
Option 1: Combine multiple pictures to create a breathtaking TikTok.
Option 2: Use the TikTok "Effects" feature to insert captivating photos into your video.
So, there you have it! Let your creative flags 🚩 fly and start making waves in the TikTok universe with your brand 🚀! Let's get rolling 🎬…
7
😎 How to Craft an Epic TikTok Video Just Like MrBeast Would! 💥
Now folks, buckle up! Grab your smartphones and get ready to dive into the exciting world of TikTok with this step-by-step guide on how to make a TikTok 📹. Ready? Let's go!
8
💡 Bells and Whistles: Exploring TikTok's Features
Starting off, hit the small + button at the bottom of your screen – that's where the magic begins! You have several options to heat up your content: switching from the "Camera" 🎥 tab to the "Templates" tab to get creative with a range of templates. Just like MrBeast, your videos need to stand out and what's a better way to do that than choosing the right setup? Make sure to choose the right template or filter that matches your brand's vibe!
Choose your video length: Select the desired video length from the scrollbar above the record button.
Opt for some customization: Tools in the right-hand panel let you spice up your recording.
Hit record! 🎬: Once you're done with customization, it's time to record the big show.
Final call: Preview and refine your recording with additional effects, sounds, and captions before you take it live.
9
🔊Making Some Noise: How to Add Sound to Your TikTok Video
Adding fun soundtracks to your TikToks sounds complicated? Not really! Just like MrBeast would, make the viewers stick around with catchy, original sounds 🎵. Go to your uploaded video and tap on the audio icon at the bottom of the screen. Then hit "Use this sound" to incorporate that sound in a new video. It's pretty much as if you're adding a little piece of you to every TikTok, making it unique and fun to watch. SproutSocial has some great insights on doing this just right!
10
🎨 Creativity on Fleek: Unique TikToks for Maximum Engagement
Okay, folks, you've come a long way! After all the hard work, it's time to sit back and review your masterpiece. Maybe plan a TikTok marketing campaign or learn how to use TikTok for your brand better? Or you could even use the Sprout's TikTok integration to schedule your TikToks at optimal send times for maximum engagement. Let your creations take the center stage and watch the magic unfold! 💫
11
🤔 Can I Screen Record a TikTok video? Yes, You Can!
Did you know you can screen record a TikTok video through your phone's built-in screen record feature? It's a surefire way to capture some cool content in TikTok's dynamic world, but if you're aiming to stitch on TikTok, there are more efficient ways.
Got all that? That's all there is to it! Now you're all set to make an earth-shattering TikTok debut, just like MrBeast would! With these tips in your arsenal, go ahead and unleash your creative potential on the TikTok stage! 🚀
Conclusion:
So, that's your how-to for TikTok. 🎯 You've now got the know-how to create a TikTok account, 📝 record a video, 🎥 use pre-recorded vids, 📼 and even add some pics to your TikToks. 🖼️ And you even learned how to make an original sound! 🎶 Now, that's some serious TikTok skill right there! Now go out and get creative, explore and make the most of this platform. 💪 Need more kickass tips on how to leverage TikTok for your brand? Find out
here
. Also, check out
Sprout's TikTok integration
to discover how you can schedule your TikToks for maximum engagement. 📈 So, get out there and start TikToking like a pro! 🏆
What kind of audience does TikTok cater to primarily?
Primarily, TikTok appeals to the younger generations, particularly Generation Z. According to recent data, 30% of Gen-Z social media users select TikTok as their platform for researching products.
Can TikTok influence purchasing decisions of consumers?
Yes, TikTok significantly influences purchase decisions. As per stats, around 49% of TikTok users have bought a product due to a promotion or advertisement they saw on the platform.
Can businesses use TikTok for brand promotion?
Definitely, businesses can harness the power of TikTok for brand promotion. Brands can create authentic and human content to get closer to consumers. Majority of TikTok users report feeling a closer connection to brands that use such content strategies.
How can one create a TikTok account for a business?
Creating a TikTok account for a business is relatively straightforward. You can download the app from App Store or Google Play and sign up using your brand's official email or social media accounts. After sign up, you can switch to a business account from your profile settings.
What needs to be kept in mind while selecting a username for TikTok?
Choosing the right username for your TikTok account is crucial, as it will show up at the very top of your profile page and become your TikTok handle. Ideally, an official brand name should be used. It promotes brand recognition and helps users differentiate from possibly fake accounts.
How can businesses record a TikTok video?
Businesses can record TikTok videos using a similar process to Instagram Reels. They can add videos and pictures from their camera roll or record a new one, and tweak with effects and audio to customize their video.
How is the process of creating a TikTok video?
Start by tapping the + icon to open the camera and select your desired video length. Use the features on the right-hand panel to modify your recording. After recording, you can preview and further customize your video, before finally hitting Post.
Can a brand use pre-recorded videos for TikTok?
Yes, brands can upload pre-recorded videos to TikTok by choosing the Upload option next to the record button. Then, select the desired clip and customize before posting.
Is there a length limitation on the pre-recorded videos for TikTok?
TikTok recently increased its video length limit from 3 minutes to 10 minutes, which means brands can now use this extra time to share more informative and longer-form video content.
What if a brand wants to add pictures to their TikTok?
TikTok allows brands to create videos using pictures. They can either combine multiple pictures using the upload option, insert a picture in the video from the Effects tab, or switch from the Camera tab to the Templates tab and select the desired pictures.
Can a brand create their own sound on TikTok?
Yes, a brand can create their own sound on TikTok. When recording a video on TikTok, the sound automatically becomes an original sound that can be used in new videos.
What steps can a brand take to maximize engagement on TikTok?
Apart from creating engaging content, a brand should regularly check their TikTok analytics to see what performs well. They may also use Sprout's TikTok integration to schedule video posts at optimal times for greater engagement.
How can TikTok help brands build a strong online presence?
TikTok can help brands build a strong online presence by allowing them to connect with a young demographic, influence purchase decisions through promoted content, and increase brand visibility with creative, authentic videos.
Is it necessary to verify my phone number during the sign-up process on TikTok?
Yes, if you're using the phone sign-up option, the number should be valid and linked to your brand. Tiktok will send a 6-digit code to verify the number and complete your signup.
What is the benefit of switching to a business account on Tiktok?
Switching to a business account on TikTok can be advantageous as it allows access to features such as Analytics, Ads Manager, and Shopping. Additionally, it helps define your brand category which can influence how the TikTok algorithm ranks your content.
What kind of features does TikTok offer for video creation?
TikTok offers various features like setting video speed, adding effects & filters, and using sounds from the TikTok audio library for video creation. TikTok also lets users customize videos by adding text, voiceovers, voice effects, and captions.
Is it possible to post a video series on TikTok?
Yes, you can post a video series on TikTok. Each individual video can be up to 10 minutes long, allowing for comprehensive storytelling or detailed product reviews.
Do sounds play a role in video visibility on TikTok?
Yes, adding music or sounds to TikTok videos can improve the visibility of your posts on relevant "For You" pages.
What should be added to a TikTok video before posting?
Before posting on TikTok, ensure that you've added a descriptive caption and appropriate hashtags. Adding trending hashtags specifically can help improve the visibility of your video.
Is there a better way of saving TikTok videos rather than screen recording?
Yes, instead of screen recording, you can directly download videos from TikTok using the Save Video option located in the share menu for efficient saving and better quality.