🎥 Capture the Moment: A Beginner Guide to Instagram Reels! 👌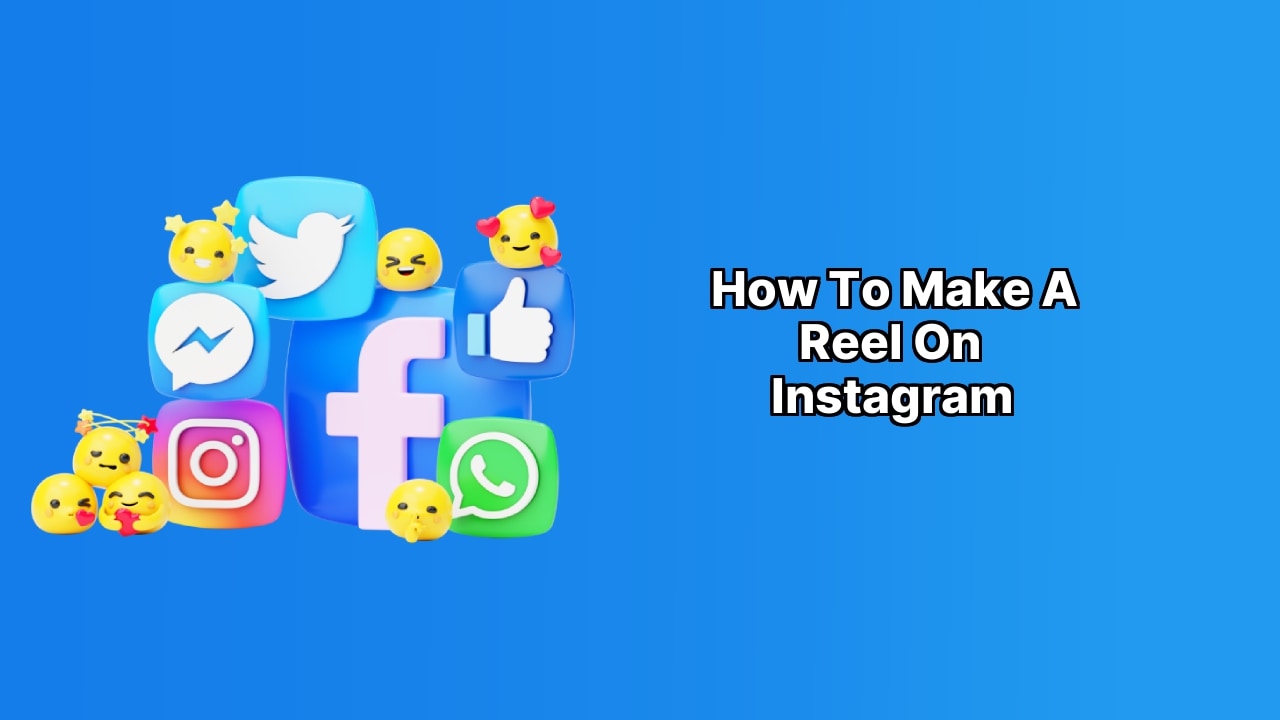 🚀Ready to ride on the wave of Instagram Reels? It's the hottest trend in the Insta world right now! 😎 With its spontaneous feel, engaging elements, and short-form content, Reels are eating up the attention of over two billion monthly users on Instagram. 🌍 No worries if you're a newbie. 😉 This guide will tell you all the hacks on making the coolest Reel, as easy as a walk in the park! 🎢 Ready for a super fun and engaging Insta ride? Let's dive in! 🌊
1
🚀Ready to Boost Your Instagram Game? Try Reels!🚀
Hey fam! Noticed anything different about your Instagram feed recently? There's action happening, folks!🤳 Video content is taking over, with Instagram Reels being the 🔥hottest🔥 trend on the platform. If you're wondering what an Instagram Reel is, or how you can get in on the fun, buckle up!🎢
2
🔎 What's the Buzz All About? Introducing Instagram Reels🔎
With over two billion monthly visitors, it's clear Instagram is the place to be. Instagram's latest addition Reels, is already dominating the platform! Inspired by TikTok's bite-sized video vibes, Reels allows you to create and share entertainment-packed, vertical video clips. 🎥
According to the data, users find short-form video content 66% more engaging than other formats. 📈 So, why not take advantage and join the Reel revolution?
3
🎬 Step Up Your Instagram Game with Reels 🎬
If you're a Reel rookie or simply looking for some fresh ideas, you're in the right place!😎 So let's dive in and create your first Instagram Reel:
Set a Strategy: Like any other content, successful Reels are backed by a solid strategy. 🌐 Set your goals, understand your audience, choose your topics, and see what your competitors are doing. Analyze and adapt for success!💪
Gather Your Footage: Ready, set, shoot! 📲 You can either film new footage or use pre-existing videos or photos. Insta also offers loads of handy editing tools to help you craft the perfect Reel. 🧑‍🎨
Edit Your Instagram Reel: All movie makers know that editing is where the real magic happens! ✨Sharpen those skills and get ready to edit like a pro! You can control the length and order of your clips, add music or sounds, and more! 🎵
Okay, so feeling excited yet? Here's the deal: creating quality Reels can boost your audience reach and make your content 🔥go viral🔥 faster. Remember, social media success isn't about being cool – it's about being noticed. 🌟
4
📲 Wrapping It All Up: Instagram Reels Are Worth the Hype 📲
So that's the scoop, folks! Creating quality Reels can boost your Instagram game to the next level. Not only are they fresh, fun, and addictive, but they're also a golden opportunity to increase your audience reach and engagement stats. 🚀 So get out there and start creating! 🎉 And remember, you don't have to be a professional filmmaker to make amazing Reels. The most imperative thing is to be real and have fun!
5
🔥Crush the Instagram Reel Game with this Genius Guide!🔥
Hey there, folks! ✌️ Want to elevate your Instagram game and skyrocket your views using Reels? Well, you're in the right place! Here we're gonna give the lowdown on all things Reels: everything from finding trendy sounds to, creating closed captions and even scheduling posts. So, get ready to take notes! 📝 Let's dive right in! 🏊‍♂️
First things first, you gotta find those trending sounds! 🎧 Just open any Reels video and look for a small arrow next to the audio's name. If it's a hot sound, you're all set! Tap on it, save it for later and you're halfway to making a viral Reel. 💥
7
🔤Add Those Crucial Closed Captions🔤
Adding closed captions is more important than you think. It's not only for accessibility, but also to get your viewers hooked, even when their phones are on silent. 🤫 To do this, tap on that cute little square smiley face icon at the top of your screen. Look out for "CC CAPTIONS" and let Instagram do the awesome job of transcribing your audio. 👀 Don't forget you can always tweak your captions to match your style.
Pro tip: Always proofread auto-captions! They may slip up from time to time. Improve their accuracy by tapping on the words and hitting 'done'. 💯
8
💬Make Your Video Pop with Text💬
Remember how you used to paint your Instagram Stories with words? Yeah, that's right, bring those skills over to Reels too! To weave in some magic with words, tap the "Aa" icon on the top right. Customize all you want, choose the color, style, place, and even the timing of the appearance of your text in the video. Remember, words are your wand 🌟
9
🎨Unleash Creativity with Filters and AR Effects🎨
Who doesn't love a good filter and some adorable AR effects? From aesthetic filters to cartoon hearts, you've got a whole spectrum to choose from! Just tap the sparkles icon at the top and explore. 🚀
10
📋Next Stop: Preparing and Sharing your Masterpiece📋
Once you're ready to mesmerize the world with your Reel, hold on! There's a couple of things you gotta check. 😏 Don't worry, we've got it enumerated for ya:
Edit your cover: Choose a cover that's relevant and interesting. A good first impression goes a long way, folks.
Caption it right: Keep it short, sleek, and catchy.
Share your Reel to your Feed: Boost your reach by sharing your creation with your followers.
Alright, time to unleash that Reel! 🚀 Whether you publish it instantly, save it as a draft or schedule it for later, the choice is yours. If you're keen on scheduling, the folks over at Sprout Social offer a nifty tool to help you with that. Handy, right?
11
💪 Level Up Your Channel by Making Reels 💪
Yes, social media is ever-changing, and we gotta adapt if we want to stay on top of the game! Making your first Reel might seem daunting, but come on, where's the fun without a little challenge? The more you create, the better you'll get at it, and before you know it, making Reels will be as easy as one, two, post! Now that you're armed with all the tips about making a Reel on Instagram, the world's your audience! For more helpful tips on growing your Instagram Platform, you gotta check out this cool article on Instagram Marketing Strategy.
Conclusion:
Now you've got the game of Instagram Reels at your fingertips! 🤩 The world is your oyster, and everyone on Instagram wants to see your pearls. 💎 Just remember, keep it real, keep it fun, and most importantly, keep it you! 🌟 From setting a strategy to sharing your masterpiece, every step is an experience in itself. 🤗 So don't hold back. Dive into the Instagram Reels world today and start growing your audience like never before. 🚀 Who knows, you might even inspire others to embark on the fantastic Reel journey! After all, creative energy is infectious. Pass it on! 🎉 Now that you're armed with all these tips and tricks, go ahead and explore our
article on creating an Instagram marketing strategy
to elevate your Instagram game even further! 🚀
What is a Reel on Instagram?
A Reel on Instagram is a type of short video content that can last from a few seconds to a maximum of 1.5 minutes. These multimedia files can include various features such as editing tools, captions, or music to enhance their entertainment value.
Why are Instagram Reels important for my brand?
Using Instagram Reels is significant for brands as they help increase your audience reach and provide an improved chance for your content to go viral. According to social media specialists, Reels have been one of the top engaging video formats on Instagram.
What is the relevance of Instagram Reels in light of Instagram's algorithm?
Although not explicitly stated, it appears that Instagram's algorithm values video content such as Reels highly. This assumption is reinforced by Instagram's recent decision to transform all videos into Reels. Accounts using Reels have noticed significant enhancements in visibility and engagement.
Does the use of Instagram Reels improve audience engagement?
Yes, utilizing Instagram Reels has been shown to increase audience engagement. On average, Reels earn approximately 22% more engagement than typical Instagram video posts.
What is the strategic approach to creating a successful Instagram Reel?
Creating a successful Instagram Reel requires a well-thought-out strategy with clearly defined goals and thorough knowledge of your audience's preferences. The content should be engaging, align with your brand's values, and offer immediate value to the viewers.
Can existing footage be used to make Instagram Reels?
Yes, in addition to filming new footage, existing photos and videos from your device can be used to create an Instagram Reel. This approach allows the repurposing of content previously posted on TikTok, Instagram, or YouTube.
What are the tools provided by Instagram for making Reels?
Instagram provides several creative tools for creating Reels, including the addition of music, setting video length, speed adjustments, layout mode for multiple media, self-timer, dual filming mode, aligning clips for a smooth transition, and adding filters or AR effects.
How can Instagram's music library be used while creating a Reel?
The music library on Instagram can be accessed while filming or editing a Reel by tapping on the music notes icon. This helps in adding entertainment value and can significantly boost viewer engagement. However, note that the music selection for business accounts is limited.
How can Instagram Reels be made accessible to all viewers?
Adding closed captions to your Instagram Reels makes them more accessible to audiences, especially those who watch videos with the sound off, or are hearing impaired. This technique can also help in increasing viewership.
What are some considerations while adding text to Instagram Reels?
You can add text to your Reels with a process similar to creating an Instagram Story. After writing, you can customize the font, color, and timing of its appearance on-screen. Remember to keep the text relevant and readable to maintain user engagement.
How can you customize a video using filters and AR effects in Instagram Reels?
You can apply filters and AR effects while creating an Instagram Reel by tapping the sparkle icon. This lets you add aesthetic filters or fun visual effects to enhance your video content.
What is the process of publishing an Instagram Reel?
To publish an Instagram Reel, you should choose a cover image, write a concise and engaging caption, and decide whether to share the Reel to your Feed. From there, you can choose to publish immediately, save as a draft, or schedule a post.
Can you schedule an Instagram Reel?
Using a social media management tool like Sprout Social, you can schedule an Instagram Reel after downloading it from Instagram. This software will remind you to publish your Reel at the desired date and time.
What does the Remix feature in Instagram Reels do?
The Remix feature allows you to create a new Reel using someone else's existing Reel. It offers a way to provide your own reaction or commentary on another user's Reel, making engaging content.
Is there a recommended length for an Instagram Reel?
An Instagram Reel can range from a few seconds up to 90 seconds long. However, most successful Reels are often concise and engaging, leaving viewers wanting more. Therefore, it might be strategically preferable to keep Reels shorter rather than utilizing the full allowed duration.
Why is audio significant in creating Instagram Reels?
In Instagram Reels, audio plays a vital role in enhancing viewer engagement. You can add music, voiceovers, or sound effects to your Reels, making them more entertaining, educational, or both.
Can one restrict others from remixing their Instagram Reels?
Yes, you can restrict others from remixing your Instagram Reels by adjusting your settings in the Privacy section of your Instagram account.
Can other users use the audio from my Reel for their content?
If your Instagram account is public and you don't add any music to your Reel, other users can use your Reel's sound marked as original audio for their own Reels.
Is using trends a good strategy for Instagram Reels?
Yes, leveraging trends in your Instagram Reels is a great strategy. It helps you stay relevant and increases the chance of your content being discovered by new audiences.
What types of content can be shared using Instagram Reels?
You can share a variety of content using Instagram Reels, including product promotions, behind-the-scenes glimpses, educational content, user-generated content, or entertaining videos aligned with your brand's voice.