💡 Unraveling Facebook's Feature to Hide Likes! 👀💡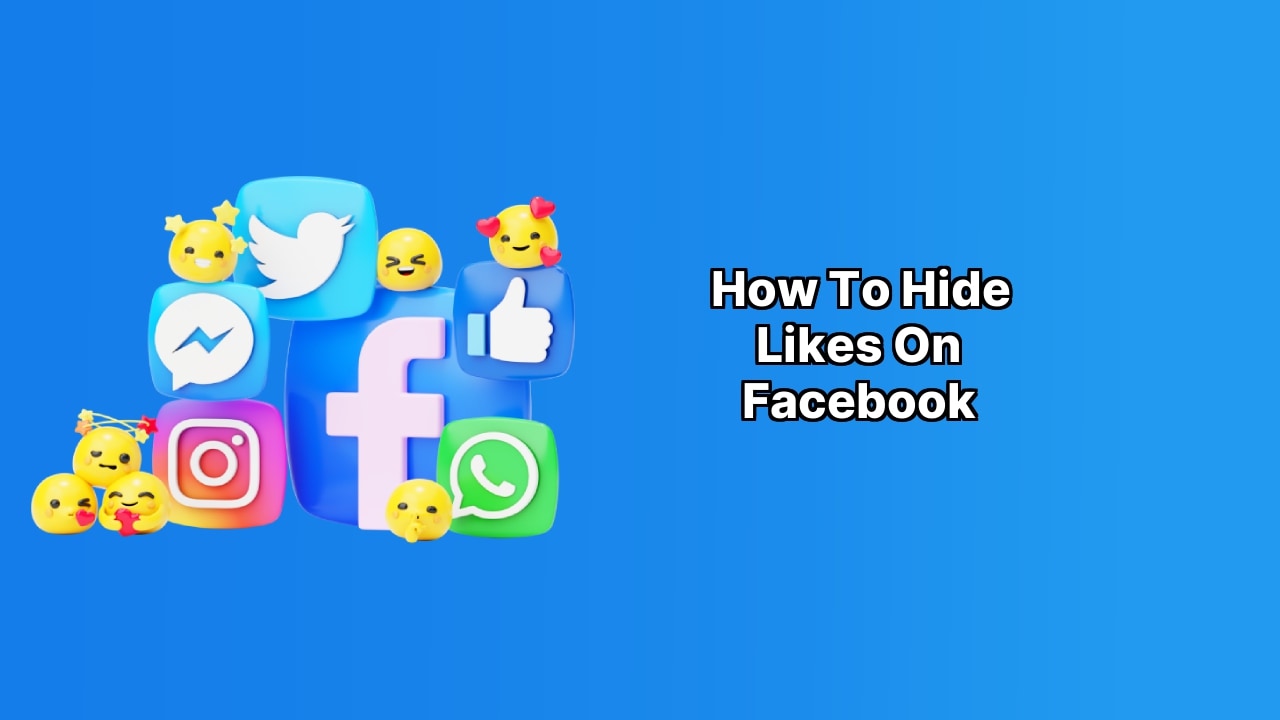 Everything evolves, my peeps! Especially in the virtual world where platforms always try to bring something fresh to the table. Facebook ain't any different! They've introduced an option to hide likes on your posts. Super curious, right? Giving you an option to shield that ecstatic endorsement from the public gaze. But why would you possibly want to do that? More importantly, how can you hide likes on Facebook? I sought out answers to these questions and here's the scoop. Sit back, relax, and let's explore the pros, cons, and the 'how to' of this rad feature! 😉❓🌐
1
💥💡 The Coolest Updates on Facebook: Hiding Likes! 💡💥
Facebook 🧑‍💻 is on an updating spree to make your experience more rad. Features like Stories and Facebook Live are making waves, being used by over a billion peeps worldwide. 🌎 😎
To industry pros, these updates are super important for getting the most out of the platform and staying ahead of the competition! 🚀 🏆
Let's deep dive into one of the latest features–the option to hide likes on Facebook.🕵️‍♀️👀 Here's the 411 on why you might want to hide likes, and a quick how-to! 👇
2
😎✌️ Reasons to Hide Likes on Facebook ✌️😎
1. No More Pleasing for Likes 🙅‍♂️💓
Many get tied up in a numbers game, using likes to validate their content. When the option to hide likes is turned on, creative hustlers can let their creativity take center stage, no strings attached! 💡🎨
2. No Likes = No Problem 👍🙈
On Facebook, both users and algorithms rank content based on likes. But, without visible likes, your audience will judge your content on the actual quality 💎🌟 rather than numbers! Reinvent your experience today! 😊
3. Cultivating Positivity 🥳🎉
Thanks to the hide likes option, Facebook is promoting a healthy, positive cyberspace. Creators now have more room to spread their wings! 🦋 Final Result: More genuine, creative, original content! 🌈
4. It's a Newbie's Paradise! 🌸🌤
If you're a budding brand, hiding likes can enable your audience to focus on your content rather than engagement metrics. Judging content on its own merit is the new way to go! 😁
5. A Boost for Mental Health 🧘‍♀️💖
As our society becomes more digitized, social media can impact our mental health. Hiding likes is now bridging the gap between virtual and real-world validation—A big leap for social media harmony! 😇
3
😜👎 Why You Might Not Want to Hide Likes 👎😜
Alright, so it's not all rainbows 🌈 and butterflies 🦋. For influencers, likes are the measurable pulse of content performance. Without likes, brand partnerships might become a tougher nut to crack! 😬🙊
Brands might also appear less transparent by choosing to hide likes, and in a world where authenticity rules, this could tug at your audience's trust! 😲
4
🧐👣 How to Hide Likes on Your Facebook Posts 👣🧐
Convinced this cool new feature is for you? Use it in three simple steps:
Jump over to your brand's Facebook page and hit "Settings & Privacy" from the handy dropdown menu. 🕵️‍♀️ 🛠
From your "Settings" dashboard, move your eyes to the "Privacy" button on the left-hand panel.👀🔐✅
Click on "Reaction preferences" at the bottom of the left-hand panel and toggle on the option to hide likes 🕶️👍 – Voila! Job done! ✔️
Want your likes back on display? Easy! Just repeat the same steps and flip the toggle off. 😜🔄
5
🔒💼 Hide the Pages You've Liked on Facebook 💼🔒
Concerned about your info getting into the wrong hands? Hiding your liked Pages can help! 🕶️🕵️‍♀️
Brands also benefit by keeping their page clean and focused. Plus, users can find the info they're really after! 🎯💼
Wondering how to execute this master plan? Follow these quick steps:
Go to your profile and click on the "More" button. Find this munchkin under your cover photo. 😜👀
Select the "Likes" option from the dropdown menu. This will reveal all the Pages you've ever liked! 😱📝
Click on the ellipses button, choose "Hide Section" to conceal your liked Pages in one go. Or get picky with "Edit the Privacy of Your Likes"– handpick which categories to hide. 🧩 😎
This bonus step tidies up your Page too! Just click on the "More" button, and decide which sections to flaunt or hide to give your Page that tailored fit.👌💼
And there you have it! Taking back control of your Facebook presence has never been easier, or more fun! 💪🎉
6
😎‼️ Spice Up Your Social Media Game: Unleashing the Power of Likes (Or Not)‼️😎
Here's the thing, right? Likes can be so mainstream… kinda boring…👀🔄 But hey, don't you worry! So, we got this dynamite tip for you! Blow the minds of your audience with the freshness of your content–break free from the shackles of virtual approval–hide those likes on Facebook! 🚀🔥
7
🔊 Tweak it Right: The "Manage Sections" Hack 🔊
Here's a fun secret: the content button has a surprise hidden in its dropdown menu – "Manage Sections". Master the art of revelation and concealment. Just untick those sections you want to hide! Keep it mysterious, keep them guessing! 😉🎭
Although, let's not be too mysterious. Keep the essentials revealed – your About section, photos and videos. Let your audience check out your groups, communities, events, and Live videos – but under your absolute control! 🎬🌟
8
💡 Let's Get Real: Shattering the Like Count Myth 💡
Now here's the real scoop: hiding your like counts on Facebook lets users focus on what truly matters – the content of the post. That's right, let your content be the star ⭐😎!
Your audience can unbiasedly interact with the post, breaking free from the influence of the herd. Isn't it Amazing! Now, this is what we call strategic leverage! 💪🌈
9
🔎 Know your Moves: Internal Engagement Data 🔎
And finally, you might be hiding those Facebook likes from the public, but let data drive your interactions internally. Dive deep into your engagement data. Get a grip on your strategy! 📊💼
Here's a handy hack for you–Peep our comprehensive guide on Facebook analytics and evolve your strategy game to the next level. Get ready to conquer the social media realm with different strategies😱🌟💥.
Conclusion:
There you have it, gang! It ultimately is a personal choice whether to show or hide likes. Hiding them might benefit newer brands by allowing their audience to focus more on the content than the popularity. On the flip side, hiding likes could make it challenging for influencers to show off their content performance. By now, you should also know how to navigate through Facebook's labyrinthine settings to turn off the likes count for your posts and pages you've liked. But remember, keep an eye on your internal engagement data, just because you hid your likes doesn't mean you should ignore them! That's a story for another day though. Until then, keep rockin' and exploring the digital landscape! ✌️🗺️🌟
What is the new feature of hiding likes on Facebook about?
This feature, introduced by Facebook, allows users to conceal the like count on their posts from public view. Their goal is to shift focus from engagement numbers to the quality of the content being shared. This has multiple implications for brands and individual users.
What is the purpose behind hiding like count on Facebook?
The primary rationale is to encourage content creation motivated by the value of the info shared rather than seeking validation through likes. It allows users to focus more on expressing themselves and can potentially foster a healthier, more positive online environment.
What are the reasons someone might want to hide likes on Facebook?
Some choose to hide likes to prevent content creation being dictated by potential likes. It can also help curtail negative signals from posts with fewer likes and promotes a more positive environment. This can be particularly beneficial to new brands on Facebook and may improve users' mental health.
Could hiding likes on Facebook negatively impact influencers and brands?
Yes, it can potentially affect them negatively. Influencers often rely on public like counts to demonstrate their reach to potential brand partners. Brands, on the other hand, may risk appearing deceptive or untrustworthy without the transparency normally associated with public like counts.
How can one hide likes on their Facebook posts?
Start by navigating to your Facebook Page. From the drop-down menu in the top right-hand corner, select "Settings & Privacy" then "Settings". On the Settings dashboard, select "Privacy" from the left-hand panel. "Reaction preferences" should be visible at the bottom, where you can toggle on the option to hide reactions to your posts.
What is the process to unhide likes on Facebook posts?
If you wish to display likes again, you can simply follow the same steps as described above but toggle off the option to hide reactions to your posts.
Is it possible to hide pages liked on Facebook and why would a user want this?
Yes, hiding liked pages can be achieved to maintain privacy and to prevent targeted scams on the platform. This feature also benefits brands who want their Facebook Page to be free of distractions and focus only on their own content and community.
How does one hide liked pages on Facebook?
Go to your profile and click on the "More" button. From the drop-down menu, select "Likes". Once on the likes dashboard, click on the ellipses button on the top right-hand corner of the screen and select "Hide Section" button. This will hide all the pages you've liked.
Can one change the audience settings of liked pages on a brand Page?
No, unlike personal accounts, brand accounts can't alter the audience settings for individual liked page categories. The only available option is to hide all liked pages.
Can the Sections be edited on a Facebook Page?
Yes, you can edit the sections by clicking on the "More" button and selecting "Manage Sections" from the drop-down menu. You can then uncheck the sections you want to hide from your page, keeping your page focused on essential details about your business.
Is hiding like counts on Facebook advisable for all brands?
While it can have beneficial implications for some brands, notably newer ones, it's not a one-size-fits-all strategy. Brands should consider their unique circumstances before deciding to hide like counts. Aesthetic and engagement metrics still play valuable roles in building a brand's online presence.
What could be the mental health benefits of hiding likes on Facebook?
Experts have found that receiving fewer likes can negatively affect people's sense of self-worth, particularly in adolescents, leading to depression and anxiety. Hiding likes can potentially reduce the pressure for validation, thus improving users' mental health.
What is the impact of hiding likes on user generated content?
Hiding likes can encourage users to create content that they truly want to share, instead of content that they believe will generate more likes. It can lead to more genuine expressions and original creativity.
Are likes the only metric that matters on Facebook?
No, likes are just one measure of engagement on Facebook. Other metrics such as shares, comments, and video views are also important. In fact, hiding likes can help brands focus on these other engagement metrics too.
Does hiding likes on Facebook affect the visibility of a post?
No, hiding likes does not directly impact the visibility or reach of a post. However, users' perceptions of post quality or popularity might be influenced by the like count before they decide to interact with it.
Does Facebook's algorithm use likes as a ranking signal for posts?
Yes, Facebook's algorithm does consider likes when ranking posts. However, this is just one of many factors that it takes into account when determining what content to show in users' feeds.
Could hiding likes on Facebook posts be unhelpful in some cases?
Yes, for instance, if a post has a lot of engagement in the form of likes, hiding the count could potentially send a negative signal to the audience, causing them to perceive the post as unpopular or lower in quality.
Does having many likes on a Facebook post automatically signify quality content?
No, a high like count should not automatically be taken as a measure of quality. While it can reflect a post's popularity, the quality of the content should be evaluated independently of the number of likes.
Would hiding likes prevent users from comparing their posts to others'?
Potentially, yes. By hiding likes, users may be less prone to constantly measure their content's success against others' posts. This eliminates unnecessary comparison and fosters an emphasis on quality rather than popularity.
What strategies should brands consider after hiding likes on Facebook?
Brands should focus on creating high-quality and engaging content, while internally keeping tabs on their analytics data to develop effective strategies. This can help brands to know how their posts are performing and adjust their strategy accordingly, without relying solely on public likes.