🔥How to score the Blue Check on Facebook? Ultimate Guide to Facebook Page Verification🔥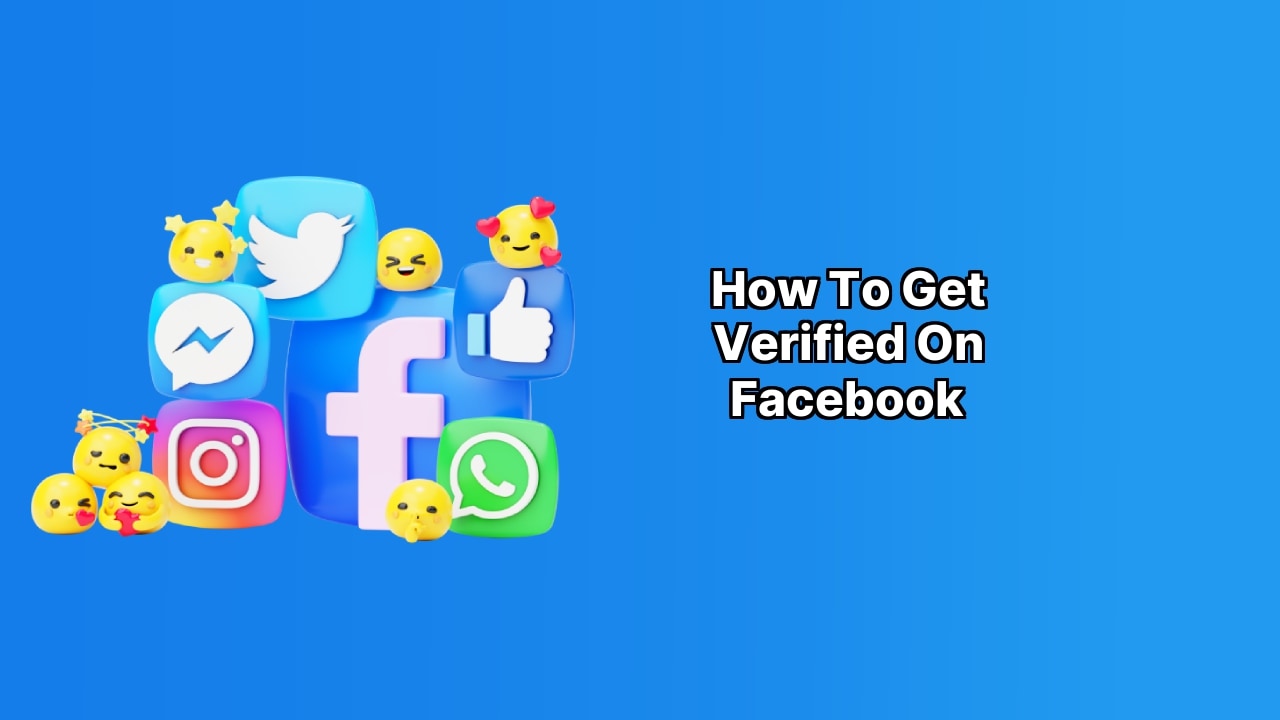 Hey you crazy beasts out there! 😎 Do you have a dream of seeing your Facebook page or profile with an esteemed blue checkmark? 💙✅ Well, you're in the right place, pal! You know what the blue checkmark signifies, right? It marks your page as "official" – free of fraudster attempts or fan-made versions. It gives you boosted page visibility and massive credibility! 🚀 Imagine, being prioritized in the Facebook search results! 😲 We're gonna walk you through the 🔑 essentials on how to get verified on Facebook. Ready? Let's dive in!
1
💡Understanding Facebook Verification: What, Why and How?🚀
Yo! If you're a beastly brand or business and want to dominate online, getting verified on Facebook is one sure-fire way to do it!🔒 Let me break it down for you. You see that blue checkmark next to a brand's name? That, my friend, is Facebook verification. It's a prestigious status symbol that says "Hey, I'm legit!"🌟
🧐What is Facebook Verification?
Facebook verification is a BIG DEAL🏆. It gives that much-needed credibility to your page and separates the wheat from the chaff—the real deals from the imposters. This means your congregation of fans will never mistake your 'awesomeness' for someone else's🙅. Oh, and did I mention that Facebook boosts verified pages in their search results? So, it's also a neat little trick for getting ahead of the competition.🏁
🤔Who Can Get Verified on Facebook?
Okay, wait up. Not everyone can get the cool blue badge. Facebook only bestows this honor upon those who have the goods to back it up. Pages must tick certain boxes to be eligible. They gotta be like:💥
Authentic: Represent a real brand, "no fakes allowed buddy!"👎
Unique: Officially represent the brand they claim. You can't just have a healthy food group and ask to get verified. Now if you're a registered company that specializes in healthy foods, then we're talking!🍏
Complete: This isn't for those idle pages. Your account should be active, picture perfect with an "About" section, and posts that are as awesome as you!💪
Notable: Be well-known and searched for. No underdogs here we play in the big leagues!🌍
🤩Why Get Verified on Facebook?
So why should you go through all this trouble and get verified?? Well, my friend, because:📌
Credibility: A verified badge tells your audience that you mean business and are "100% legit".
Protection: It keeps the imposters at bay. No more "Who's the real one?" confusion.👹
Priority: Facebook will favor and prioritize your profile or page in search results. Talk about VIP treatment!😎
💪How to Get Verified on Facebook?
Alrighty then! Let's jump into the action. Ready to take on this crazy beast? Here are 8 steps to get you on your way to the blue checkmark:🔵
Open the verification request form: Go to Facebook's verification request form to start your validation journey.📝
Choose your verification type: Are you a business page or a public figure? Either way, Facebook's got you covered. Select from the dropdown. Easy peasy! 🕹️
Confirm authenticity: Here, you need to prove you're real. Official documents like ID, passport, tax filing, or utility bills would work.🔍
Confirm notability: Next, pick your category. Are you a news/media outlet? Or a digital influencer? There's an option for everyone! 👀
Add your country: Represent your throng of fans. Add the country where your audience is the highest. Turn that global company local! 🌎
Add your audience and also known as: The more data, the easier for Facebook. So, give them what they want!📊
Add 5 articles: Public interest is key. Show them you're in the limelight and the world can't stop talking about you!📰
Submit: Finally, click that submit button and wait for your verification. Aaand the blue check is almost yours!😉
Remember, getting verified isn't easy but when you make it through, it's totally worth it! So, are you ready to become a verified beast on Facebook? It's game time, buddy!👊
2
🚀 So You've Hit the 'Submit' Button on Your Facebook Verification Application… 🙌
BOOM! You just shot your verification application into the Facebook algorithm heavens. So, what's next? Now it's a waiting game, my friends. 💤 But remember this crucial piece of advice – meeting the basic verification criteria isn't a guaranteed golden ticket to verification town.🏅Facebook, with its mysterious ways, might still reject your application without specifying a reason. 😣 But don't despair! This isn't a game over. After 30 days, you've got the green light to reapply for verification. However, you should level up your verification game and make some tactical moves for a better shot at the verification badge. 👾
3
🎯 Key Steps if Facebook Kicks Back Your Application 😔
Don't leave your battle with Facebook to guesswork. Take the initiative and reach out to Facebook support. Ask why your application bombed out. The clearer the answer, 👀 the better you can prepare for your next verification quest.
Level up your content creation! Start creating super-awesome, top-notch quality content, and keep your posting schedule consistent. 📆 Upgrade your Facebook marketing game, and if you're battling it out on other social networks, make sure you beef up your presence there as well. Remember, winning the verification war on other platforms can significantly boost your chances on Facebook. 🌐
4
😎 The Ultimate Four-Point Strategy for Bagging the Elusive Verification Badge (and Keeping It!) 💪
5
1️⃣ Keep Your Business Info Fresh and Up-to-date 💻
Moving your store? Launching a new website? Extending store hours? Don't forget to update these changes on Facebook.📌 Keeping your business info updated is crucial to remaining in the verification game.
6
2️⃣ Keep the Content Coming! 🌪️
Keep your Facebook page buzzing with fresh, exciting content. After all, a quiet page provides the platform with zero incentive to offer you verification status. So, keep your audience engaged – flood their feeds with content, content, content. 🎉
7
3️⃣ Foster Community Engagement 🤝
Being popular is all about being engaged with your community: responding to comments, sharing audience-approved content, and live broadcasting to interact in real-time. This interaction not only scores points with your followers but also proves to Facebook that you're worth the verified tick. Keep your fans happy, and Facebook will reward you! 😊
8
4️⃣ Stick to the Rules 🚦
Now, remember, no one's above the law – not even verified profiles. If you flout community guidelines, Facebook can strip you of your verification. So, be a good internet citizen, keep the peace, switch on two-factor authentication, and you should stay verified in no time.💡
9
💪 Time to Get Facebook Verification Today 👊
Armed with these handy tips, you're ready to conquer Facebook verification. Start gathering all of your information, and you're on your way to submitting your form. Your job won't end there, though. To keep your audience interested in your business and generate sales, you'll need a killer Facebook marketing strategy. Are you up for it? Then it's time to roll up your sleeves and dive in. Let's get that verification badge NOW! 💥
Conclusion:
Well, folks, there you have it! 🙌 Our comprehensive, step-by-step guide to Facebook verification! Keep in mind that the battle isn't simply won with applying. You gotta work to keep that prized blue checkmark by continually uploading fresh content, interacting with your community, and sticking to Facebook's community regulations.💡🙂 Now, start assembling your materials, fill out that form, and make your way to that sweet, sweet blue checkmark! 💙✅ Let's not stop with just being a part of the Facebook community; let's work to shine at the top! 🔥 Here's to your future Facebook success 🎉 and boosting your online presence. Let's get out there and be internet LEGENDS! 🥳🚀
What does Facebook verification entail?
Facebook verification serves as a string of credibility to official pages. It helps distinguish real pages from those run by fans or imposters. It is a signal to the Facebook community that the page or profile is authentic. This procedure is vital, especially for businesses and public figures as it helps prevent the risk of mistaken identity from Pages and profiles bearing close resemblance to theirs. Facebook also rewards verified profiles and Pages with higher priority in its search results.
Who is eligible for the Facebook verification process?
Anyone can apply for verification on Facebook. However, there are strict verification criteria to get approved. The account must be authentic, unique, complete, and notable. The account holder needs to be a real person, entity, or business. It must be their unique online presence. The account must include all necessary details like the About section, profile photo, and at least one post. Lastly, the account must belong to someone or something well-known and widely searched.
Why is Facebook verification necessary?
Facebook verification boosts the brand's credibility and protects against imposter accounts. It is a sign that the brand is authentic and credible. The Facebook algorithm also prioritizes verified pages and profiles in search results which increases visibility.
What are the steps to get verified on Facebook?
The verification process on Facebook comprises eight steps. It starts by accessing the Facebook verification request form, choosing verification type, confirming authenticity by providing essential documents, and confirming notability. The applicant then adds their country and audience details, provides references to articles about the page or profile, and finally, submits the form.
What happens if Facebook rejects your verification application?
If your application gets rejected despite meeting the minimum verification criteria, Facebook allows you to reapply after 30 days. During the interval, efforts should be made to improve the account's credibility. This can be accomplished by creating high-quality content, engaging more on Facebook, boosting your presence on other social networks, or reaching out to Facebook support for additional guidance.
What are some tips for successful Facebook verification?
The chances of getting verified on Facebook improve by keeping business information up-to-date, posting regularly, engaging with the community, and adhering to the community guidelines. Any changes in the business such as a new website, change in store location, or new product lines should be updated promptly. Regular posts keep the page active and engaging with the community ensures an involved audience. Lastly, adhering to community guidelines maintains the verifiable status.
Is Facebook verification needed for connecting with the online audience?
Yes, it is. Facebook verification can be a pivotal tool in an online marketing strategy because it helps a brand establish credibility with its audience. It gives the brand's Facebook page a sense of authenticity and distinction, making it easier for the audience to trust and engage with the brand.
Why do Facebook verify only one account per entity or person?
Facebook verifies only one account per business or individual (with the exception of language-specific accounts) to maintain the uniqueness and authenticity of that person, entity, or business. The objective is to differentiate genuine pages from those run by fans or impersonators and avoid any confusion among Facebook users.
Does Facebook prioritize verified profiles and Pages in its search results?
Yes, Facebook's algorithm gives priority to verified Pages and public figure profiles in its search results. Since the verification badge is a sign of authenticity, users are likely to trust a verified profile or Page more. This leads to higher engagement and visibility for verified accounts.
How can I maintain my Facebook verification?
To maintain Facebook verification status, you need to ensure that your profile or page abides by Facebook's community guidelines. Regular activity on your Facebook page and timely information updates are also key. Engage with your followers and create content that they enjoy, and refrain from violating community norms. If a page neglects these, it risks losing its verified status.
Should I provide documentation to prove the authenticity of my Facebook page during the verification process?
Yes, as part of the verification application process, Facebook requires certain documentation to confirm the authenticity of your page. Acceptable documentation includes driver's license, passport, national identification card, recent utility bill, tax filing, and articles of incorporation. These documents should be uploaded through the Choose files button on the form.
What is confirming notability in the context of Facebook verification?
Confirming notability is a step in the Facebook verification process where you select a category that best describes your page or profile. Facebook uses this information to determine if your profile or page is in the public interest, which helps assess your eligibility for a verification badge.
How does Facebook verification safeguard against imposter accounts?
A verification badge on Facebook gives your page a level of authenticity, separating it from counterfeit accounts or fan pages. This badge signals to viewers that the page is legitimate, which in turn protects the brand from imposter accounts by ensuring users that they're interacting with the real entity.
Can Facebook revoke the verification badge?
Yes, Facebook can rescind the verification badge from a page or profile if it consistently violates community guidelines. Facebook expects all its verified accounts to adhere to community norms and policies, failing which the platform may withdraw the verified status.
Why does Facebook offer a reapplication chance in case of a rejected verification application?
Facebook offers a 30-day reapplication window for rejected verification applications because they understand that the verification process can be complex and that applicants may desire another try. This period allows the applicant to make effective improvements according to Facebook's guidelines and increase their chances of getting verified during their next attempt.
What does a Facebook verification badge look like?
The Facebook verification badge is a blue checkmark that appears next to the name on a verified personal profile or Page. It's an assurance that the profile or the page is authentic, ensuring a clear distinction between the real pages and the ones run by fans or impersonators.
What is the significance of adding country details while applying for Facebook verification?
Adding your country during Facebook verification indicates the regional influence of your business or personal brand. Even if a business operates globally, indicating the country or region with the largest audience can help Facebook understand its reach and influence, and thereby enhance your chances of getting verified.
What's the role of audience demographics in Facebook verification?
During the verification process, offering information about your audience demographics can help Facebook better assess your request. By revealing who your content caters to, you're providing evidence of your page's relevance and interest to a particular group, which can boost your verification chances.
How does frequent posting on Facebook help in getting the page verified?
Regular posting of engaging and high-quality content on your Facebook page demonstrates your active online presence, which is one of the criteria for Facebook verification. By consistently updating your page, you show that your brand is authentic, relevant, and worth following, thus increasing the likelihood of earning Facebook's verification badge.