🔥 Unlock The Power Of Your Facebook Strategy: Beat The Algorithm! 🎯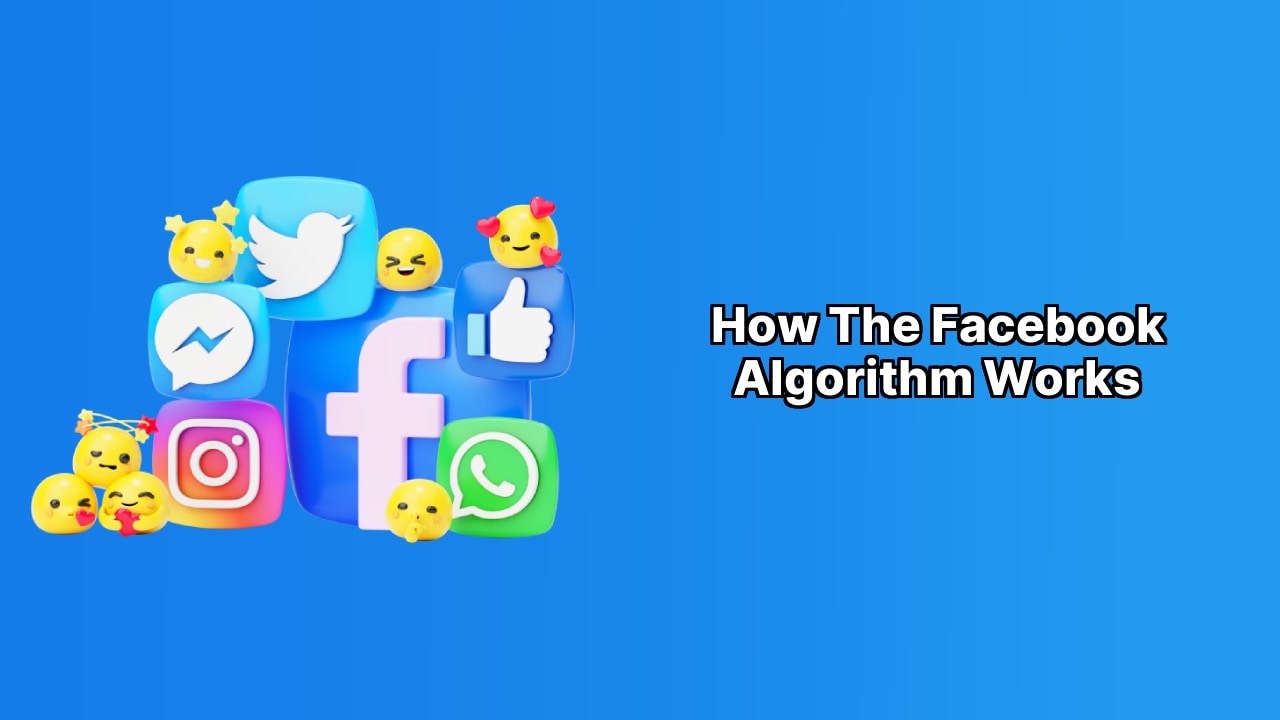 Hey, whoever said understandin' algorithms is just for nerds? This ain't Hogwarts 💫, folks, but the Facebook algorithm 🧙‍♂️ might just be magic. It's changing more times than you've spent on Fortnite 🎮! Sudden changes leaving you scratchin' your noggin' like some lost Survivor contestant? Well, worry no more! We're here to help you unravel the mystery. Heck, we'll even help you beat it. Doesn't that sound dope? 🚀
Here's the deal, Facebook stands tall as the go-to platform for customers and brands. Our mission is to help you crack the code on using this platform to your advantage! Want your brand to rise like a Phoenix 🦅 from the ashes? Join us as we dive headfirst into the complex world of Facebook algorithms. Let's embark on this exhilarating journey together, folks! 🎢
1
😲🤯 Feeling Bewildered by the Facebook Algorithm? We've Got Your Back!
🤪 If you're staring at your screen thinking, "What the heck is this Facebook Algorithm thing?" You're definitely NOT alone! The incessant updates are enough to drive anyone bananas! 🍌 And it's especially nerve-wrecking for brands who live in perpetual fear of losing their organic reach.
From tech tycoons to mom-and-pop stores, everyone's feeling the heat! After all, Facebook is the "Big Kahuna" of social media with a whopping 71% of consumers and 65% of marketers planning to use it the most in 2022! 🥳🎉(According to the uber-cool 2022 Sprout Social Index). But don't start pulling your hair out just yet…
Beating the Facebook Algorithm could be as simple as, you guessed it, understanding how the darn thing works! And here's the good news… 📣 We're about to serve you some super insights on how to boost your Facebook marketing strategy. Let's unfurl the magical world of the Facebook Algorithm! 🧙‍♂️💫
2
🤔 What Exactly is this Mysterious "Facebook Algorithm?"
The 'Facebook Algorithm', sounds like some spooky secret code, right❓❕Naaah, it's just a set of rules that decide what posts you see in your feed. That's right! The algorithm decides which posts are the most relevant to show each user. Your feed is as unique as you are 🦄, tailored just for your preferences.
It's also a pretty smart cookie 🍪! Especially following the recent update aimed at assessing the credibility of news articles to curb misinformation. So, all the conspiracy theorists can now rest easy! 😉
3
💡 Get A Taste of How The Facebook Algorithm Works
The Facebook algorithm is smarter today than it was in the ol' days. It now considers four rather brainy factors to decide what posts it will show you. 🧠 Let's unravel the mystery!
Factor 1: Inventory Facebook takes stock of all the juicy content that could pop up on your feed. Yep, content from your squad, pages you follow, and groups you're a part of!
Factor 2: Signals Next, the algorithm judges the relevance of each piece of content based on several signals. Think of signals as exactly what the name suggests! Little flags pointing to how often you engage with who posted what, and when they posted it. 🕰️ As well as considering the type of content and how you interact with similar posts. Clever, huh?
Factor 3: Predictions The algorithm is a real Sherlock 🔎! Using the signals, it makes predictions on what you probably want to see. Past behavior is analyzed in exciting detail to figure out how likely you are to engage with a post.
Factor 4: Relevancy Scoring Finally, each content is evaluated depending on how relevant it is for you. The more the merrier, so a higher relevancy score means you're more likely to see the post in your Feed.
4
🔄 The Ever-Changing Facebook Algorithm
Fasten your seatbelts! The Facebook algorithm's never-ending updates are a thrill ride. Let's journey through a quick history of the changes!
March 2019 brought a significant change. Now users could understand the reasons why certain posts and ads appear in their feed. 🎯 It's like you're suddenly part of a Target Audience Club and guess what? Brands had to fine-tune their targeting to reach relevant users. 💯
In April 2019, Facebook declared war against misleading content and "fake news". Finally, right? The platform used manual fact-checking and a metric called "Click-Gap" to fight misinformation. 🗞️
By May 2019, Facebook was all about personalization and relevant content. It started using surveys to ensure users were seeing relevant content. Bravo! 👏
In the same month, Facebook rolled out updates to promote original and high-quality videos. So, no more annoying baiting videos! 🚫
Things got really user-centric in March 2021. Facebook launched the "Favorites" tool for users to control what they see. You can add up to 30 friends and Pages to your Favorites and their posts will show up more in your feed. 💗
5
👊 Tips to Crush It On Facebook Despite the Algorithm
Surviving the Facebook Algorithm isn't as hard as scaling Mount Everest, you just have to adapt. But what's the recipe for success? Quality and authenticity!
🥇 Tip 1: Nail the Timing of Your Posts
Timing is the pulse of any social media strategy. The best times to post on Facebook are generally between 8 a.m. and noon, from Monday to Thursday. However, this might change based on your specific audience. Check out the fab Sprout's Social Media Publishing suite to find out the best times for your brand.
🥇 Tip 2: Original Videos for the Win
Get creative with your content, especially videos! Shoot on your phone or edit short clips from a longer YouTube video. As long as it's original and high-quality, it's gold! 🏆
6
🔥 A Deep Dive Through the Facebook Algorithm Tunnel! 🚀
Hey folks! Ready for a wild ride? 😎 Strap on your digital sneakers because today, we're going to tackle the ins-and-outs of the Facebook algorithm. But don't worry! We're going to make it fun and entertaining. Just like a crazy challenge where I'd be smashed into a giant pumpkin! 🎃 Why is this important? Well, like my videos, your Facebook content can also clock hundreds of thousands of views👀, shares, and reactions👏. And who knows, one might take off like a rocket🚀, just like that annual smash and squash video from the Milwaukee County Zoo that netted 11k shares alone!😲
7
1️⃣ Using Sprout's Facebook Analytics Tool 🌱
Confused about what your fans love? Don't worry. We've got you! Sprout's Facebook Analytics tool🌱 is like a treasure hunt map.🗺️ Get the X-mark on your best posts and learn what your audience loves! 💖 It breaks down the engagements for each post and gives you the blueprint to what kind of content your audience wants to see.
8
2️⃣ Power-Up Your Team—Your Secret Weapon🚀
It's no secret—Facebook loves content from friends and family over businesses. But did you know your employees could be a super-powerful booster for your posts? Get your team to share your brand's posts, and we promise, your reach will skyrocket. 🚀 But, the question is, how to get your team to share your posts? ‍💻
Let's admit it, we all hate those emails that ask us to share a link, right? 🙄 Too much work! But Sprout eliminates that problem! 💡 The Employee Advocacy platform is a perfect solution here. It's like a digital catalog of brand-approved posts ready to be shared by employees. And guess what? It even comes with pre-approved message boosts to ignite your team's social media power! 🔥
9
3️⃣ Crushing The Facebook Algorithm Game 👊💥
Getting one over Facebook's ever-changing algorithm might seem like a fight against windmills.☁️ 🌬️ True, but remember, even the biggest challenges can be overcome! All you need is a top-notch Facebook strategy and a powerful social media management platform.💻📈 If you're looking for a slick recommendation, Sprout Social offers a free 30-day trial that can be the game-changer! 🚀
And remember, folks, navigating this digital jungle might be daunting🌳, but we're in this together! Let's continue to learn, share, and conquer! 😉🏁 Till next time, stay tuned and keep smashing those Facebook algorithms! 👊💥
Conclusion:
Down in the dumps because the Facebook algorithm is a constant roadblock? Well, don't be a Debbie Downer! 💁‍♀️With a solid marketing stratagem under your belt, you'll own these updates instead of the other way round. So, roll up your sleeves and get ready to harness the power of a top-notch social media management platform.
Why not sign up for a splendid, absolutely free, 30-day trial with Sprout Social? Bet you'll feel like you've struck gold with all the fab features it offers. 💰 From dope scheduling options to kick-ass analytics, you're all set to conquer the Facebook algorithm monster! 🐉 Braced for victory? Onwards and upwards, champs! 🏆
What is the Facebook algorithm?
The Facebook algorithm is a series of rules employed by Facebook to determine which posts get displayed in a user's Feed. The decision is based on several factors, ensuring each user's Feed is customised to their preferences and interactions. The aim of the algorithm is to exhibit content that a user finds most relevant
How does the Facebook algorithm work?
Facebook's algorithm functions by considering four factors; Inventory, Signals, Predictions, and Relevancy scoring. The algorithm firstly catalogues all potential content that could be displayed on a user's Feed. It then gauges the pertinence of each content piece based on several signals such as the post publisher and user's interaction frequency with them. Consequently, it uses these signals to predict the user's preferences and finally scores each content piece based on its relevance to the user. The higher the score, the more likely the content will appear on the user's Feed.
What was the goal of the recent Facebook algorithm update?
The recent Facebook algorithm update focused on enhancing the trustworthiness of news articles featured on the platform. The intent was to combat misinformation by promoting more reliable and superior-quality news sources.
What factors are considered by the Facebook algorithm?
The Facebook algorithm examines factors such as who posted the content, your interaction frequency with the poster, the nature of the content, the post publication timing, and your previous interactions with similar posts. All these elements help the algorithm in determining the relevance of a post to you.
How has the Facebook algorithm evolved since its inception?
Starting from a simple algorithm that prioritised the most liked posts, today's Facebook algorithm is far more sophisticated. It has evolved through numerous updates, with a focus on improving the accuracy of the Feed's personalisation and on fighting misinformation.
What was the purpose of Facebook's March 2019 algorithm update?
In March 2019, Facebook updated its algorithm to provide users with a contextual explanation for the appearance of certain organic posts and Facebook ads on their feed. This change underlined the necessity for brands to refine their audience targeting.
How is Facebook combating fake news?
In April 2019, Facebook expanded its manual fact-checking efforts to combat fake news and misleading content. They introduced a metric called Click-Gap which compared the clicks and link interactions on the platform with similar interactions on other parts of the internet to limit the reach of misinformation.
How does Facebook's algorithm focus on user personalisation?
In May 2019, Facebook began widely using surveys to gather feedback and improve content relevance for its users. By using relevancy signals, the algorithm started prioritising content that better connected users with posts, pages and people they care about.
What changes were made to regulate video content on Facebook?
Facebook implemented updates to prioritise original and high-quality videos. It started to limit the distribution of videos that used engagement baiting or manufactured sharing tactics, thereby promoting more authentic content.
How has Facebook given users more control over their Feeds?
In March 2021, Facebook launched the Favorites tool. This allowed users to add up to 30 friends and Pages to their Favorites. Posts from the user's Favorites would then appear more prominently in their Feed.
What practices can help a brand beat the Facebook algorithm?
Brands can adopt several strategies to beat the algorithm. Timing their posts correctly, focusing on creation of original, high-quality videos, and inculcating employee advocacy are some of the key practices.
What determines the timing of posts on Facebook?
The algorithm takes into account both the timing of posts and the engagement they receive. Therefore, it's vital for brands to post content when people are most likely to interact with it. Monday to Thursday, between 8 a.m. and noon, are generally considered the best times to post on Facebook.
What is the significance of original video content on Facebook?
Facebook's algorithm favours high-quality, original videos, meaning sharing authentic video content can help brands gain visibility. These videos could be short clips from a longer piece, or even a simple video shot on a phone, as long as it provides value to the audience.
What is the role of employees and brand advocates in boosting a brand's Facebook reach?
Employee advocacy is crucial today, as Facebook is prioritizing content from friends and family over businesses. Encouraging team members to share brand content with their Facebook networks can amplify a brand's reach.
How does a strong Facebook marketing strategy help manage the impact of the algorithm?
A robust Facebook marketing strategy helps brands stay on top of the algorithmic updates and be prepared for the changes. The strategy should include creating quality content that drives real interactions, thus aligning with Facebook's priority of quality and authenticity.
How can social media management platforms aid in beating the Facebook algorithm?
Effective social media management platforms can assist in scheduling, management, and analytics, which are crucial aspects of a Facebook marketing strategy. These tools can help brands analyze optimal posting times, create original content, and even encourage employee advocacy.
What are some of the recommended tools for dealing with Facebook's algorithm?
Relying on tools like Sprout Social can simplify handling the Facebook algorithm. These tools offer features like Social Media Publishing to determine optimal posting times and Facebook Analytics to understand which posts resonate with your audience, facilitating informed decision making.
Does using video content guarantee higher engagement on Facebook?
While video content is favoured by Facebook's algorithm, engagement depends on the relevance and quality of the video. Content should be tailored to the audience's interests, and should provide some form of value, whether informative, educational, or entertaining.
Why is competition for attention on Facebook increasing for brands?
With Facebook prioritizing personal content over business content, it's becoming more challenging for brands to maintain visibility in users' Feeds. Moreover, regular changes in the algorithm may limit a Facebook Page's reach, making the competition for attention tougher.
How does Facebook's algorithm impact brand strategy?
The constant algorithm changes may put brands at a disadvantage by limiting their organic reach. Adapting the brand strategy to these changes and focusing on content that drives real interactions can help in overcoming this.