😎🚀 BOOM! Ultimate Guide to Facebook Ads 💰💡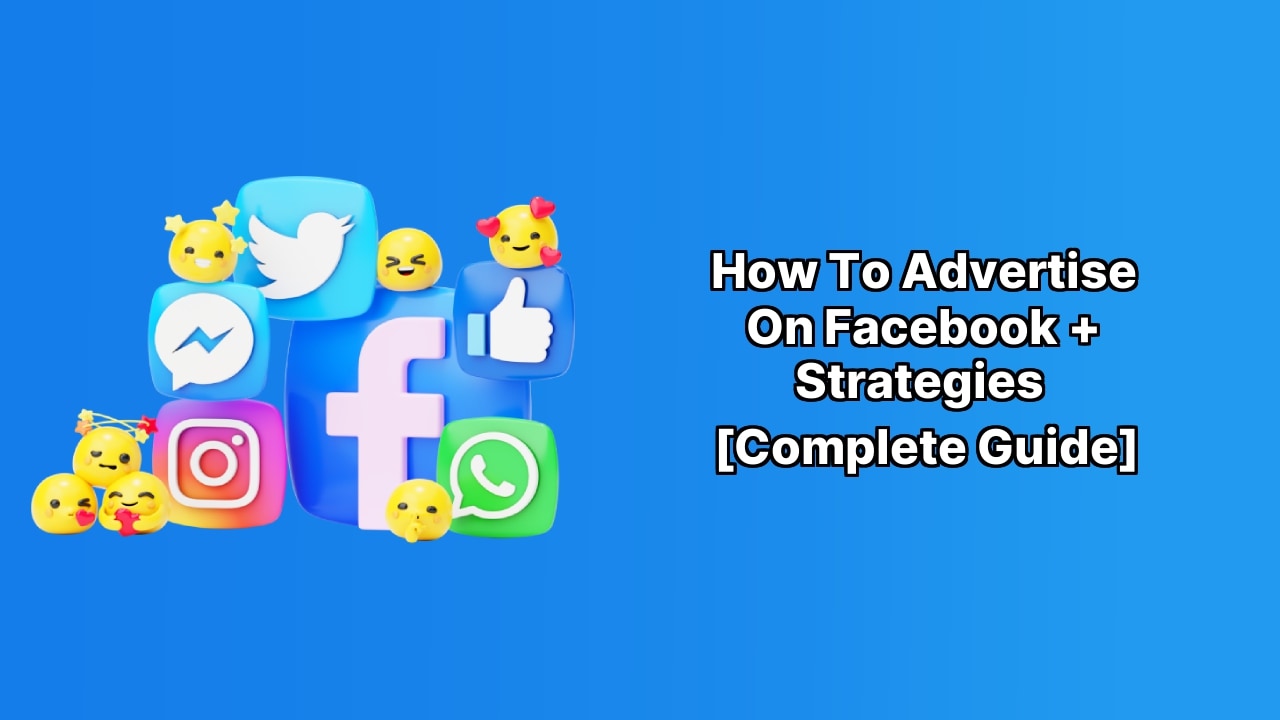 🗯️💥 WHAM! Welcome, dudes and dudettes, to the crazy world of Facebook ads! 🎯📣 Ever muscled your way through the crowds in the biggest social media platform & wondered how to tap into that same aud? Well, wonder no more! This rad guide will catapult you, like a rad rocket 🚀, through the nitty-gritties of creating killer Facebook ads! So, let's dive right into the social media chaos & come out shining like a boss! 🎯💎
1
🚀 Turbo Boost Your Brand with Facebook Ads! 💥
You know, Facebook is the biggest boss in Social Media town!👑💻 With almost 3 billion monthly active users, it's a hotspot for marketers. But there's a plot twist – Facebook's organic reach has been on decline. 😞 So, brands turned to Facebook ads for maximum exposure. If you're new to this game, no worries! This guide is going to be your bestie. Let's dive in!👉
2
🔥 Why should you use Facebook ads?
Still pondering why to use Facebook paid ads? Let me show you some 🎇 magic they can do:
Potential to reach a massive audience: Imagine having the chance to expose your brand to millions and billions. That's what Facebook ads can do for you! 🌎😎
Ability to fine-tune your targeting: Facebook ad targeting capabilities are mind-blowing. You can target by interests, age, geography and a lot more. It's like handpicking who sees your ads. 🧐🎯
Access to robust ad analytics: Get comprehensive insights of your ad performance with Facebook ad analytics. Fact check your performance, generate customized reports, and stay updated in real-time!💡🔍
3
🧑‍🔧 How to create Facebook ads?
Feeling the buzz already? Let's jump into action and create some Facebook ads. Follow these steps:🏁
Step 1: Create your Facebook ad account: Ensure you have an active business Page. Set up an ad account from Ads Manager, confirm your info, and add a verified payment method to start creating ads. 🧾💳
Step 2: Define your Facebook advertising target audience: Isn't fine-tuning your targeting fun? This is where you choose a core audience to show your ads to, based on factors like location, age, interests or demographics. You can also build a Custom Audience and create a Lookalike Audience. Oh, and remember, keep it granular! 🎲💁‍♂️
Step 3: Pick the right types of Facebook ads: Your campaign objective will determine your ad types and ad creatives. Facebook offers six different objectives – Awareness, Traffic, Engagement, Leads, App promotion, Sales. Choose wisely and let your brand shine! ⭐🎯
Step 4: Sort out your creatives for ads on Facebook: Your ad creative can make or break your campaign. Entertain don't bore, if possible use video, and finally include a compelling call-to-action. And remember, being boring is bad for business.😉📹
Step 5: Test and track your campaigns for ads on Facebook: Test, track, tweak and triumph! 🏆🔛
That's a wrap, folks! Now you're ready to kickstart your journey with Facebook ads. Remember, at the end of the day, it's all about creating a meaningful connection with your target audience. Ready…set…advertise! 🚀💼💥
4
Hey Folks! The Ultimate Guide to Nailing Facebook Ads is Here! 😎🚀
Let's be real, those metrics, variables, and the plethora of options for Facebook ads might feel like trying to solve a Rubik's cube blindfolded! 😅 But don't worry! This guide is here to help you slay the Facebook advertising game. Here's the secret: start with small test campaigns and gradually work your way up.💡
5
Facebook Ads: Up Your A/B Testing Game🎲📊
Did you know that Facebook lets you do A/B testing on your ads? 💥 Now that's what you'd call a leveled-up advertising strategy! With A/B testing, you can experiment and get wildly creative with your ads. Play around with different ad creatives, ad copies, and target audience to see what brings in that sweet, sweet engagement.🔥
6
Spend Wisely, Spend Right!💰🚀
Budgeting for Facebook ads can feel like walking on a tightrope. 😰 But hey, guess what? Facebook offers "Advantage campaign budget" to ensure your dollars are spent in the most optimal way. Set your budgets right, position your ad schedules right, and watch your reach grow! 📈 Boom, we Sprout's analytics got you covered. We ensure your paid and organic campaigns are rocking the Facebook world! 🏆
7
The Real Scoop on Facebook Ads Cost 💸😲
What's the real deal with Facebook ads cost? Well, it's not that complicated. Long story short, Facebook lets you customize your ad expenses! That's right! You get to be the boss of what you want to spend. Want some concrete numbers? According to the latest data, the average CPC (cost-per-click) for Facebook ads is around only $0.79! 💵That's only $79 for 100 clicks!
8
Design Like a Pro: Facebook Ad Specs🎨🚀
You wouldn't want to see an ad where the product looks like it's been stretched beyond oblivion, would you? 😓 That's why we recommend taking the time to design your ad creatively while keeping the latest Facebook ad specs in mind.
9
The Art of Facebook Ad Copy 😮🖋
A slick ad visual might fetch you a second glance from your audience, but it's the ad copy that makes them hit that 'click'! 👆 Your Facebook ad copy should tell people why they absolutely need your product and why they need to click on that "Buy Now" button, immediately! 👍
10
Unleash the Power of Social Proof! 🙌🏼💫
Ever thought of adding a testimonial or a review to your Facebook ad? That's the magic of social proof! Trust me, adding social proof to your ads can do wonders. It can be in the form of testimonials, reviews, customer photos, videos, or even stats. ✨
11
Discover the Best Performing Ad Variation🔍🎯
Let's face it. Facebook advertising can be a tough nut to crack. 😓 But here's a tip, try testing different ad variations. Experiment with various creative inputs, ad copies, targeting options, ad types, and ad placements. Find out which one delivers the most impressive results! 💣
12
Here are Some Kickass Facebook Ad Examples 💥🌟
Want inspiration? Here are a few cool examples of Facebook ads that nailed it! Check them out:
Taboola Ads – They nailed it with their captivating images, fun fonts, and strong CTAs focusing on clear benefits! 💪💯
Udemy Ads – Their ads successfully highlighted their offerings with an engaging CTA focusing on an offer. That's a win! 💰🎉
Sephora Ads – Sephora absolutely crushed it by promoting their new product line with high-quality images and highlighted benefits using carousels! 🌟👍
13
Unleash Your Full Potential with Facebook Ads 🚀⚡
There you go, folks! Utilize Facebook's extensive reach and robust targeting tools to reach your advertising goals. With the right strategy in hand, there's no stopping you on your journey to exponential growth. 🏆 Use our Facebook integration to maximize your reach and customer engagement!
Conclusion:
💪🔥 And there you have it, folks! Everything you need to create 🌪️ mind-blowing Facebook ads that score high 🥅, reach the right people, & potentially explode your online presence! But remember, this ain't no 'set and forget' game 🎮. You've got to keep on experimenting, tracking, & tweaking. And most importantly, make it fun! 🎉 So, get your creative caps on, prepare for some thrilling Facebook ad adventures! Can't wait to see you riding the social media 🌊 wave like a total pro! ✨🚀
What is the importance of using Facebook ads?
The key benefits of using Facebook ads include: reaching a vast audience, with nearly 3 billion monthly active users, Facebook provides the opportunity for extensive brand exposure; superior ad targeting options, Facebook's ad targeting capabilities are among the best in the industry, allowing advertisers to reach users likely to be interested in their products or services; and lastly, access to detailed ad analytics that offer insights into real-time ad performance and help to generate customized reports based on chosen metrics.
How do I create an ad account on Facebook?
To begin advertising on Facebook, ensure you have an active business Page or manager, advertiser, or editor roles on another business's Page. Then, set up an ad account from where you can create and manage your campaigns. To do this, navigate to the Ads Manager and confirm your info on the setup page. Lastly, add a verified payment method to start creating ads.
What is Facebook's audience targeting capability?
Facebook allows advertisers to finely tune their ad targeting based on various parameters such as location, age, interests, and demographics. Additionally, businesses have the flexibility to craft Custom Audiences, which targets users based on their past interactions with the brand. More so, Facebook provides the Lookalike Audiences feature that allows businesses to target new prospects that resemble their existing customers.
What are the different types of Facebook ads?
Facebook offers six distinct ad formats to choose from. These include: Image ads featuring a single brand or product image, Video ads promoting the brand using an audio-visual format, Carousel ads which display up to 10 images or videos in one ad, Instant Experience ads that go full screen when tapped in the Facebook mobile app, and Collection ads that highlight multiple products in a single ad and open as an Instant Experience when interacted with.
How do I optimize my ad creatives for Facebook?
To create engaging ad campaigns on Facebook, it's essential not to overlook entertainment. The more enjoyable the ads are, the less they'd seem like advertisements. Using videos in your ads can be highly engaging, helping to raise brand awareness and draw user attention. Don't forget to incorporate compelling call-to-action statements, guiding users on exactly what steps to take after viewing the ad.
What are some best practices for Facebook advertising?
Effective Facebook advertising involves designing your ad creative with the latest Facebook ad specifications in mind, creating compelling ad copy that articulates your offering's benefits clearly, and using social proof elements such as reviews, testimonials, or customer photos and videos. It's equally important to test different ad variations – ad creative, ad copy, targeting options, ad types, and ad placements – to fine-tune your Facebook advertising strategy for optimal results.
What tools can be used to track Facebook ad performance?
Facebook provides robust reporting features which offer in-depth insights on an ad's performance. Tools like Sprout's analytics can be used to track the performance of both paid and organic campaigns on Facebook. Sprout's paid performance reports provides valuable insights on your Facebook advertising strategy and whether you're experiencing growth.
What is A/B testing in Facebook campaigns?
A/B testing allows advertisers to experiment with different variations of their ad creative, ad copy, and target audience to determine the best performing combination. Facebook provides the option of employing A/B testing for your ads, enabling improvements and adjustments before committing to larger campaign budgets.
What is the average cost to advertise on Facebook?
Advertising cost on Facebook can vary greatly and is customizable according to your budget. Data from Revealbot suggests the average cost-per-click (CPC) for Facebook ads is around $0.79, which translates to roughly $79 to generate 100 clicks. Factors such as seasonality and competition might influence the exact cost.
Can you provide an example of a successful Facebook ad?
One example of a successful Facebook ad is the one created by Udemy. Their ad effectively highlights the baseline price in the copy and showcases different course offerings in a carousel format. The call-to-action (CTA) focuses on an exciting offer, creating an urge to click.
Does Facebook provide a way to combine paid campaigns with organic activity?
Yes, Facebook encourages businesses to adopt a hybrid social media strategy, combining organic customer engagement through content and community-building with paid campaigns. This amalgamation allows businesses to leverage the best of both worlds. While paid ads encourage conversions and help drive sales, organic activity fosters relationships and familiarizes users with the brand.
What is the role of a call-to-action (CTA) button in a Facebook ad?
A well-written CTA button in a Facebook ad prompts users to take the desired action, such as downloading an application, subscribing to a newsletter, visiting a website, or making a purchase. The CTA button should be simple, direct, and relevant to the ad. Attractive CTAs can greatly enhance click-through rates and overall engagement.
Can you reach a specific age group with Facebook ads?
Yes, with Facebook's detailed targeting capability, businesses can reach people within a specific age range. This allows businesses to segment their ads accordingly, instead of adopting a one-size-fits-all approach.
What are Custom Audiences on Facebook?
Custom Audiences on Facebook are a type of audience that businesses can create based on their past interactions with the brand. It allows businesses to retarget previous or current customers, as well as individuals who have engaged with their Facebook page or visited their website in the past.
What is the Lookalike Audience feature on Facebook?
Lookalike Audiences is a Facebook feature that enables businesses to target new prospects who resemble their current customers. These lookalike audiences can be leveraged for prospecting and awareness campaigns.
What are Lookalike Audiences?
The Lookalike Audiences feature on Facebook helps businesses target new prospects based on their pre-existing customer profiles. It enables businesses to aim campaigns at a Facebook audience that closely resembles their most loyal customers, thereby enhancing the effectiveness of their prospecting and awareness campaigns.
How does video content perform in Facebook ads?
Video content is a powerful medium for engaging users and has been found to be the most engaging type of in-feed social content. Facebook encourages brands to use video content within their ads because of its ability to grab users' attention and demonstrate products or services in action. Short-form videos are especially effective at stopping scrollers in their tracks and drawing their attention.
What are Instant Experience ads on Facebook?
Instant Experience ads on Facebook expand to a full-screen view when someone interacts with them on the Facebook mobile app. These interactive ads can contain multiple components, including texts, images, video, carousels, product catalogs, clickable tags and more, providing a more engaging and immersive user experience.
How can I ensure that my Facebook ads do not look distorted?
To prevent distortion in your Facebook ads, it is important to design your ad creative keeping in mind the latest Facebook ad specs. Various aspects like the ad image size, video resolution, text limit, etc., are standardized by Facebook, ensuring that your ads look good across all devices and screen sizes.