Boost Engagement by Displaying Your Tweets on Your Website! 🚀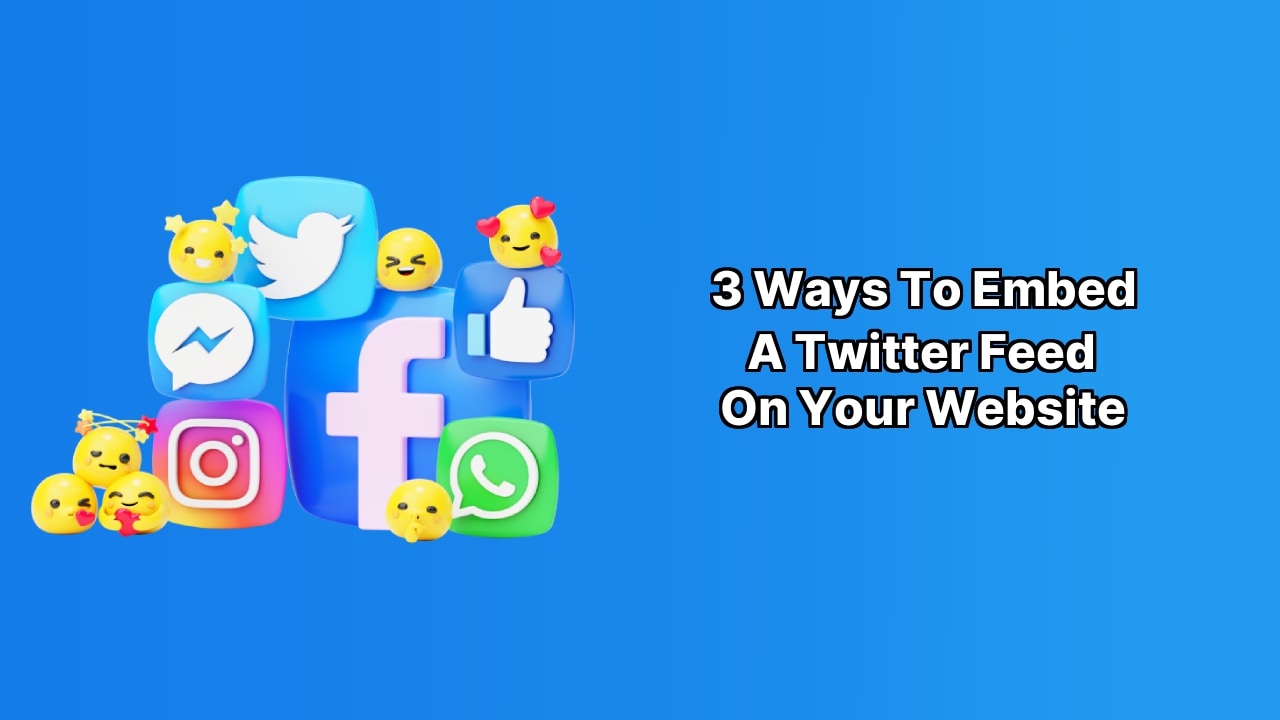 Hey guys, ever wonder how to use your Twitter game to supercharge your website traffic and vice versa? 👀 Well, I've got the GOODS! You can REALLY step up your online presence by embedding a Twitter feed directly on your website. It's simple, it's cool, and it has a TON of benefits. 😎 With over 230 million daily active users, Twitter is a great way to connect with your audience and promote your brand. Plus, it can rock your website visitors' world and make them wanna stick around a little longer. So, buckle up everyone, let's GOOOOO! 🚀
1
😎 Revolutionizing Communication with Twitter 🐦
Since it was created, Twitter has completely transformed communication as we know it. It's speedy, it's on point, and a fantastic tool to interact with your customers, potential clients, and audience. With close to a whopping 230 million daily active users, Twitter creates the perfect platform to spread your message and spark interest in your brand. 📣
Here's a thing: 🙄 People may initially discover your business on Twitter, but they might end up on your website via a search engine or some other non-Tweet origin point. So the secret to making the most out of Twitter visibility? Let put a Twitter feed on your website and flaunt your Tweet activities to your website visitors.👥
Integrating a Twitter embed widget to your site establishes a harmonious online identity and allows people to follow your online chats all in one space. It not only boosts engagement from website visitors and Twitter followers but also gives a refreshing and relevant update to your website. 🥳
2
Different Types of Twitter Feeds You Can Embed on a Website
Twitter feeds have different types that you can easily embed on your site like Tweet feeds, profile timeline feeds, list feeds, @handle feeds, and #hashtag button. You can do this through Twitter's free embedding tool, plug-ins and integrations with your website hosting company, or third-party tools like Taggbox. 💡
3
Easy-Peasy Lemon Squeezy Ways to Embed Twitter Feed on Your Website 🍋
4
Let's Start With Twitter's Free Embed Tool:
It's simple: nab the embed code from Twitter's embed tool. This involves inputting the following information into the form field: your Twitter link URL, your Twitter business handle, or your Tweet Hashtag. Twitter then gives you an embed code that you can include on your website. How cool is that? 😎
Slap the URL of the Tweet you want to embed into the form field. Copy-paste it, people! 📋
Pick how your Tweet will be displayed – as a timeline or as a button. Either way, it's all about getting that Twitter vibe to your site without users leaving your page. It's a win-win! 🏆
6
Give a WordPress Plug-in a Spin:
WordPress is the reigning king of CMS in the world, boasting a myriad of plug-ins that make displaying Twitter feeds a cakewalk. Plus, once you saddle up the plug-in, no more undue stress about embedding any HTML codes. Sit back, relax, and let the plug-in do the magic! ✨
Some popular ones include Smash Balloon or Feed Them Social, both of which offer free and premium plans. They are fully-loaded with extensive customization options and feed integration capabilities. 🎁
7
Roll With a Third-party Twitter Feed Tool:
Third-party tools like TagBoxx and Flockler create bridges to bring user-generated content from social platforms to your website. These tools come loaded with more robust customization and integration options than free options. And guess what – they're brilliant for showcasing visual content. 💎
Keep rocking your online presence, folks! 🎸
8
🚀 Unleash the Power of Your Tweet Feed! Try it FREE for 14 Days! 🚀
Ever thought about amplifying your website's potential with the power of Tweets?💥 Consider embedding your Twitter feed right into your website! While it's not a free feature, you can totally test out the tool with a 14-day courtesy of a free trial. 😎 It's your go-to method for flexing your brand's authenticity and identity without saying a word; you let the results Tweet for themselves! 🥊
9
Rock-solid Reasons to Display Your Twitter Feed on Your Website 🐦
Strap on, because here are amazing benefits you can enjoy by integrating Twitter posts and other social media content on your website:
Transform Website Visitors into Twitter Fans – Send your website visitors directly to Twitter. They can become your next followers through your profile, your tweets or even your mentions.👫
Boost Twitter Engagement and Reach – Imagine sharing, liking or retweeting your content not only on Twitter, but also on your very own website. 🔄 This can drastically increase your Twitter reach and engagement. 📈
Earn Trust and Credibility – Boost your social proof and foster trust in your brand. You can do this by sharing positive reviews, customer feedback and the latest news.🎖️
Strengthen Brand Loyalty – Provide an engaging and personal experience to your audience by giving them something to interact with on your site, growing the love they have for your brand. 💕
Convert More Website Visitors – Showcase customer testimonials, product reviews, awards and company news, all buzzing tools to motivate site visitors to convert. 🛍️
Integrating Twitter feeds is an awesome way to connect with new audiences and shows that you're active in the digital world. The true value lies in the visibility it grants you, regardless of whether you're using Twitter for promoting your brand or for customer care. 💼
But here's the big question: Do you really know the potential of your Twitter growth and impressions? 📊
Luckily, we have a smashing Twitter management tool called Sprout Social. With it, you can plan and publish tweets, keep an eye on key performance metrics, stay updated with Twitter activity and engage with your followers in a snap!🚀
Have a happy dive into how to use Twitter effectively to boost and expand your brand's glory. 🔍
Conclusion:
So there you have it pals, how to embed your Twitter feed into your website in a flash! 💥 By doing this, not only will you be PROACTIVELY directing your website visitors to your Twitter profile, but you'll also increase your tweet reach and engagement, build trust AND loyalty, and amp up your conversion rates. More followers, more interaction, more conversions – sounds like a win-win, doesn't it? 😉 Now, to take this next-level, try
Sprout Social
, a fantastic tool for managing and tracking your Twitter engagement. Remember, engaging with your audience is KEY to any kind of IMPACT. It's not just about the numbers, but making a difference. Let's dive into the Twitterverse together and watch our brand take OFF! 🚀
What exactly is Twitter and why is it popular?
Twitter is a social media platform that enables quick, brief communication through 'tweets'. With nearly 230 million daily active users, Twitter has become a powerful tool for individuals and businesses to share their messages, connect with their audience and even strengthen their brand presence in the digital space.
Why is it beneficial to integrate Twitter into my website?
Integrating a Twitter feed into your website offers several advantages. It helps create a seamless online identity, increases engagement from your website visitors and Twitter followers, and keeps your site updated and relevant. Furthermore, it showcases your active involvement in the digital conversation, which could help attract new audiences.
What are the different types of Twitter feeds I can embed on my website?
Twitter offers five types of feeds that you can embed. These include embedded Tweet feeds, embedded profile timeline feeds, embedded list feeds, embedded @handle feeds, and an embedded #hashtag button. Each of these options offers a different way to showcase your Twitter activity on your website.
How does Twitter's embedding tool work?
Twitter's embedding tool is a free service that lets you display Twitter posts on your site. It requires a Twitter link URL, your Twitter business handle, or a hashtag. The tool generates an embed code which can be easily copied and pasted into your website.
What is a profile timeline embed?
A profile timeline embed is a type of Twitter feed that displays tweets from a single account onto your website. It offers an option to embed Follow and Mention buttons for a Twitter profile, making it easier for your site visitors to interact with your Twitter account.
Can you explain what an Embedded list feed is?
An embedded list feed allows you to display all posts associated with a curated Twitter list on your website. It's a convenient way to organize and present tweets from a group of accounts centered around a specific topic.
What are the benefits of embedding my Twitter feed on my website?
Embedding your Twitter feed onto your site can (1) convert website visitors to Twitter followers, (2) increase Twitter reach and engagement, (3) build trust and credibility for your brand, (4) enhance brand loyalty, and (5) increase conversion rates by leveraging testimonials, product reviews, and company news.
What are the steps to embed Twitter feeds manually?
To manually embed your Twitter feed, go to the Twitter embed page, enter a Twitter URL link, your business handle or a hashtag into the form field. Twitter will provide you with an embed code to be copied into your website.
Can I use a WordPress plug-in to embed my Twitter feeds?
Yes, WordPress offers a variety of plug-ins that embed Twitter feeds to your website. Tools like Smash Balloon and Feed Them Social are popular options. They allow you to customize feed layouts, filter unwanted terms, and create carousels.
What is the Smash Balloon plug-in for WordPress?
Smash Balloon is a versatile WordPress plug-in that lets you display Twitter feeds on your site. It integrates with most top social media platforms, and even enables site owners to embed a feed into a WordPress page, post, or widget. The Twitter feed will automatically mimic your website style for a consistent look and feel.
Are there third-party tools I can use for embedding Twitter feeds?
Yes. Tools like TagBoxx and Flockler let you compile and publish social feeds from various platforms, including Twitter. These tools provide robust customization and integration options, enhancing the visual appeal of your website content.
What features come with a third-party Twitter feed tool like Tagboxx?
Tagboxx provides a social embed widget that allows users to curate and publish social feeds from a wide selection of platforms, including Twitter. Users can embed and customize Twitter feeds using hashtags, account profiles, and handles. It even has a free version for users to explore before investing.
What is the benefit of using a service like Flockler for embedding Twitter feeds?
Flockler makes embedding Twitter feeds to your website convenient. The tool lets users incorporate posts from Twitter into grids, scrollable carousels and 'content walls'. This tool offers customization options that enhance visual content, contributing to a strong site aesthetic.
How can I track my Twitter followers and engagement?
Tools such as Sprout Social provide a powerful way to manage your Twitter account. This tool allows you to schedule and publish Tweets, monitor Twitter activity, track performance metrics, and interact with followers, helping to grow your brand's online presence.
What is a Tweet embed?
A Tweet embed enables you to display a single Tweet on your website. This is a convenient way to highlight significant conversations or announcements on your site directly from your Twitter account.
What is an embedded Hashtag button?
An embedded hashtag button is a functional Twitter tool that allows your website visitors to tweet about a specific hashtag from your website. When a user clicks the Hashtag button, a draft Tweet opens with the associated hashtag included.
What is an embedded @handle feed?
An embedded @handle feed allows you to embed a Twitter user's profile onto your website. You don't need the full profile URL, just the handle. You can also add Follow, Mention, or Hashtag buttons, providing more opportunities for your site visitors to engage with your Twitter content.
What is a WordPress plugin?
A WordPress plugin is a type of software that can be added to a WordPress website to extend functionality or add new features. They can provide a variety of services, such as embedding Twitter feeds or other social media content onto your site.
How can the Feed Them Social plugin assist with Twitter embedding?
Feed Them Social is a robust WordPress plugin that integrates with many social networks, including Twitter. It allows for the addition of multiple feeds on the same page, incorporation of recent Tweets within a feed, and customization of feed appearance. It's an effective tool to enhance your social media presence on your website.
Are most WordPress plugins free?
While there are many free plugins available for WordPress, some premium plugins come with a cost. The quality of features and support usually differentiate free plugins from premium ones. Deciding whether to use a free or premium plugin usually depends on your specific requirements and budget.