🙌 Unleash the Power of Email Marketing: A Dummies' Guide 🚀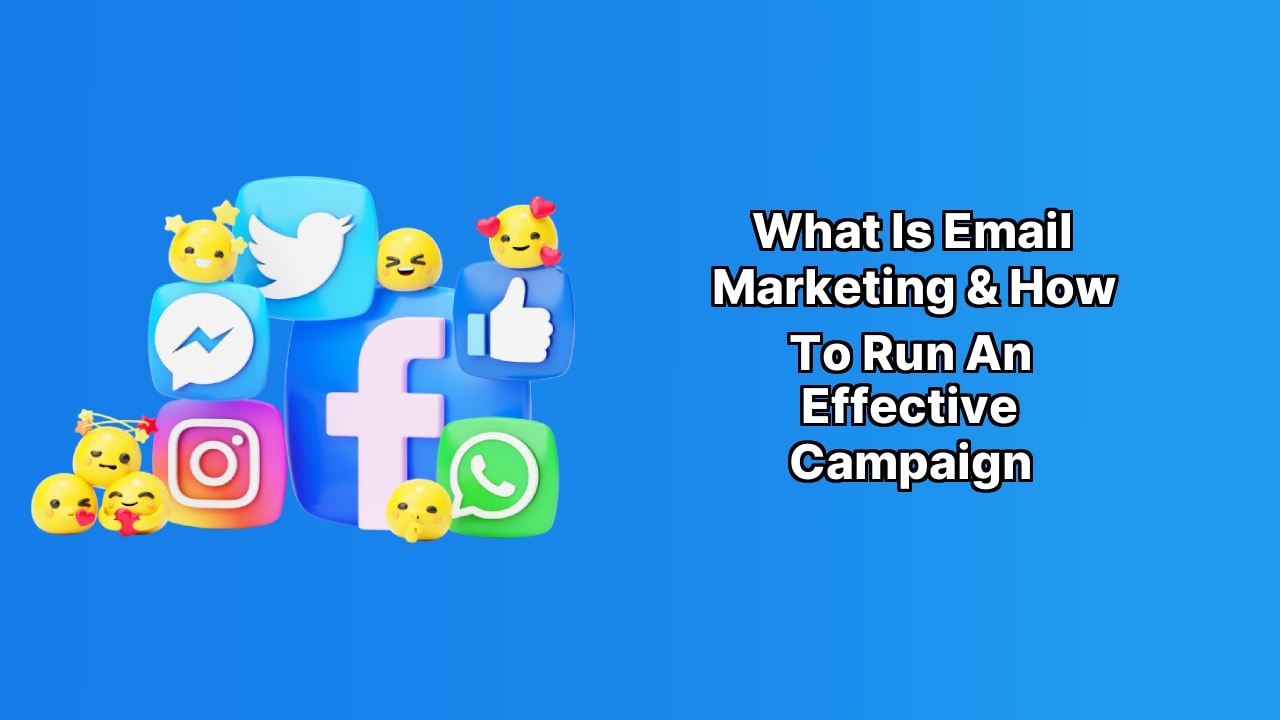 Hey guys! 👋 You know that over half of the world uses email, right? 🌎 So why aren't YOU using it to boost your brand, drive traffic and score some sales? 💵👀 Get ready, 'cause we're diving deep into the world of email marketing! In this guide, you'll get ALL the deets – the benefits, various types, tips, and strategies to master that perfect email campaign! 🎉💌 Buckle up and let's get started! 🚀
1
Rocket Your Brand to Outer Space with Email Marketing! 🚀
Did you know that email marketing has the power to catapult your brand and outreach, way past the stratosphere? That's right, folks! When used effectively, it can help you bond with your clients, boost your brand, and work wonders on your sales. In this guide, we're diving deep into the marvelous world of email marketing. We got tips, tricks, and templates coming your way, so stick with us 💡
What's the Big Deal with Email Marketing? 🤔
Get Pumped with These Top 6 Benefits of Email Marketing 💪
Email Marketing Campaign: Behind those Curtains 🎭
How To Build an Email Blast That's the Bomb 🧨
Tips to Power-up Your Email Marketing Campaign ⚡
3
What's the Big Deal with Email Marketing? 🤔
Imagine having the ability to shoot messages directly into more than half the world's population, that's what email marketing is all about! With over 4 billion email users, and an eye-popping average ROI of $36 for every dollar spent, it's like striking gold! 🎯 📈 You're not just shooting random emails; you're spreading your vision, your brand, and your awesome products to a stupendously large audience. Think big, dream bigger!
4
Get Pumped with These Top 6 Benefits of Email Marketing 💪
1. Raise your brand, louder and stronger! Using emails, you can broadcast your brand, products, and services. It's like announcing on the world stage. 🌐 2. Drive in the traffic, with road signs that point to your fantastic website. You can use links, CTAs, and promotional content to guide your audience to your fabulous site. 🚦 3. Boost your sales, with email bringing your products to the front row. Experiment, innovate, and find out what makes your crowd go wild. 💰 4. Fan the flames, and leverage your other marketing channels. Link your social media, blogs, and events in your emails for a powerful punch. 💥 5. Keep the audience on their toes, by diversifying your content. Regular, well-timed, and creative communication can keep your fans excited and engaged. 🎉 6. Become a data wizard, by collecting customer data and learning about their preferences. Improve your brands and products with informed decisions. 🧙‍♂️
5
Email Marketing Campaign: Behind those Curtains 🎭
As with every marketing strategy, you'll want a comprehensive campaign for your email marketing, too! Now, let's dive in and explore the different types of email marketing campaigns. Welcome emails: These are like the friendly "hello" you'd give to someone you're hosting. Keep them short, sweet, and highlight the next step for your user. For example, say you're running an app, your welcome mail could prompt the user to download your mobile app. 📲 Newsletter emails: These are like your regular newspaper, but loaded with your brand's insights. Think of industry updates, blog posts, feature highlights, and much more. Newsletters have the power to build long-term relationships with your customers. 📰 Promotional email campaigns: Got a crazy sale? Special discounts? Break out these news using promotional emails! It's all about putting your best offers front and center. 🎁 Cart abandonment emails: Your customers added items to their carts but didn't buy them? Fear not! With these emails, you can remind them and even offer incentives to complete their purchase. Like a second chance to win it over! 🛒 Seasonal marketing campaigns: The holiday season? Halloween? Tailor your emails to compliment the season. Promote seasonal items and boost those sales. 📆
6
How to Build an Email Blast That's the Bomb 🧨
To create an email that's gonna blast through the crowd, you gotta up your game with re-engagement emails, automated emails, and much, much more. Experiment with your emails, mix it up, switch things around, but most importantly, keep it creative! 💫
7
Tips to Power-up Your Email Marketing Campaign ⚡
Ready to get behind the wheel? Here are some swift tips that'll rev up your email marketing campaign:
Keep it engaging, keep it fun! 🎊
Branding is key – keep it consistent. 🔑
Experiment with your timings. 🕓
Don't be afraid to get personal. 👤
Feel the fire yet? That's the power of effective email marketing. You're not just sending emails; you're creating an experience for your audience. So get out there, start drafting, and let the fun begin! 🎈
8
Yo, Wanna Re-Engage with Our Super Dope Email Content? 😎
Going MIA on our updates? Miss catching up on 🔥 deals and mind-blowing promos? Say no more! Our 💥 "We miss you" and "Are you still there?" email campaigns are here to send that sweet reminder ping! 💡 Oh, and we can't forget about our announcement emails! New products dropping, epic sales, events, birthdays…you name it. Spot them in your inbox.👀
9
Automated Emails Based on Your Actions! Now That's Personalized! 😲
We mirror your actions with some of ours! Joined our list? 🎉 Welcome aboard! Expect our welcome series in your inbox soon. Abandoned your cart without checking out? 🛒 No worries! We'll send you a nudger to remind you of the stuff you left behind! And guess what? If you buy something from us, we keep the conversation going to make your experience simply out-of-this world! 🚀 Updates on shipments, review requests and discount offers for future purchases…hey, customer service just got a whole lot cooler! 😎
10
Feel The Pull of Social Media Love! 💖
Got a thing for social media? Who doesn't! 😍 Our connect-via-social campaigns say, "Let's take our relationship public!" Fancy some freebies or loyalty points for following our social media handles? DONE!
11
Historic Opportunity to Speak Your Heart Out! 📢
We propose a testimonial request email and hope you'll accept! Share your experiences, voice your opinions and rate us…on our website, social media or any review platform of your choice. Let's hear it out, pal! 🎤
12
Building a Squad! Wanna Join? 👬👫
Cool, you're listening. Now, let's talk about how we can build our email marketing squad! 💪 First off, choose some slick email marketing software and then buckle up for the ride! 🚗
13
Lure of the Opt-in Forms 🎣
Opt-in forms…sound familiar? Pretty simple stuff. Embed them on the homepage, footers, blogs, and even as pop-ups all over our website. Cast your net wide and watch the contacts pour in! 🌊
14
Magic of Gated Content 🗝️
Craft some compelling content. Lock it up. And give the key only to those who share their email! 📧 Yes, buddy, our magic trick here is high-value content that requires an email to access! Be it research reports, ebooks, checklists, white papers…it's a done deal! ✍️
15
Event Sign-up: Double the Benefit! 🎪
Hosting an event? Of course, we're pumping up for that! But why miss out on building your email list while at it? Use an event sign-up form, register for the event, and bolster your email squad even more! 👥
16
Your Guide to Nailing Your Email Marketing Campaign! ⭐
Ready to level up your email game? Gotta send it to the right peeps, design it to dazzle, personalize it to connect, and keep it fun, casual, and conversational. Remember, humans over businesses! And don't just send ONE email. Oh no! Follow-up emails are like those extra flips at the end of your routine – they seal the deal! 🤸‍♂️ And pro-level tip: send them from AN ACTUAL PERSON, not from our boring, no-reply address. 😴
17
Join the Email Marketing Game like a Pro, and Be the Boss! 🏆
Ready for the difference between spamming your audience and reaching their hearts? 😊 Don't be like those businesses that send out bland, automated emails to everyone without a second thought 💤! Instead, hit their inboxes with something recognizable and relatable. You know, more like a friend and less like a brand. Get this right, and you're already one step ahead! 🎯
Coming up with a cool sender's name that is linked to your business works like a charm here. It's super fresh and super personal at the same time 🙌🍀. The key is being real and relatable.
18
A/B Test: The Secret Sauce to Perfect Emails 🤹🤔?
Well, a perfect email is a unicorn. Who knows what it looks like? But, we can wiggle our way to creating nearly perfect ones by testing them. A/B Testing 🅰️🅱️ is your email ninja move. You send two different versions of your email to a tiny fraction of your audience. Then watch the battle of the emails unfold 👀! The one, that the audience loves, wins and gets to meet the rest of your email clan. It's like having a pre-party for your emails! 🎉
A/B Testing is super powerful. You get to make your emails better 💪 , understand your audience and eventually take your whole business game up a few notches⬆️🚀.
19
Play by the rules – dodge the spam fiesta 🎊🚫
Listen up! Ignoring spam regulations is like a one-way express ticket to getting your emails banned or even getting slapped with a whopper of a fine💸! Acts like CAN-SPAM and GDPR are your lifelines, not following them is asking for trouble.
Your ultimate rulebook would be something like this:💼
No buying email lists🚫📃
Only adding folks to your list who have given you a clear thumbs-up 🆗👍
Privacy policy should be as upfront as possible 📢
Make the unsubscribe button easy to spot and respect opt-outs 🏳️‍🌈
No trick-words in your emails🙊
Always include your mailing address 🏡
20
Measure to improve: Track your email campaigns 📊🧐
Email marketing is super cool, because you can keep learning from it. You get the lowdown on how your emails are performing or if they are still sleeping 😴.
Wondering what these golden metrics are? Here you go👀 :
Open Rate 📤 : The average number of opens your emails get.
Click-through Rate 👆 : The average number of times users tap on the links or CTAs inside your emails.
Bounce Rate 😬: The percentage of people who didn't receive your email.
Unsubscribes 😮: The number of folks who unsubscribed from your email list.
Spam Complaints 🚫 : The number of times your emails have been marked as spam.
There are tons of other metrics you can track. The trick is to know which ones align with your email marketing goals 🏁.
21
Email Marketing FAQs 🤷‍💡
What is email marketing?
Email marketing is an epic way for businesses to connect with their customers. It's about reaching out, nurturing relationships and driving conversions with well-crafted emails! 🎁📧
What email marketing software is available?
Email marketing software is your trusty sidekick in your email marketing endeavors. Here are our top three picks 🥇🥈🥉:
There are oodles of email marketing tools to choose from but remember, the right choice can save you both time and money. So hop on, and explore the endlessly exciting universe of email marketing! 🎢🎪
Conclusion:
Boom! 💥 You've got it! You're now armed with the knowledge to boost your brand, engage your audience, increase traffic, and spike your sales – all through the power of EMAIL! 💌🎉 But remember, a single perfect email doesn't exist. Continuously test, tweak, and learn from your campaigns, for a crowded inbox is a competitive space, and standing out is the name of the game. 🥇🔍 The world awaits your next email, and we can't wait to see what you'll do. Gear up, go forth, and start sending those emails! 🚀✌️
What does email marketing entail?
Email marketing involves the strategic dispatching of emails to existing or potential clients, with an objective of enhancing brand awareness, propelling engagement, nurturing leads, or effectuating sales. The emails can take various forms and help businesses, regardless of their size, establish meaningful interactions with their target markets.
Why is email marketing crucial to businesses?
Email marketing offers businesses a multipronged strategic tool permitting them to increase their brand visibility, generate web traffic, drive revenues, and even improve other marketing channels. Additionally, email allows businesses to keep their audiences engaged with creative campaigns and to gather vital data needed for their continued growth.
Can automation be integrated into email marketing?
Yes. Email marketing tools allow for the setting up of automated workflows that trigger emails based on specific customer behavior. This not only saves businesses time and resources but also ensures that the right communication is sent to the right contact at the most opportune time.
What types of emails can businesses send out in their campaigns?
Businesses can send welcome emails to new subscribers or purchasers, newsletter emails for sharing industry updates or tips, promotional emails for specific products or sales, cart abandonment emails to customers who failed to complete their purchases, seasonal marketing emails for certain holidays, and much more.
How can a business build an email marketing list?
A business can build its email list by adding opt-in forms on its website, creating content that requires an email to access, or by utilizing event sign-up forms.
What considerations should be made when creating an email marketing campaign?
Businesses have to choose a relevant email list, design their emails to align with their brand identity, personalize their subject lines and content, adopt a conversational tone, create follow-up emails, send emails from a real person, A/B test their emails, and comply with email regulations. Additionally, businesses need to track the performance of their email campaigns.
What software is available for email marketing?
A multitude of email marketing software options are available for businesses, such as HubSpot Email Marketing, Sender, and Sendinblue. Choosing the best one greatly depends on a business's individual needs and marketing strategy.
What email metrics should a business track?
A business should be tracking open rates, click-through rates, bounce rates, unsubscribe rates, and spam complaints. Other metric considerations include conversion rates, most visited pages, top-performing links, mobile open rates, revenue per email, and more. Aligning metrics with email marketing goals helps to hone in on what's working and what's not.
How can a business keep its customers engaged with email marketing?
Businesses have considerable room to experiment with their messages to keep customers interested and enthusiastic about their brand. Injecting creativity into email campaigns helps cultivate top-of-mind awareness among customers.
How does email marketing help generate website traffic?
Emails can be a potent tool for driving traffic to a business's website. For instance, businesses can share excerpts of recent articles and direct interested subscribers to their blog for the full version. Also, businesses can add calls to action to their promotional emails, thereby guiding subscribers to landing and sales pages for more information about their products.
Can email marketing drive sales and revenue?
Yes, email marketing can puts a business's products and services in front of customers and experiment with different promotional techniques to amplify revenue. Furthermore, businesses can use upselling and cross-selling approaches to escalate the average order value.
Can email marketing boost other marketing channels?
Definitely. Email permits businesses to integrate their marketing channels and drive traffic to other customer touchpoints, such as social media, landing pages, blogs, and even in-person events.
What are the steps to build an email marketing list?
An email marketing list can be built by selecting a preferred email marketing software and using strategies such as placing opt-in forms in various places on the business website, creating gated content and lead magnets, or utilizing event sign-up forms.
Do businesses need to comply with spam regulations in email marketing?
Yes, adhering to spam regulations is critical to avoid having emails banned or incurring hefty fines. Unethical practices such as procuring email lists, sending unsolicited emails, and using deceptive language in emails can land businesses in trouble.
How can a business ensure its email marketing complies with regulations?
Businesses must avoid buying email lists, not add people to their email list without their explicit consent, provide privacy policy information up front, ensure unsubscribe buttons are easily identifiable in their emails and honorable, and provide mailing address information in their emails among others.
How can businesses personalize email content for better conversion?
Businesses can tailor their email content to meet each individual contact's specific needs. This can be achieved by including the subscriber's name in the subject line, using subscriber location to promote events or sales close by, or sending custom product recommendations based on previous purchases.
What is meant by A/B testing in email marketing?
A/B testing is a method that involves sending two different versions of an email to a small sample of a business's audience. By comparing the performance of both versions, businesses can determine the more effective one and distribute it to the remaining members of their email list.
How can businesses maximize the effectiveness of their email designs?
Building an effective email design involves branding it, the strategic use of white space, the inclusion of thoughtfully chosen images, making emails responsive to both desktop and mobile devices, and establishing visual hierarchy with alignment and varying font sizes.
Is an email marketing campaign effective for boosting business profits?
Email marketing campaigns can be exceedingly beneficial for businesses in boosting profits. They unobtrusively make products and services visible to customers, allow for various promotional activities, and track customer activities for more efficient campaigns, thereby significantly enhancing businesses' bottom lines.