🔥 Unleashing the Power of Competitor Analysis Tools for Killer Marketing! 💪👀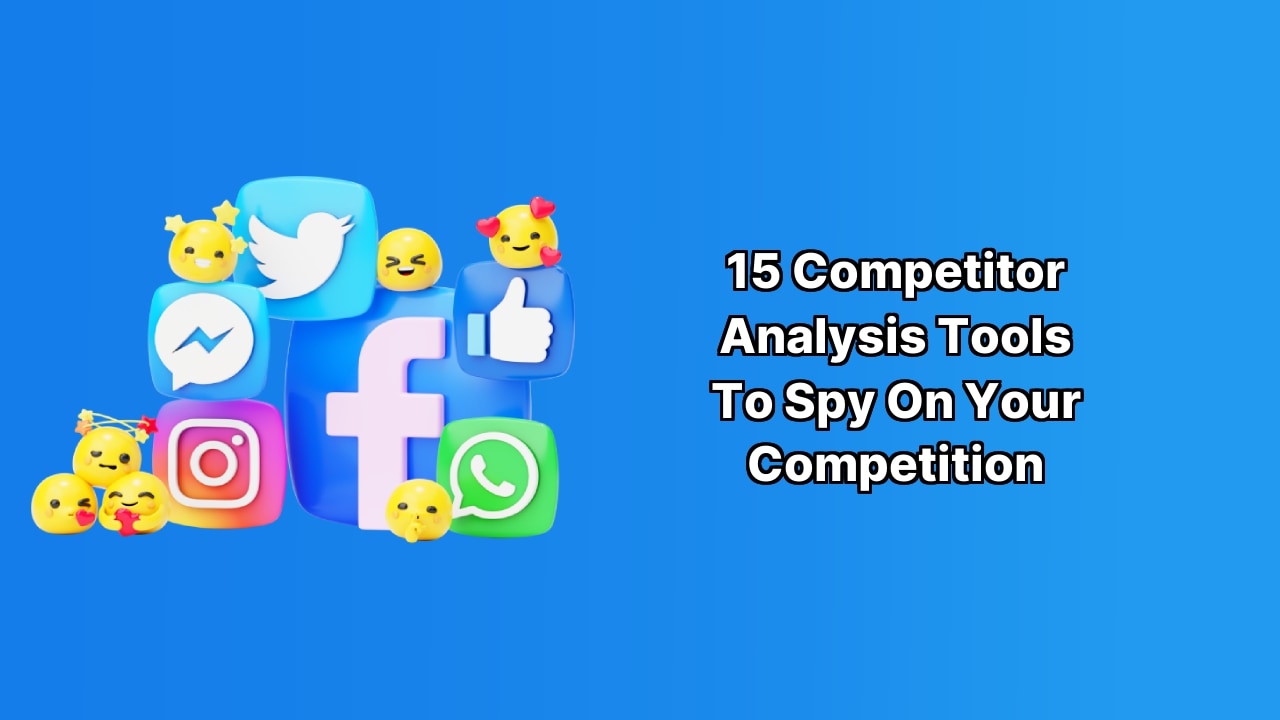 Hey, welcome to the mind-blowing maze of marketing, where competition is as fierce as a shark in a goldfish pond! 🌊🦈 Shark emoji> Here, every drop of attention from your audience is worth more than a pot of gold💰. The battleground? Unmistakably it's about traffic, ad placements, followers and sales. Seems tough, huh? But guess what? We've got some kickass tools to help you break down your rivals' strategies! So buckle up as we dive into the world of competitor analysis tools that can supercharge your marketing game! 🚀🎯
1
💥 BAM! Understanding the Importance of Competition in Marketing 💥
Whew! 😰 Competition. It's a tough topic, right? Doesn't matter if you're selling hot dogs or spacecrafts, marketing is all about battling for your audience's attention 👀. And boy, there are SO MANY marketing channels today that the competition is just 💥💣💥. Let's talk about it!
Imagine this! You're competing for traffic 🚦, ad placement 📊, followers 👥, and sales 💰. There's a lot on the line, folks! While doing a competitive analysis might not sound as exciting as a MrBeast video, it's a fundamental part of business intelligence 🧠. Wanna know the good part? There's a ton of competitor analysis tools🔧out there just waiting to make your life easier!
2
All-Star 🌟 Competitor Analysis Tools You Gotta Check Out
No, seriously, don't storm into the battlefield without the right gear! 👊💥 These devices can save you so much effort and give you more time to focus on the fun part of marketing 🥳. Here are some types of tools you can use:
Social media management tools 💬
Monitoring and social listening tools 🎧
Keyword tools 🔑
Analytics tools 📈
AI tools 🤖
3
🔎 A Deep Dive into Some Competitor Analysis Tools 🔍
Ready to level up your competition game? Check out these gnarly tools making a big splash in the marketing world!⚡
Sprout Social – Lets you analyze competitor performance on social media. It's a one-stop-shop for competitive reports 📘. Plus, their Premium Analytics and Advanced Listening tools are game-changers guys! 🚀
Phlanx – An Instagram engagement calculator that tells you how active an account's followers are. It's great to check out your competitor's Instagram game 🕹️. Plus, it helps you find out if an influencer is legit! 📢
Social Blade – It assesses follower counts on Twitter, Instagram, and YouTube. Even assigns a "grade" based on retweets and likes. It also features live follower counts and head-to-head comparisons of brands' social presences 👥.
SEMRush – One of the best SEO tools out there! It helps you retrieve competitor backlinks and monitor changes in their ranking 💹.
Ahrefs – Another fine tool for SEO. It lets you check any URL's top organic keywords and shows how much traffic a competitor gets 🚦.
MozBar – This browser extension by Moz helps understand how authoritative a site is in the eyes of Google. It's a rapid fire assessment tool to gauge a site's search potential 🎯.
Remember, folks! It's not about size, follower counts or industry. It's the engagement that matters! And with these 🔝 tools, you're now ready to dive headfirst into the ring! 🎉
7
🔍 Uncover the Secret Sauce of Success with Competitive Analysis Tools 🏆
You know what they say, "Keep your friends close and your competitors closer." 😏👀 And you don't have to be a super sleuth to do it! Are you ready? Let's dive in! 🤿🌊
8
MozBar: The Spyglass of the Web ⚓
Imagine you're navigating the choppy seas of online competition with MozBar, a tool that'll have your backlinks battle-ready and in ship-shape! 👊🔗 It's like your own passive competitor analysis sniper. 💂‍♂️🔎
9
Buzzsumo: Spotting the Titans 🧐💪
Want to know who's the big kahuna in terms of content marketing? Enter Buzzsumo. This bad boy lets you zoom in on the engagement and shares of content relative to your brand or competitors. 📊💭 Talk about having a secret weapon, amirite? 🧨💥
10
Similarweb: The Content and SEO Beast 🐲🔍
Next up is Similarweb, the monster truck of analysis tools.👹🚜 This tool digs into your competitor's content and traffic sources, while also giving you topics that visitors search for. It's like having a treasure map! 🗺️🦜
11
Feedly: Your Content Friend-ly 😇📚
Ever wish you could spy on a competitor's content without constantly stalking their blog? Oh, hello Feedly! It's a content aggregator that packs a wallop and conveniently serves up your competitors' hot topics right on your plate. 🍽️🔥
12
Mailcharts: The Email Marketing Ace 💌🏆
Now, let's talk about Mailcharts. They've solved the tedious task of email competitive analysis by aggregating emails from competing campaigns to help influence yours. 🤯 It's like having X-ray vision for emails. 🧠💡
13
Owletter: Your Email Organizer and Analyzer 👀📩
Take a look at Owletter, a tool that conveniently stores your competitor's emails and gives you insight on optimal sending times. Efficiency to the max! 🚀⏱️
14
iSpionage: The PPC Patrol 🕵️‍♀️🎯
For those of you itching to explore the world of PPC, you'll want to know about iSpionage. This tool shows the blueprint of your competitor's PPC campaigns. It's like cracking the code! 🦹‍♂️🔓
15
Owler: Industry Analyst Extraordinaire 🏦🔬
Last but not least, Owler, the star in the sky for industry analysis. This tool uses community data to curate data from startups relevant to your niche. Your very own data crystal ball! 🌐🔮
16
Key Steps to Ace Competitive Analysis 🐾📈
Understand your real competitors. Don't punch above your weight! 🥊⚖️
Focus on metrics. Let the data guide your path. 🧮🛣️
Transform your analysis into action. Information is power! 💼⚡
Wrapping it all up – competitive analysis is your secret weapon to level up your marketing game. 🎮🏔️ Armed with the right tools, you'll conquer your market before you know it! 🏰🎯
Conclusion:
All right, folks! That's a wrap on our killer run-through of competitor analysis tools.💥🔎 It's time to stop ogling your competitor's strategies and start shaking up your own! Remember, always keep a keen eye on the metrics, turn your analysis into meaningful action, and never forget the size and target audience of your REAL competitors. ✌️🎲 And hey, the coolest part? With these awesome tools in your arsenal, you can spend more time zoning in on your marketing efforts and less time spying on your rivals. Get cracking, and may the odds ever be in YOUR favor! 🔥🥊
What is the significance of competition in marketing?
In marketing, competition is a fundamental element as it is about competing for the attention of your target audience. Regardless of the industry your business is in, there are numerous marketing channels today which makes the competition quite challenging. This competition extends to areas like traffic, ad placement, followers, sales, and more.
Why is competitive analysis important in business?
A competitive analysis is a pivotal strategy in business intelligence. It involves studying and analyzing your competitors to understand their strategies, strengths, and weaknesses in comparison to those of your own business. This information is instrumental in implementing effective and successful marketing strategies.
What are the major types of competitor analysis tools?
There are diverse types of competitor analysis tools, some of which include: Social media management tools, Monitoring and social listening tools, Keyword tools, Analytics tools, AI tools, SEO tools, Content analysis tools. Each type of tool serves a unique purpose in the analysis process.
How does Sprout Social facilitate competitive analysis?
Sprout Social is a powerful competitor analysis tool for social media that provides a comprehensive understanding of competitor performance from multiple angles and data points. It enables businesses to evaluate their social strategies with detailed data from platforms such as Facebook, Twitter, and Instagram. It also offers deep insights into consumer sentiment about competitors' products, services, and user engagement.
Why is Phlanx vital in the competitor analysis process?
Phlanx ranks as a crucial competitor analysis tool, majorly for Instagram. It helps evaluate follower engagement of any account, which is essential for analyzing your competitor's Instagram presence. Phlanx's engagement ratio is generated based on the number of followers an account has against the rate of interaction with the content (e.g., likes, comments).
What benefit does Social Blade offer in the analysis process?
Social Blade is an assessment tool that helps in checking out larger brands. It assesses follower counts on platforms like Twitter, Instagram, and YouTube. It provides daily follower updates, the ability to compare brands' social presences, and assigns a grade based on their average number of retweets and likes. It provides marketers with insightful data on the popularity of brands.
What makes SEMRush unique among SEO tools?
SEMRush stands out among SEO tools for its competitor analysis elements. This tool enables businesses to pull out their competitors' backlinks and monitor changes in their rankings. More significantly, SEMRush offers an in-depth understanding of who the competition is from an SEO perspective, highlighting what keywords are chosen by competitors and subsequently shaping your content strategy.
How can Ahrefs assist with SEO?
Ahrefs is a valuable competitor analysis tool for SEO; it allows the checking of any URL's top organic keywords. With Ahrefs, users are provided an estimate of the traffic a competitor gets on these keywords and can highlight the competitor's highest-performing content. With such information, brands can enhance their traffic strategy without guessing.
What is the significance of Buzzsumo in content analysis?
Buzzsumo is a great resource for assessing the top-performing content for specific brands and relevant topics. This tool evaluates the engagement of content on social sites and its total shares on the internet, enabling you to assess who is doing well in terms of industry content and identifying potential hot topics.
How can Feedly enhance competitor analysis?
Feedly is a content aggregator that organizes and stores content as it is published, including content from your competitors. This competitor analysis tool allows you to see hot topics covered by your competitors, all in one place.
What is the role of Mailcharts in competitor analysis?
Mailcharts plays an essential role in the competitor analysis process, particularly for email marketing. It aggregates emails from competing campaigns and uses them to influence your own. This tool analyses subject lines, send frequency, and compares them to your own email campaigns.
How is iSpionage helpful for a competitor's paid ads analysis?
iSpionage is a tool that analyses various aspects of PPC campaigns, including how many keywords a brand is targeting on AdWords and what their target PPC keywords are. Furthermore, it provides insight into a brand's projected monthly budget, helping to set realistic expectations for ad spend.
Why do businesses need to analyze their actual competitors first?
Analyzing your direct competitors who are of similar size and target audience to your business is more beneficial and realistic. It gives you actionable insights on how to improve and compete more effectively. Larger corporations may employ different strategies that may not be feasible for smaller businesses.
Why is a data-driven approach important in competitor analysis?
Taking a data-driven approach is crucial as it provides concrete metrics like posting frequency, performance of keywords and hashtags, among others. These metrics offer more insight into competitor strategies than just analyzing the content of their messaging.
What action should you take after competitor analysis?
After completing the competitor analysis, the information obtained should be put into action to improve your marketing strategy. This could involve using new keywords in your content based on your findings or modifying your content strategy. The goal is to improve your own marketing strategy based on competitor insights.
Why is competitive analysis a crucial component of the marketing strategy?
Competitive analysis is a crucial part as it offers businesses an in-depth understanding of the market scenario, including strengths and weaknesses of competitors which help in crafting effective marketing strategies. With the right set of tools, businesses can quickly run their analysis and focus more on their efforts.
How does Sprout Social apply machine learning for competitive analysis?
Sprout Social employs machine learning through its Advanced Listening tool to understand how consumers feel about competitors' products and services. By tapping into publicly available social conversations, Sprout makes it easier for businesses to identify opportunities to differentiate their brand from competitors.
Could the Social Blade tool be used by small businesses as well?
Yes, Social Blade could be employed by small businesses to monitor and keep tabs on their competitors. Although widely used for large brands, it offers relevant insights such as assessing follower counts, daily follower updates, and brand comparison on platforms like Twitter, Instagram, and YouTube among others.
How can SEMRush help in content strategy?
By providing a by-the-numbers view of who's competing for their keywords, SEMRush allows businesses to understand who their competition is from a strictly SEO perspective. This vital information helps in shaping your content strategy as one can highlight what keywords are targeted by competitors.