🎯 The Ultimate Guide to Epic Brand Monitoring! 💯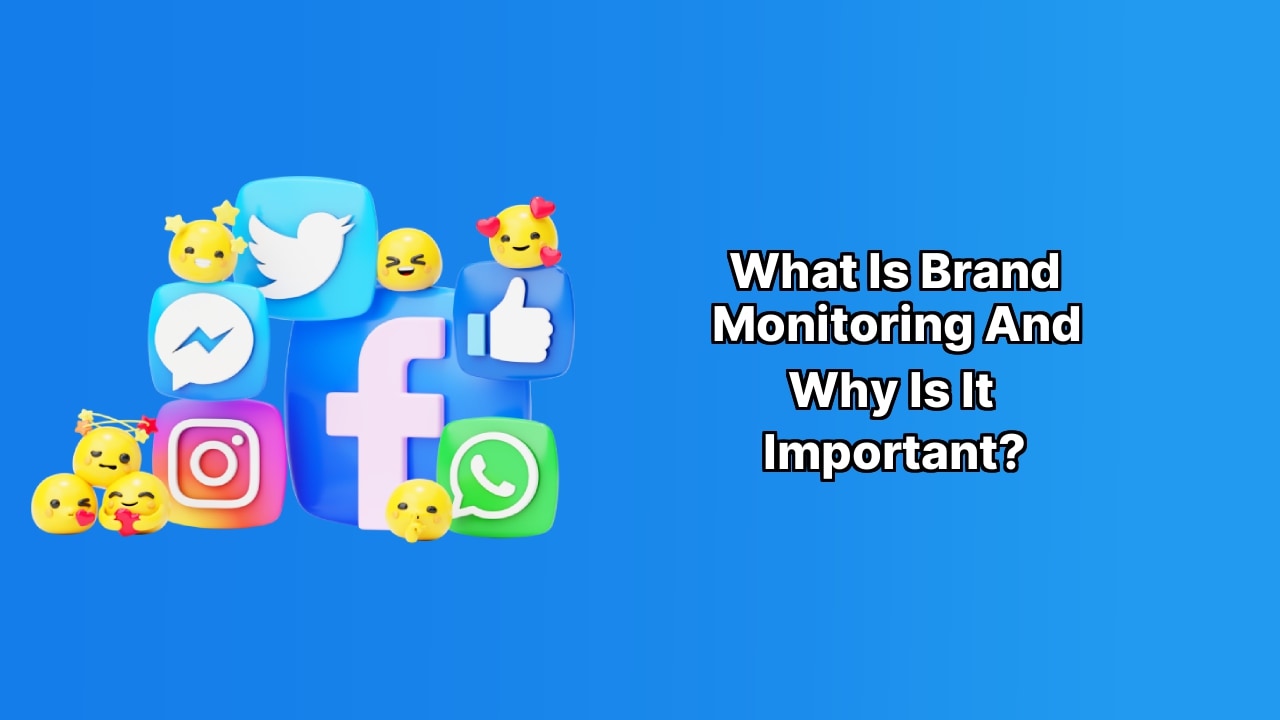 Hey there, fellow entrepreneurs! 😎 If you're hustling to make your brand the talk of the town, we've got the perfect guide for you right here! This is all about how to keep your finger on the pulse and monitor what the world is saying about your brand. 🔥 It's called brand monitoring, and it is not just keeping up with the Kardashians but you'll need to beat 'em at their own social game! Sounds exciting right? Let's dive in. 💦
1
🔍 The Low-Down on Brand Monitoring 👀
Let's face it, dudes and dudettes, 👍 the health of your biz is super linked with public perception. Whether your brand is a sick new merch line or a fun video series, what people think about it truly matters. 💯 There's an ocean of ways for your audience to talk about you nowadays, 😅 but don't stress out – it's never been simpler to ride the wave and track your brand mentions through online brand monitoring. 🏄
2
What IS Brand Monitoring Anyway? 🤔
Picture this: Brand monitoring is like a super-secret-agent who's always on the move, prowling different channels to spot where your brand is mentioned. 🕵️ You can even keep an eye on potential calamities and respond to pesky questions or criticism before they rock your boat, guarding your brand's reputation like a boss. 😎 🔍 Brand monitoring ain't the same as social monitoring though. While social monitoring looks only at the social media heat your brand catches, brand monitoring covers all – repeat, ALL – areas where people could be chatting you up. 🌐
3
Why's Brand Monitoring So Important? 🧐
By now, you should be asking why shouldn't you hop on this brand monitoring bandwagon. 🤯 There's a whole bunch of reasons and here's some: 🎯 Understanding sentiment 🎭 Brand monitoring helps you get the bigger picture – the overall sentiment folks have about your brand. We're talking positive, negative, or neutral vibes here. Using top-notch tools like Sprout Social's social listening tools, you catch a pretty neat, in-depth sentiment analysis. 🙌 🎯 Reputation and crisis management 💼 Stay sharp with your brand's reputation. Feedback means a lot, and a quick response can keep audiences bowed by your commitment to them. 🎯 Identifying issues and improvements 🚀 It doesn't end at managing what's being said about your brand. If you've got some feedback – good or bad – ensure there's a method to the madness and those spicy improvements get worked on. 🎯 Creating two-way communication 🔄 Knowing where the convo about your brand is happening can pump up your response. Show that you're listening and ready to help. 🎯 Identify user-generated content 📷 Here's the juice – user-generated content is a kickass addition to your content strategy. Monitor your mentions and catch who's sharing what about your brand.
4
🤠 Let's Talk Channels and Elements
There are a bagful of channels to keep tabs on, and heck, it's tempting to monitor each and every one. The main ones to check out are:
Online news media 🗞️
All social media platforms 📲
Online forums like Reddit and Quora 📃
Online review management on sites like TripAdvisor or Yelp ⭐
Print media (if you can regularly check them)🕰
And what about the elements? 🅰️ Name variations: Got nicknames or associated words? Well, they count. Track all variations. 🅱️ Competitors: Stay in the loop with how you measure up against other similar brands.
Always remember to track shifts in your brand over time. Notice how different things influence your audience growth and engagement rate. Let brand monitoring be your guide to understand the aftermath of your strat moves.
Stay informed about the latest trends and developments in your niche. By tracking the right elements on the right channels, you'll never miss a beat. 🎵 Stay tuned to this channel for more killer marketing tips and remember: Your brand is BANK, treat it that way! 💥
7
🔥 Keeping up with Industry Talk 🗣️
So, you're not only thinking about your brand, huh? Way to go! 😎 By the way, checking out what people say about your industry overall can literally give you some bonus power-ups. 📈 Imagine, you will not just get an idea of your brand's stance, but you also get some fresh-from-the-oven ideas for your content. Whew! Isn't that something? 💡
✨ Plus, jumping into these industry talks means you're not just about fixing complaints or delivering services, right? It's much more than that, it shows people that your brand is right in the middle of the action – catching up with the latest, most viral trends that your trusty viewers are into! 👏👏 Yeah, that's some total immersion right there guys!
8
A Word Regarding CEOs and Public Figures 😎
Attention! It doesn't stop at mentions of the brand or product. Nope! You also need to be on the lookout for mentions of your company's high-profile figures. 🕵️ More on that, ensure to monitor the heat around your big bosses or those famous figures that endorse your brand or a specific campaign.
Here's the deal: How these figures are projected can impact how folks perceive your brand! Yep, heard that right! So, you're not just looking out for your brand mentions, but also monitoring how your leading figures are portrayed in the media 📺📰… Fascinating, right?
9
💰 The Takeaway from Brand Monitoring 💰
Brand monitoring can help you translate all that mumbo-jumbo and give you accurate insight about what feelings your brand stirs up in people. 😲 This can be your map for creating campaigns that your audience are sure to be head over heels about! 💘 What's more, is that you can quickly spot those sneaky negative comments and counter them with your witty charm and responses. 😉
It's not all defense, though. The more you survey, the more you'll know about your industry and how your brand matches up against the competition. Yep, that's it – knowledge is power, and monitoring's the game!
Want to dig deeper? 🕳️ Well, you're in luck as the latest Sprout Social Index™ offers valuable insights into how customers want to interact with brands 💬… and some secret tips on identifying those untapped potentials 🏞️ in your marketing campaigns. Excited? Let's step up the game! ✌️
Conclusion:
Congratulations! 🚀 You've now mastered the brand monitoring challenge! 🏆 Remember, your brand's image is the same as your reputation. So, keep a keen 👀 on what your audience says, reacts and behave around everything about your brand. Your goal is simple – to create campaigns your audience will be buzzing about and want to be part of the whole chatter about it online! 🐝 Learn more about how your brand can have that rockstar online presence by checking out this amazing
Sprout Social Index™
. Keep monitoring, keep grinding and let your brand dominate the world! 🌎
What is the meaning of brand monitoring?
Brand monitoring refers to the systematic tracking of various channels to spot where and when your brand is being mentioned. You can use this data to understand audience perspectives, gather valuable feedback, identify potential crises, and respond promptly to comments or criticism to shield your brand's reputation.
How is brand monitoring different from social monitoring?
While social monitoring exclusively focuses on the coverage your brand achieves on social media, brand monitoring takes a more holistic approach by including all platforms where your brand may be mentioned. Brand monitoring melds aspects of social monitoring and social listening while further tracking brand mentions on non-social media channels to gather comprehensive audience insights.
Why is brand monitoring crucial for a brand?
Brand monitoring plays a paramount role in growing and maintaining your brand's public image. It provides insights into audience sentiment towards your company and products, allowing brands to gain an understanding of public feedback and perception. This comprehension, coupled with how a brand responds to public feedback, can significantly influence its growth.
How can brand monitoring give insight into audience sentiment?
Through brand monitoring, brands can understand the overall sentiment around them. Sentiment analysis, which assesses the language utilized in comments about your brand, reveals whether people are speaking positively, negatively, or neutrally about your brand. Robust monitoring tools like Sprout Social offer detailed sentiment analysis, providing insights into audience feelings towards your brand.
How does brand monitoring aid reputation and crisis management?
Brand monitoring allows you to safeguard your reputation and handle customer issues proactively. By listening to online reviews and feedback and having a system to respond to these matters, you can enhance audience trust in your brand and demonstrate that you value customer feedback.
How does brand monitoring assist in identifying issues and potential improvements?
Identifying key improvements and issues is another essential facet of brand monitoring. An effective process for gathering and applying customer feedback can reveal necessary improvements to your products or services, ensuring that the feedback collected gets to the relevant teams in your organization who can make changes.
How does brand monitoring facilitate two-way communication?
Knowing where people are talking about your brand helps you respond effectively. Publicly addressing reviews or comments shows your audience that their comments are being valued and acted upon. Missing an opportunity to respond to online questions or criticism may give the impression that your brand is indifferent or not attentive to customer feedback and needs.
How can brand monitoring help to identify user-generated content?
Monitoring brand mentions can reveal who is creating and sharing content about your brand, acting as a potent supplement to your content strategy. This method is also helpful when seeking new influencers and ambassadors for your brand or when sourcing new content for your social media channels.
What channels should be focused on when monitoring a brand?
While selecting the channels to monitor your brand, the key is to be methodical about it. Consider tracking online news media, all social media platforms, online forums like Reddit and Quora, online review sites such as TripAdvisor or Yelp, and print media where applicable. This approach helps avoid data overload and imbues clarity into the results you yield.
What elements of a brand should be monitored?
In brand monitoring, track all the components of your brand that could receive publicity. This list can include variations of your brand name, campaign or product names, and common misspellings detected through keyword research. Monitoring these terms helps to stay updated on conversations around your brand, even if your brand is not directly mentioned.
Why is it essential to monitor competitors while brand monitoring?
Staying informed about competitor activities and audience discussions helps keep you abreast of the latest industry revelations. Analyzing competitors allows you to benchmark your brand against others in the industry. Tools like Sprout's competitor report let you compare your brand's performance over time with competitors on multiple platforms.
How can brand monitoring help to understand the impact of specific tactics?
Through brand monitoring, you can gauge the effect of specific strategies, like influencer partnerships and campaigns, on your brand. For instance, by tracking hashtags or tagged posts, you can measure the success of different campaigns and response efforts.
Why should you monitor industry trends and buzzwords?
If you're in a niche industry, it's beneficial to monitor trends or buzzwords. Even though your brand may not be directly mentioned in these conversations, being informed about your industry's discourse can provide new content ideas and innovative ways to join the discussion.
Should public figures associated with a brand be monitored?
Yes, it's crucial to monitor mentions of public figures or spokespeople associated with your brand or a specific campaign. Even if the news isn't directly related to business operations, the media portrayal of your brand's associated figures can affect your brand's overall perception.
What value does brand monitoring provide?
Brand monitoring simplifies the process of understanding audience feelings towards your brand. This insight can shape your marketing decisions and assist in creating campaigns that your audience will love. Moreover, it allows for prompt responses to negative comments, helping control the brand message.
How can brand monitoring help understand your position against competitors?
Through rigorous brand monitoring, you can gain insights into how your brand is performing against the competition. Tracking your metrics and gathering brand monitoring information over time can reveal how everything from industry news to changes in content strategy influences audience growth and engagement.
What online tools exist to assist in brand monitoring?
Mulitple online tools, like Sprout Social, offer diverse functionalities for brand monitoring. These tools can conduct sentiment analysis, competitor analysis, track specific campaign hashtags, and monitor online reviews allowing for a comprehensive understanding of public perceptions of your brand.
What benefits do online reviews and feedback provide in brand monitoring?
Online reviews and feedback play a critical role in brand monitoring. They offer direct insights from your customers about your product or service and can provide valuable reference points for gauging perceptions and sentiments about your brand.
What steps can be taken to respond to negative comments and feedback through brand monitoring?
Once a negative comment or feedback is identified, it's crucial to respond promptly and constructively. An apology or clarification can help save the situation. Remember, it's always better to engage in respectful dialogue rather than ignoring or deleting negative comments.
Can brand monitoring affect growth and success of a brand?
Yes, continuous brand monitoring can significantly influence a brand's growth and success. By continuously gauging public sentiment, engaging with audience feedback, and strategizing based on these insights, brands can boost their reputation, customer engagement, loyalty, and finally, their bottom line.