🚀 Ready for a Reality Check? B2B Social Media Marketing Here to Play & Win! 💪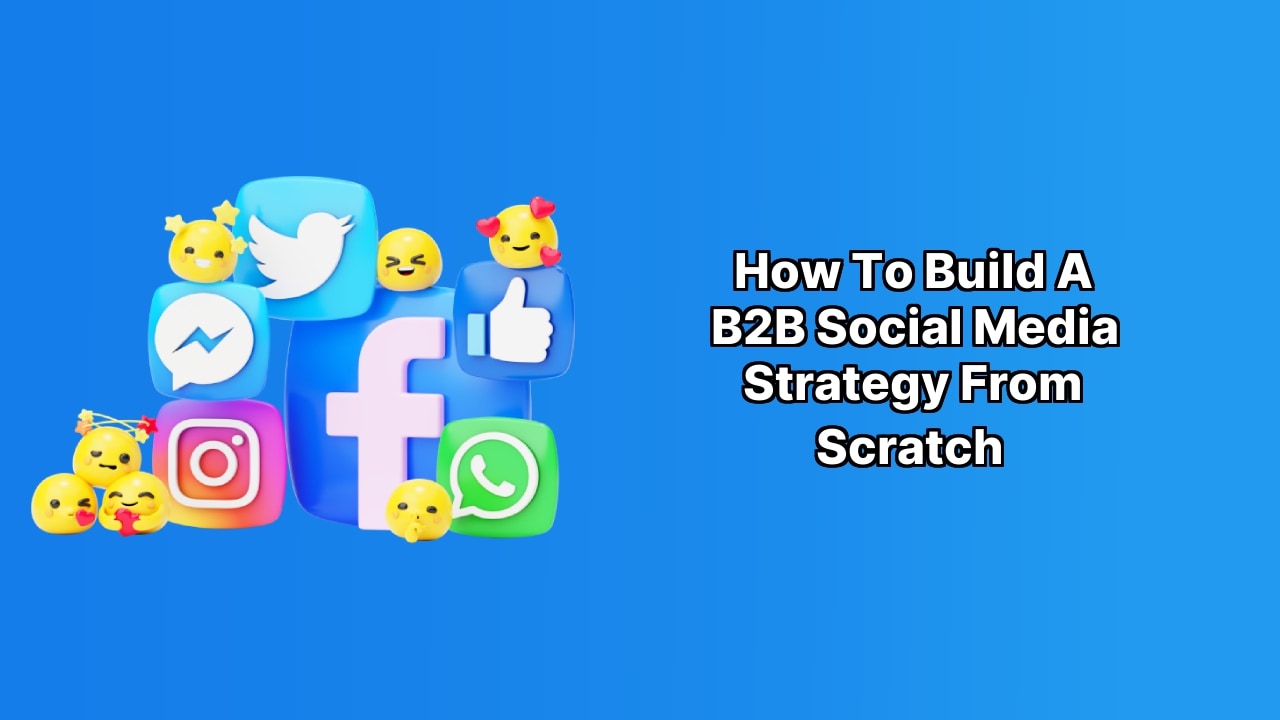 Hey, folks! 🎉 Ready to break some stereotypes about B2B social media marketing? Guess what? It's anything but boring! With an incredible 83% of B2B marketers leveraging social advertising (second only to search engines in terms of success), it's time to jump on the bandwagon, don't you think? 🚀 So, let's make social media a real power player in your marketing strategy by creating compelling brand awareness, crafting educational content and building trust! Excited? Let's get started! 🎯
1
🔥 Reality Check: B2B Social Media Marketing is Here to Stay 👊
💥 Guess what? Reports show that an astonishing 83% of B2B marketers are turning to social advertising. These pros know that it's running next to search engines in terms of success.🚀
Whether it's about connecting with customers or flexing your industry savvy, social media marketing has a goldmine of opportunities for B2B brands. But let's face it, it's not a walk in the park and can be tricky. 🧩 Especially, when dealing with seemingly "boring" or highly specialized products.
That's why I've cooked up a step-by-step guide 💡 to support you, B2B brands, in crafting a social strategy that aligns with your business goals. Let's dig into it! 📖
2
❗Here's Your Goal for B2B Social Media Marketing
The marketplace is a battlefield and there are tons of marketing channels to tap on. So, just being on social media "just because" is not enough.
Remember, a B2B social media strategy is different from retail or ecommerce. Rather than pushing sales, most B2B companies 🏢 use social media as a top-of-the-funnel marketing channel, mainly for content promotion and awareness.📚
Let's check out the most-cited benefits of B2B content marketing according to a recent research:
Educating customers (79%) 🎓
Now, let's check how B2B social media marketing can help reach these goals.
3
📢 Spreading the Word: Brand Awareness
In the noise of B2B space, it's easy to lose your voice. So, get out there and let the world know who you are! 💪
Social media is the perfect place to promote 'bite-sized' pieces of content that highlight what sets you apart from competitors and your company values.🎖️
4
🧠 Edutainment: Educating Audiences
Did you know that most B2B buyers do independent research? They want to know that companies they support are credible. 🔍
Probably, the best way to cement your credibility is through educating your audience. Whether it's through blog posts, e-books, firsthand reports, or how-to videos, focus on creating actionable, educational content. And remember, B2B blogs that focus on educational content see 52% more organic traffic! 🚀
5
🔐 Building Trust: The Key to Success
With so many fish in the sea, a little trust could go a long way in proving your business's worth.
Sharing positive testimonials, reviews, and accolades are all fantastic ways of building trust. 🎊 Guess what? Social media is the best place to share and gather this social proof.
6
👨‍👩‍👧‍👦 The Need to be More "Human": Customer-centric B2B Social Strategy
B2B customers are no different from retail customers, they want brands to engage with them more personally. So, make the audience the star of your social campaigns!🌟
Consider how Twitter can be a great platform for customer service, providing a quicker alternative to emails, and giving customers a transparent place for questions, praises, compliments or feedback. You could also share customer stories to build loyalty and promote your services discreetly. 🥇
Main takeaway: @mentions and branded keywords are your new BFFs. 💕 Never miss an opportunity to engage with a customer!
7
🔗 Aligning Your B2B Social Strategy with Business Initiatives
Don't be among the marketers who fail to connect their social media performance to business-wide data such as sales or traffic, or communicate these results across the organization.
Social media can support company-wide initiatives like product launches, PR, and more. Essential tools like Sprout's custom reporting can help measure social media engagement and communicate the findings to stakeholders effectively. No more "no ROI" complaints! 💹
8
💤 Beating the "Boring" Label on B2B Content
Okay, let's face it. Words like "software," "security" or "finance" might not be exciting for everyone. But that shouldn't stop you! You can spice up your social media presence using tactics like:
Refining your brand voice: Be conversational and approachable. 🗣️
Adapting your content to social-friendly formats: You can convert blog posts into infographics or create unique content from podcasts or video presentations. Get creative, team! 🎨
Game on, marketers! B2B social media marketing is not going anywhere, so gear up, plan out, and storm those social platforms. Let's do this! 🚀
9
Let's Supercharge Your B2B Social Media Strategy!
😎💪
We all know how important is to keep your finger on the pulse when it comes to social media, right? B2B Social Media Marketing is no exception! Just like in a MrBeast video, we're going to add spice, amp up the stakes, and make this a one-of-a-kind ride. Ready to hop in? 🚀
10
The Power of Twitter threads and Long-Form Text Posts
Imagine this: you're scrolling down your Twitter feed, and you spot this super interesting thread. It sucks you right in, doesn't it? 🌀 That's exactly the kind of energy we're talking about! Check this out to get the hang of Twitter threads firsthand!
Also, publishing in-depth, captivating LinkedIn posts, rather than those boring external blog links, can spark real engagement. Just remember to bring your mega-watt MrBeast energy!💡
11
Stay On Trend or Miss Out!
B2B social media is BIG on trends. Rising companies, breakthrough promotional tactics, buzzing industry insights – you name it. Looping in on what your customers and competitors are discussing on social can give you a significant edge over others. 🏁
And hey, why tire yourself out sifting through LinkedIn and Twitter all day when you have social listening tools that can do the job for you? Check out Sprout Social for some amazing social listening tools! 🎧
12
Employee Advocacy – Your Secret Weapon
Who better to shine the spotlight on your brand human side than your own team? Your employees can echo your brand voice with their unique personality and give your company culture an authentic human touch. Remember, the voices of your employees often reach further than business accounts alone! 📣
13
Ace the Game with Best B2B Platforms
Your time is precious, so spend it wisely on social media platforms that matter. As per the Content Marketing Institute, we've found the go-to channels for B2B social media:
LinkedIn: Think thought leadership content, employee engagement, and robust ad platform. 📚💼
Twitter: A hub to spot trends and connect with customers and business influencers. 🐦
Facebook: Great for ads and showcasing your company's culture through employee-centered content. 👫
YouTube: Ideal for how-to guides, presentations, interviews and commercials. 📺
Instagram: Perfect for infographics, quick how-tos and showing off your company culture. 📸
Remember to prioritize and not spread yourself too thin! 😉
14
Analytics – Your Best Buddies to Guide B2B Social Media Strategy
Ever asked yourself, "Are my efforts generating actual traffic or sales?" "Which networks are most effective?" "Is it time to start running ads?"
Well, analytics got your back! 💼 Statistics help validate your efforts and optimize your performance. Trust me, they are your best friends when it comes to proving your ROI and optimizing your social media game. Tools like Sprout social offer comprehensive reporting and analytics. 👌
B2B brands cannot afford to take a backseat anymore. No matter if you intend to build awareness or promote content, having a robust social media strategy is non-negotiable. So, put on your thinking cap, take cues from this high-energy guide, and pave the way to social dominance! Go conquer, champ! 💪🚀
Conclusion:
📣 No more excuses, my friends! If you thought B2B social media marketing was too tricky or just straight-up dull, it's time for a reality check and a game plan makeover – pronto! 😱 Here to stay and slaying the game, B2B social media marketing is much more than just another channel to promote your (not so boring) technical product. It's about shaping objectives, shifting focus from selling to educating, and interacting on a more human level.💡 So, gear up and embrace social media with all its perks! 🎉 Happy marketing! 🚀
How prevalent is social advertising among B2B marketers?
Social advertising is pursued by a staggering 83% of B2B marketers, making it a key strategy for success right next to search engines for most businesses. Thus, it's evident that B2B social media marketing is significant and here to stay.
What are the main goals of B2B companies using social media marketing?
The main objectives of B2B social media marketing are brand awareness creation (86%), educating audiences (79%), and building credibility and trust (75%). These goals can significantly influence B2B buying decisions and strengthen brand perception.
How can social media be leveraged to create brand awareness for B2B companies?
Social media offers an ideal platform for B2B companies to showcase their unique qualities, their differentiation from competitors, and their company values. Short-form content can be effectively utilized for this purpose, helping businesses to establish their brand identities and reach a wider audience.
Why is educating audiences a crucial part of B2B social media strategy?
Most B2B buyers undertake independent research before making a purchasing decision. Using social media to provide educational and actionable content can help B2B companies establish credibility, demonstrate their industry expertise, and show potential customers the value they would receive from their services or products.
How can B2B brands build trust on social media?
Customer testimonials, positive reviews, and company achievements can significantly enhance B2B brand's credibility. By sharing this social proof on their social media platforms, businesses can reassure potential buyers of their worth and reliability.
Why is a customer-centric B2B social media strategy important?
Engaging with customers on social media platforms can make a B2B company appear more personable and approachable. Timely response to customer queries and feedback can help generate positive customer sentiment and demonstrate the brand's commitment to their customers.
How can a B2B social media strategy align with business initiatives?
A B2B social media strategy can effectively support other business initiatives such as product launches and PR activities. This makes it crucial to liaise with different departments, provide context for your campaigns, and measure your social media engagement in alignment with broader business outcomes.
How can B2B companies fight against the boring label in their social media content?
Despite the technical nature of their products or services, B2B companies can make their social media content more engaging by refining their brand voice, adapting their content to social-friendly formats, and leveraging industry trends. Additionally, employee advocacy can also play a significant role in generating audience engagement and interest.
Which social media platforms are best suited for B2B businesses?
LinkedIn, Twitter, Facebook, YouTube, and Instagram have emerged as the most effective platforms for B2B social media marketing. Each of these platforms has unique features that B2B brands can leverage to achieve their specific objectives.
How can B2B brands make use of social media analytics?
Social media analytics can provide valuable insights into the effectiveness of B2B social media marketing efforts, identify areas for improvement, and inform future strategy decisions. Using analytics can help B2B brands measure and optimize their performance and prove their ROI.
Is it important for B2B companies to focus on setting goals for social media?
Yes, setting clear and actionable goals is vital for B2B companies on social media. This helps to provide a direction to their social media activities and measure their success in an objective manner.
How can B2B companies differentiate themselves on social media?
B2B companies can differentiate themselves by clearly defining and communicating their unique selling propositions, demonstrating their industry expertise, and continuously engaging with their audience on social media.
Can social media also serve as a customer service channel for B2B companies?
Yes, many B2B companies use platforms like Twitter as a customer service channel, offering a quick and transparent method for addressing customer queries, concerns, and feedback.
How can employee advocacy enhance B2B social media presence?
Employee advocacy can help bring a personal touch to a B2B brand's social media presence, showcasing the company's culture and individuals who are part of the organization. This can also help in amplifying the brand's reach on social media platforms.
Do all B2B companies need to be on all social media platforms?
No, it's more effective for B2B companies to focus on one or two platforms rather than spreading their efforts too thin across multiple channels. The choice of platforms should align with the company's target audience, business objectives, and resources.
How can a more conversational brand voice benefit B2B companies on social media?
A conversational brand voice can make a B2B company seem more relatable and approachable to its audience. This can help in humanizing the brand and fostering a stronger connection with the audience.
Can B2B social media marketing contribute to sales and traffic?
Yes, an effective B2B social media strategy can directly and indirectly contribute to increasing website traffic and generating sales. However, it's imperative to track and measure these outcomes using social media analytics tools to validate this impact.
What is social listening and how can it benefit B2B businesses?
Social listening is the process of monitoring and analyzing social media platforms for mentions and conversations related to your brand or industry. It can provide valuable insights about current trends, customer concerns, and industry news, which can inform a B2B company's social media strategy.
What type of content works best for B2B brands on social media?
Educational and informational content such as blog posts, case studies, white papers, how-to videos, and infographics typically perform well for B2B brands on social media. Such content can provide value to the audience, position the brand as an industry expert, and assist in lead generation.
What is the future of B2B social media marketing?
B2B social media marketing is continuing to evolve, with more emphasis on personalized and value-driven content, data-driven decision making, and actively engaging with the audience. An execution of a carefully crafted strategy can result in long-term relationships with customers, increased brand awareness, and better ROI.